Last night it was finally time.  It was time to go back to Avec.
The last time I visited Karen (with Chris that time) we went to Avec for dinner and it was one of the best meals I had ever had.  I was eager to return to see if it would be as good as I remembered. 
We went after Karen's concert.  Like I've said, she plays with the Grant Park Festival Orchestra.  The orchestra plays their concerts at Millennium Park.  The concert was Bernstein's Chichester Psalms, a Bach Cantata, and Faure Requiem.  I am not a huge fan of choral works, but it was a good concert.  I felt a little overdressed for the show as I was wearing a new dress I bought at Nordstrom Rack last week (in preparation for our night out) but I would rather be overdressed than underdressed.  The weather had finally cooled off a bit so it wasn't too awful sitting outside. 
After the show I met Karen backstage and we headed off to Avec.  When we arrived there was about a one hour wait for a table (well, for part of the long, communal tables) so we waited in the little bar area outside.  We split a few different kinds of wines, ranging from a sparkling rose to a tempranillo.
Finally we were seated!  Just so you know, the main thing we wanted were the chorizo stuffed dates wrapped in bacon.  Last time we were there I had these, and they are the sort of food one dreams about, not just once or twice, but repeatedly.  Avec is a tapas restaurant, which means you order a variety of smaller dishes and share them with your party.  Since it was just the two of us we couldn't go as crazy with the ordering as we would have been able to with a larger group, but we were able to try a few new things as well.
We started with a salad of pickled beets, brussel sprouts and something else.  Then came this excellent "whipped brandede" which is a type of fish.  It came with several pieces of toasted bread on the side to spread on it.  We had also ordered a salmon dish, which was the weakest thing we ordered.  It was with risotto, and the lemon flavor was entirely too overwhelming.
When you order tapas, they don't all arrive at once.  It's pretty fun because they just show up and you eat it, then sometimes you wait a bit.  It takes a certain attitude to eat at a tapas restaurant, in my opinion.  In any case, at this point in the meal we knew all that remained were the dates and the focaccia with ricotta cheese and truffle oil.  In other words, saving the best for last!
I'll just say that the dates did not disappoint.  I ate two of them and was incredibly happy. The focaccia was fantastic too (we had had that before as well) but I was SO full by that point that I only ate a little bit.
All in all the meal was overwhelming fantastic.  We have even debated returning tonight, but we're going to try something different.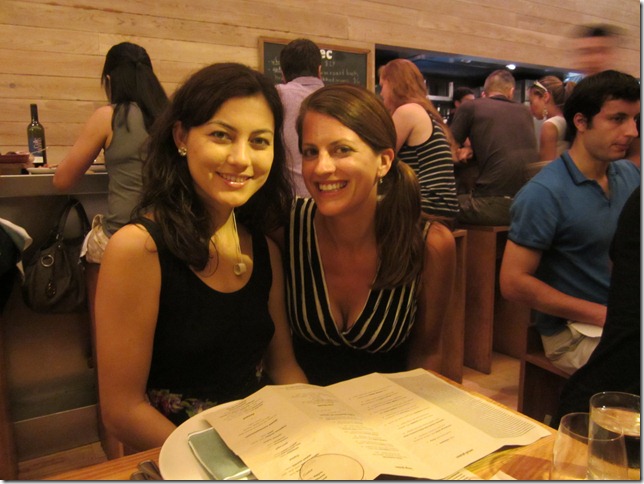 Oh look, a creepy photo of me!  I had to squat next to her for the photo, that's why I look creepy.  Promise.
So, after Avec we decided to head to a place called The Violet Hour owned by the same people (we thought they needed more of our money) for after dinner drinks.  Karen had been before and really enjoyed it.  When we got there, however, there was a really long line to get in.  Generally I am not the sort of person who cares enough to wait in lines (except when on a cruise, amiright?) but I was in vacation mode so we stuck it out.  We needed to digest a bit anyway.
We finally got inside and had a few drinks.  It was really nice and chill…weird to have such a long line like it was a club versus more of a speakeasy 😉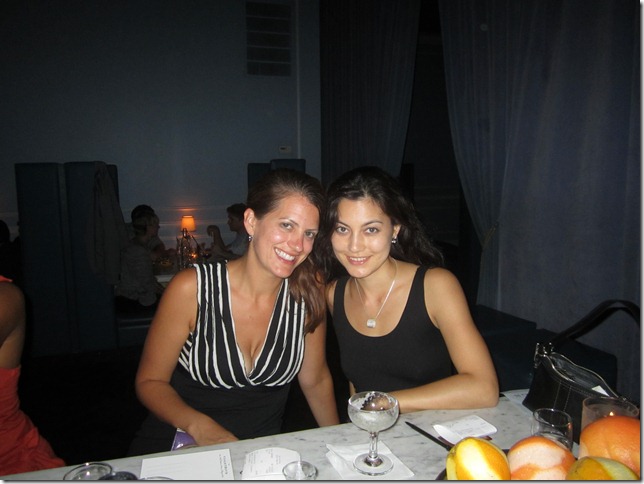 Finally it was time to go home.  We opened the door to leave…and it was completely pouring rain and the road was a like a river.  Naturally the car was 6 to 8 blocks away and our umbrellas were…naturally…in the car.  We panicked a bit.
Karen finally came up with the brilliant idea of asking the bar for a plastic bag.  We knew our clothes and shoes were fine with water, but we were concerned about our purses and the contents of our purses as well (phones and wallets).  They gave us a large trash bag and I threw the bags in, tossed it over my shoulder like Santa Claus, and off we went into the ridiculous downpour.  We were squealing the entire way, and the roads were crowded with people attempting to get home or back to their cars.  It was awful to be completely soaked, yet it was also hilariously exhilarating!  The roads were seriously flooding but we finally made it back to Karen's apartment.  What a night!
Tonight we are thinking of going to "The Publican" which is yet ANOTHER restaurant owned by the same people…also I've been to Blackbird in the past.  Yup.  That's how I roll.
Today has been a lazy day:  slept in, brunch at Eleven City Diner, and a manicure.  Karen has another concert tonight, but it's the same program I saw last night.  I'll probably head down with her and poke around the area, or maybe just read outside or something.  Let's hope it doesn't rain too much more!
How is your weekend going?