Tomorrow I have my first appointment with my trainer, Mike, since BEFORE Suzuki Institute.  As in, I haven't lifted a weight (or a finger?) or squatted (except if I was picking something up) for almost 10 days.  I'm a WEE bit nervous that I will be awfully sore.  But it's also possible I'll be extremely well rested and awesome.  I have run about 20 miles since this so I'm still in some sort of shape.  Plus I ate a lot of fudge and bon-bons.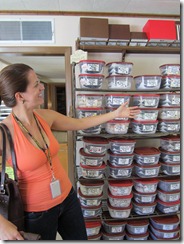 (That's a bunch of containers of bon-bons)
(And no, fudge and bon-bons will be unlikely to help me exercise better.  In case you were running out to get some to help.)
Monday recap:
This morning Jen and I were going to go for a run around Forest Park.  Our usual weekend long run had been postponed due to gigs.
I woke up around 7:00 am to the sound of a really intense thunderstorm.  Another long run FOILED by our ridiculous spring weather.
So I slept for another…well…two hours.
Then it was OFF to Bed, Bath, and Beyond to work on the wedding registry!  Chris and I were looking forward to getting our hands on that scanner gun.  But NO!  FOILED by the ridiculous spring weather again, as the computer systems were down.  NOOOOOOO!
Instead the "registry consultant" had to do everything by hand.  She was wonderfully helpful, and we put lots of things on our registry that I just truly can't really believe the price of.  I seriously feel like a completely greedy pig.  But I suppose it is what you are supposed to do, and is socially acceptable?  Did anyone else feel horribly guilty doing their registry?  Is that just me?
I taught three students (so tired!) and then managed to run 5 miles by my lonesome rather than with Jen.  Way less fun.  Once you get used to running while chitchatting with a friend it's hard to run alone.  Though I enjoyed some Car Talk.  I've also been working on the wedding website so it's all set to go when people receive their Save the dates.  It's looking good!