Saturday morning was the Benton Park 5k, "Reclaiming the 80's".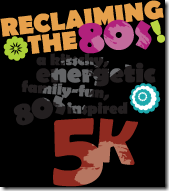 I worked hard getting some friends to sign up.  Ultimately– my trainer Mike was running, along with my friends Jen, Jon, and Vanessa.  Since Mike lived very near the course start he invited us to all rendezvous at his house, so that was the plan.
I woke up before my alarm, as is becoming the norm, and was ready early.  Texts were already flying in the morning and I could tell everybody was pumped up!  I decided to get to Jen's early to borrow some makeup and hairspray.
We got to Mike's place around 8:15 am and of course we decided we all needed to take a bunch of photos.  Honestly, I was MORE excited about the costumes than the actual running.  I had certainly spent more time the week before working on my costume than running.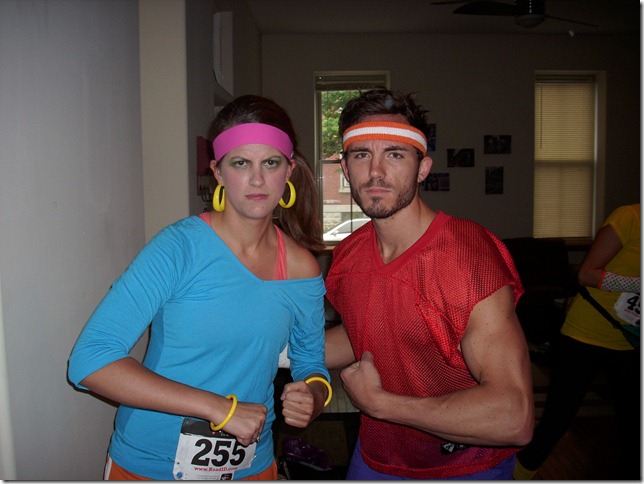 Oh HAI!  It's a picture of Mike and me together!  Yes, he's wearing a mesh shirt.
And I think that expression is the answer as to why people think I am about to hit them.
Next, I like my cool casual background look here…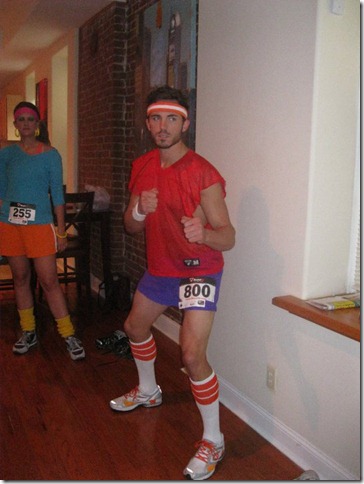 Mike decided to start posing with the balance ball—I THINK he enjoyed having people take his picture (not that I can judge).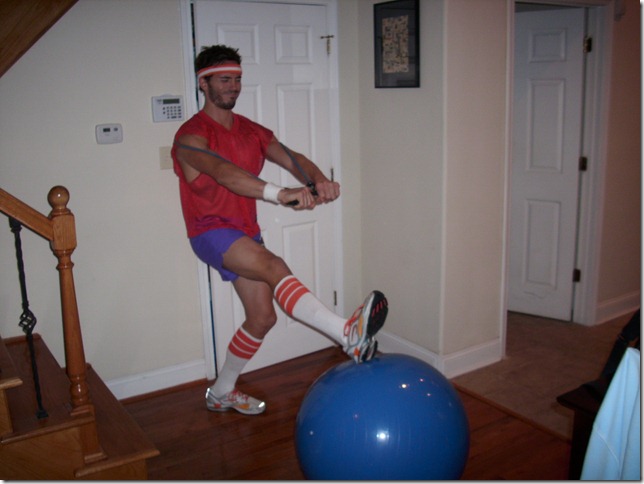 So we took turns—this is Vanessa—and she has the world's greatest shorts.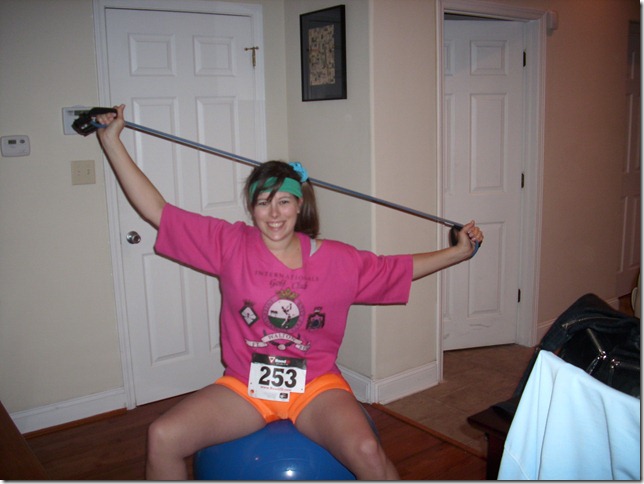 Then my turn!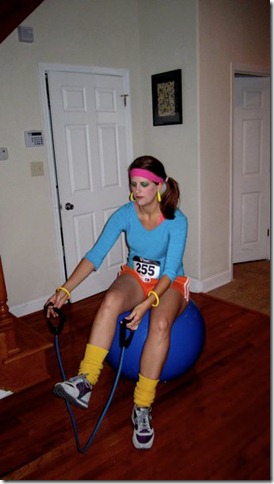 Not sure what I was doing there.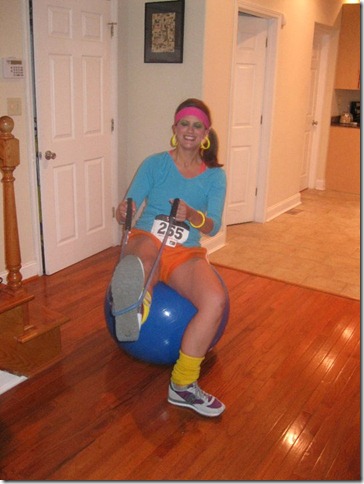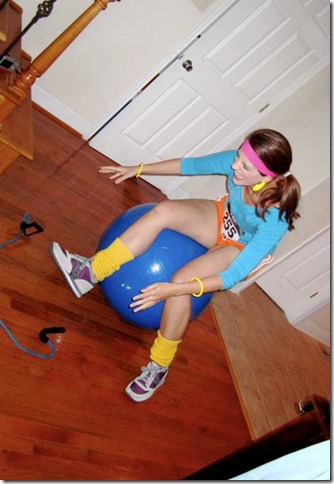 But I definitely almost fell over right here—balance is NOT my strong suit 😉
Then some group shots–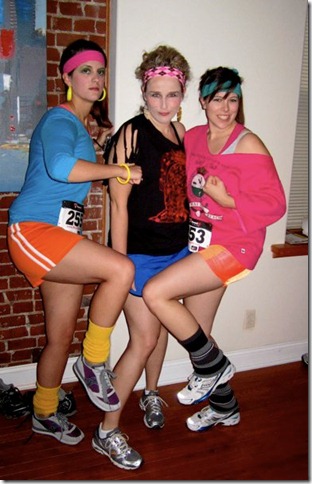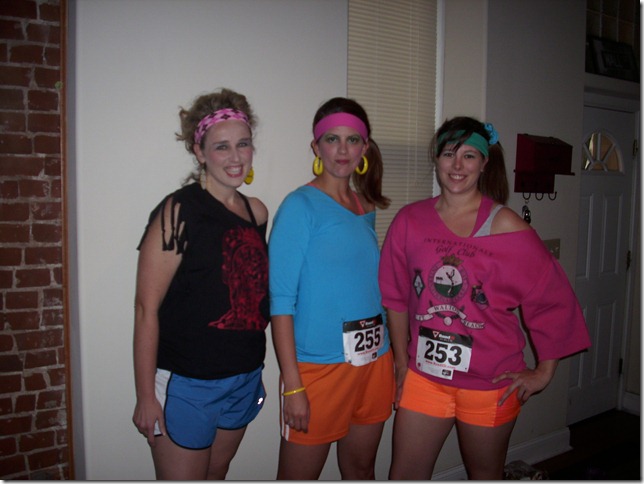 And some more posing and stretching–
This is my friend Jon-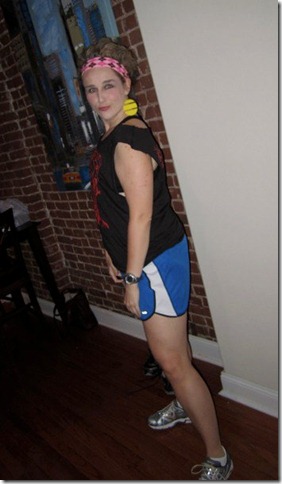 And Jen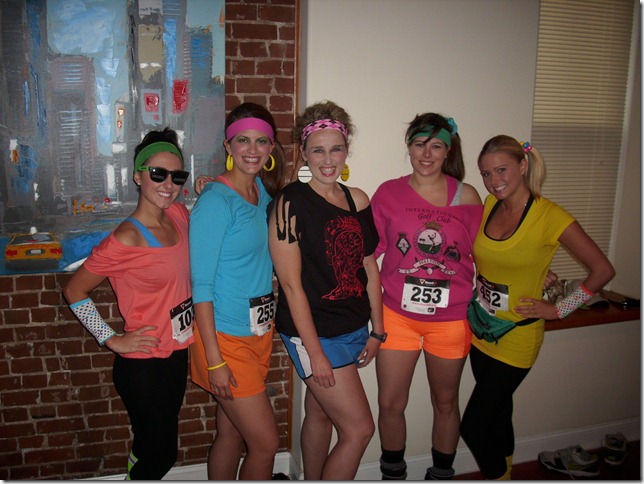 All the ladies—Aimee (friend of Mike's), me, Jen, Vanessa, and Tricia (friend of Mike's)
After all the photos we "yogged" the few blocks to the race start.  Jen still needed to pick up her packet so a couple of us went ahead.  We were worried we wouldn't find the others again, but then we saw them from about 3 blocks away due to the brightness of everybody's outfits.  Guess we shouldn't have worried about that.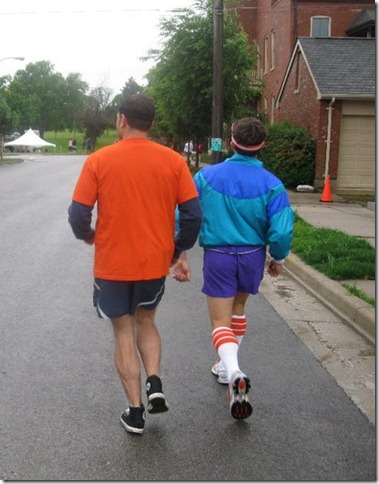 A few notes about the race conditions—it was cold and drizzling.  (At least it wasn't hot.)  A lot of folks were dressed in costumes, but a bunch weren't.  Our group looked pretty fantastic, if I may say so.
The race was chip timed, and we lined up towards the middle of the front.  Mike went to the very front since he's all fast and stuff, but we didn't think that was a good idea for the rest of us.
I had wisely decided to run holding my camera so we could take more pictures of our awesomeness.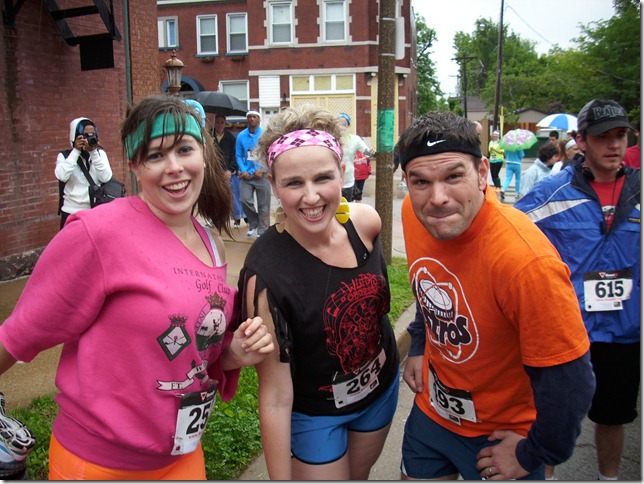 Getting ready to go!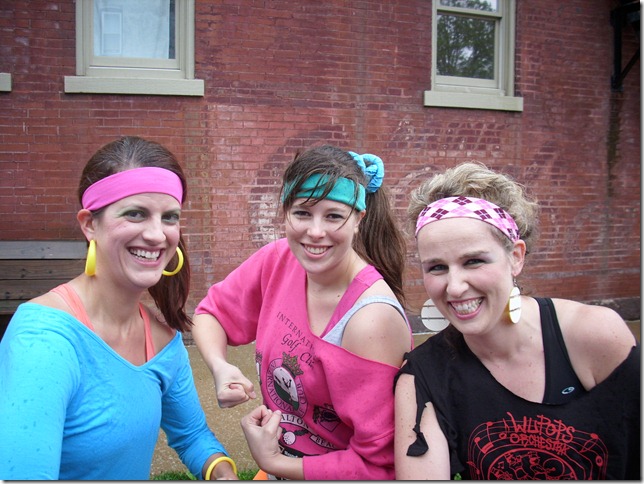 Flexing…as usual.  You can also really tell I'm getting rained on here!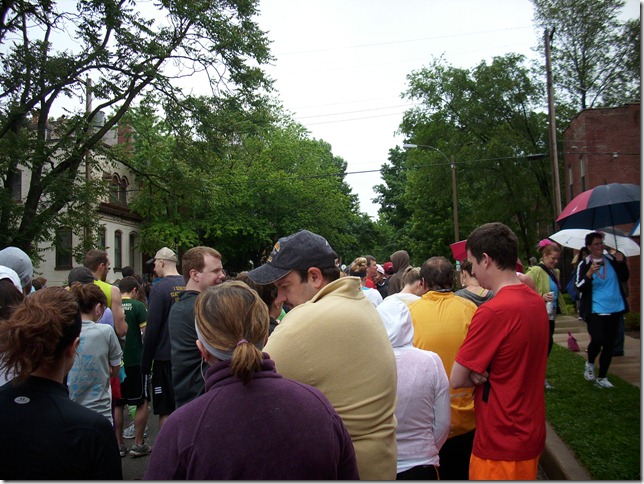 The view in front of us.  You can tell how awesome we were dressed in comparison to these losers.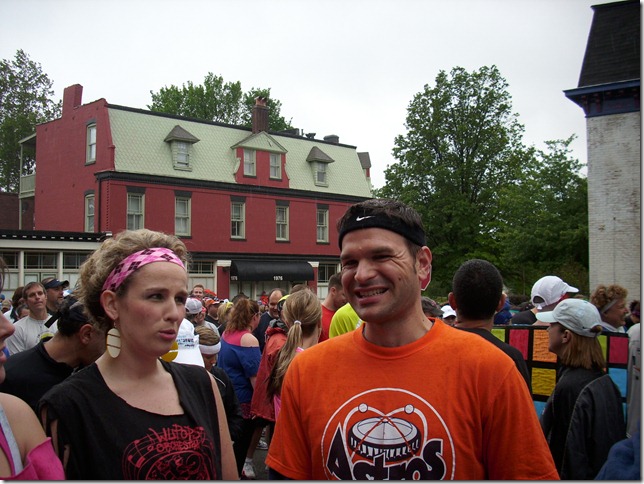 Not sure what was going on here, but note the Rubik's Cube guy.  Well done, sir.  Well done.  He also ran pretty much at my pace, while wearing that.
Finally we were off!  The start was a little crowded to get across the timing mat, but then it was fine.  We ran REALLY fast, and did the first mile in under 9:00.  I was still with Vanessa and Jen at that point (Jon had gone on ahead) but shortly after I was getting a bad sidestitch/cramp and I waved them on.  I had a really hard time the rest of the race.  I walked a short while due to the pain and then tried to push myself on.  Towards the end I saw Mike running back towards me and he ran with me a bit.  I was in no position to be my usual chipper self though as I was in pain.  After a bit, he said he was going to head back further to find his other friends.  I got a bit of a push from that as I didn't realize I was ahead of them!
The course was pretty hilly and mainly went through the neighborhood of Benton Park.  It was a very nice run, except for the pain I was in.  As I rounded the last corner (uphill) to the finish line, I saw the clock was under 31 minutes.  My PR was just over 32 minutes, and I didn't know how long it took me to cross the start (not long) so I kicked it as hard as I could.  I crossed the finish line under 32 minutes and saw my friends cheering for me (which was AWESOME!) and then I had to sit down.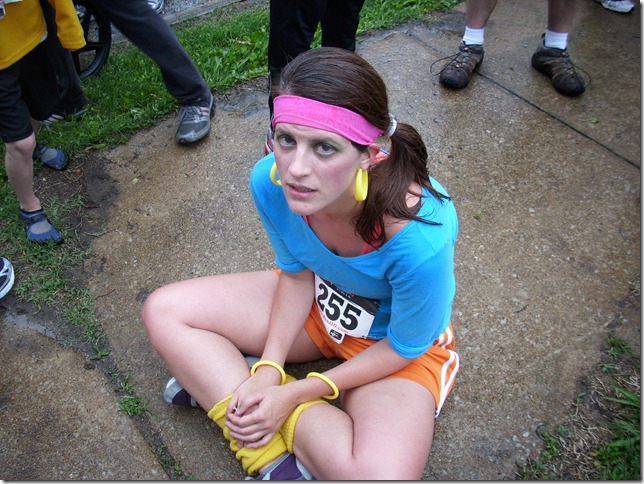 Rough.  I did NOT feel well.  I probably sat there for at least five minutes, and then I was still shaky after that.  I was both faint and nauseous.  Sign of a good race I guess?!   *how skinny do I look???*
We got a group photo then—well Jon took this one first (can you spot Waldo?)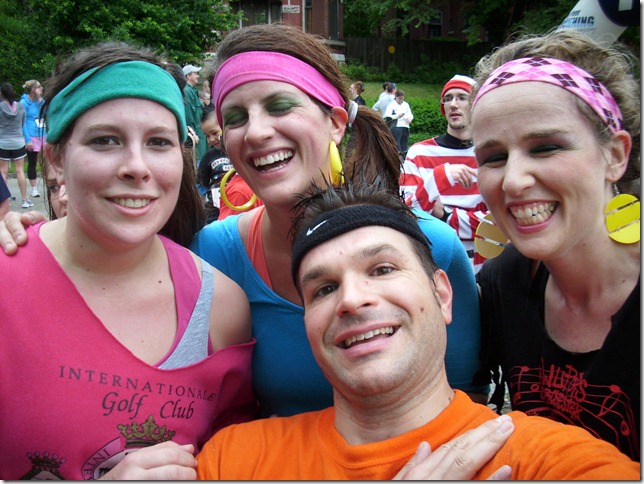 Then a stranger took this one (luckily we were with people who are not embarrassed to ask strangers for photos because I tend to just stand there awkwardly holding my camera attempting to catch someone's eye rather than interrupt them).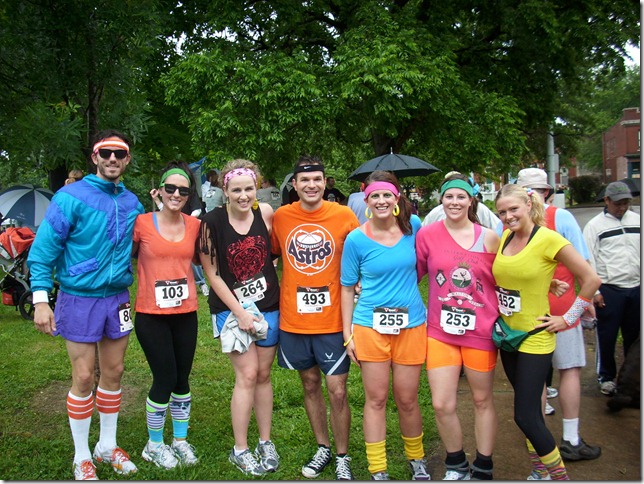 I'm definitely leaning on Vanessa as to not fall over.  And Jen doesn't look too good either…but we did way better than our last race together 😉  But as a group we look fantastic!!  *leg warmers do not help legs look skinny*
The water was pretty far away though, and we slowly made our way there (I needed to go very slow.  I did NOT throw up, but I thought I was going to.)
There were bananas, snacks, and beer—I did not partake, but the others did!
(I love that Waldo is in another picture—do you see him?)
There was a guy selling lettuce too–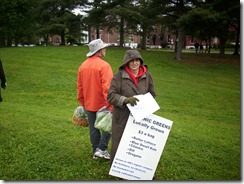 Some of went to breakfast afterwards—we tried a few places before finding one that didn't have a terribly long wait.  We were in Soulard though, and the only ones dressed in 80's clothing…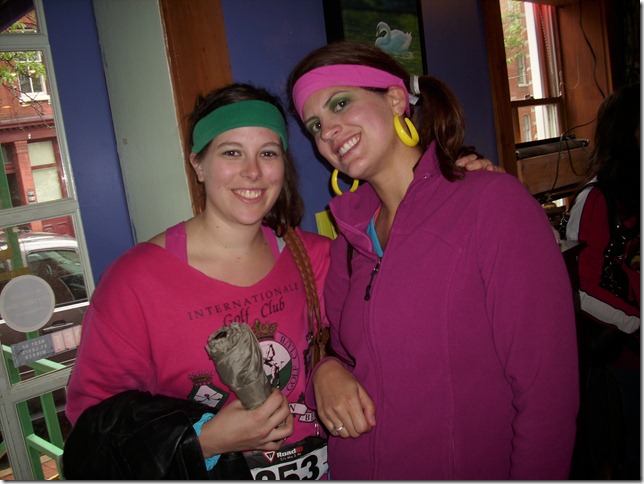 The makeup held up surprisingly well!  And I should have taken my jacket off for the picture but it was seriously cold outside.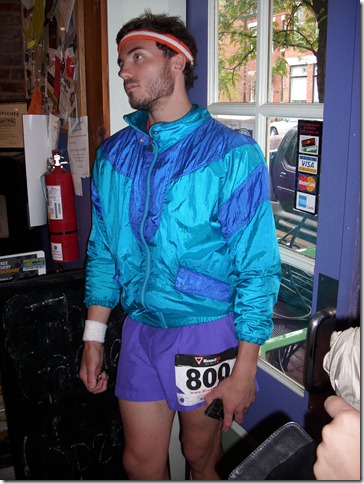 Mike was trying to not pose because he knew he was going on the blog…
Oh and the restaurant wasn't good at all.  Oh well.
So how did we all do?
Well, Mike came in 2nd…which he was acting like he didn't really care that much.  If I came in second in a race I would probably put it on a billboard!  Seriously awesome—his time was 18:40.  That's crazy fast.  And the guy who won did NOT wear a costume.
Jon was next out of our group with 26:31, and then Vanessa with 28:21 on her first race, and Jen PR'ed with a 28:49.  I have athletic friends!
I still PR-ed too with 31:11.  I am very pleased with myself!!  I need to work on my cramping problem, but overall I'm happy with the race.  It was a lot of fun too, and we rocked out on the costumes.
I would run this race again—it was a great time!
And it came with a tech shirt.  I'm not convinced of the color, but a tech shirt is a tech shirt.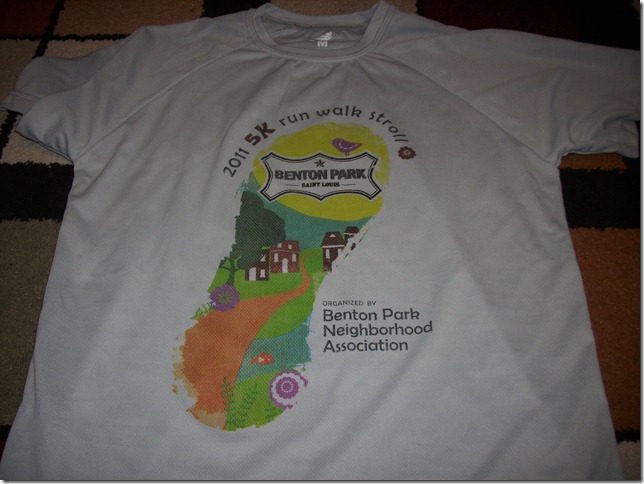 I decided to wear it on my run the next day though– (evidently I'm still in "posing" mode.)  I like that it provides a very modest neckline for when you are afraid of showing too much neck.
Bling:  shirt and shiny new PR!  And a huge thanks to Jen from St Louis Ballet for major parts of my 80s costume.