Sunday was a simple plan:  Rehearsal, run 4.5 miles, make two desserts.
The run was exciting–the longest I've run since the half-marathon!  Of course, it only builds from here.  Next weekend is another 5k, (maybe) with a friend, though I'll run it alone if necessary as I've registered already!  I want to try to run more of it, less walking…should improve my time.
Desserts:  One for each upcoming party.  First I made Vegan Pumpkin Pecan Blondies for a "Pumpkin Party" on Monday night.  I got the recipe here.  The hostess of the party is vegan, so I thought it would be a nice treat to take.  That said, even without butter, cow milk, or bacon, these are still delicious!!
Vegan Pumpkin Pecan Blondies
Adapted from Vegan Cookies Invade Your Cookie Jar
Ingredients
3/4 cup canned pumpkin
1/2 cup canola oil
1/2 cup sugar
1/2 cup dark brown sugar
1/4 cup almond milk
2 tsp vanilla extract
1 1/4 cups flour
1/4 tsp baking powder
1/4 tsp salt
1 tsp ground cinnamon
1 tsp pumpkin pie spice
1/2 cup toasted chopped pecans
1/2 cup chocolate chips (optional)
Directions
Preheat oven to 375*F. In a large bowl, combine wet ingredients (pumpkin, oil, sugar, brown sugar, almond milk, vanilla) and stir well. Sift in dry ingredients (flour, baking powder, salt, spices) and stir to combine. Be careful not to overmix. Fold in chopped pecans and chocolate chips (optional). Pour batter into a greased loaf pan and even out the top with a spatula. Bake for 25-28 min. or until toothpick comes out clean. Do not overbake! Allow to cool before slicing.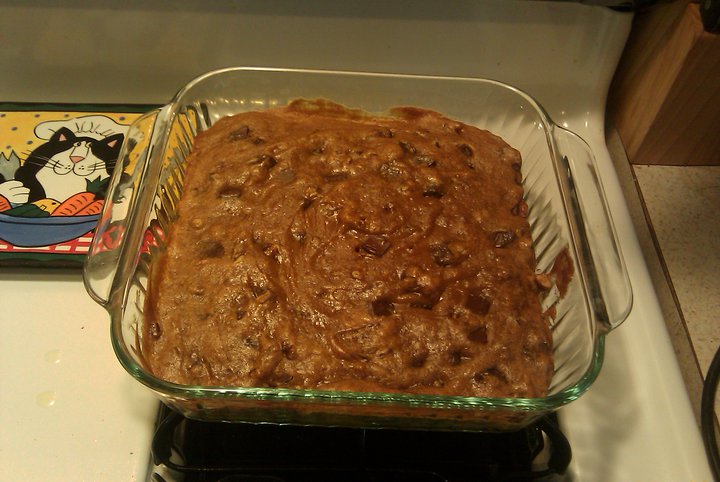 (I added more brown sugar and pumpkin pie spice after tasting the batter.  Additionally, I used MORE pecans and dark chocolate chunks than the recipe states.  Use your taste/discretion.  Also, the toothpick didn't come out clean even after an additional 10 minutes so I gave up and decided worse case the middle ones would be gooeier.  We'll see what happens!)
Other cake:
I have wanted to make this recipe for raspberry buttermilk cake for a long time.  Finally an opportunity!  Chris doesn't care for raspberries so I decided to substitute strawberries.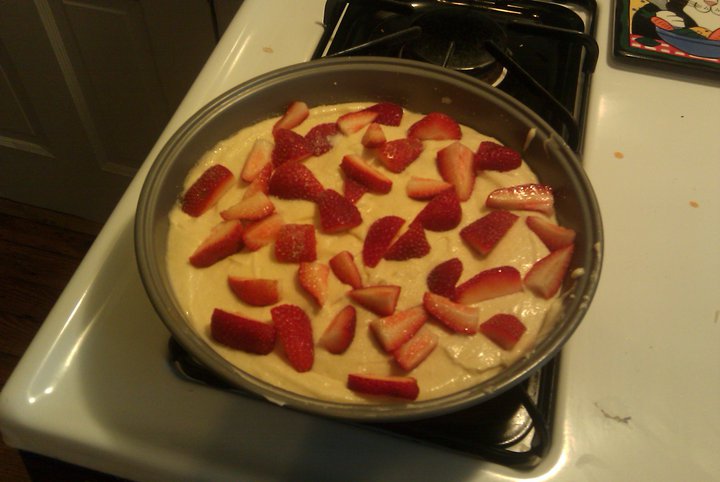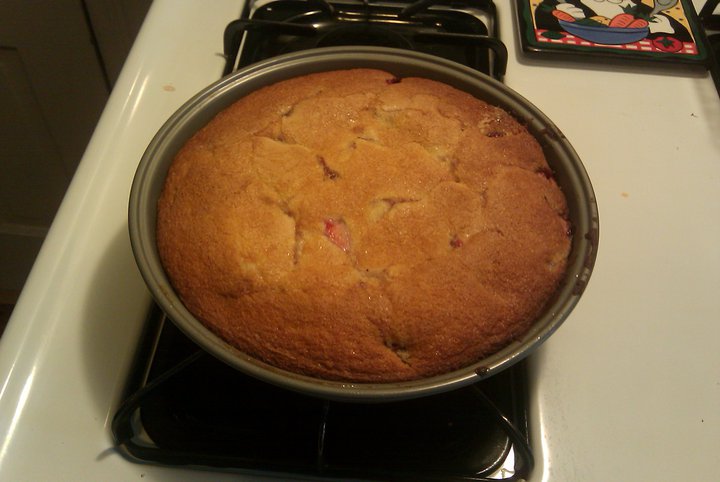 Then things took a bad turn.  I did not do the toothpick test as the top was super brown…in retrospect, a HUGE mistake.  When I flipped the cake, it felt apart, and then I dropped the pan on it and smooshed the cake completely.  It felt to bits 🙁
I didn't take a picture as I was just too upset.  I almost started crying!  Then I ate a few of the bits, as did Chris.  It tasted delicious.
A few hours later, I decided to try again.  I made just a few changes–I set the oven just slightly lower so it (hopefully) wouldn't overbrown.  We made SURE it was done–I stuck a variety of toothpicks in various places, and CAREFULLY flipped the cake out.  SUCCESS!  It held its shape.  Hopefully it will taste as good as the last one, or better….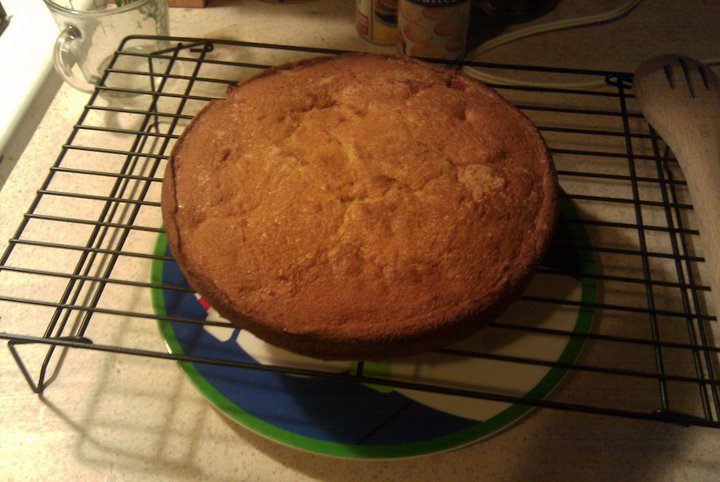 Text from Smitten Kitchen website:
Makes one thin 9-inch cake, which might serve eight people, if you can pry it from first two people's grasp
1 cup (130 grams) all-purpose flour
1/2 teaspoon (2 grams) baking powder
1/2 teaspoon (2 grams) baking soda
1/4 teaspoon salt
1/2 stick (56 grams) unsalted butter, softened
2/3 cup (146 grams) plus 1 1/2 tablespoons (22 grams) sugar, divided
1/2 teaspoon pure vanilla extract
1/2 teaspoon finely grated lemon zest (optional)
1 large (57 grams) egg
1/2 cup well-shaken buttermilk
1 cup fresh raspberries (about 5 oz)
Preheat oven to 400°F with rack in middle. Butter and flour a 9-inch round cake pan.
Whisk together flour, baking powder, baking soda, and salt and set aside. In a larger bowl, beat butter and 2/3 cup (146 grams) sugar with an electric mixer at medium-high speed until pale and fluffy, about two minutes, then beat in vanilla and zest, if using. Add egg and beat well.
At low speed, mix in flour mixture in three batches, alternating with buttermilk, beginning and ending with flour, and mixing until just combined.Spoon batter into cake pan, smoothing top. Scatter (see Note) raspberries evenly over top and sprinkle with remaining 1 1/2 tablespoons (22 grams) sugar.
Bake until cake is golden and a wooden pick inserted into center comes out clean, 20 to 25 minutes. Cool in pan 10 minutes, then turn out onto a rack and cool to warm, 10 to 15 minutes more. Invert onto a plate.
[Baking time updated, shortened, after so many of you concurred that this cake bakes crazy quickly.]
Note: Directions like "scatter" always scare me. Where's the science? Here's what my neuroses taught us: the ones that were downward were almost all swallowed by the batter. The "o" ones stayed empty, like cups. Both were delicious.
Make your own buttermilk: No need to buy buttermilk especially for this or any recipe. Add one teaspoon tablespoon [updated, as an astute reader pointed out that the larger amount is more common] of vinegar or lemon juice to one cup of milk and let it sit until it clabbers, about 10 minutes. Voila, buttermilk!