I never got back to telling you all about my camping trip over Memorial Day weekend. It was meant to be two nights camping with a float trip in between. Louie has some friends that have been organizing the trip for years and years. We went two years ago (it's not always at the same place) and then last year we were going to go but it got rained out. This year would be different…
We were camping at a place called "One Eyed Willy's" in Lebanon, Missouri. We brought the dog, Mackenzie (had to get a canoe because no dogs allowed in rafts) and our tent and all our camping gear. We figured we'd be car camping so we didn't worry too much about what we brought.
When we got to check in the guy behind the desk asked what we drove and we said, well, a Corolla. He guffawed. Evidently the group site we had was on the other side of a creek and he told us we couldn't drive down there. What to do! We "luckily" met a few members of our party who were up with a pick up truck and we loaded all the contents of our car into the back. It turned out that two people in the group tried to drive their cars down and one hit a large rock and cracked her bumper and another got stuck in the creek and the car was tipping over. I'd like to think we wouldn't have attempted the crossing in the Corolla, but you just never know.
Anyway, we got all set up and then hung out with everybody around a nice campfire. Mackenzie loves camping, and by that, I mean, she loves going around begging for food: hot dogs, potato chips, whatever. She's not picky! She doesn't love the outdoors when she's not on her turf though, so when I finally brought her into the tent to sleep, she eagerly jumped onto the sleeping bags, getting sand EVERYWHERE (I wish I had a picture of her amazing expression, she was so excited). But she had to sleep on a little yoga mat we brought, and I think it was comfortable enough. Louie stayed up later chatting and the tent was not terribly roomy for the three of us!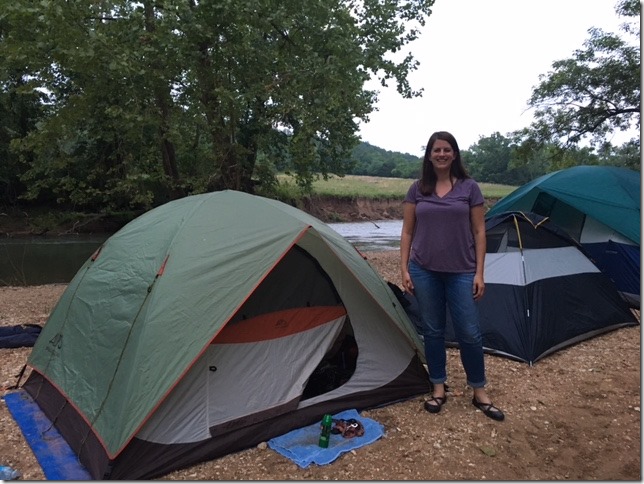 Anyway, the next morning they'd moved the float up because there were supposedly really big storms coming through. I was pretty nervous about this: they kept talking about "baseball-sized hail" and here we were, heading away from the camp to go on the river! They also keep talking about how the gravel bar we were all set up on had flooded earlier in the month, and not just by a little, and the people from the campground suggested everybody move their trucks to higher ground just in case. Our car was already far away on high ground, so we locked some valuables in a pick up (big mistake, you'll see) and nervously got on the school bus to get a lift upstream. We'd get a canoe, and then 8 miles later be back at the camp. We decided as a group to not dally as much as usual in order to get back, and likely pack up and head home rather than stay another night. I was a little concerned than instead of simply leaving we were insisting on this trip, but I was also determined to have fun.
It rained almost right away when we got started. I had a rain jacket, but poor Mackenzie just sat in the canoe looking miserable. We were the only ones in our group with a canoe (the rest were all in rafts) so we tried to stay with them but it became too difficult and we just decided to do our own thing. It kept raining and not raining, and we just kept going. It was pretty fun, though a nicer day would have been my preference. We got back to the campsite and started packing up. One issue though: our car keys and wallets and such were in our friend's pickup truck. So we packed up and then we waited. And waited. And then the storm came.
Some members of the group had returned, and as it was pouring, things just got crazy. The campground hosts were taking people up to the top in a school bus, and so Louie decided to start taking our stuff up, get it up there and then find our keys. He headed out with a bunch of stuff and I waited around. It was pretty crazy, I had the dog and tons of camping gear, and neither of us had phones since those were in the truck. We'd found out that there might be a hide-a-key on the truck so Louie was planning to look for that. The school bus came back down and I decided to take the rest of the stuff and make a run for it. It was a mess! I was completely soaked and had Mackenzie, and I got on the school bus and was stuck in the seat with tons of gear all around me trying to get the dog out of the aisle. Luckily she is super cute and friendly and other people were very helpful. We got up the hill and I saw Louie and he hadn't found the truck, so he headed back down to look again, and I waited then. I started worrying we'd never get our stuff or that we'd get stuck for good, or get lost from one another, so when the school bus showed up again and Louie got off triumphantly showing my purse, I was so relieved!
The next challenge was getting the car out of a dirt parking lot. Keep in mind, it was still pouring, there was mud and gravel all around, and we had ALL of our things with us, that we intended to be using to camp out of our car. But miraculously it all worked—Louie had a little trouble with the car, but he'd recently gotten new tires and I imagine that helped. He pulled up in front of our stuff, we loaded up (Mackenzie was super relieved to lie down in the back seat) and we hit the road. We found out later there had been a tornado in the area, and we did pass some trees that looked like they'd been pulled out by the roots. We were worried about the drive home but the worst of the storm stayed out of our way, though there was quite a lot of rain most of the time.
We got home, unpacked, showered, and hit up the local Mexican resturant, Amigo Joe's. I decided, never again will I camp somewhere where I need to depend on somebody else to drive me out. Either my car is there or I can carry everything! And never again will I canoe when a huge storm is predicted. But the weekend was an adventure, a team-building exercise (Louie and I prided ourselves on working well together under pressure) and a great story.
I guess, the more you camp and travel, the more ridiculous stories you end up with. Bear attack, hail storms, mosquitos, biting flies, evacuating a campsite in the middle of a storm…it all adds to the travel adventures, right?