This past Saturday I ran the Castlewood Cup, a 15k trail race (that's 9.3 miles to you Americans) through various trails in Castlewood State Park.  I have not done any training on trails other than a small race a few weeks ago, so I was not sure what I was in for, but I knew it would be a challenge.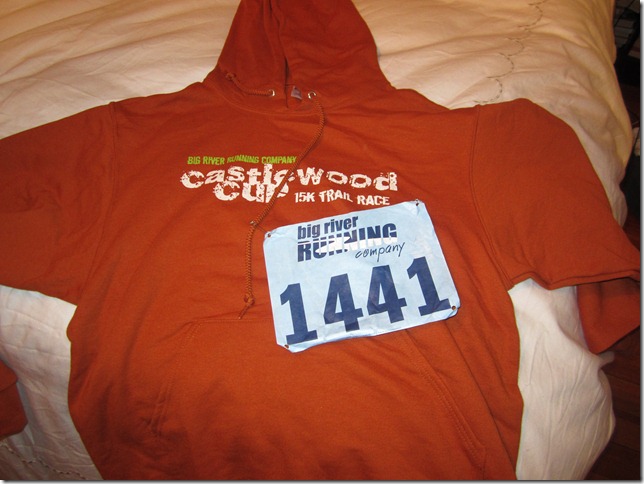 You get a nice hoodie sweatshirt…not really the sort of thing I wear…ever, but hey, maybe I will.  After all, I am proud of finishing this race!
The race started in four waves, one minute each apart.  Since I am so slow, I started in the fourth wave.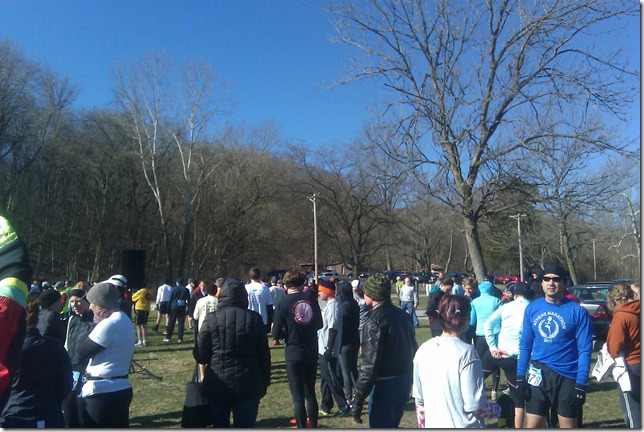 Though it was sunny, it was pretty cool, not freezing though.  I had a hard time deciding what to wear, and I shouldn't have worn gloves, but I did.  I didn't have any pictures taken of myself—I wore running tights, a long sleeve shirt, blue fleece jacket, earwarmer, and gloves.  I had the gloves off within a mile, but the rest I was happy for.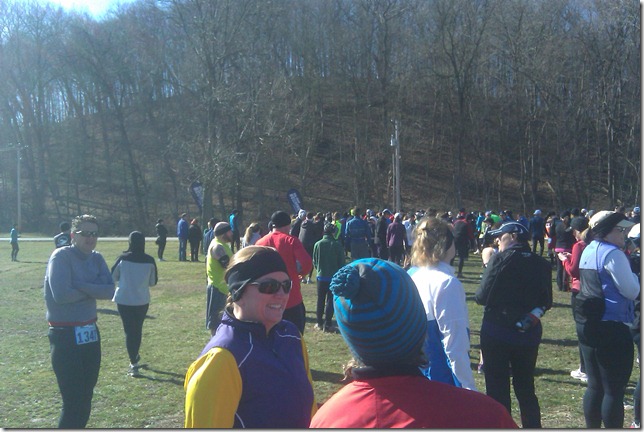 Anyway, that's everybody milling around the start (and finish—both where the flags are in the distance.).  We got started, and ran around this yard, then crossed the street into the woods and ran straight uphill.  By this point I knew I was towards the back of the pack, and I didn't care.  I walked up most of the hills, because it is hard enough to run on gravel, dirt, and such without tripping over tree roots, much less doing that straight uphill.  The first hill was the worst though!  But the view from the top was great, and then we headed downhill.  I almost gave up then—there were some paths with super steep drop offs and at one point I almost let my fear of heights get the best of me.  (I have been known to sit/lie down if I freak out over heights.)
But I didn't!  I kept going, albeit slowly, kept my eyes down (missing some fabulous views, but I really didn't want to fall) and kept forging ahead.  Slow and steady…doesn't win the race, but it finishes it.  So after the first downhill, then we ran flat for awhile, and then headed uphill again, but with more switchbacks.  Then around for a bit, then downhill…you get the point.  The whole course was in the park, mainly single track (meaning you had to let people pass generally, though we were pretty spread out and I ran most of the course alone), mainly dirt, but some rocks too, and lots of tree roots to notice. 
They had a couple water stations, and I had some gels too.  By Mile 5 I was dying—my feet were killing me, I was tired, and hungry, and having trouble lifting up my feet to not trip.  I almost fell several times, but I figured out I needed to loosen my shoes, and walking wasn't any less painful than running, though less scary at times.  By Mile 8 I was absolutely dead…my legs were dead and I was just tired.  We ran through a creek, so for the next 1/2 mile my feet felt really wet (they stayed wet, but felt drier after a bit) and finally I was almost done.  The worst part was running back around the field we started with.  It felt much farther at the end!
Finally I crossed the finish line!  And then as I was getting some water (set up WONDERFULLY right by the finish, thank you) the official race photographer asked if I would cross the finish line again, that he had missed that photo.  I must have given him a crazy look, because he suggested that instead he could simply take a picture of me right there.  I don't know what happened though, the picture isn't online.  It's possible my bib number wasn't showing—I can't recall. 
Anyway…after I finished I was completely and utterly exhausted, and wanted to get some of the post race goodies, but I realized I didn't feel like it and just wanted to get home and shower.  So I had some water, took my muddy shoes off, stopped at a gas station for a G2 (I must have been the sight in running tights, flip flops, and a sweaty tech shirt!), and drove home.  No shower has ever felt as good as that shower.
And yes, of course I'd love to run the race again next year.  Pain?  What pain?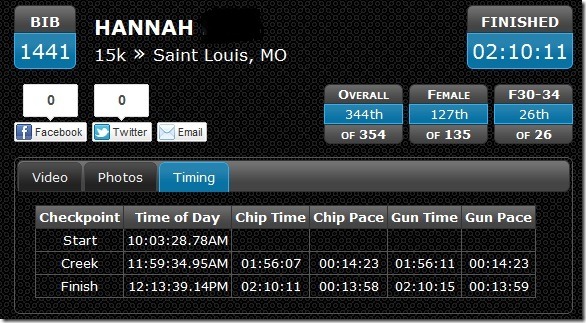 My two biggest fears for the race were 1) getting lost and 2) finishing last.  Luckily I did neither of those things, though I was the closest to finishing last as I have been for any race.  And I am fine with that :)  (I did have my phone with me, I figured if I got lost worst case I could call for help or directions.)