Finally!  The day I had hoped and dreamt about for weeks was upon us!  For those of you who don't know my cruise history well, let me fill you in briefly.  When I was in maybe fifth grade, I was a huge fan of the Babysitters Club books (perhaps some of you remember them).  In one of the "super-specials" the whole club went on a cruise to the Bahamas.  Well, it sounded amazingly fun, and ever since, I had wanted to go on a cruise.  However, I didn't get a chance until the summer of 2007 when my boyfriend Chris and I went on a cruise to the Bahamas ourselves.  It was a 4 day cruise out of Jacksonville which visited Nassau and Freeport in the Bahamas, and had one sea day.  The ship was the Carnival Celebration.  We had a great time!  We had an oceanview cabin and ate in the main dining room, late seating.  It was a fairly last minute decision, and neither of us had cruised before.  We didn't do much planning, and while on the ship we booked a snorkeling/clear kayaking excursion in Nassau.  What we didn't know was that Freeport was not the sort of place you can just walk off the ship and have a good time at, whereas Nassau was.  In retrospect, we should have booked the snorkeling in Freeport.  But in any case, we had a fantastic time, and I couldn't wait to go cruising again.
The following summer I was able to–my sister Leslie and one of my best friends Sarah went on a cruise out of LA to the Mexican Riviera.  This was a Royal Caribbean Cruise on the Vision of the Seas, 7 days, and the three of us split an interior room to save money.  We had three sea days and three ports–Cabo San Lucas, where we rode horses, Mazatlan, where we did a cooking and salsa excursion in addition to touring the old town, and Puerto Vallarta, where we just wandered around and then hung out on the beach.  It was a wonderful time!  The weather was a bit cool and foggy while on the ship, but there was plenty to do, great service, great shows and entertainment, and delicious food.  The ship was much bigger than the Celebration and Chris was very jealous of my pictures.
Which brings us to the present day.  We chose the Carnival Legend for a variety of reasons:  itinerary was the first one–the itinerary visits what they call the "Exotic Western Caribbean", which includes:  Georgetown, Grand Cayman; Cozumel, Mexico; Isle de Roatan, Honduras; and Belize City, Belize.  I had been interested in this itinerary because of the variety of activities possible, ranging from beach activites to Mayan Ruins and jungles.  There were several ships that did a similar itinerary from several ports–we decided on the Legend since Tampa is easy/cheap to fly to for us and because the cruise was the cheapest option as well–plus it only cost a bit extra for a balcony room and that just seemed like a great idea.  I became obsessed with planning out our port activities, spending many hours on cruisecritic.com getting people's ideas and booking tours/excursions through local companies.  I knew that hurricane season could end up affecting our cruise, and that we might end up having to skip a port or worse due to the weather.  Chris was just hoping to relax and that the Legend would be more like the pictures of the Vision of the Seas rather than the Celebration.
So here we are, morning of Embarkation.  We woke up fairly early and hit the breakfast buffet for the last time.  Our waiter, Jesus was shocked that we weren't in our workout gear, but we told him we were going on a cruise.  We needed to return the rental car to the airport and then take a cab to the port.  The whole process took under an hour and soon we were in line to board the Legend!  I don't remember exactly what time we got onboard, but I believe it was between 12 and 12:30.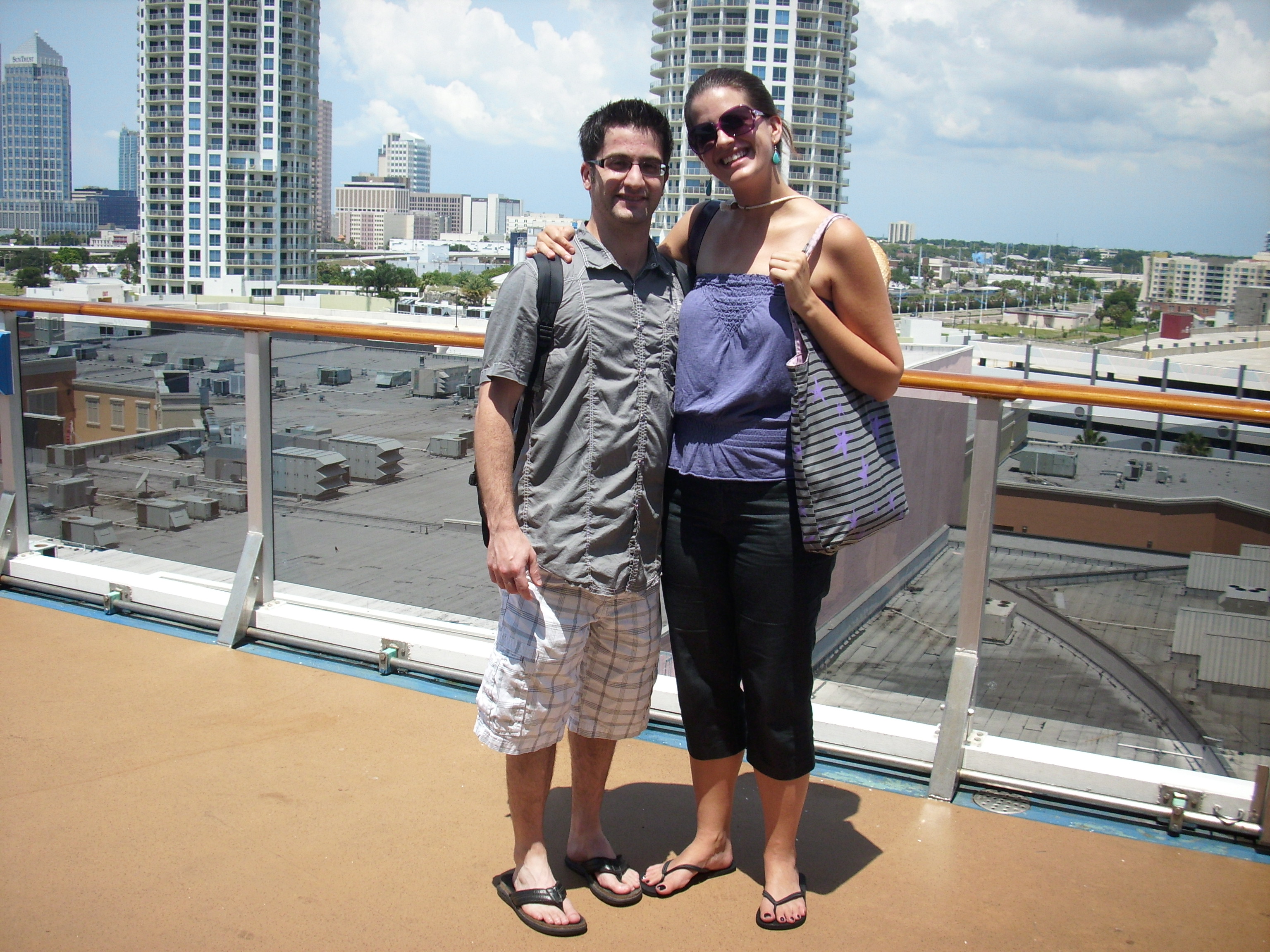 We weren't allowed into our staterooms yet, so we just wandered around, checking out all the different things onboard.  We found the spa/gym area and found ourselves on a tour of the facilities.  We visited the various bars, the Follies Theater (where the shows would be held), the dining room (we found our table, which we were told would be with two other couples our age), and a variety of other places.  Chris was very impressed by the size and decor of the ship (very shiny and filled with urns), and I was just excited!!  We eventually ended up at the Lido Deck eating lunch from the buffet.  We are not big buffet fans, and I absolutely hate waiting in line, but the food was decent.  There was a nice salad bar which I frequented, plus a deli line (which I avoided), an Asian station which just seemed to have generic Chinese food, a pizza station, a grill station, and a "Taste of the Nations" station which featured a different type of cuisine each day.
Finally we were able to get into our room, and it was bigger than we expected!  Also it had a balcony, which was AWESOME.  We had to do the muster drill (safety procedures) which was okay–you no longer had to bring your life jacket with you so it wasn't terribly uncomfortable, and then it was really vacation time!
We each got a drink, and hung out in the room waiting for Sailaway, which happened around 4:00.  We were on our way!!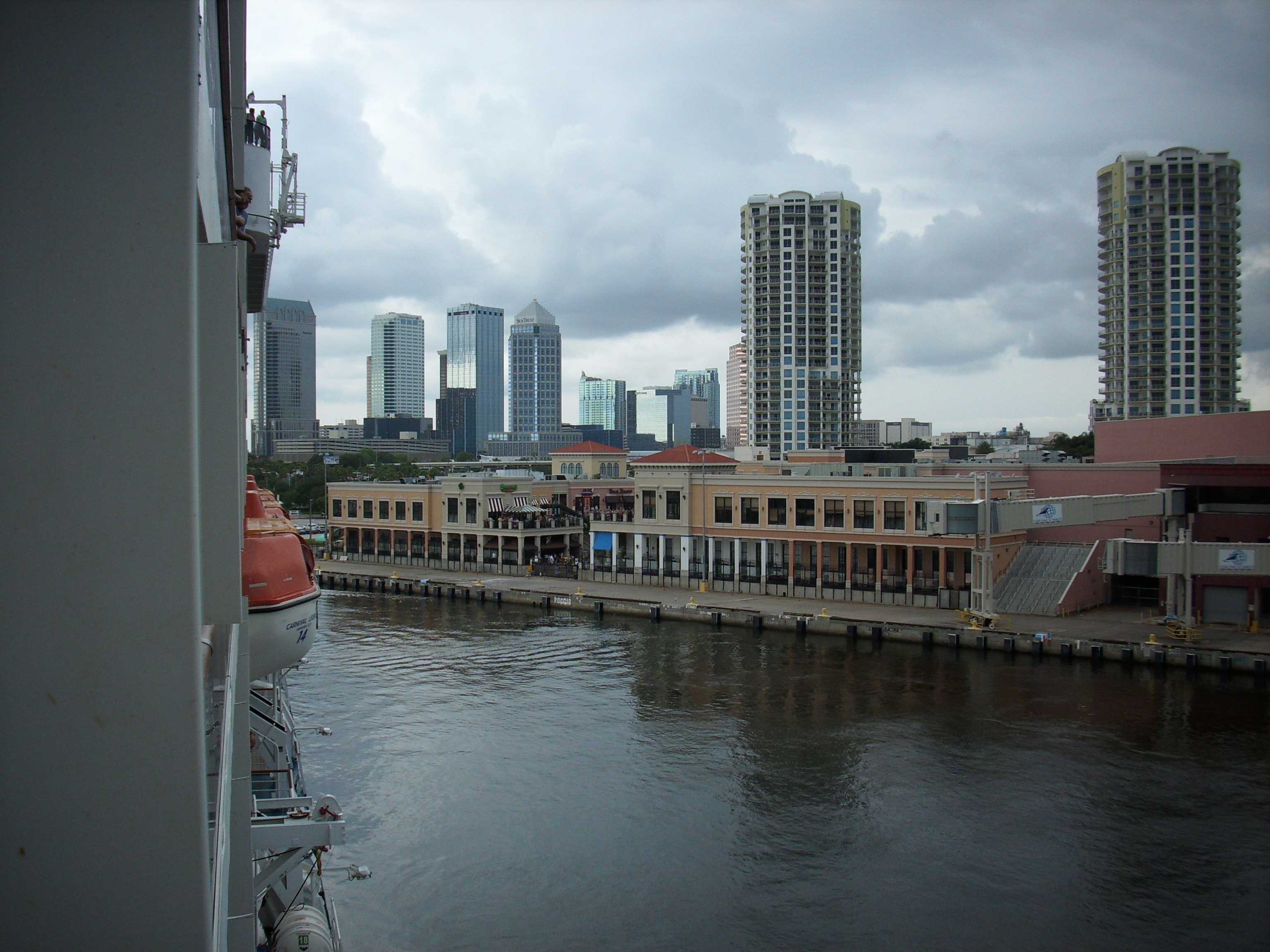 I watched from our balcony for awhile as the ship sailed away.  After awhile we decided to go to the martini tasting at one of the bars.  You could sample five of the martinis for one price.  We decided to split this, and tried five different ones, and then hit up the sushi bar for a snack.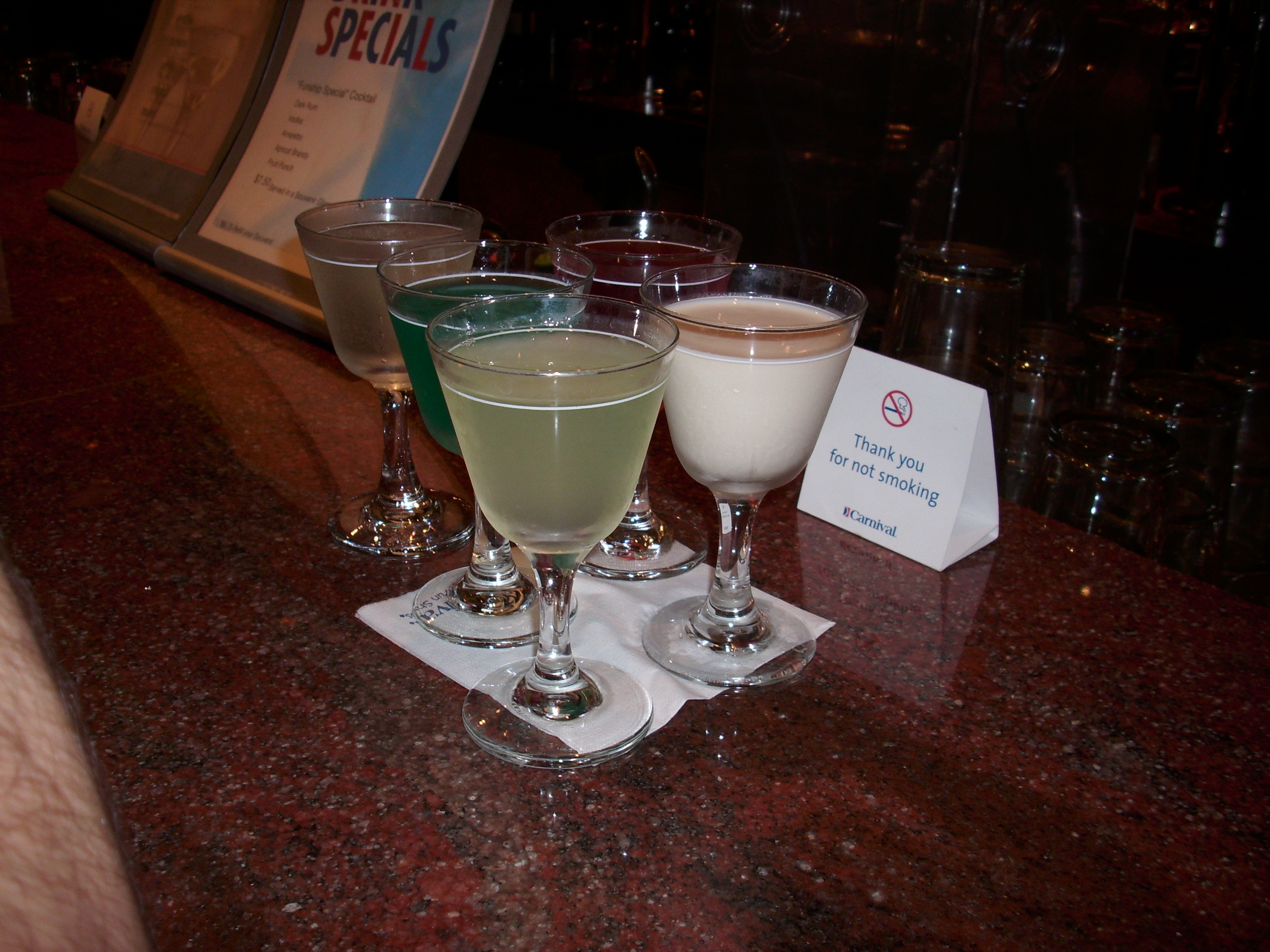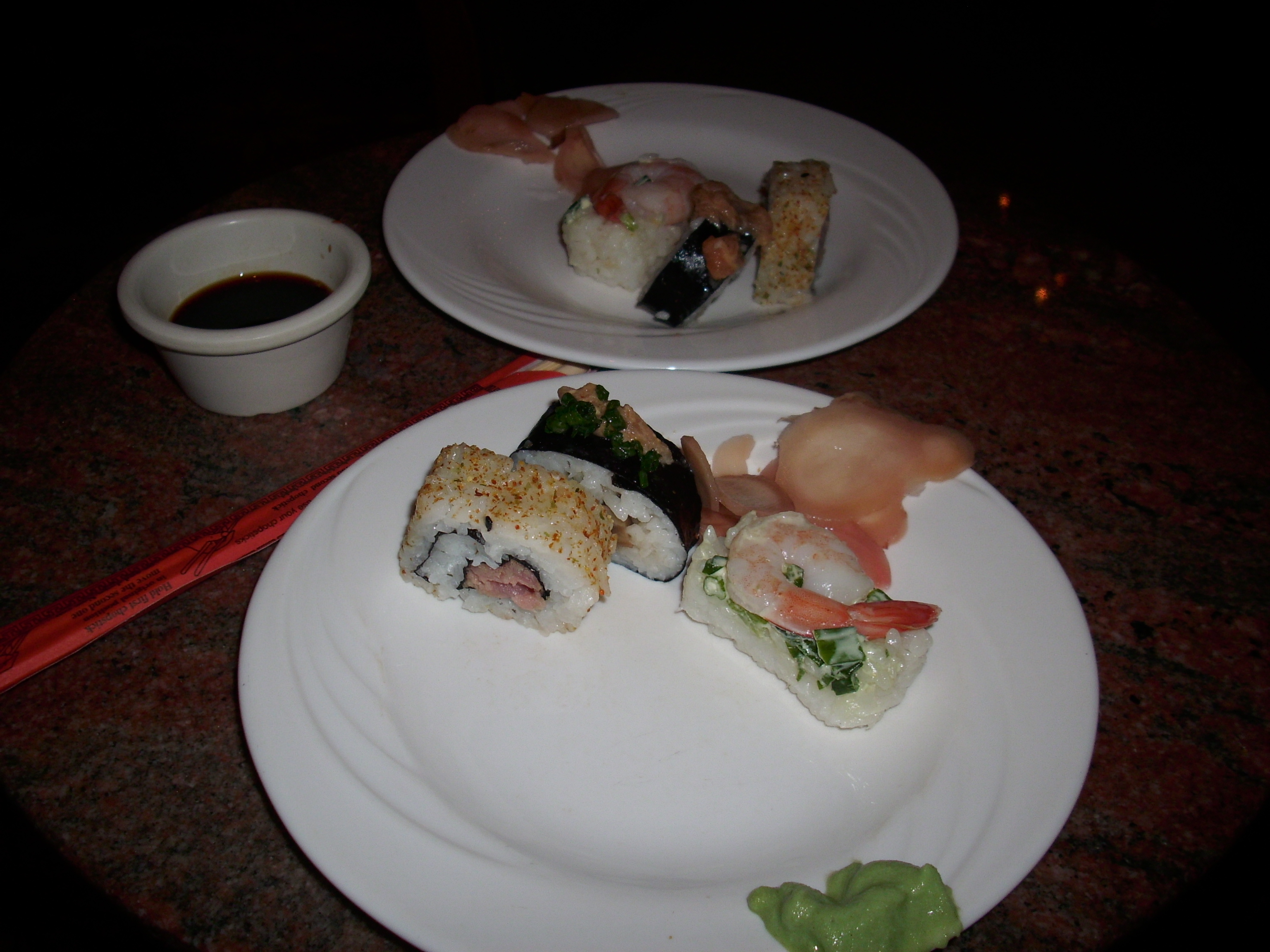 Our assigned dinner time was 8:15, so we just relaxed and listened to music until it was time to go.  On my past cruises, dinner has been my favorite thing–it's like eating at a really nice restaurant every night, and we had always been fortunate enough to sit with some really great people.  We hoped our table would be interesting enough!
We got there and were seated easily.  Then we learned that three large nearby tables were all for ONE family group.  Uh-oh.  Our waiter quickly became overwhelmed.  Another couple joined us then, and we were chatting a bit.  Then one more guy showed up and sat down, but then his girlfriend or wife came over and pulled him up, telling him they had been reassigned.  I was starting to get a little sad, but we salvaged the evening by having a good time chatting with Jason and Michelle, who had JUST gotten married (eloped) on Friday, and we were the first people they had told!  They were from Manhattan and the Bronx.  In any case, the service was difficult that night, but the food was still pretty tasty.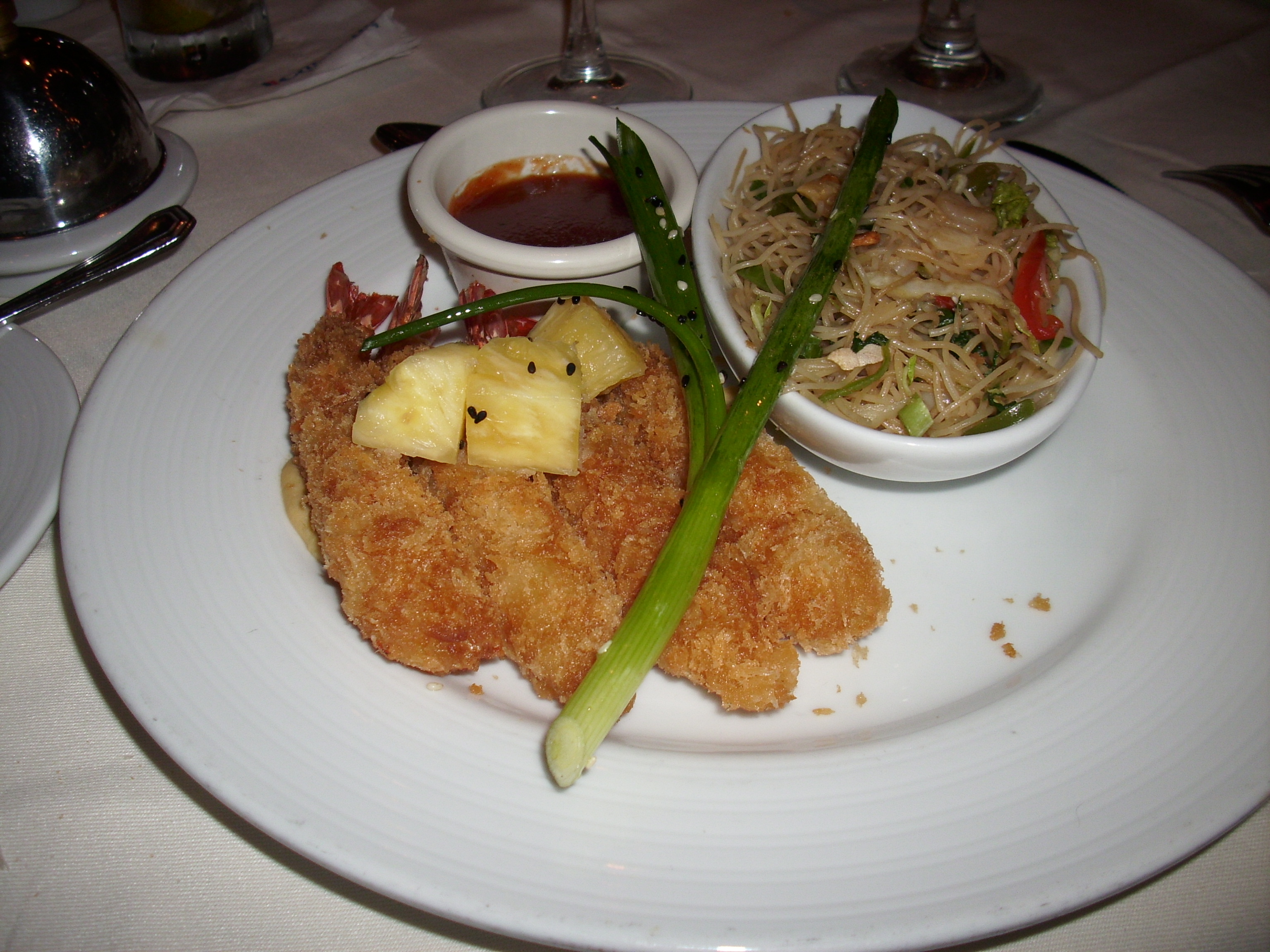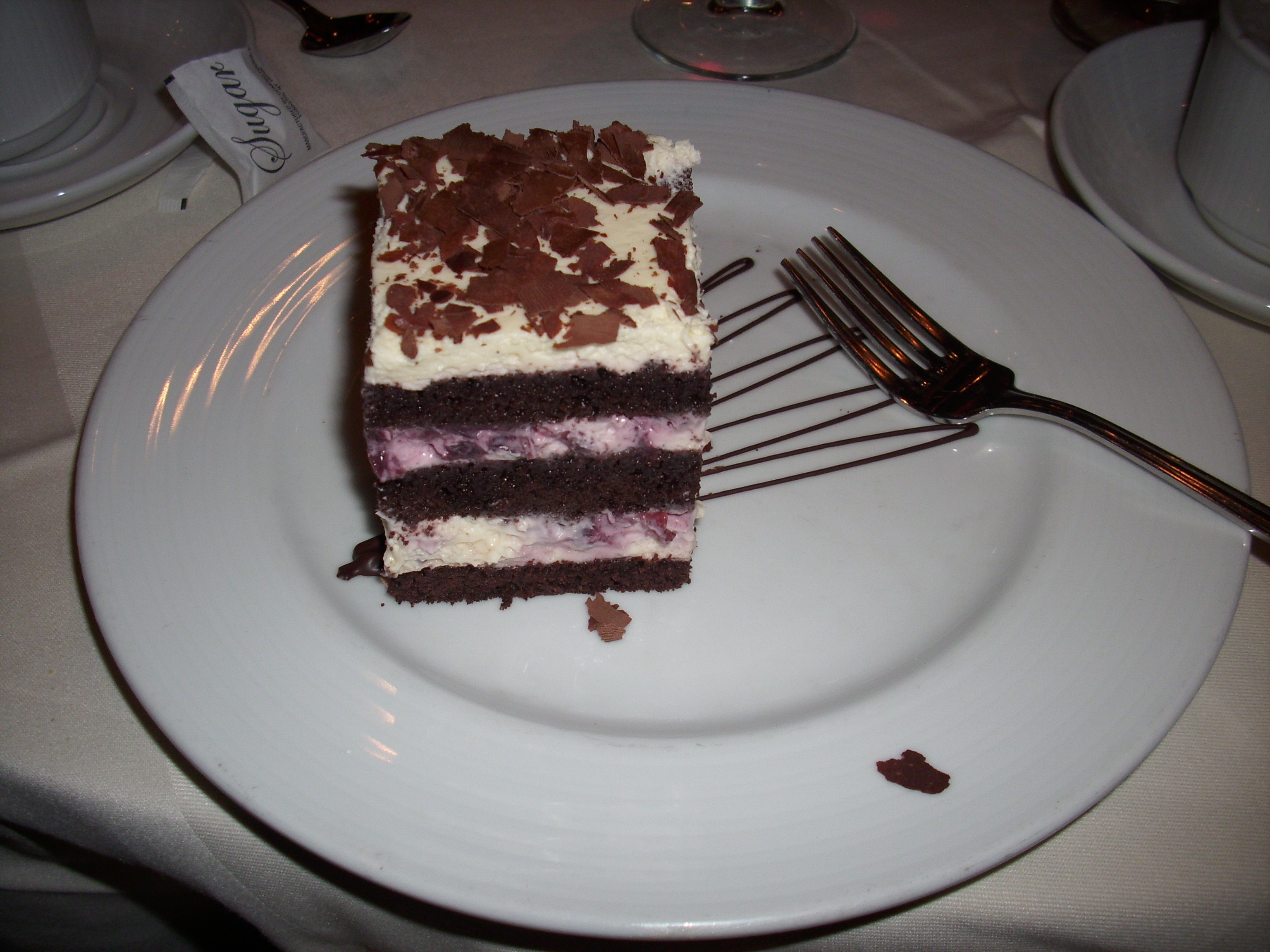 After dinner Chris and I went to the Welcome Show in the Follies Lounge or Theater.  The musicians were great–no strings on this cruise, but trumpet, flute, saxophone, piano, drums, plus a few singers and quite a few dancers.  We were highly entertained.  We then went to the comedy show, an R rated show by a comedian named Thomas Brown-very funny!! We ran into our tablemates there and sat together on one couch.   After the show, I was exhausted, so we headed our separate ways and went to bed.  Tomorrow's paper (each day they give you a paper telling you what is happening on the ship that day) was in the room along with the first of many towel animals.