You probably thought I'd forgotten about my trip (or hoped, just kidding, or why would you be reading at all?) but the truth is that work is CRAZY right now—scheduling, meeting new students, practicing, rehearsing, running around like a chicken with my head cut off. I'm on day 14 of over 40 straight days of work, and at least today ended up just being two students…and of course the inevitable practicing, which never stops, but is especially important right now.
So, where were we?
Previous posts:
Feeling at home in Arches National Park
We left off in Arches National Park on the morning of Friday, August 5. Whoa, that's a long time ago! But, this was the morning we had tickets for the Fiery Furnace Tour. The Fiery Furnace is an area of the park that you are only allowed in by permit, either on a ranger-led tour, or on your own. We didn't want to get lost so we opted for the ranger-guided tour. It cost $16 each and like everything in the National Parks, had to be reserved in advance. They warn you that the hike is strenuous and challenging, with small spaces and drop offs, so I was both overconfident and a bit nervous.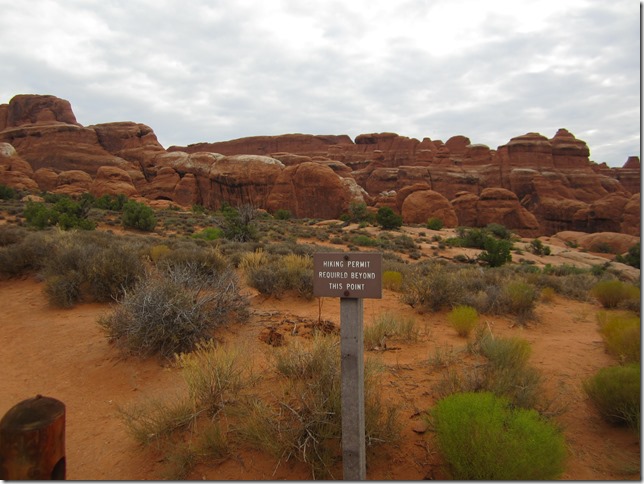 The tour was great. The guide was really knowledgeable and interesting, and he led us for several hours, with a good balance between hiking and learning about the geology, biology, and ecology of the area. Zoology also, perhaps?
The day had started overcast and cool, but by the time the tour was done (and I totally recommend it, by the way) it was hot! The Fiery Furnace area was pretty shaded actually, since the formations are so close together, but we finished the hike around noon and it was definitely hot.
We headed back to the Devil's Garden campground to find our new spot. As amazing as site 18 had been, our new site, site 3 was less good. It was fine, in that it was still in a gorgeous location, and it was near the bathrooms, but it looked like we were in half of a pull through RV driveway and there wasn't anywhere great to the put the tent. There were also loads of ants everywhere! We moved the picnic table and had lunch, and plotted out a place for the tent, but it was really hot and we decided just to set it up later.
It was time for more hiking. We wanted to see parts of the park we hadn't gotten to the day before so we headed for the Windows area. There are several arches there with a short trail around them. We were drinking a lot of water, and the parking lot was super crowded. People really like posing under the arches, but they don't really like following what the park called "primitive trails" so we took that one back. It wasn't in any way difficult, but it wasn't paved and you had to watch for cairns, and it was nice to avoid people, as usual

Next we decided we should hike to Delicate Arch. This was a more strenuous hike, but we thought we had enough energy. It was really hot, over 90 I think, but we loaded up our packs with water and hid the trail. This trail was pretty crazy. There was a part where we just hiked basically straight up a huge slickrock.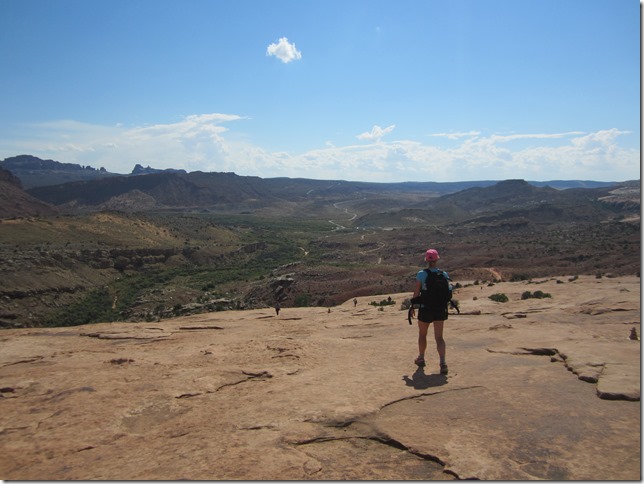 It wasn't too steep, but was a bit overwhelming looking too far in the distance, up or down, so I just tried to focus on my steps. It was difficult in the sun, and steep enough that it was exhausting. We had a few places with shade where we stopped to rest but mostly kept going. The end had a little bit with a drop off but I hugged the wall and we made it to the top. The arch was pretty impressive.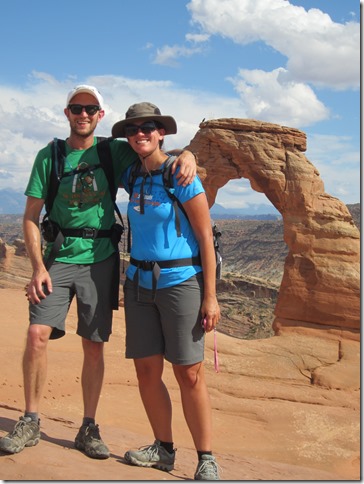 Though we were larger than it.
Side note: not everybody who takes your picture is a great photographer. Sometimes the selfie stick is best…this might have been one of those times, because, we were not in fact larger than the arch.
Anyway, the arch WAS still a little ways away, but I'd had enough hiking across slickrock and I felt I'd accomplished my goal. Louie went over to get a better look and I hydrated. I was pretty convinced he was going to fall off (my constant fear)but after a little while he made it back. The hike back down was far easier.
If you look closely you can see Louie in this picture.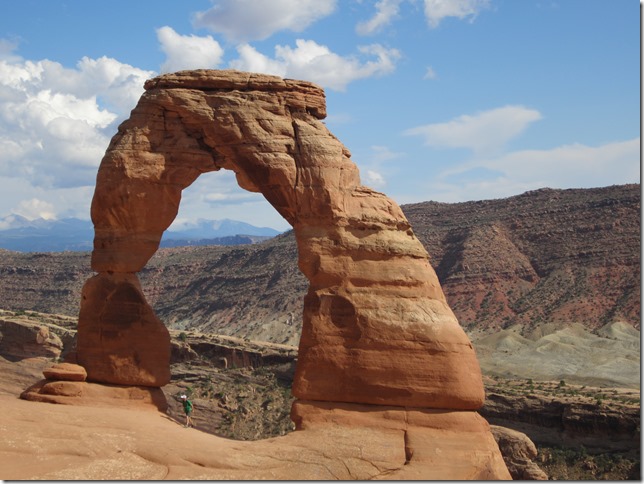 And this one.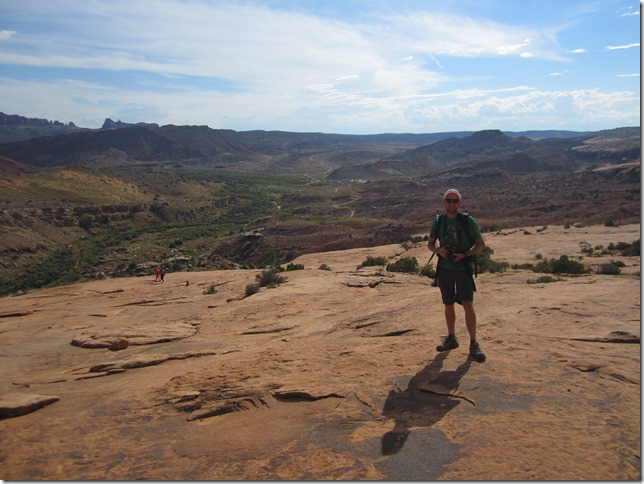 Hiking back down the slick rock.
Anyway, after that hike we were totally beat and headed back to the campground to relax and have dinner.
We initially set up our tent up here:
We set it up, made dinner and were starting to enjoy the campfire and relax when the winds started to pick up…and practically blew the tent away. We had staked it the best we could but it was a bit rocky and it just wasn't enough. Luckily we were there to catch the tent and we moved the whole thing down the hill a bit and set it up in the driveway (you learn WHY the previous night's campers did things a certain after the fact) and even tethered it to the picnic table, just in case…and then the storms came and we eventually just went to bed on the early side, hoping to not wash away in a flash flood.
The next day we woke up and again, packed up. We went to hike the Devil's Garden trail, at least part of it. I didn't want to spend too much time since we had to drive a couple of hours still and do some errands in Moab before we left, so we saw a few arches and some deer,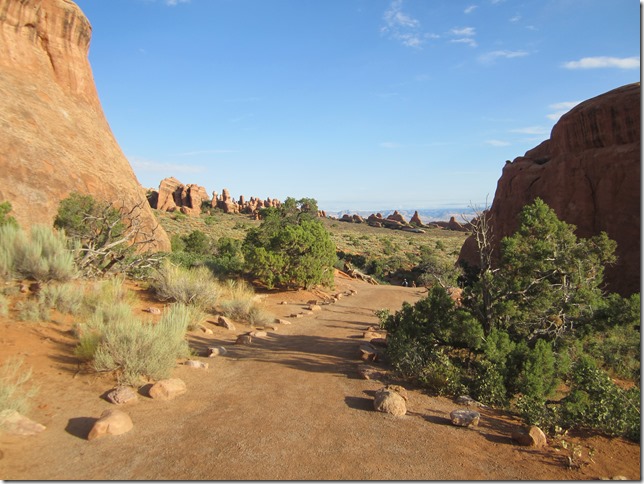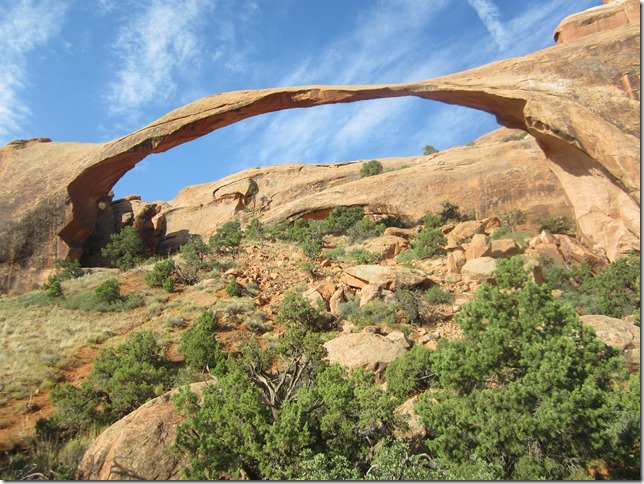 This was called Landscape Arch. One thing to know is that the arches are constantly changing, and do fall sometimes, and this particular one had had a huge chunk fall off in 1991—you used to be able to hike underneath it but the park service decided that was too dangerous. Our guide the day before warned us, before you rest somewhere, look up and make sure it seems like nothing is going to fall on you!
After that hike, we hit up the town of Moab again, got groceries (weren't sure if the next place would have a nice grocery store) and an early lunch at a place called the Love Muffin Café.
Next stop: Capitol Reef National Park
Nights Camping: 8
Miles Hiked (estimate): 47