Today is Jen's birthday.  Jen is my friend and running partner. How much does it suck that her birthday is on 9/11?
Her mom left a message about how it was HER day and not the terrorists.  How September 11 was a good day.  It makes me sad.  Jen—it's okay to be happy about your birthday!  Don't let the terrorists win!!
Jen and I decided to run 9 miles today.  However.  I suck.  I have been struggling with side stitches—I'm guessing from breathing issues?  So we cut it short at 8 miles.  We could easily have walked another mile but running just wasn't happening any more for me.  HELP!  What can I do?
We were running on the paved, multi-use path of Forest Park.  Often we are passed by bikers.  One woman yelled "on your left" and naturally we moved over a bit.  As she passed, she yelled at us "There's a perfectly good gravel path for you over there."  I yelled after her "This is a multi-use path, BITCH."  Frankly we don't care for the gravel path as well, plus there's a part that is somehow mildly creepy as it goes through the woods.  Plus the paved path is multi-use!  I was SO annoyed at that woman.  I hope she had a lovely day yelling at ALL the runners who were on the paved path.
After the run we headed to the Crepe place in the Central West End.  I wanted to take Jen out to lunch for her birthday, and we LOVE going for Crepes after a long run.  We split a sweet one and a savory one.
Last night was the second Chamber Project St Louis concert.  It was a lot of fun!  We hung out at the Tavern of Fine Arts afterwards (great wine, tasty roast beef sandwich).  Jon wore a great T-shirt.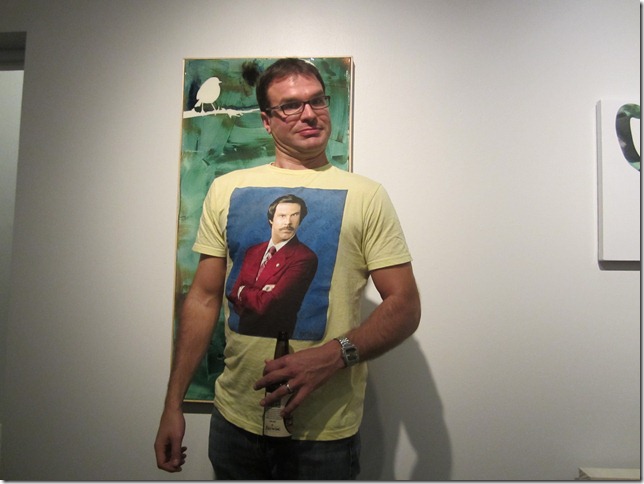 I MUST ask him where he got it.