If you are a long time reader of my blog, you know I love this time of year. Thankgiving and Christmas are my favorite holidays. Now that doesn't really make me special, in fact, I imagine that you probably also love this time of year. Vacation days, parties, baking, delicious food, gifts, time with friends and family—what's not to love?
I recently was contacted by Minted.com which is a website that sells holiday cards (other cards too, but hey, it's Christmas card time, isn't it?). I'm no stranger to photo Christmas cards as it's my favorite card to send and receive, and this site has a great selection!
From the company:
MINTED; the world's premiere marketplace for crowd-sourced independent design and art. Artists and aspiring designers from around the world have their work featured on Minted. We believe in providing the best service to our customers and uphold that ideal by using only the finest materials and products. Minted is dedicated to the celebration of life's most important events – whether birthdays, weddings, or reunions – we're there every step of your life's journey.
Though the cards are more expensive than some, I think the designs are generally really beautiful and artistic! If you have had a new baby or a special event this year and want to showcase your photos to share with your friends and family, I'd definitely take a look around the site—they have so many varieties of cards in various shapes, sizes, and paper options that you are sure to find something you love. Visit the website to take a look around.
(I was offered a merchandise credit in return for sharing Minted.com with you guys, but I do think they look like a great site to get quality cards.)
Minted.com currently has a discount code for a short time. If you use the code BACKERFS (only until Nov. 4 so act fast!) you can get free card backers and free shipping on your order. I'm betting after that expires there might be another code too…
Oh, let's see, I promised you some Caturday too…remember, send me your pictures to be featured! I have a few that I'll save for next time, but my sister Leslie sent me this awesome one of her cats that REALLY makes me want to get a kitten for Fatty to play with…or murder…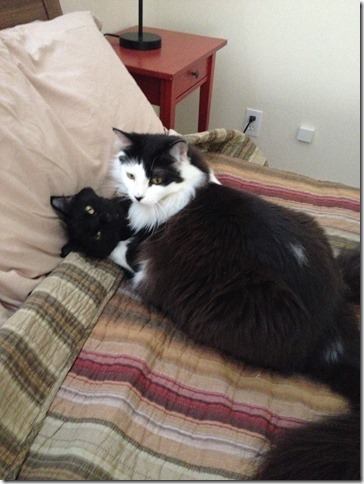 I presume that Catalunya (black cat) survived the attack.