I've had a wonderful weekend. I'm not going to lie. It's been awesome and lots of fun and I'm sad that it is nearly over.
The fun started Thursday night when I met April for dinner at Gringo. I don't know if I've mentioned but Louie and I have decided to follow a vegetarian diet for about a month. So it's been a fun challenge to see how to avoid eating meat. We are still eating cheese and eggs and all those delicious animal products but avoiding actual flesh.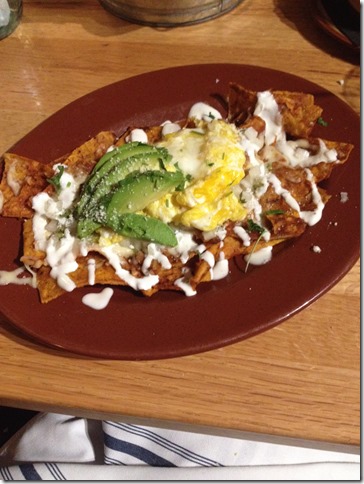 So I read the description of my meal and I'm not sure what I expected but it was basically nachos with egg and avocado. Not too bad but not what I thought I was getting! We also split the guacamole which I love and had a few margs…well I did at least 😉
Friday was a busy day. It started with a trip to the dump and ended with dinner at Ranoush on the Loop and watching The Imitation Game. The movie was very good but I had a lot of questions afterwards about what was fact, what was fiction, and how a bunch of cryptographers failed to initially check for the most common word combinations when trying to crack a code. Turns out that part was fiction.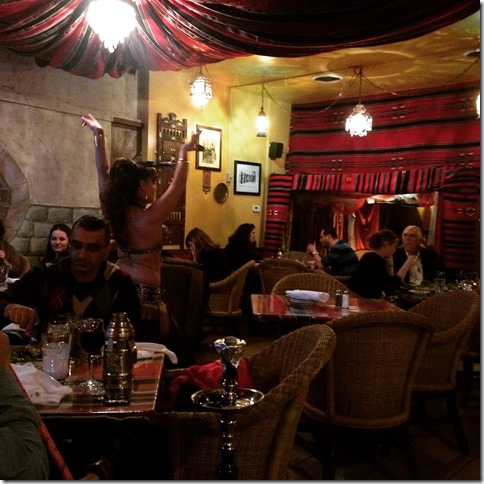 Saturday afternoon we took a hike, another from the book, 60 Hikes within 60 Miles of St Louis. I picked a hike around Howell Island Conservation area, but we made a few mistakes with that. Firstly, it was incredibly muddy at the beginning of the hike…which was also the end of the hike. And we didn't realize there would be hunting. I think I read the phrase "conservation area" and assumed that meant "not killing stuff" and didn't keep reading. But we did the long loop anyway, didn't get lost in a field where the trail went kind of cold, and had a great time.
It was kind of a bleary day, but was actually really nice for January. It started drizzly towards the end and we got a bit nervous but it never turned into much.
After the hike we decided to go out to dinner, so we hit up Stellina Pasta since they had a few good looking vegetarian options. I got tagliatelle with spinach, mushroom, and a garlic cream sauce and it was really delicious. I wouldn't ordinarily order food with a cream sauce, but the beauty of not eating meat is that you can get your calories from other fatty sources. Or at least I tell myself that. It's nice, by the way, following a diet that isn't about ME and is about not eating meat. I don't know how I feel about this sort of thing sometimes…it's hard to know what the best thing to do is, but it does seem that eating less meat is probably a good thing. I haven't missed it too much because I've upped my pasta intake. I also plan to return to eating meat, because I don't want to WORRY about things.
Today we had a family brunch (well, Louie's family) with delicious pumpkin waffles made by his brother! I think I ate about 100 of them. Or four. Also the grapefruit was excellent. Then I actually had to do some work (ugh, work!) on the computer for a variety of things and we did manage to get to the gym. One of the things we are both trying to do is get workouts in when we can, and if that means mostly on the weekends (this time of year my weekends are light and freer) then we do it then. It works for me. I'm trying not to stress over what I can't do and focus on what I can.
Oh, and I'm NOT watching the super bowl. I didn't get any party invites and I don't watch football (possibly related) so I'm just at home, thinking about dinner and Dr Who. And my to-do list for the upcoming week, which is of course huge and much more than I will actually accomplish.
I considered waiting to publish this until tomorrow due to the game, but then I remembered 1) any readers won't be watching either, they will be just playing with their cats and 2) I don't ACTUALLY have any readers since I don't blog regularly enough nor on any actual topic.