My sister Leslie and her husband Peter got married on October 21, 2012 in Phoenix, Arizona. Their ceremony was at the Japanese Friendship Garden and their reception was at the Clarendon Hotel, both in downtown Phoenix. I wanted to put together a summary post, mainly for my own fun and for Leslie, but I thought perhaps if anyone reading this is getting married in the Phoenix/Scottsdale/Tempe area it could be helpful! If you have any questions, don't hesitate to ask.
Leslie used a lot of items from Etsy.com. As most brides these days know, Etsy is a huge resource for unique, personalized, and handmade items. Sometimes I listed the shop she used, other times I didn't…sorry about the inconsistency.
Most of the photographs are from Jacquie from St Anne Photography, with a few from other sources (including our good friend Loren who is very talented!)
I apologize for the long post, but I couldn't help but show off my sister's wedding and how gorgeous she looks in the photos!
Invitations and Save-The-Dates:
Leslie got her invitations from a variety of sources.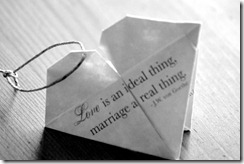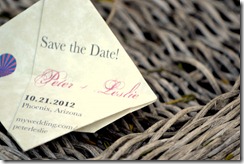 The Save the Dates were folded by Leslie—she had quite a few DIY touches for her wedding. She is quite talented at calligraphy and origami. She hand wrote all the addresses for the Save the Dates and the Invitations, and did quite a bit of origami, both for these and for some wedding decorations.


The invitations and rsvp cards were two sided—these pictures show both sides of each. They were on glossy paper and looked really neat!
Invitations from Sweet Heart Shout Out.
The Night Before:
Rehearsal Dinner was at Beckett's Table.
Getting Ready:
We met in Leslie's suite at the Clarendon for Hair and Makeup the morning of the wedding.
Makeup for the Ladies by Lipstick and Loves
Hair by Tina from Moments Salon
Wedding Dress– Mariee Bridal
Alterations– Bridal by Sadie
Shoes—Nina, Shoe clips from Etsy but they did not stay on very well.
Purse—Etsy.com –Babb's Boutique (Same purse we used for my wedding but with a different flower!)
Sash–Icing 101 on Etsy and Wedding dress hanger—My Amber Coloured World on Etsy (I gave this to Leslie as an engagement gift—cheesy, yes, but I thought it would be nice for photos.)
Earrings—Nordstrom
Maid of honor dress–J.Crew, Shoes from Nina, Earrings from Nordstroms (gift from the bride)
Men's ties–J. Crew
Some pre-ceremony pictures at the Clarendon Hotel:
Bouquets, Boutonnières and Centerpieces (later) by Floral Verde
The sisters! Leslie, me, Carrie. I love this picture. It's out front of the Hotel.
First Look!
Getting to the ceremony:
Ollie the Trolley—Leslie and Peter hired a trolley to drive the guests who needed it from the Clarendon Hotel to the Japanese Gardens and then back afterwards. I loved it!
The Ceremony:
The Wedding Party: Ved, Peter, Leslie, and me (Hannah)
Ved and I walking in.
Leslie and Dad walking down the path.
And down the aisle. It was a long walk!
Officiant–Matt Nathanson
It was a beautiful day for a wedding!
Yada, yada, yada… "You may now kiss the bride!"
We signed the marriage license as witnesses…
The new Frey Family! Complete with some non-Freys now.
And aren't the Gardens gorgeous?
A few other ceremony details…
Ceremony Programs from Etsy
Quartet arrangements by Hannah Frey (tee hee!), the ladies in blue are sisters of the Bride and Groom, the others are good friends.
Parasols—Japanese Friendship Garden Gift Shop
Sand Ceremony Bottles from Etsy and Cranes handmade by Leslie
Time to Celebrate!
The reception (including dinner) was held on the rooftop of the Clarendon Hotel.
Catering by their on-site restaurant, Gallo Blanco—guacamole, tacos, rice, chicken, and more.
Cupcakes by Urban Cookies , cupcake tower from etsy
Papel picado flags—etsy
Table name tags done by Leslie. Succulent centerpieces by Floral Verde
Each guest got their own crane to give them their table assignments. Calligraphy and origami by Leslie, of course!
Mariachi–Mariachi Luz del Sur. The band was great!
Guest Book from Snapfish.
So there you have it. It was a beautiful wedding day, with (as expected) lots of planning involved before hand that absolutely paid off. We had a wonderful time celebrating with Leslie and Peter, and wish them the best in the future!