I thought I would give you a wrap up as to which wedding vendors I used and briefly what I thought of them for those local readers who might be interested.  I've also included the various Etsy shops and other places where I bought accessories, for national readers.  My biggest advice regarding vendors is that you want people you can trust to do a great job, and once you find them, rely on their expertise to help you.  They do this all the time, you only do it once, so though it may seem more important to you, they know what works, what doesn't, and they will be able to help make your dream wedding come true.
Local St. Louis Vendors:
Venue:  Moulin Events.  Our contact there was Ann Jones and she was beyond amazing.  This is a one stop venue for our ceremony, reception, and after party, with catering.  We had our ceremony in the Chouteau Room, reception in the Centennial Ballroom, and an additional hour of fun in the Malt House Cellar.  Our wedding would not have been nearly as easy to plan without their expert help.  The food was great, the help was fantastic, and they were just wonderful to work with during the whole planning process.  Not to mention that we absolutely loved the ambiance and general decor of the venue. www.moulinevents.com or 314-241-4949
Celebrant:  Lamira Martin of "Your ceremony, your way."  Lamira was wonderful to work with and helped us create exactly the ceremony we wanted, down to the exact wording she would use.  She was prompt, professional, and fantastic.  We loved our ceremony and would highly recommend her.  314-443-8654 or www.yourceremonyyourway.com
Flowers:  Becky Huffman.  You can see throughout my blog how gorgeous the bouquets and centerpieces were!  We didn't want huge amounts of flowers but she worked with us to create some lovely vase/candle/flower centerpieces as well as beautiful bouquets, corsages, and boutonnières.  www.beckyhuffmanflowers.com or 618-476-6111
Photographer:  Sarah Crowder.  Sarah really went above and beyond.  Seriously.  I love her pictures, she was fantastic to work with both on the day, afterwards, ahead of time, and at the engagement session.  I couldn't recommend anyone more.  We took photos at the Omni, at Powell Hall, and at Moulin. www.crowderphotos.com or 636-456-7406
Most of the pictures in this post are from Sarah! In fact, the only ones that aren't I labeled, in case you weren't able to tell.
Cake:  We got our cake from Wedding Wonderland.  It turned out that there was a mistake in our communication as far as the color scheme for the cake, but Chris said he actually preferred the way it turned out, so I decided to let it go, with the warning to everybody to be sure to double check things!  The cake tasted delicious and was beautiful.  www.wwcakeshop.com or 314-837-5015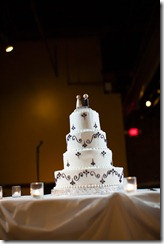 Transportation:  We used Absolute Perfect Touch Limo for transportation before the wedding.  They took us to Powell for pictures, to Moulin and then drove some guests from the hotel to Moulin.  Very courteous and professional.  www.aperfecttouchlimo.com or 636-332-3003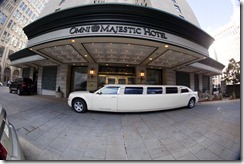 Hotel:  We stayed at the Omni Majestic Hotel in downtown St Louis along with many of our guests.  They worked with us for a great rate for our guests, and we received many positive comments about the hotel from our friends and family, so I'd say they were a success!  We also rented a shuttle from them for after the ceremony to shuttle our guests (and ourselves!) back to the hotel and they went above and beyond with that, continuing to make trips until everybody was back safely, beyond the hour we had booked.   Omni website.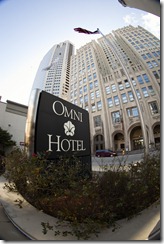 Wedding Dress:  Clarice's Bridal Shop.  I worked with Yasmina there, and she was just wonderful.  I absolutely loved my dress and I probably wouldn't have even tried it on if she hadn't suggested it based on other dresses I liked.  The dress came in early, and they were easy to work worth.  They also sell bridesmaid dresses and if I had gotten started on my dress shopping earlier I would have gotten those dresses there too.  www.claricesbridal.com or 314-351-2499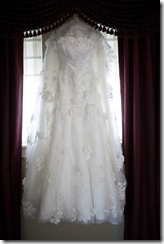 Band:  Galaxy from Millennium Productions.  We enjoyed the music and they did a great job running the reception as well.  www.millennium-productions.com or 314-918-9335
(They won the Riverfront Times' "Best Cover Band-2012")
Cocktail Hour Music:  We hired Phil Dunlap to play an hour of Jazz piano.  He was awesome!  Contact info available upon request.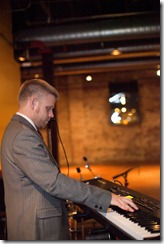 Ceremony Music:  We had some of our friends play quartet music for us, but I organized it 😉  Remember, that is part of my job!  They sounded fantastic.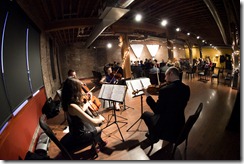 Groom and Groomsmen Clothing:  Men's Wearhouse.  They were easy to work with and were helpful for out of town groomsmen.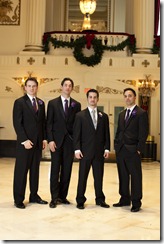 Bridesmaid Dresses:  David's Bridal.  This is my one big negative.  I had a lot of trouble with David's Bridal, from not getting much help in the store to them losing our order.  The dresses looked nice, but I wouldn't recommend them.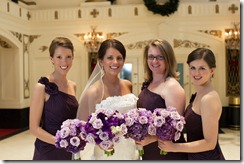 Other stuff:
Hair/makeup:  I used my normal hairdresser who recommended a makeup artist and another hairdresser.  They traveled to us.  Contact information available upon request.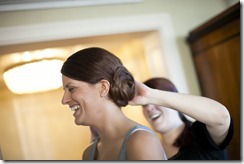 Invitations/paper:
For our wedding invitations, programs, place cards, table numbers, menus, and save the dates we used Ginger O'Hara of Serendipity Beyond Design.  www.serendipitybeyonddesign.com or 314-514-5774.  These were all in a similar theme.
For our rehearsal dinner and rehearsal invitations we used Perfectly Scripted.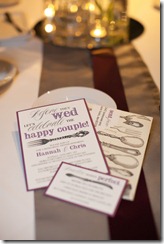 We got our thank you cards at Target, two large boxes of 50.
I ordered return address labels for the thank you cards from Vistaprint.
Rehearsal Dinner:  Eau Bistro at the Chase Park Plaza.  They were great.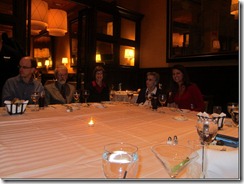 (I believe my friend Sarah took this on my camera)
Manicures/pedicures:  Beautiful Nails at 1107 S. Big Bend Blvd, 314-647-5121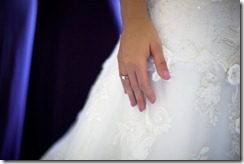 Pre wedding facials/waxing/hair:  Salon St. Louis
Rings:  The Diamond Shop in Clayton.   www.thediamondshop.net or 314-721-2210.  Great service and they are always like that when I go in (for cleaning, resizing, insurance reasons, etc.)
Tanning:  The Tan Company www.thetanco.com
Guest Book:  Pictures were by Sarah Crowder, album from snapfish.com.  We used some quick drying pens I bought from amazon and had people sign it like a yearbook.  I loved this idea!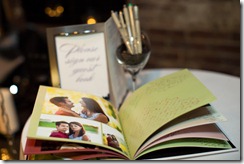 Registry:  Crate & Barrel and Bed, Bath, & Beyond.  Both were great online but I'm told some folks had trouble in store with Bed, Bath & Beyond.  Might have been a local store problem, don't know.  Both offered a nice coupon for "registry completion."
Wedding Website:  We used mywedding.com.  I'm not sure how many people actually looked at it…but still.  Free and easy enough to use.  You don't get a domain name, but I didn't really care about that.
Wedding Planning:  We used www.theknot.com for their checklist—without it we might have had a lot more trouble.  The checklist is overwhelming at first, but once you get started you can take away things that aren't important to you, and it's really helpful as far as prioritizing what to do in what order.  Is it the only way?  No, but I think half the problem of planning is simply getting started. I also got lots of vendor recommendations there as well as www.weddingbee.com.  I read a few books, but nothing that I particularly recommend.  I do recommend reading books and looking at magazines though, just nothing in particular.  I bought The Ultimate Wedding Planner because I thought it would great to have a binder, but ended up using my own (sturdier) binder, adding dividers, and ultimately it was more a binder I made myself than the one I purchased.  I'm still using it for my thank you notes, since I made a list of all the gifts received and I'm checking off as we write the thank yous.  (Planning to finish that by the end of February).
The following are my various etsy purchases:
Bride's earrings:  Olini Bridal Jewelry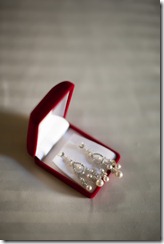 Bridesmaid earrings:  KalliArt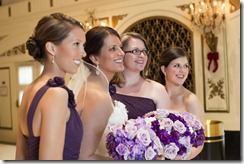 Clutch: Babbs Boutique, also a blog entry here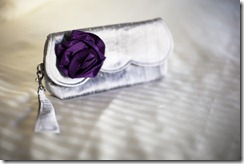 Cake Topper: Knotting Wood (I love this, and we have it on our mantel now!)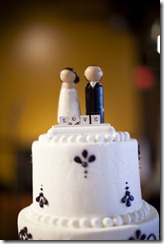 Smitten Mitten: ElleGanT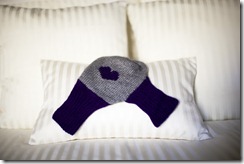 Veil: MarisolAparicio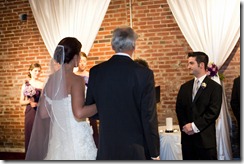 Faux Fur Bolero: Alex Bridal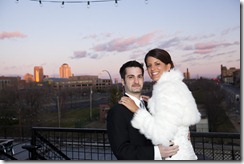 Rehearsal Dinner Jewelry: Design by Kara
Rehearsal Dinner Dress:  Lord and Taylor
(not from Sarah Crowder, I think my mom took this!)
Wedding Shoes: Were from zappos.com.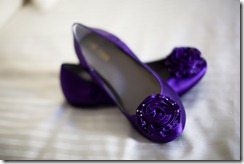 Chris's cufflinks were from overstock.com, his socks from Target.  The bridesmaids each bought their own shoes.  The candle in our ceremony was from Bed, Bath, & Beyond.  The silver frames for table numbers and guest book sign were from Amazon.com.
Honeymoon:
Hotel:  Ocean Reef Suites in Miami Beach.  Not a huge fan.  It was a nice location, but it was under construction which woke us up early on two days.
Cruise:  Celebrity Cruises 7 night Eastern Caribbean Cruise.  Loved it beyond anything!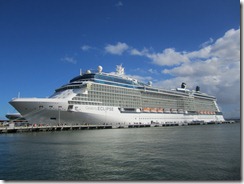 Jet Ski excursion: St Thomas Waverunner/jet ski excursion
Bridal Shower:
Invitations: Leslie ordered them from paperstyle.com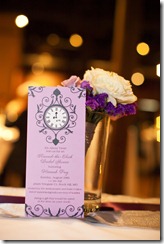 Favors: Personalized M & M's from the M & M's website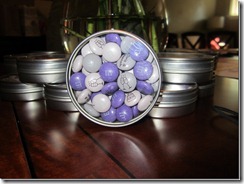 (my picture)
Did I forget something you wanted to ask about?  Feel free to email me at any time for any question!  The fact is I love talking about my wedding.  hannahviolin at gmail.com or send me a tweet @hannahviolin