I hope you all have a wonderful Christmas (though I realize not all my readers may celebrate—have a great day either way!). 
Enjoy your time with family, friends, loved ones, pets, hams, etc.  And remember, I always appreciate presents

(I will be catching up on reverb10 and other interesting blog posts after the holiday.  Relationships are more important than blogging.)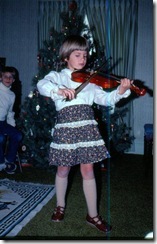 Me, circa 1983
My family the last time we spent Christmas together.  Leslie didn't have her boyfriend with her at the time, but it's just as well as she has a new one now

  Maybe in a year or two we'll get another group photo!  (serious alert!—) It's amazing we were all together—later that day my dad left to go up to Ohio to say his goodbyes to my Grandpa, and then the rest of us drove up the next day. 
That's Christmas for you—sad for those who are no longer with you or cannot be together, but happy to be with those whom you can. 
If you want to make a donation to help fight pancreatic cancer, you can do so here.  I have lost two of my grandparents to this disease, and it doesn't get enough attention.