Sunday I ran the MO' Cowbell Half Marathon.  It was the first year of the race, which was replacing the Lewis and Clark Marathon (which was bought out by the Rock and Roll Series).  I couldn't resist running a race that involved cowbell!  The race took place in St Charles and was a nice looking 13.1 mile loop.  It was advertised as flat and fast, and the map seemed to just have a few hills towards the end.
Packet pickup was at the Ameristar Casino on Friday or Saturday.  I was busy Saturday so I trekked out there on Friday.  I was amused that the packet pickup for a race was at a casino…in any case, it was very easy.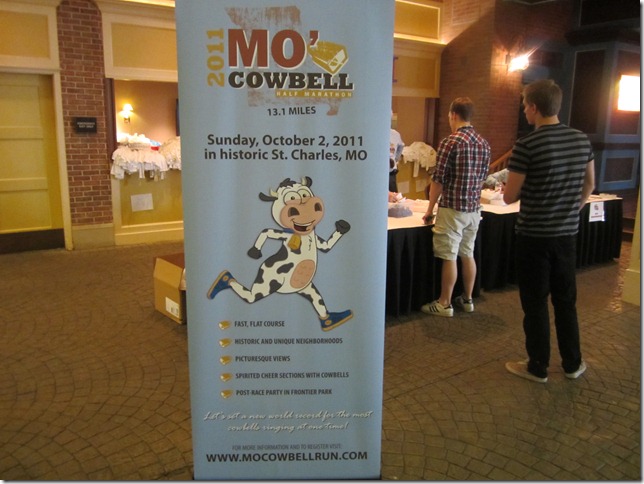 I got my number, a little cowbell, and a nice long sleeved technical shirt.
We were instructed to bring our cowbells with us to try to set a world record for the most people ringing cowbells at one time.
Sunday morning I got up around 6:00 and headed out the door by 6:30 am.  It was pretty cold so I wore layers—shorts and tank top under a long sleeve shirt.  The race didn't start until 8:30 am but I wanted to make sure I would find decent parking.
It was really easy to get parking and I ended up in the lot right by the race.  I arrived around 7 am so I read for about 45 minutes before decided to set off in search of a bathroom.  There were about a dozen porta potties set up and the lines were pretty long—luckily I got in line before they got really bad.
It was a beautiful day, and we were right down by the Missouri River.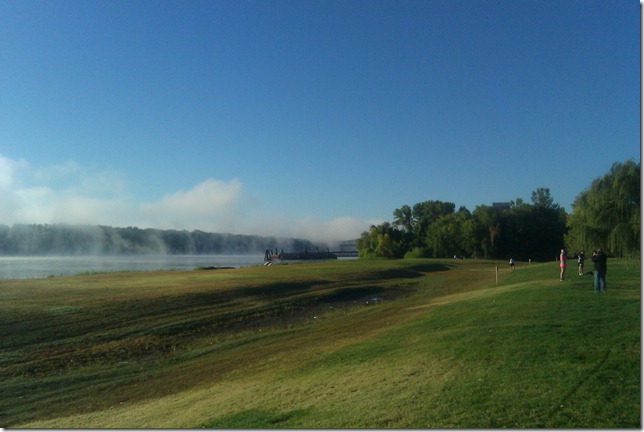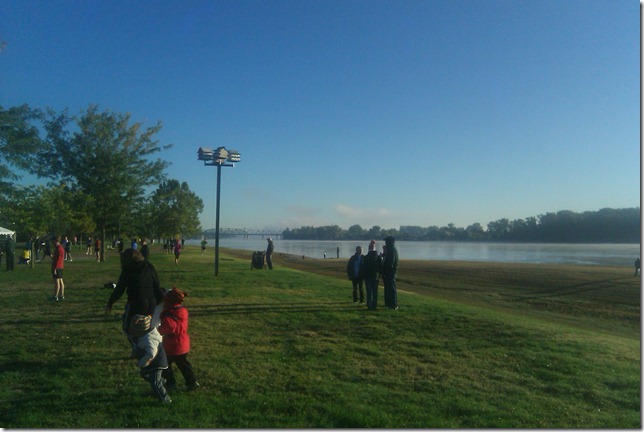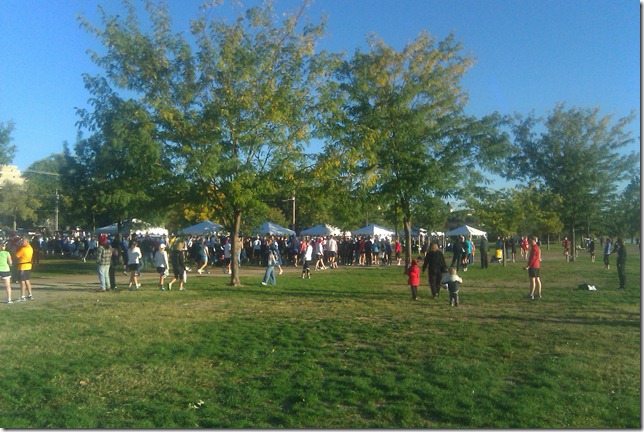 I wandered around and tried to stay in the sun to keep warmer.  Finally it was time to line up for the start.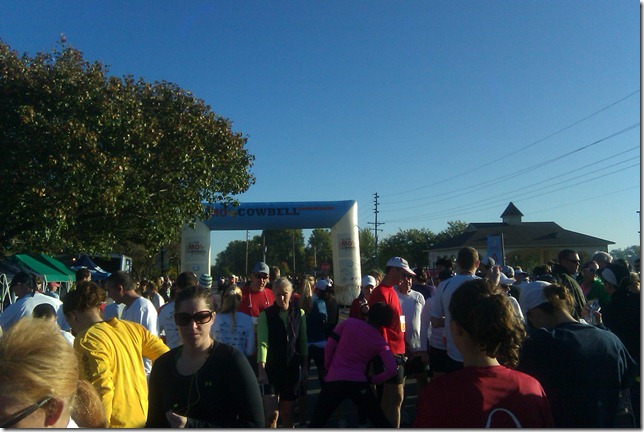 We rang our cowbells like crazy people!  And then the race started.
My goal for this race was to run nice and easy and not overdo it.  I wanted to try to be as steady as possible and had decided that shooting for 12 minutes miles would be a good plan.  The first mile I kept checking my watch and seeing how I needed to slow down—it's HARD to run that slow with a bunch of adrenaline rushing through you, but I knew if I didn't start slow I'd never make it through.
I had checked the map and it looked like there would be ample water stops so I just brought a couple gu with me.  The first water stop was oddly right past mile 1, but then there wasn't another one until around mile 6, from my recollection.  That was a little strange.  I also kept thinking I'd have to stop to pee but never wanted to enough to bother with out.  I kept pretty even until around mile 7, when I realized my hip was starting to hurt.  I stretched it out and kept going.  As regular readers know, the past two months of running haven't gone exactly the way I wanted, and my longest daily mileage leading up to this race was 9 miles, with my longest single run being 7.5 miles.  I knew I could finish, but I didn't know how I would feel.
After I hit mile 8 I stretched as well.  We had just run through "New Town" which is this odd and creepy (to me) area of St. Charles that was built to be a community within itself.  I find it creepy just because it seems like a bunch of people are trying to "return" to a time in America that never truly existed, but it was actually really nice to run through.  Many people were outside of their houses cheering us on, and the only annoying and dangerous thing was that the course wasn't closed to traffic and there was QUITE a lot of traffic.
My 4 mile split was around 48 minutes and my 8 mile split was 1 hour 38 minutes, so you can tell I was slowing down.  (From a snail's pace to begin with, hah!)  After 8 miles I kept having to walk a bit and stretch out the hip.  We hit a hill after that and I just kept going.  Mile 11 was finally done with hills and we were getting towards the end.  I knew I could finish strong enough at this point, and then I started running more and picking people off.  I'll tell you, nothing felt better than passing people as I was heading towards the finish!  It was funny to me how much harder it was to keep a 12 minute pace at the end—I kept feeling like I was running SO fast, and then I'd look and I was running 13:30 miles.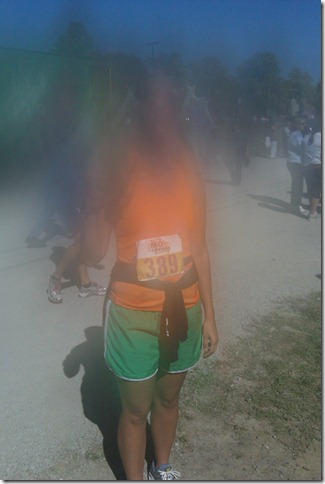 At the finish line!  Oh, what's that?  When you have your phone in your belt and it gets sweaty the lens gets cloudy?
Finish:  2:41:22.
Not a pr, but that's not what I was going for.  A good race, felt good afterwards, felt good DURING, except for my darned hip.
Some race photos—unfortunately I was trying to pause my watch.  I'm just not dealing with that next time (and wouldn't if I'd known that's where the picture was!)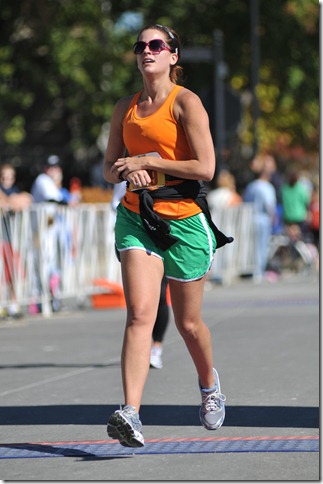 But LOOK!  I'm in the air!  I was actually RUNNING!!!!!!
Oh yeah.  IN THE AIR!  Oh, and there may be video if you follow this link.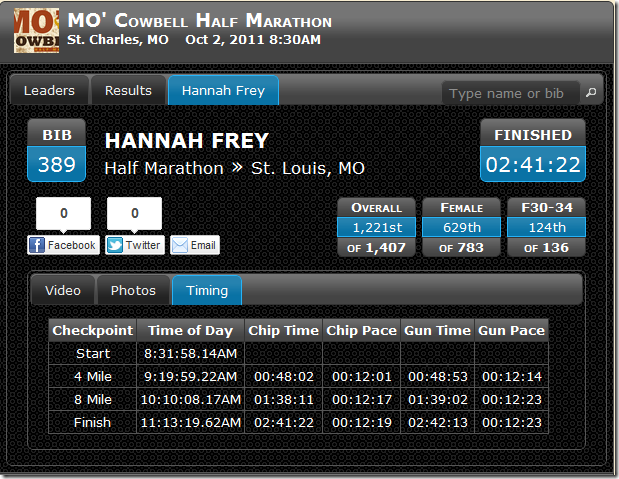 And a good photo from the parking lot!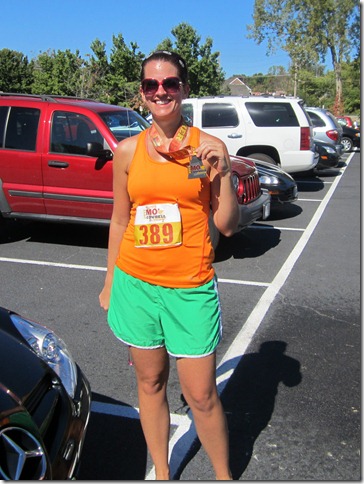 Half Marathon #5.  Check!