These are two different products from two different companies, but I am combining them together for a giveaway!
First up:  Noxicare.
Noxicare™ Natural Pain Relief is a breakthrough natural, patented pain relief formula that is a proprietary combination of 7 of the world's most potent natural pain relievers that quickly and effectively alleviate inflammation, muscle aches and nerve pain (burning feet)—with NO known side effects and without a prescription.
I tried some of the cream after the half marathon—my calves were crazy sore so I thought that'd a good opportunity.  I thought the texture was nice and easy to rub in, not too greasy, and though I can't say for sure how well it worked, (I should have done one leg with another kind of cream for control purposes, ha!) it seemed to do the trick.  My calves no longer hurt.
Epicor: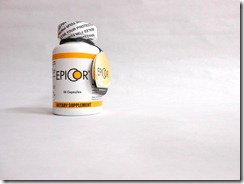 What is EpiCor?
EpiCor is an all-natural nutritional health ingredient used in dietary supplements that helps support the immune system. It is a unique, complex ingredient comprised of protein, fiber, vitamins, amino acids, antioxidants, and other metabolites. Taken daily, EpiCor has been shown to be a safe and effective way to help support immune health and maintain wellness.*
Okay, how well does it work?  I can't say, obviously.  First off, you should know I am NOT a fan of vitamins.  I prefer to try to eat a variety of food.  Studies have shown that vitamins are practically worthless and I hate to just throw my money away.  That being said, I figured, okay, fine, I'll try this.  And I've had a minor cold this month, a stomach virus, and I'm currently dealing with another cold or something with a hacking cough.  Would I be worse off without EpiCor or better?  There's no way to tell.  I'd love to be able to say, oh, yeah, this definitely helped, but obviously I can't say that.
I will say I feel really virtuous taking a vitamin type supplement every day, like I'm doing something really good for myself.  Ha!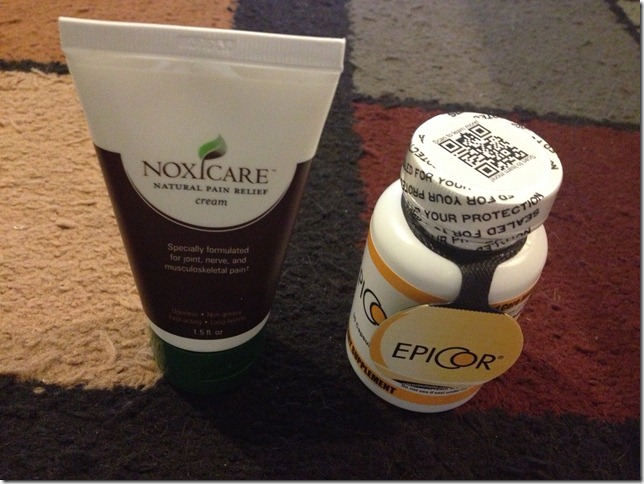 Okay, GIVEAWAY time:  One lucky reader will receive a bottle of Epicor, a Tube of Noxicare, and a Noxicare T Shirt (they sent one, and I already have more T Shirts than I wear so I'd like to share the wealth.) US residents only. Winner will be contacted by email.
I'm running this through rafflecopter again, so either you'll see it below or click on that link to enter.
I received one or more of the products mentioned above for free using Tomoson.com. Regardless, I only recommend products or services I use personally and believe will be good for my readers.