Chinese food and running go hand in hand, right?
Anyway, I love this race: P.F. Chang's Rock and Roll Arizona! I believe it is the first Rock and Roll race, and this was its tenth year! I ran it in 2011 and had a great time then, and I "rocked it" last Sunday. I'm not usually one for crowds, but there is something about running in such a gigantic group that really warms my heart. You never feel alone out there, and there's just such a wonderful energy. (Wow, did I just say that? WHO AM I?)
(My sister Leslie and I were running the half as part of our marathon training.)
Leslie and I went to the Expo on Friday. It was pretty empty because (this is totally weird) it seems that most people WORK on Fridays during the day? Not us though, so we had a wonderful time winning free stuff (usually T shirts for me and whatever the lamest thing to win was for her.)
We were pleasantly surprised that this year the shirt was a long sleeve technical tee, which is great except that we wanted larger sizes for long sleeves (damn our freakishly long arms!). It was no problem to trade up to a larger size though.
I never wear short sleeve shirts so I was thrilled by the long sleeves. Leslie wasn't as excited, since in Phoenix one never really needs long sleeves.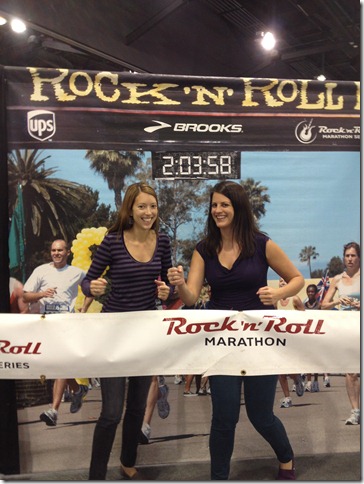 We had to take a "finish line" photo. I was thrilled by my time but Leslie was pretty disappointed.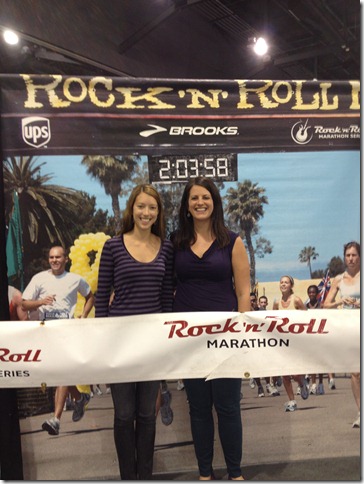 The woman taking the picture suggested we'd want a nice one too. We just look a little awkward since in our family we don't really DO posed shots, and especially not touching pictures. Winning smiles nonetheless!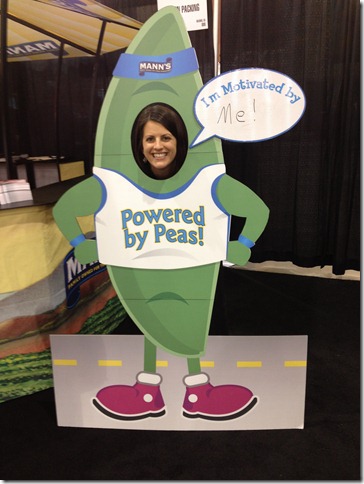 I couldn't think of anything motivational so I decided to just be your typical self centered blogger. It's funny because I look really short!
Anyway. Race day was Sunday, two days later. The night before we had lots of discussion and panicking over how to get to the race. Leslie and her husband Peter live in downtown Phoenix, and the race was a loop from Tempe (about ten minutes away.) Peter had a morning flight, so at first he didn't think he could drive us, and then he did, and then he didn't. Plan A was to take the light rail to Tempe, and Plan B was for Peter to drive us. He ultimately decided to drive us. This was great because it only took about ten minutes and he was able to drop us off about three blocks from the race start.
It was going to be cool so we stole some of Peter's old clothes to wear and toss. We decided this was a new strategy for "how to get rid of your husband's old clothes that he doesn't wear anymore but refuses to get rid of for some unknown reason."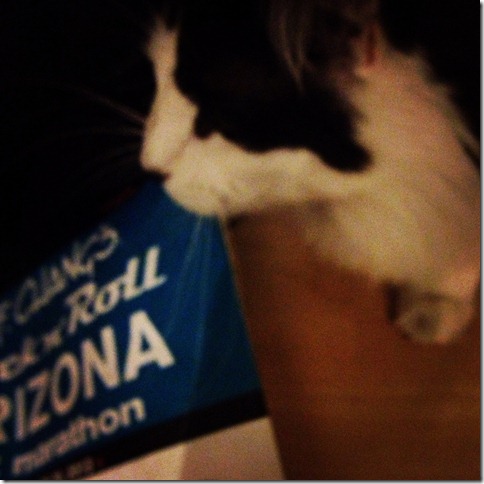 Albergo likes safety pins.
Leslie's sweatshirt had thumb holes! People pay big money for those.
Anyway, after Peter dropped us off, the photo opps kicked into high gear. Right away a fellow offered to take our picture in front of P.F. Chang's!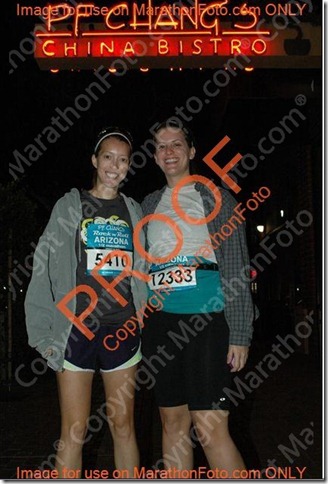 I had the presence of mind to pull my shirt up to show my number, but not the presence of mind to realize that was going to look horrific. Also he took this from the ground—why would you do that?
It was just a few blocks to the race start, and very close to bag drop as well.
Quick information:
1. Bag Drop at the race is super great. There are a ton of UPS trucks, each labeled by last names, and you just drop it off and then at the finish you pick it up. Takes about two minutes on each end. It's also a really convenient meeting place if you are meeting another runner.
2. Corrals 1 through 4 were in front, then 5 through 12 off to one side, and 13 through whatever off to the other. I was placed in 12, and Leslie in 5. I realized it would make my life a lot easier if I just went with 13 instead since I could hang out with Leslie longer. It was about 30 minutes before my corral crossed the start line.
3. Ipods/headphones, whatever. Everybody seems to use them.
4. Porta potties: For whatever reason, people seemed to think that hanging out and taking pictures really near the porta potty line was super cool. Um, guys. It SMELLS, plus, come on. It's just weird. (Though I realized rereading my blog post from the last time I ran this race, we totally posed in front of the potties without realizing it…so maybe people are just tired.) So the rule is, even if it seems obvious that people are in line, it's highly possible they aren't. And even when they are in line, you might not realize that the guy in front of you is actually waiting for one specific potty to open up when in fact there are approximately FIFTEEN others that are free. In a nutshell, it's a free for all, and don't hold back.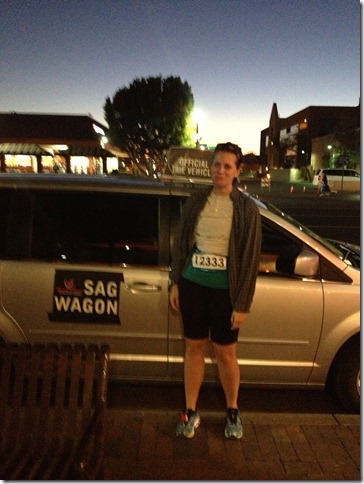 It's important to stay ahead of this vehicle.
Okay: My race plan was to run 4:30 and walk 1:00. I finally decided to embrace the run/walk SINCE otherwise I can't foresee any realistic way I will finish marathon training without serious injury. The last few long runs I've done with various intervals, and this was what I thought would be most practical. I'm hoping to get to a longer run period, but for this race it was perfect. I set my watch to beep for each interval and told myself there were no excuses not to follow the watch. I made the exception for water stations as I wanted to be well hydrated. My goal was to finish the race feeling strong and being able to continue marathon training (this was technically just a training run for both of us.) Leslie's goal was to beat 2:00—she had a lower goal but had a really bad cold leading up to the race and during the race so she lowered her expectations (publicly, at least!).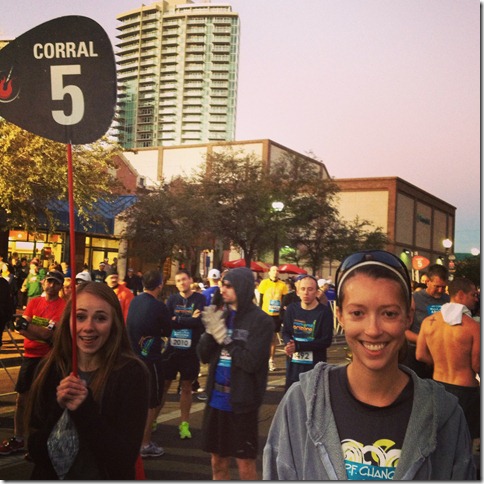 I was trying to get Leslie AND the corral five sign. I love that the girl holding it really went for the picture. We could also discuss the fact that there is a fellow in the background without a shirt. It was about 45 degrees, not super hot. Not sure what was going on there, as we didn't actually notice him in real life.
When they announced the race was about to start, we split up. It took about thirty minutes for my corral to cross the start line!
(Mill Avenue in Tempe)
The race: It went really well. The intervals worked great for me and the miles sort of flew by. I missed mile 1 entirely, and was pretty relieved to see mile 2. Since I was doing intervals on my watch and I hadn't fully investigated how it worked, I didn't know how fast I was running or how far, so I was just going by perceived effort. The course was well laid out, mostly wide enough for the crowds, and had PLENTY of water and gatorade stations. They only gave out GU one time and I'd brought my own so that was good. I kept up the intervals the whole darned way, even when my feet and calves were killing me. It got pretty hot by the end, but it was overall really great. In a nutshell, I was super happy with the race!
That's me, totally running at the end of the race. Leslie figured she'd finish about 45 minutes or more ahead of (faster plus an earlier corral) so her plan was to double back and try to watch for me. Then we were going to meet at the bag check unless she found me earlier.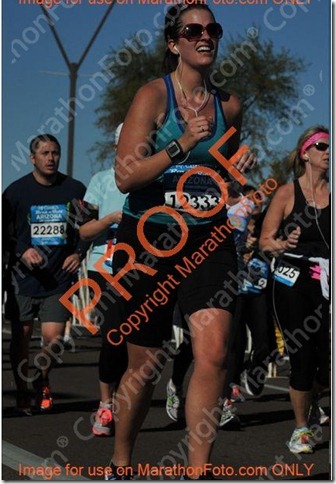 Running. Running is hard.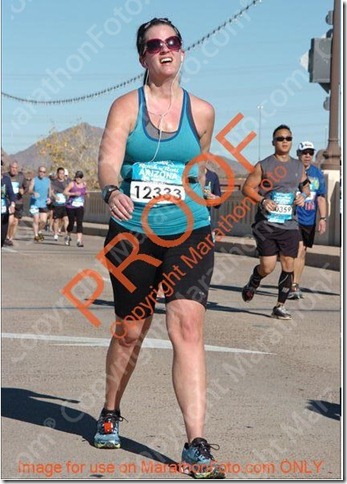 Oh wait. So is walking! Let's not overanalyze the angle of my legs.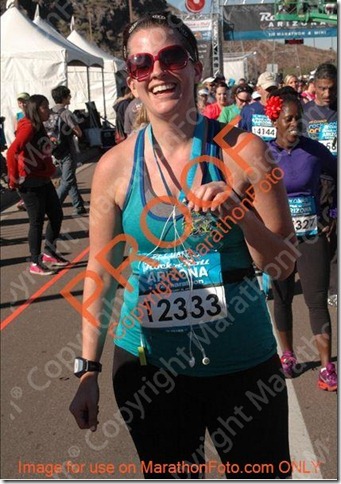 I'm pretty sure I thought I was standing upright. Evidently standing is also hard.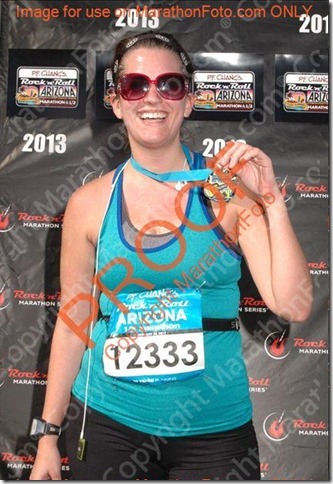 Smiling is my favorite.
Pet Peeve: people who are walking at the end of the race. Or who stop abruptly at the end. I missed my second best half marathon time by 1 second. ONE SECOND. I'm pretty sure dodging all the slow people at the end didn't help. How did they get ahead of me if they were finishing so slowly?

Woo hoo, sub 12 minute miles.
After the race I posed for a few pictures and then slowly walked through the food and beverage gauntlet. I never want fruit or anything like that, just beverage and bread if they have it. No bread here, but gatorade and jamba juice was welcome. I was trying to fight through the crowds to get to bag check when Leslie found me. I was so happy then! We went to get my bag and change our shoes.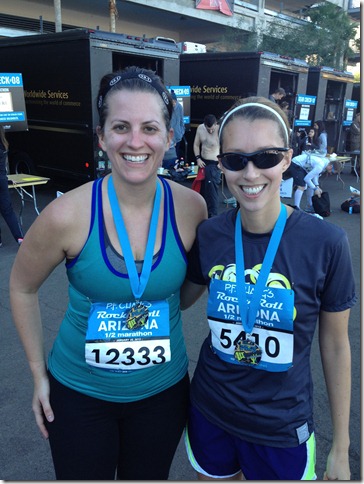 I'm not really sure why I'm towering over Leslie in this photo, whilst leaning forward. I guess she lost height during the race. Anyway, she was thrilled with her sub 2:00 time and I was pleased with my time, and then we stumbled towards the light rail station to get back to Downtown Phoenix. (Not Downton Phoenix, which is what I typed first. Oops.) Note to everybody: Standing on the light rail is an unpleasant enough experience that there comes a point you decide it's totally FINE to sit on the floor. Of the train! How gross is that? My other option at the time seemed to be passing out so I went with it.
My verdict of this race is that I love it and I'm sure I'll run it again! It's really well organized and well run, it's FUN, it's fairly flat, the crowd support is fantastic, and it's wonderful to visit Phoenix in January. Maybe I'll do the marathon next time!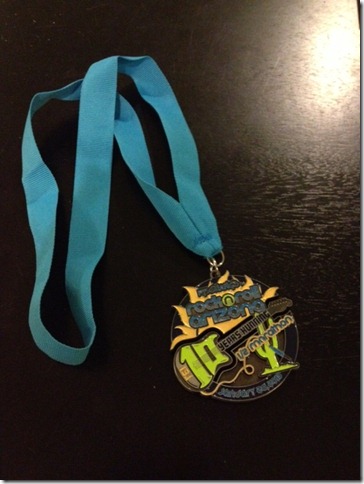 Rock and Roll medals are HEAVY! On the train after the race, a fellow got on and was looking around at all the runners and looked at me wearing my medal. He asked, incredulously, did everybody get a medal? I said…yeah…for finishing. And I realized, you know what, this is pretty hilarious and silly. But who cares. As my youngest sister Carrie said to me a few years back after she'd won some sort of award, "What awards have you won lately?" At the time I hadn't won anything. At least now I have some race medals 😉