I can't wait for the professional photos from my sister Leslie's wedding.  After all, that can't be the best picture of the two of us, can it?
Anyway, today's post is about three things that I think fit together pretty well. Parasols, purses, and personalization.  Nice alliteration, right?
It hasn't quite been three months since her wedding, but it feels like such a long time.  There are so many details I've forgotten and I can't wait to see them again.  The parasols, the earrings, the jewelry, the inside of her dress where the seamstress made a little label with her initials and date (I think?).  (One could have just used a label maker, like from the 80s..)
Have I told you guys about the parasols?  When we went to the Japanese garden the day after her bachelorette party the sun seemed really bright (go figure!) and we realized that we wouldn't be able to wear sunglasses because we wouldn't want them in the pictures nor would we want the lines on our noses from them!  What to do?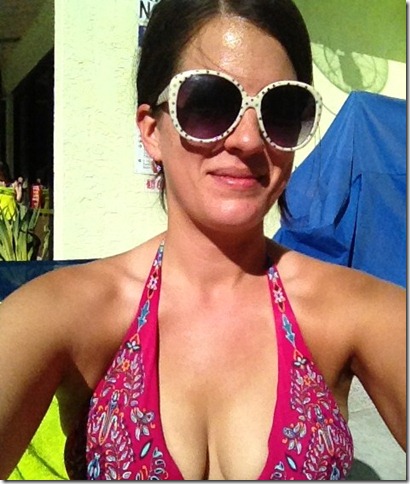 The aforementioned sunglasses which could not be worn at the wedding, by aforementioned pool.
So when we saw parasols for sale in the gift shop for $10 each we couldn't pass them up.  We thought they'd be practical plus would look awesome in photographs.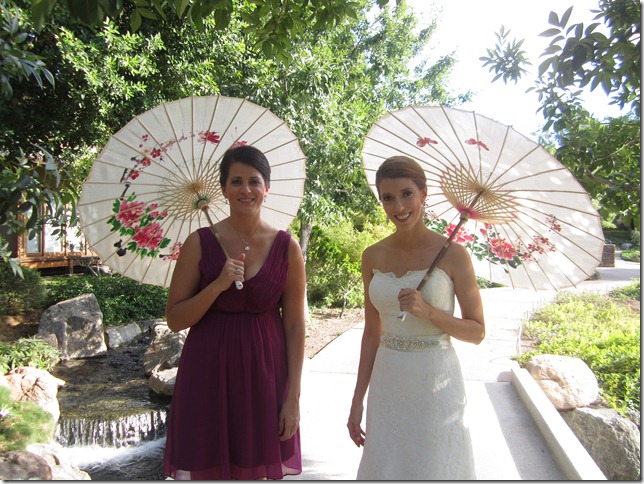 That's the sort of thing I'm really looking forward to from her wedding photos, and what I really loved in mine and in life—all those crazy details.  Obviously I'm also looking forward to the bigger picture pictures too, like the first look, the after wedding pictures of the happy couple at the garden, family photos, but I just LOVE the details and the personalization.
Here's the purse from my wedding.
Inside there is a lovely label.
I gave one to Leslie as well for being my maid of honor.
Well, Leslie thought they would be perfect for her wedding too (especially since we barely used them) but her colors was different.  The purple flower was removable so I asked the original vendor to make new ones.
Unfortunately on the first try the color was wrong, so I had to try again.
At the bottom of this picture you can see a bit of the final flower.  It's a lot pinker.
I absolutely loved that the purses were personalized. Of course that meant for Leslie's wedding I was carrying a purse that said "Bride" on the inside, but I certainly didn't mind.  I also love that her wedding dress has a little label in it (not that she would forgot for what occasion she wore the dress, but STILL.  And I should have gotten a picture of it from her before writing this post…)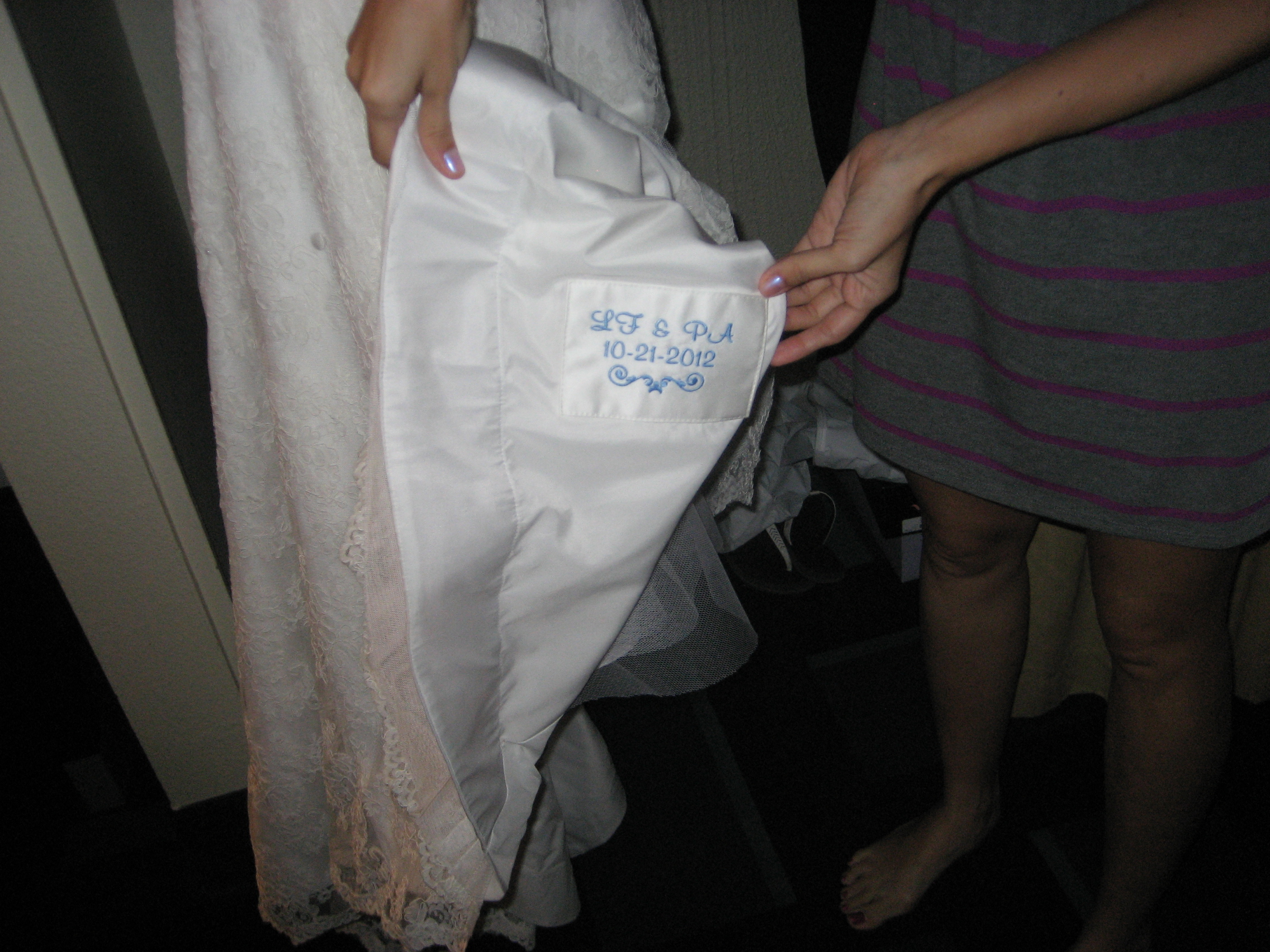 My mom emailed me one!  Thanks Mom 🙂
Basically, I love the idea of personalized stuff.  I don't know why I don't do it more often.
(All the big brands like to do labels, so why not ourselves? Why advertise for Gap or some other store when we could advertise for ourselves, or our blogs! Or at least find your stuff at the Laundromat, right?)
If I weren't afraid of ironing I could get iron on labels online and really put my mark on my things.  That site also has pretty cool looking woven name labels that I bet would work well for gifts.  I see that you can not only label your clothes, linens, that sort of thing (with your name, a date, perhaps even an inspirational quote) you can label stuff like golf clubs and perhaps electronics and books.
Honestly, sometimes (unlike blogging) labeling and personalizing things isn't JUST about narcissism, getting attention, or remembering special moments, it's practical in case you leave something somewhere—if I'd had my favorite water bottle labeled the day I left it at the gym then maybe I would have gotten it back.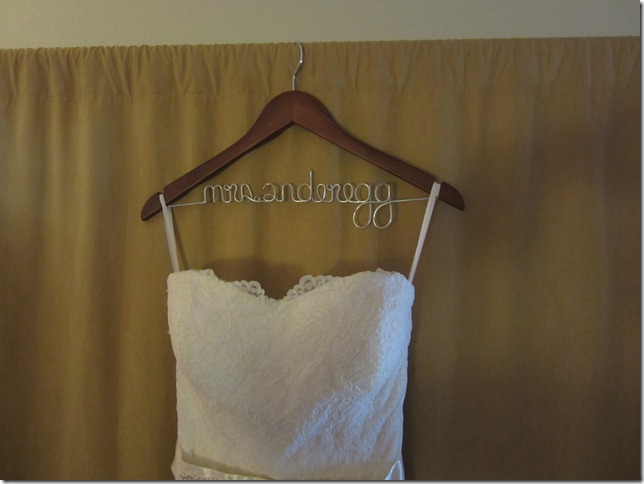 (If not for the label inside, the personalized hanger would help us know this was Leslie's wedding dress!)
And I'll mention the parasols again—after we purchased two similar looking parasols, we realized there were slight differences.  Leslie picked out the one she liked best (bride's prerogative) and if we had been able to label them, we wouldn't have kept having to figure out which one that was again!   And that brings this blog post full circle.  In a nutshell, labeling and personalization saves time and money, and if I had run with a parasol all summer long I wouldn't have had such horrific tan lines to begin with!