I flew to Phoenix Saturday morning for my sister's "Bachelorette Party."  I use quotations because I feel like we are too old for that sort of thing, but we did it anyway 😉  It was a last minute decision, and in retrospect I probably should have planned more in advance and thrown her a shower, but originally we didn't think we'd be able to work that out.  She's getting a lot of presents already so I don't feel bad.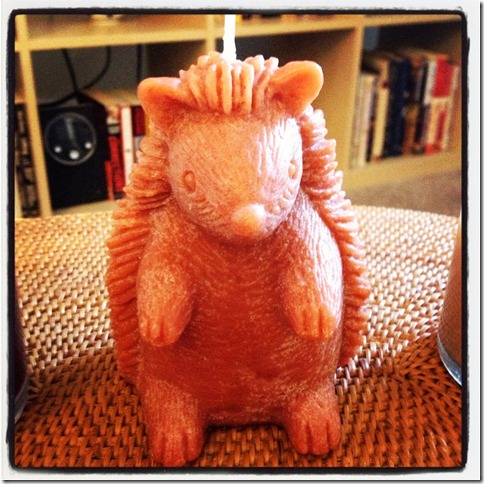 Leslie had this hedgehog candle from Target and also bought me one.
Anyway, my flight left at 7:30 am on Saturday and landed in Phoenix around 9 am.  Leslie picked me up and we hit the ground running.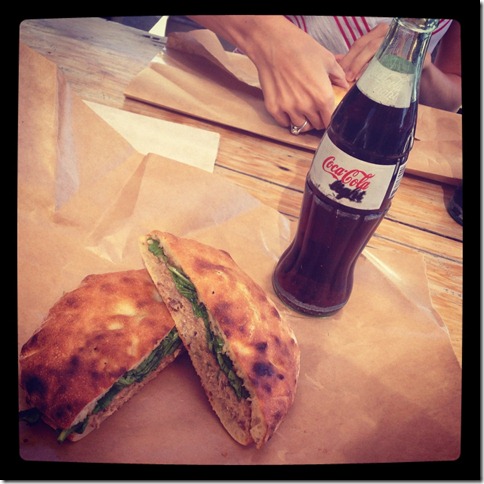 Interesting fact:  lots of restaurants in Phoenix serve Coca-Cola light.  I can only hope this is a trend that is going to spread to St Louis soon!  We had lunch at Pane Bianco and then it was time to get ready for our big night out.  We were meeting at Loren's at 3 pm.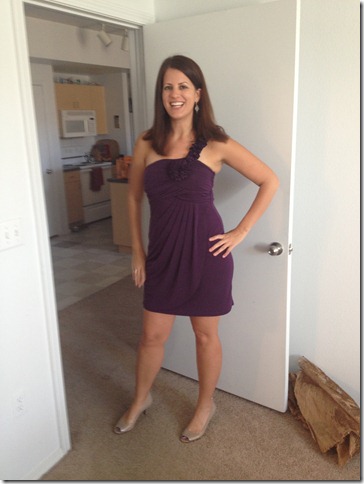 I love this dress.  I also evidently really love posing with my arm out like that 😉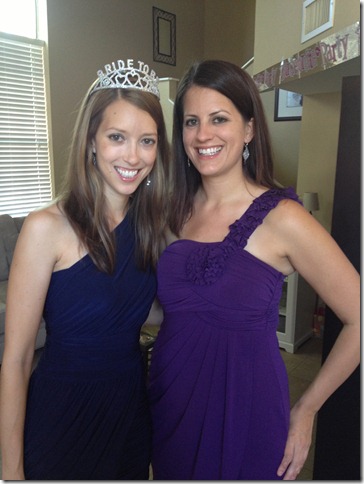 The bride to be and me!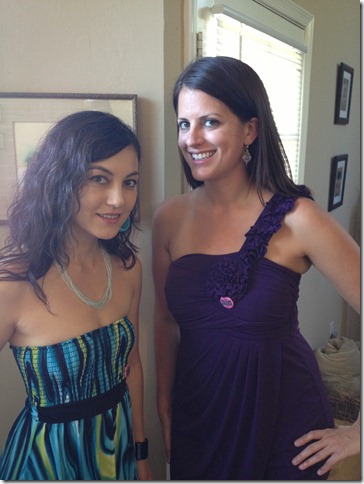 Karen and I had a hard time getting a good picture of the two of us.  This was our best.
Loren made a cool thing which was jello shots in lemon peels.  They were tasty!
Anyway, that's enough pictures from the night 😉  I'm not actually going to recap it here but it wasn't that crazy.  Drinks, karaoke, sushi, and tater tots were involved.
The next morning we had some errands to run.  Brunch was in order first.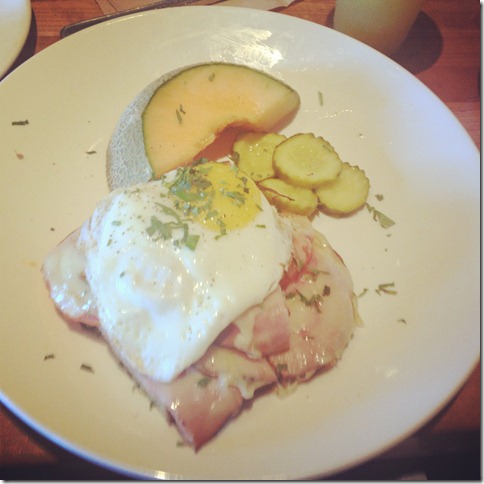 I ordered Croque Madame!  I didn't realize it had tomatoes in it, and it wasn't like any I had had in France, except it was very tasty.
After brunch we needed to go to the Japanese Garden where Leslie is getting married.  They gave us some cheerios to feed the Koi.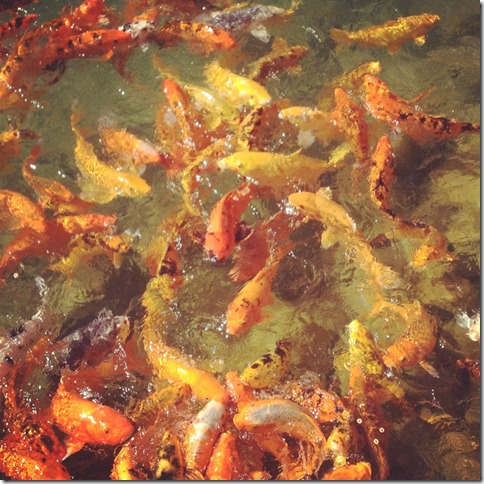 Party time!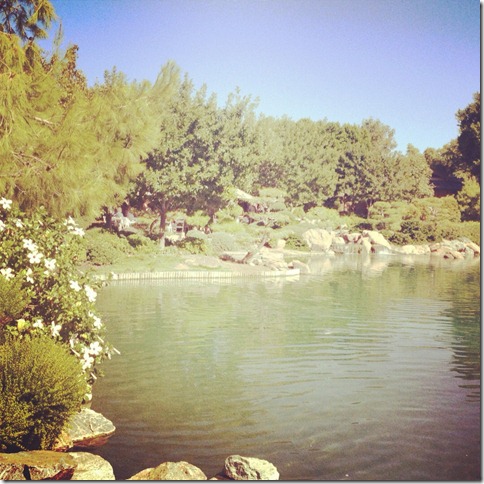 It was a beautiful day and a beautiful location.  There was a wedding going out while we were there so we had to wait them out to do what we needed to do.  (It involved talking through the set up and decor—there isn't going to be a rehearsal so this was my chance to see it before the day.)
Afterwards we decided to hit up the pool and sweat a bit.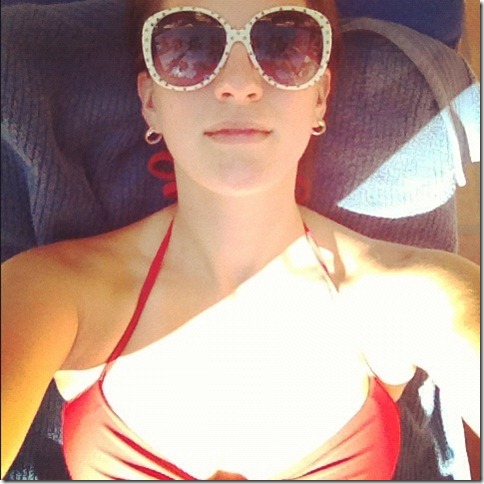 Me!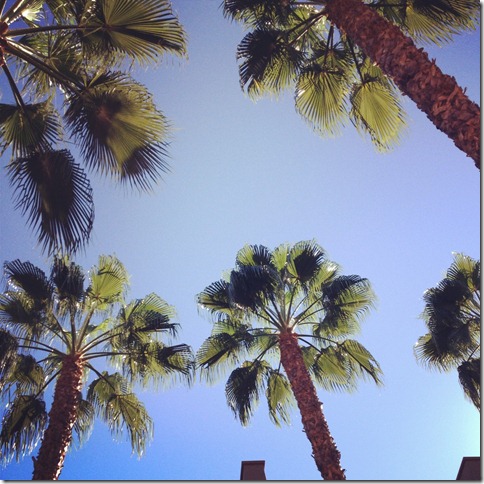 My view from the chair.
Sarah came over to hang out a bit and we had a relaxing day, culminating in a nice dinner at a place called Fez and going to bed by 9 pm.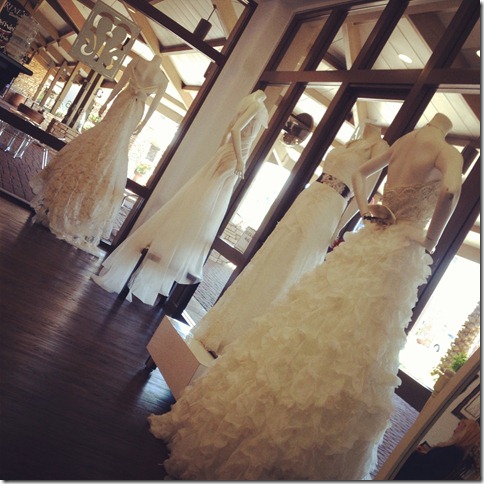 The next day we tried a run (which I already mentioned) and then Leslie had her final dress fitting.  This was the shop.  None of the dresses pictures are hers—I'm not going to spoil it beforehand obviously.  Her dress looked great and I learned how to bustle it and do a couple of clasps in the back.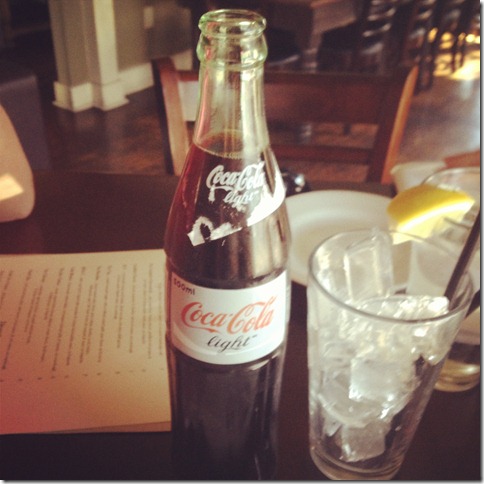 And another Coca-Cola Light at lunch!
After lunch we did a few more things and just hung out.  My flight was in the evening and I got home very late—it was delayed an hour too!
How was your weekend? Is Coca-cola Light available where you live? Does anyone know if I can get it somewhere in St Louis?
And I head back, this time with Chris, in a couple of days for the wedding proper.  Can't wait!