Read Day 1 of Paris here if you haven't.
Where did we leave off?  Chris and I stayed the night at Le Meridien Etoile in Paris, a very nice hotel (stated rate was 499 euros a night, I kid you not) not too far from the Arch de Triumphe.  The symphony was being sponsored to stay in the hotel, but we were on our own after the first night.  I had done some research and we decided to rent an apartment for the rest of the time.  I found one in the Bastille neighborhood for a reasonable rate, so our plan for the day was to relax (Chris was exhausted after 4 cities in 4 days), move, and just walk around a bit.
First came breakfast (true to form, I took tons of pictures of my food.) The hotel had a breakfast buffet and we had free tickets for it.  I believe it was approximately 30 euros otherwise, which, without alcohol is so not worth it.  It was worth free however.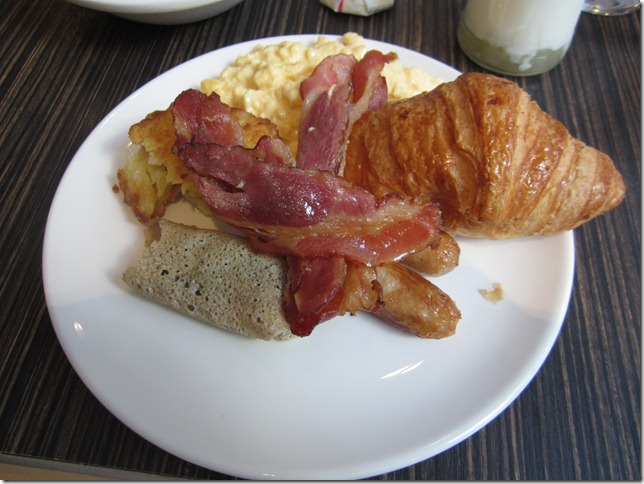 The sausages and eggs were my favorite parts.  We had to beg for coffee (weird, do the French not guzzle coffee or espresso like we Americans?) but enjoyed our breakfast well enough.  We were meeting Omry, our host, at 2 pm, but we decided the best thing to do was to leave the hotel, take the metro to the new area, and then find a cafe to hang out in.
Rick Steves suggested we buy a "carnet" (ten-pack) of metro tickets, so we did that.  (Well, we bought two).  We took Line 1 from the hotel stop to our new stop, St Paul.  We found a lovely restaurant nearby and had some wine.  Yes, it was around 1 pm.  We were on vacation!
The apartment was fairly easy to find, and we buzzed up for Omry.  Carrying a suitcase up to the 5th floor—and keep in mind, that's the 5th floor in France, which is actually the 6th floor—that was the hardest part.  Oh, and I mean hardest part of life.  I think all the workouts I've done over the past three years were building up to this:  carrying a large suitcase up 5 flights of narrow, curved, slightly slanted downwards stairs. I don't know how we made it, but we did.  Omry was there, the apartment was GREAT, and after chatting with him about a few things, it was ours for the rest of the week.  Here's the link to it if you are interested—we would absolutely recommend it, though the kitchen is VERY small and the plumbing isn't great, it is a terrific location and was all we needed for the week.
He also left us a basket of fruit and a bottle of wine.  We were instructed to let the neighbors know we were friends of his if anyone asked—he had moved in with his girlfriend not too long ago and figured he'd make some money renting the apartment out.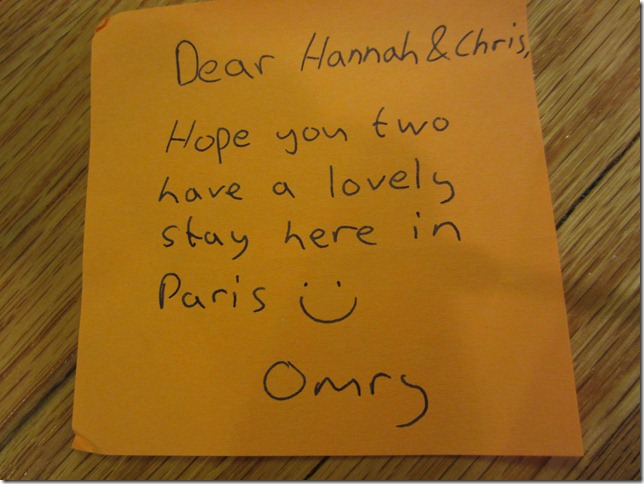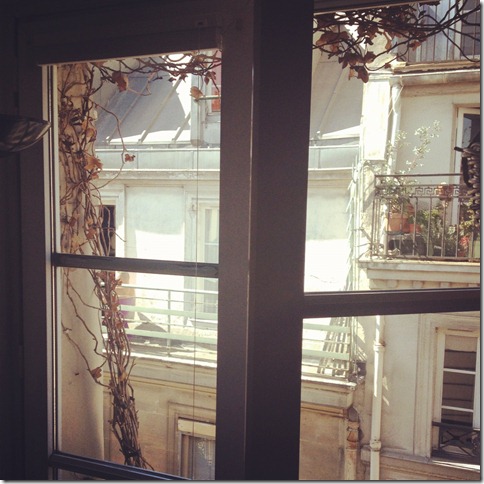 A very Parisian view from the window!
After meeting Omry and dumping off our stuff, we headed out in search of lunch.  We used Rick Steves' guide to find a nearby restaurant…that was closed as it was after lunch (the trick is, if you want food in the off-meal hours, you must find a brasserie, not a restaurant), so we found a brasserie he recommended called Royal Turenne and ate there.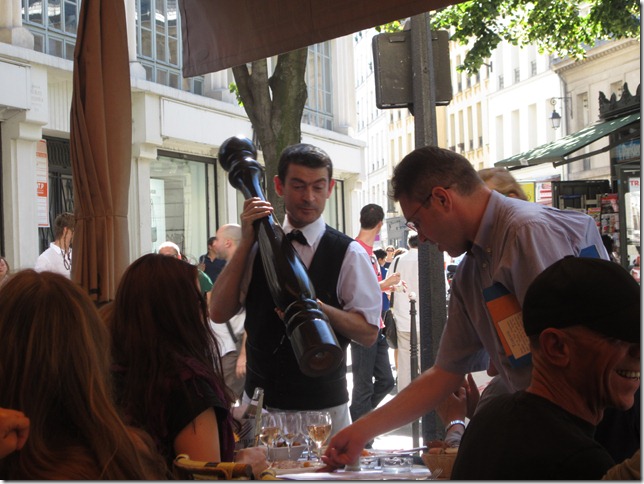 This was the biggest pepper shaker we'd ever seen.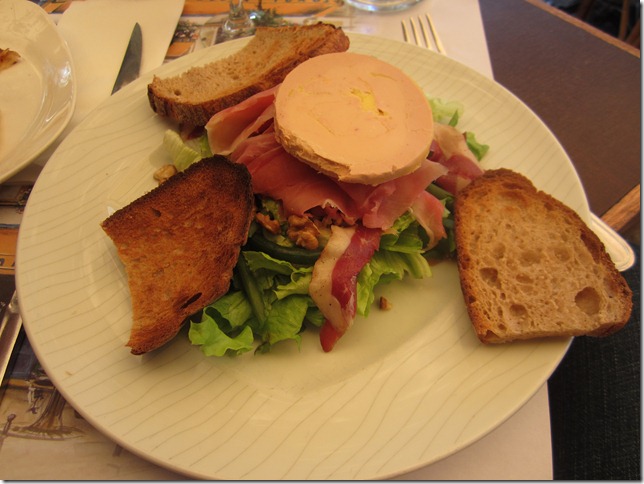 I had a salad with duck foie gras.  WOW this stuff was amazing.
We had originally thought we were meeting up with some friends after lunch so we headed back to our apartment to do so.  It turned out they weren't able to so after doing a few things online (the apartment had wi-fi) we headed out again to walk around and ultimately eat dinner.  We headed towards the river, which was only a few blocks away, but due to the turns and twists of Paris's streets we ended up much further away than we anticipated and ultimately had to consult a map several times.  As easy at the metro system was to navigate, the streets were the opposite—I was continually getting lost or ending in a different place than I thought we would.  The streets were not laid out in a grid or planned in any way, which is why they are so challenging.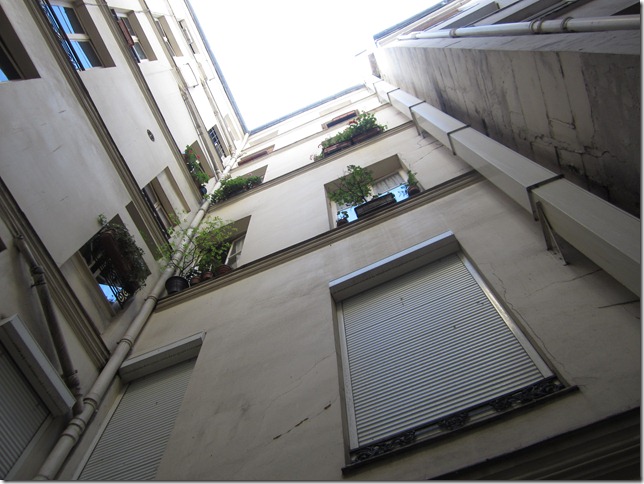 Looking up from the courtyard of our apartment building.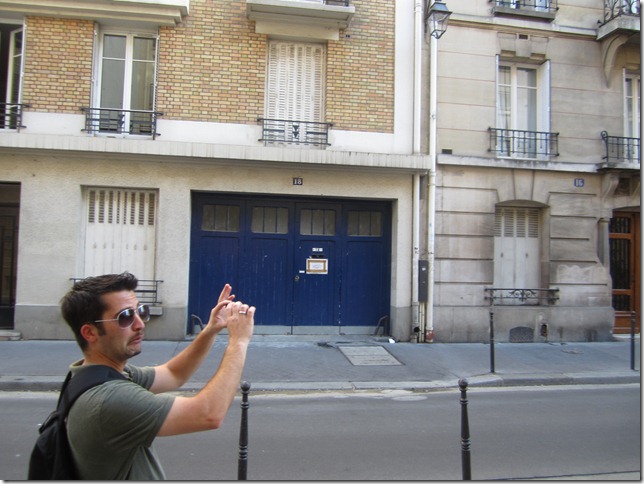 Me taking a picture of Chris taking a picture.
We got thirsty from our travels and popped into a convenience mart for water.  The water wasn't cold, but the Perrier was.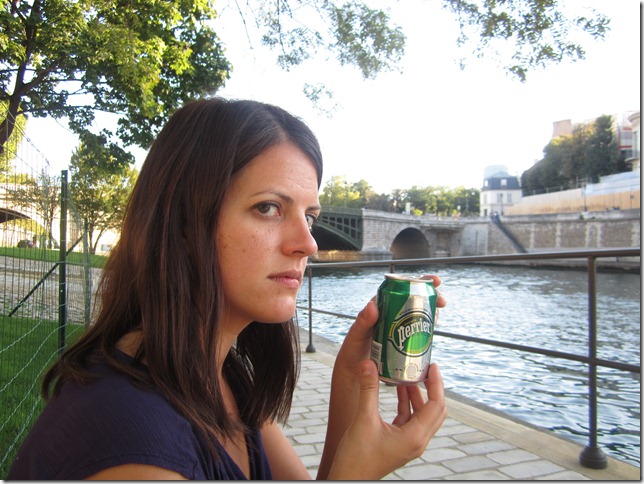 Is there anything more French than drinking a can of Perrier down by the River Seine?  I think not.
We wandered around a bit and then decided to figure out where we were and find somewhere for dinner.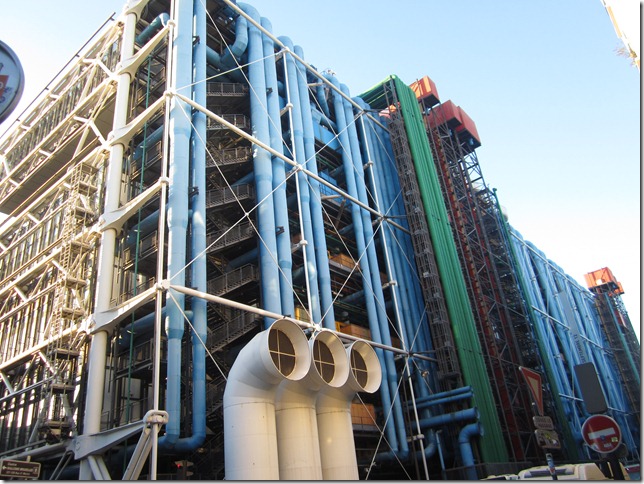 We were near the Pompidou Center—how weird is this building?
We finally panicked and decided to eat at an Italian restaurant that was really crowded.  It wasn't great, but it was fine.  I had the lasagna and enjoyed it—Chris had a veal parmesan type thing and thought was kind of "meh".  But the wine was good and cheap 🙂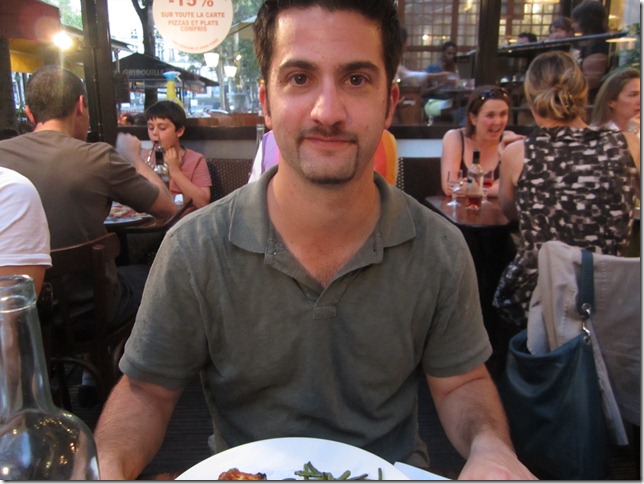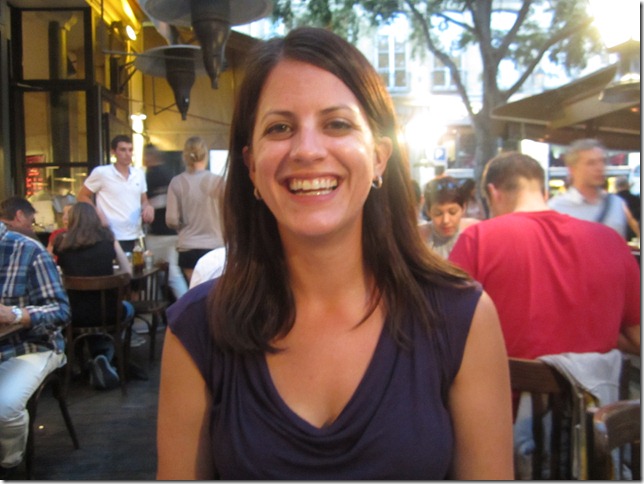 After eating we went back to our apartment to hang out…and drink more wine.  Basically it was a really good wine drinking day for us!
I ended up going through the guidebook a bit more after all that and planning out a rough guideline for the itinerary for the week (finally!  before we got there it was too overwhelming but after wandering and riding the metro it all made sense).  (From henceforth I shall refer to Rick Steves' Paris guidebook simply as the guidebook, as it was awesome and helped SO much with our sightseeing.)
rough plan (this was Saturday, so)–
Sunday: Laundry, "Historic Paris Walk" from the guidebook which includes Notre Dame, Left Bank Walk
Monday: L'Orangerie, the Louvre, Eiffel Tower
Tuesday: D'Orsay Museum, Army Museum and Napoleon's Tomb, Rodin Museum
Wednesday: Versailles
Thursday: Montmartre Walk which includes Sacre-Couer, anything else we thought of.
More to come!  I don't know if you are enjoying reading about my trip or just sitting there angry at me, but I love looking back at vacation posts, so I'm forging ahead 🙂