Don't forget to read Day 1, Day 2, and Day 3 if you haven't already!
Today was to be a big day.  We planned to see Musee De L'Orangerie and the Louvre.  After that I figured if we had the energy we'd go to the Eiffel Tower and maybe eat dinner in that area.  We took the metro to the Orangerie Museum and of course got turned around after getting off the stop, which worked well enough because we got to wander through the Tuileries Gardens a bit.  Oh, note to readers: I have heard that people do not run in Paris.  This is not true.  People were running EVERYWHERE, but especially at the Tuileries and around the Eiffel Tower, and in pretty much every park we saw.  Maybe people didn't run a few years ago, who knows, but they certainly do now.  We saw a woman running holding a bottle of Perrier.  But I digress.
Here's why we love the Tuileries.  This awesome movement from Mussorgsky's "Pictures at an Exhibition." Every time somebody says "Tuileries" that's what I think of.  Things I did not know until I visited Paris:  The Tuileries are a garden.  And used to be a palace.  (For more information, you can google it.  I could tell you more or even link to something, but hey, that would just be me googling, and why don't you just do your own google? 😉 )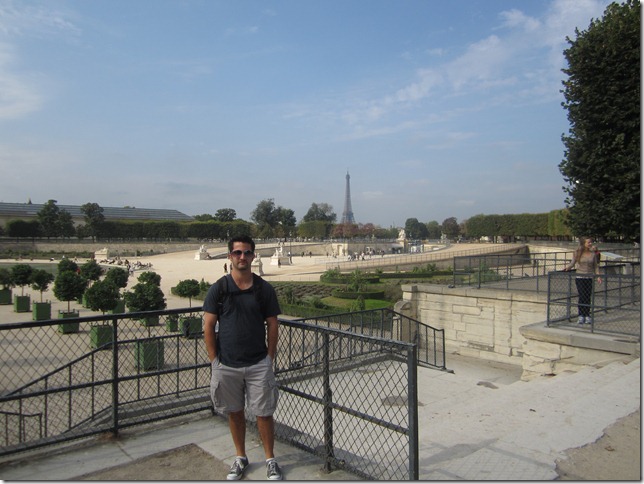 Chris in front of the Tuileries.  They weren't super great—had lots of sand around and I'm not a huge fan of sand.  (What a weird thing to say, right? I feel like this is one of my weirder Paris blog posts so far…must be the NyQuil talking…)
Chris is not a navigator—that's my role in the relationship.  Normally I am really good with maps and directions, but Paris…I was GREAT with the RER and metro, but the walking just was a disaster.  We'd go one way and it would turn out to be the wrong way, but then the other way would turn out to be wrong TOO and I'd have no idea what happened.  We'd eventually find what we were looking for (until Montmartre, when we just gave up entirely, a story for another day) but I'd have no idea why it was so hard and what went wrong.  At first I'd be embarrassed to be walking around with a map in front of me, and then I realized even WITH the map I would still occasionally be hopelessly lost.
I realized the issue was that the Orangerie Museum just wasn't that big.  Not like the Louvre.  You can't fail to find the Louvre because I believe it is visible from the moon.  But we did find the museum (back up plan was, skip the museum.  I'm glad we found it because it was delightful.)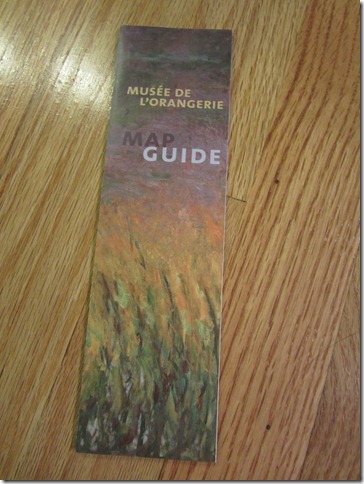 The museum was very nice.  Lots of Monet and other stuff like that. Some really awesome HUGE paintings that he made specifically for the museum. We were there about an hour, and then needed lunch.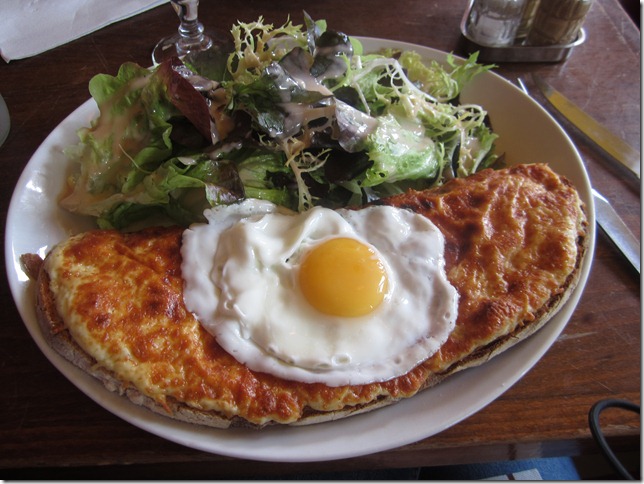 Mmmmmm…Croque Madame.  This may have been the tastiest one I had.  The yolk ran all over the place, and an open faced sandwich was better because there was twice as much cheese!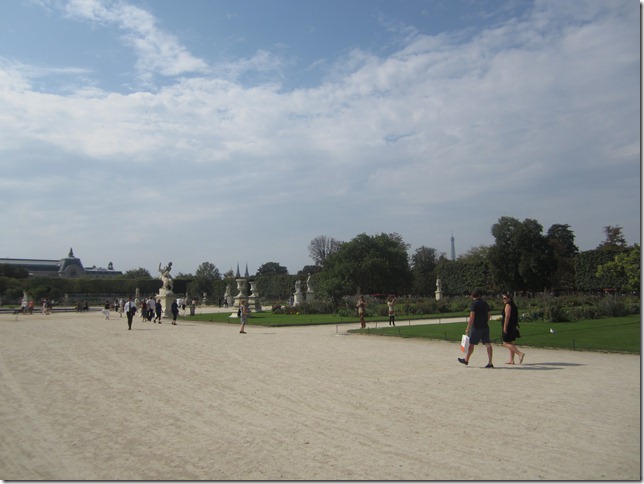 After lunch we walked through the Tuileries again to get to the Louvre.  It was very sandy, like I'd said, but the statues were fun to look at.  We are definitely statue people.  We are also really immature as we giggled QUITE a bit at the nude statues.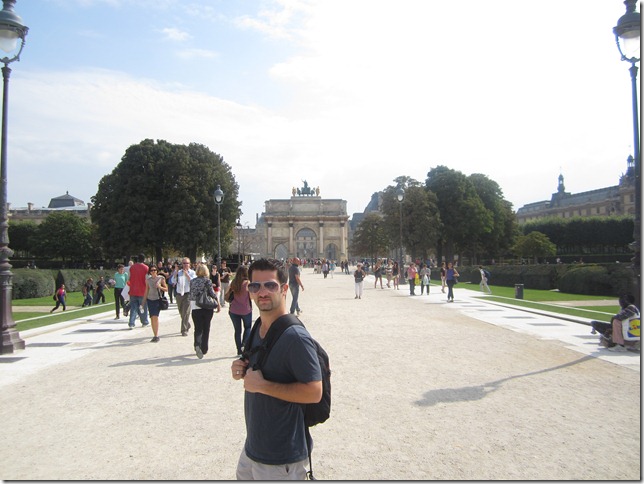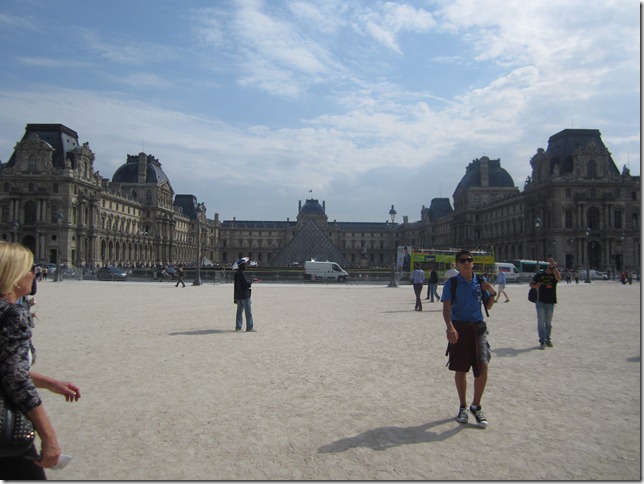 Anyway, the thing you should know about the Louvre is that it is huge.  All of that building is the Louvre.  Crazy, right? If there were less tourists around that would be a way better picture too.  Or not.  The direct sunlight doesn't make for great pictures.  (Yeah, I know, one little mini-lesson with Sarah Crowder and I'm a photographic expert.  But honestly, I did learn a few things from her. Yet I still took this next picture and posted it.)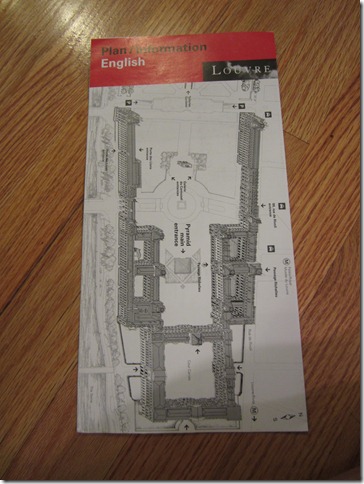 Oh, and you get to skip all the lines with the Museum Pass.  We went in a side entry for groups and pass holders and before we knew it, we were in the Louvre!  Things that don't help:  maps of the Louvre.  Or alternately, when I get tired I am just unable to read a map?
Unrelated: The Mona Lisa is overrated.
And here's some Louvre pictures:
Chris and I realized we both prefer sculpture to paintings—we never realized this before, and decided to try to hit up the Rodin museum before we left Paris (this didn't happen, but oh well.) Anyway, after hours of museum-ing (is that a word? I believe so…) we finally left.  We were tired and hungry and I figured we needed a snack, a coffee, and somewhere to sit down.  (Do you know how much your feet hurt after several hours of museum going? Lots.)
Oh, did you see this Onion article about visiting museums?  VERY FUNNY.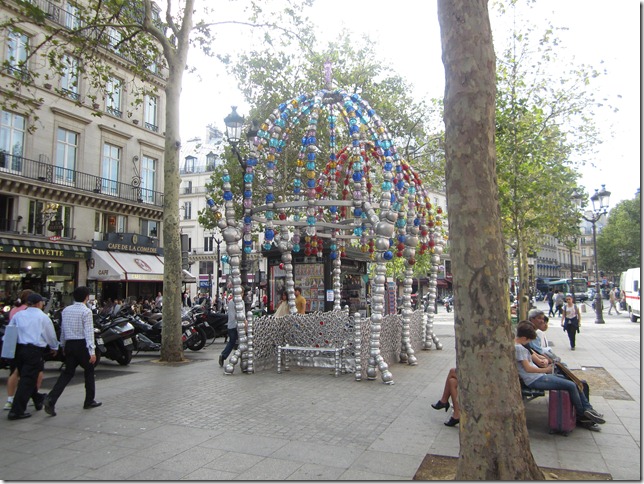 We saw this awesome metro stop.  VERY decorated!
We left the Louvre in search of food and found a little Italian place with "cheap" coffee (under 3 euros).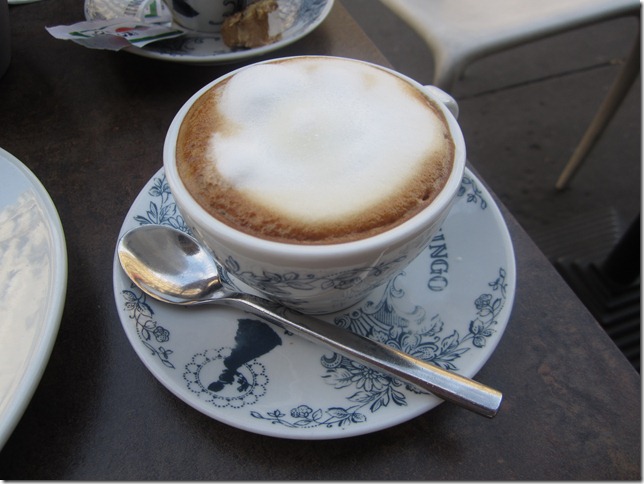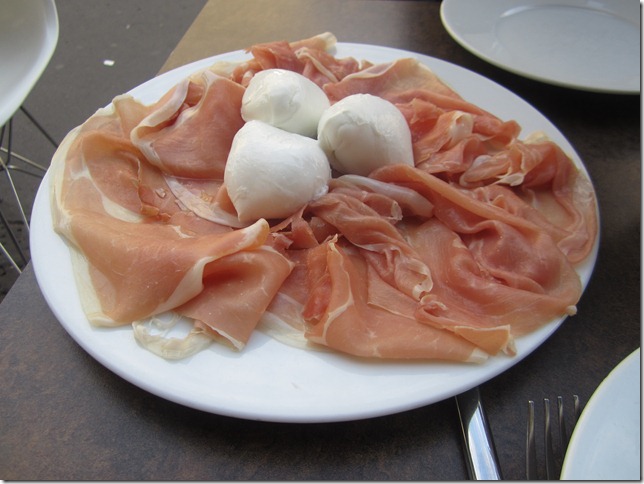 I looked at the map and realized we were really near the Opera Garnier, a very fancy opera house (we were also within sight of it, so that helped us navigate.) We decided to go see it closer, then catch the metro and head to the Eiffel Tower, hang out there, then eat dinner.  Our plan was in motion!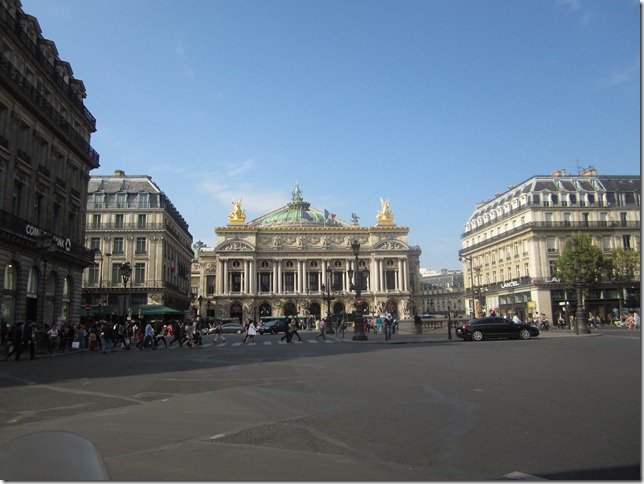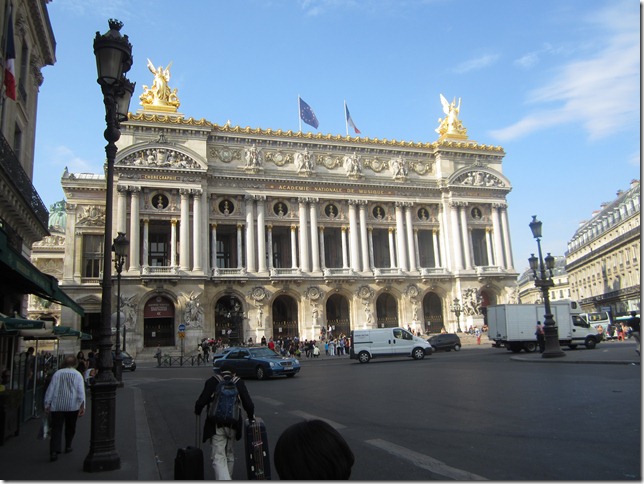 Opera Garnier.  We didn't go in but we walked around it.  VERY FANCY.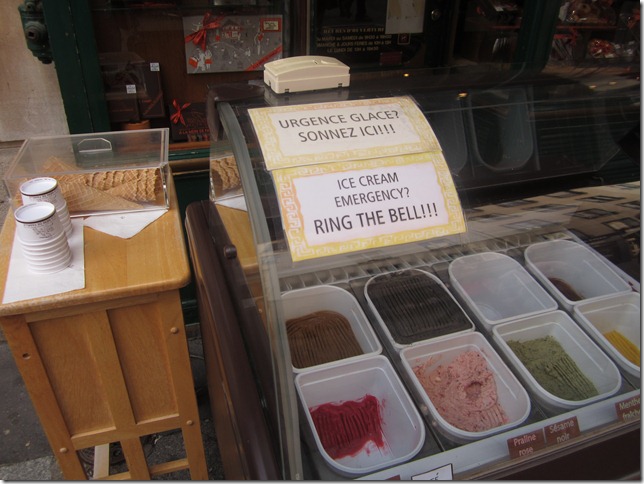 We passed this place on our way to the Eiffel Tower.  ICE CREAM EMERGENCY!  We walked down a street in the Rue Cler neighborhood that Rick Steves recommended, then we had a quick happy hour drink on the end of it.  Or two 😉 (We actually had a conversation between ourselves about what could we do at 5:00 ish as it was too early to eat dinner.  Suddenly it hit us.  Oh, right, happy hour.  They have that in France too.)
Then it was Eiffel Tower time.  (This is different from peanut butter jelly time, just fyi.)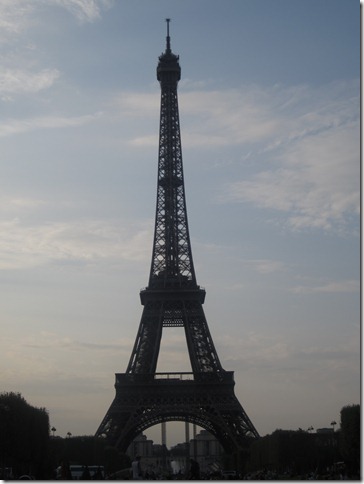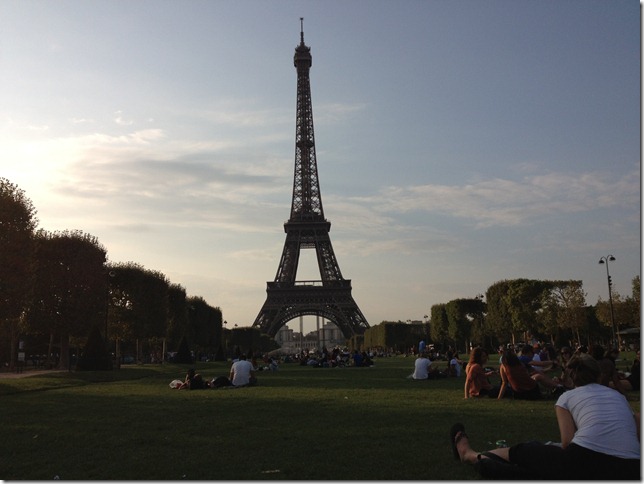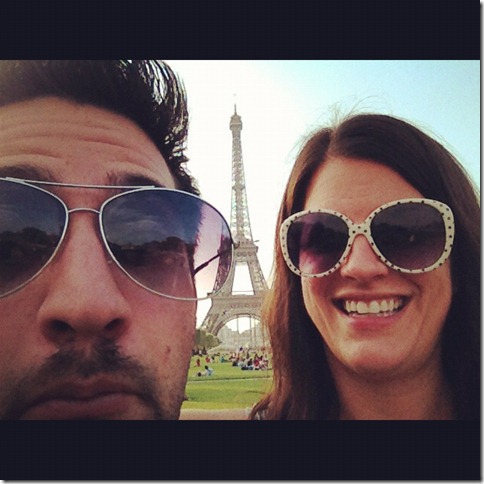 We sat and watched the Tower for awhile, and then we decided we'd grab dinner and return after dark to see the Tower lit up.  We looked at a few places the guidebook recommended and settled on a cheaper one (Chris wasn't too hungry and I figured we shouldn't spend a lot if he didn't really feel like eating.  I am always hungry.)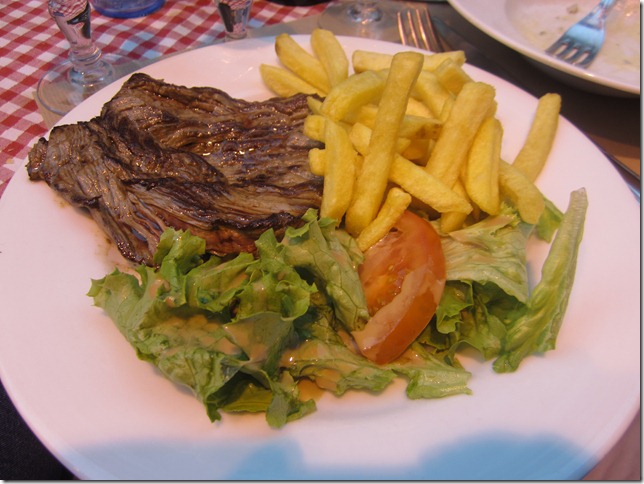 Steak and frites!  The place we chose had a great fixed price menu (The French call this simply, the "menu").
After dinner, we took a bottle of wine with us to hang out on the lawn of the Tower.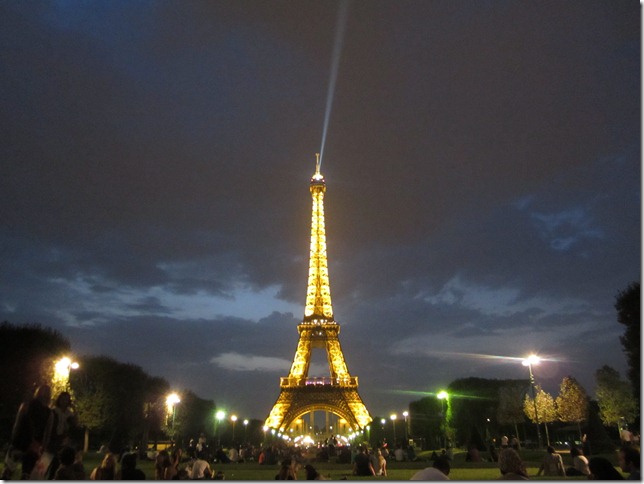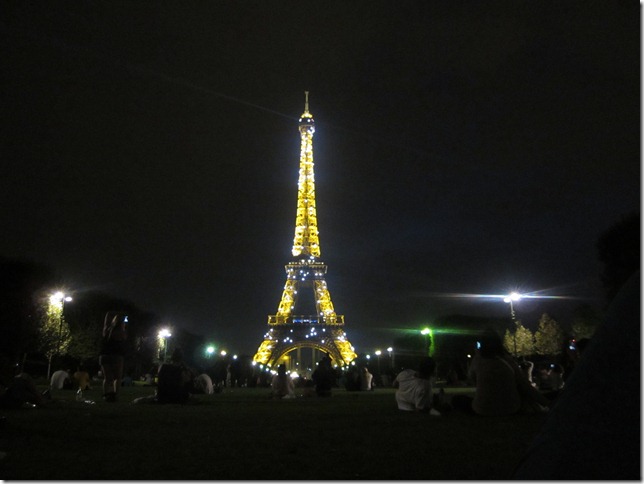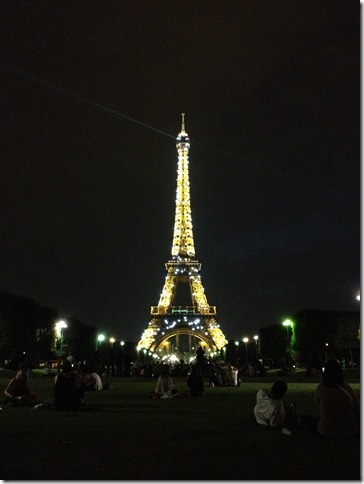 The last time I had been to the Eiffel Tower at night was on Bastille Day in 1997.  There were a FEW more people there then…I have only vague recollections, but I recall it was a madhouse and there were tens of thousands of people around.
This was amazing.  There were people around, but not too many.  It was so relaxing and (dare I say) romantic.  We drank wine straight from the bottle and at the top of the hour we watched a sparkling light show on the Tower.  It was one of the best evenings ever.
Oh, and we didn't go up the Tower.  I just didn't think that would be a good idea for me.  I might have been fine, but I got really freaked out thinking about it.  Silly fear of heights!