I had originally planned to run the 12k with Vanessa, but a few days beforehand she realized she had a rehearsal and needed to be done sooner.  She had never run as far as 12k before and had been looking forward to the challenge, so we said, well, we'll just have to shoot for a fast 5k as the new challenge.
Little did we know how true that would be!  Another friend, Carrie, decided to run the race as well.  Here we are at the beginning (sorry, all the pictures are terrible, my phone must have been dirty plus the sun glare didn't help…)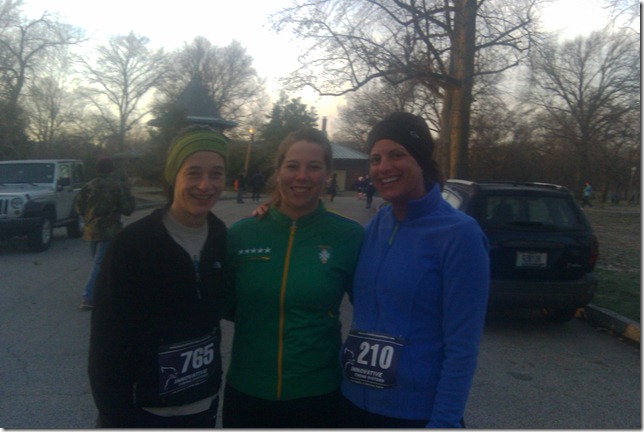 I thought Vanessa was taller than that?  Who knows.
Anyway, we followed the crowd to get lined up for the race and then it turned out we were all lined up in the wrong place and had to move—we really had no idea what was happening as we couldn't really hear the bullhorn.  Turns out inadvertently we were lined up now at the very front of the race…there were a couple guys crouched down, ready to race and then us and some other women who were panicked as they also realized they were in the front of a 800 person race.  Oops.  NOT our fault.
That mean the beginning of the race went fast.  People were definitely passing me, but I was keeping up a 7:30 pace for way too long.  I decided to just go with it and ran about as fast as I could, "relaxing" into about 9:30. (This is crazy fast for me.)  We basically just looped around Tower Grove Park, my usual stomping area, so it was both good and bad that I knew exactly where we were at all times—good because I knew where the hills were, bad because I knew exactly how much farther there was.  I was breathing hard the entire time (the rest of the day my throat felt sore and raspy!) and on the verge of vomiting for much of the time.  I suppose that's what you have to do to PR.
After about 2 miles I thought my legs were dying (and my lungs but that was old news at this point.)  I thought if I could just hang on I would most definitely PR (my goal was to break 30 minutes, of course!) I really wanted to just lie down but I kept running.  Finally the finish line was in sight and I heard Vanessa yelling.  The clock was under 29 minutes and I sprinted as fast as I could (really not fast at all…) and got in at 28:55.  MONSTER personal record.  (Previous PR was 30:40.)
My garmin watch says I did mile 1 in 8:46, mile 2 in 9:34, and mile 3 in 9:42.  I suppose mile 4 would have taken about an hour, as I needed to lie down right afterwards.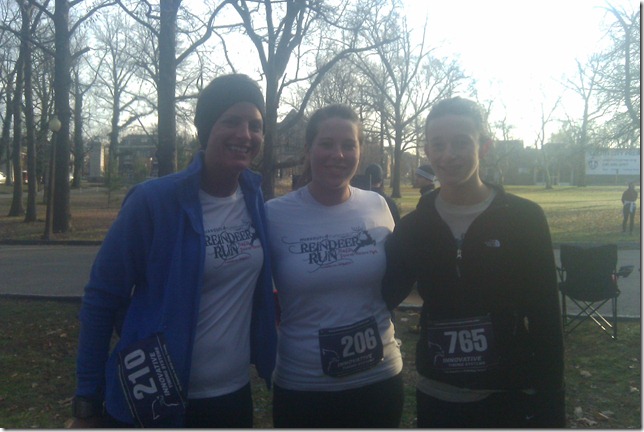 We wore the shirts—they are great and super soft!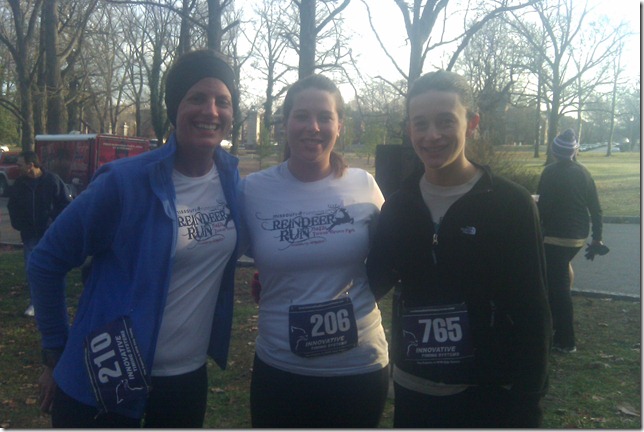 I'm awkwardly trying to avoid sweating all over Vanessa.
Oh, and Carrie won her age group!  She was super speedy.  Vanessa had a PR as well—overall it was a super successful day.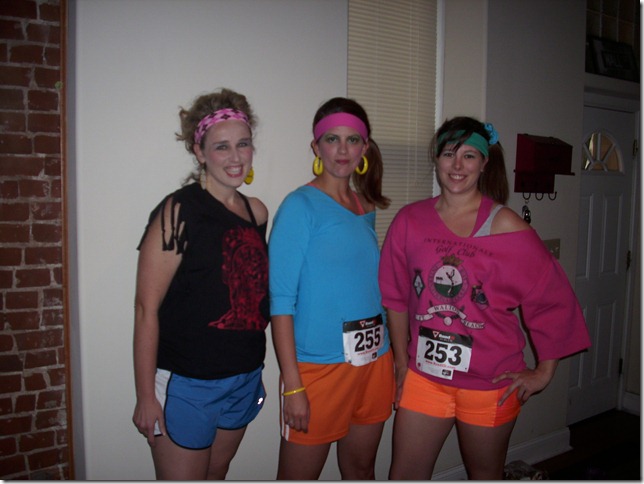 (the last 5k Vanessa and I did together, mainly because I think this post needs some color!)
So what did I learn from this race?  Firstly that if I really push myself I'll feel like dying and throwing up but then really awesome afterwards, oh, and that I can indeed run faster than I like to.  Would I have been able to keep that pace up for much longer?  Absolutely not.  But I shouldn't be afraid of sub-10 minute miles anymore.