I promised you all another book giveaway, and I'm about to deliver.  Happy Monday! (And congrats to Melissa for winning my last giveaway—I used a random number generator and it came up with comment #4. I'll be using a similar technique this time.)
I was sent a copy of "Running of the Bride: My Frenzied Quest to Tie the Knot, Tear Up the Dance Floor and Figure Out Why My 15 Minutes of Fame Included Commercial Breaks" by Rachel Eddey.  Yes, that's a very long title, but really it's just titled Running of the Bride with the rest in subtitle, if that helps.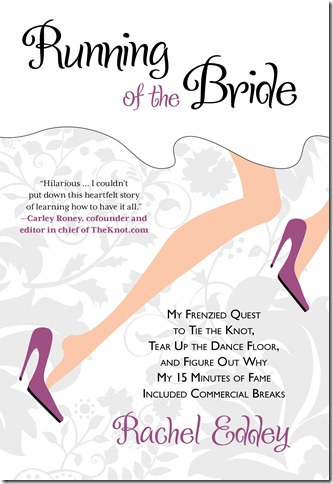 As a recent bride, you can bet I was excited to dive into this book.  It's based on the author's actual experience, but reads like a light, humorous, chick lit book.  I really enjoyed reading it (actually read it twice), and I think you will too…  I don't want to spoil the book for you, so I'll just summarize—in a nutshell, Rachel got engaged to her boyfriend, and then they only had four months to plan her wedding.  If you recall, Chris and I got engaged in February, started wedding planning in May for a January wedding, and a lot of people freaked out over our timeline.  So you can imagine how ridiculous it was for Rachel, and she lives in New York City.
The other fun part of reading the book was that I had a few email exchanges with Rachel, the ACTUAL AUTHOR OF A BOOK.  Which is SO cool…I'd love to be a published author (that means I'd have to write a book, which seems like a lot of work, and so even MORE props to her and to all authors.)  Anyway, she seems like somebody that I would totally be friends with, plus after reading my blog entry about knee "injuries", she sent me a picture of HER knee, which she bruised in a 5k mud race.  (Speaking of, who wants to run one of those with me? I think it's time.)
Rachel told me I could use the picture if it gave her street cred.  I think it totally does, right?  Don't you want to read her book even more now? (Honestly I really liked her book, knee bruise not withstanding.)
Oh, and here's the blurb from the website/book jacket:
When Rachel's handsome studio exec boyfriend proposes to her on the Sex and the City movie set, she can't fathom the dizzying adventure about to begin. Accepting a once-in-a-lifetime venue deal helps their budget, but it puts them on a crash course to get married in just four months — and time isn't their only challenge. They battle a wacky assortment of vendors, including a hair stylist who fakes a car accident and a makeup artist channeling Marilyn Manson, all while testing their love amid tastings and tulle.
Using her nervous energy productively, Rachel enters every contest she can find, winning diamond earrings, a honeymoon, a photographer, and two wedding gowns, and her pop culture obsession lands the entire wedding party on two hit reality TV shows. There's just one problem as the clock ticks down: Her staunch perfectionism and fear of dancing threaten to derail everything. She has to redefine perfect and embrace the mistakes—or risk losing it all.
So who wants to win a free copy of Running of the Bride?  (giveaway now closed!)
Three ways to enter (separate comment for each, if you do more than one!)
1. Leave a comment.  About anything, but about a knee injury would be most awesome.  I reserve the right to award an extra entry for any particularly awesome pictures.
2. Tweet "I want to win a copy of Running of the Bride from hannahviolin.me @hannahviolin" and leave a comment saying you did so.
3. Like the Running of the Bride Facebook page here, and leave a comment saying you did so.
Woo-hoo, let's get this contest going!!  You have until this Friday, August 10, at noon CDT to enter.  And if you don't win, you can always buy the book the regular way.