A few weeks (months?) ago Jen and I decided to run the St Louis Track Club Marathon Relay.  We needed four team members, and it was set up so each person ran two legs of the relay.  The course was approximately 3.25 miles.  We enlisted Vanessa as well, and then I put a call out on my blog for volunteers.  Natalie from The Sweets Life was first to respond and we had our team!
We weren't sure what to expect from this race.  We had to make up a team name (team name:  Valkyries) and originally thought we might do some sort of costume/hat/matching shirts.  But life got busy, and then the forecast called for rain, and that just sort of fell by the wayside. 
Here's how it ended up working: 
I got there early to check in, pick up numbers, and our gloves (we got four pairs of gloves rather than shirts, a nice change in my opinion.)  I was able to park really near the tent for pickup and near what I assumed was the start line/relay exchange line.  It was COLD so after pick up I went back to the car to warm up.  We met up with Natalie (and eventually Vanessa, who had a little trouble getting there…) and the race started promptly at 8.  Jen went first.  It was a small race, probably 75 teams?  I am simply estimating here.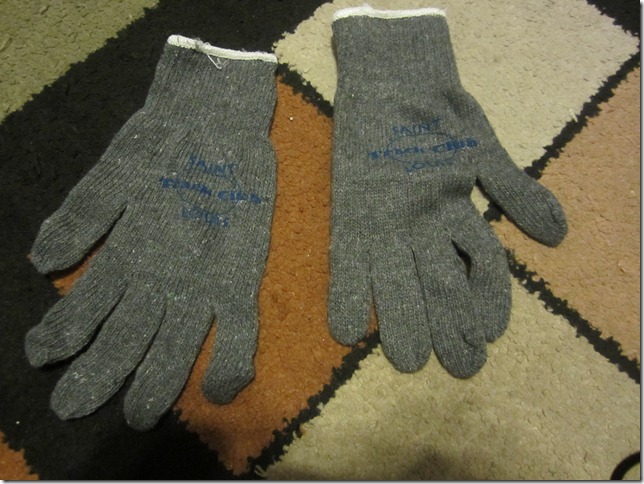 I went second (and would be followed by Natalie, then Vanessa, and then we'd eat repeat.)  The relay pass seemed pretty casual, and the faster teams were doing sort of a high five (no baton or anything) so we decided to go with that.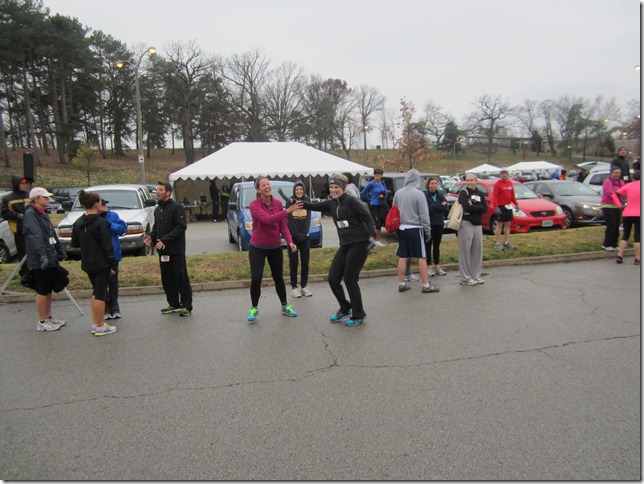 I love that running is a time you can legitimately wear leggings as pants.
The weird thing about the relay is that rather than running with your friends, you are hanging out with them and then running alone.
The course actually headed out one way and then after about 1/4 mile or less does a loop back, so you crossed over the line again before going about another 1.5 miles, (past the Muny, the visitor's center, to the road at the bottom of Art Hill, then you turn around and head back.)   In between hand offs we got snacks at the tent and hung out in the car, generally with the heat on.  Some teams had brought tents, one team was even grilling!  But it was cold and almost raining (though luckily it basically held off) so we were pretty happy for the heat of the car.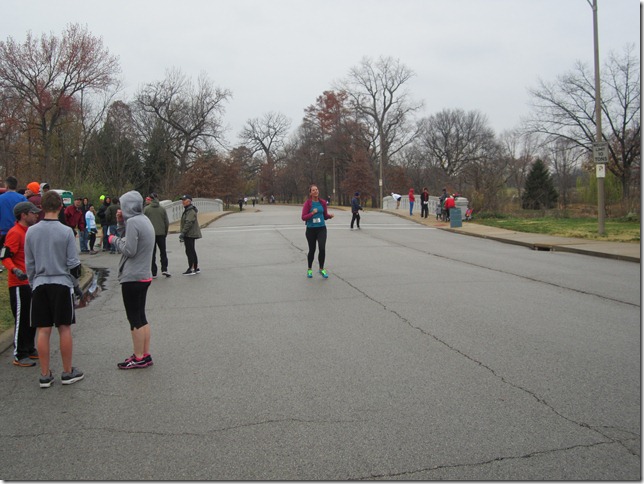 I didn't wear my fancy garmin watch so I just ran by feel.  I tried to run the first leg pretty easily, where I felt I was just on the edge of losing my breath the whole time but not breathing too hard.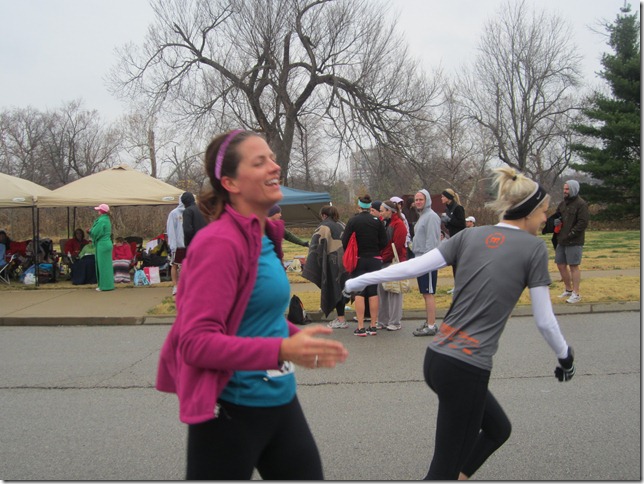 The hand off to Natalie—she was a speedy one!  Jen finished in approximately 33 to 35 minutes as did I (we didn't have our exact times for the splits, just what we saw when we remembered to look at the clock.)  Natalie was closer to 23 minutes, and then Vanessa was probably around 30 minutes?  Or less?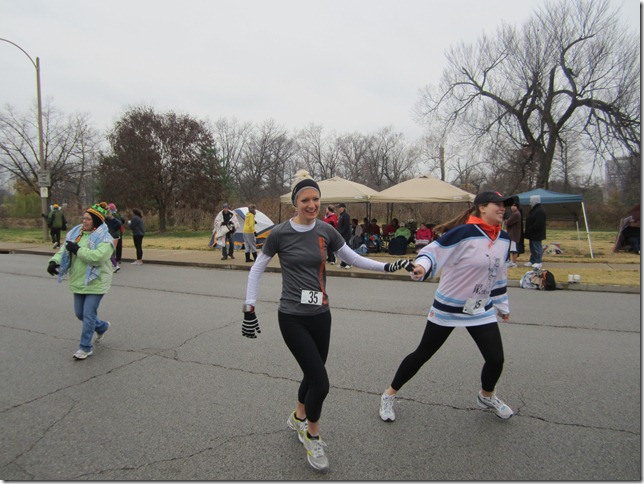 Vanessa was wearing a jersey that said "Walkyries."  She was the most in costume.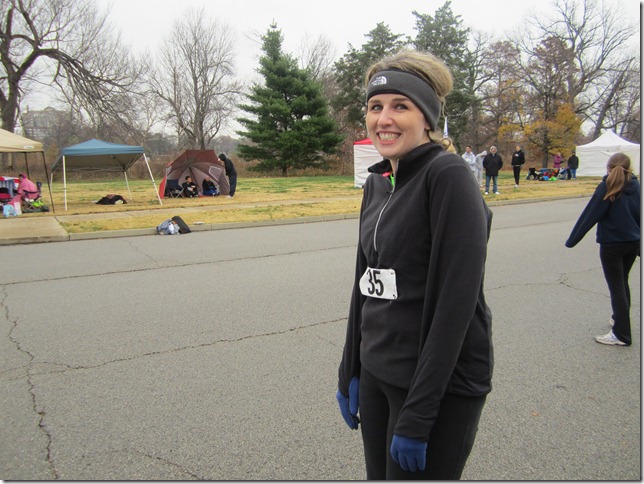 Jen was not thrilled to run again.  I think that was the toughest part for us all—we felt like we had already run and didn't want to go again!  I made a joke about turning it into a half-marathon relay.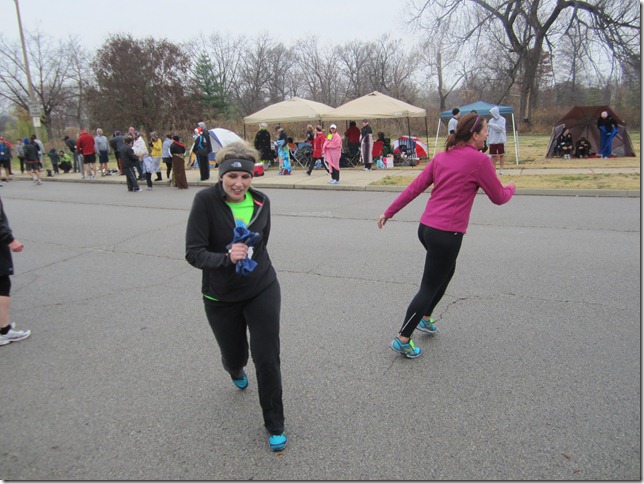 I like this picture because we are seemingly heading in the wrong directions.  Oops.
I ran the second as hard as I could.  I felt out of the breath the entire time.  I also felt pretty tired, thought I might actually be running super slow even though I felt really speedy.  I think it ended up being about 32 or 33 minutes, which was a great pace for me.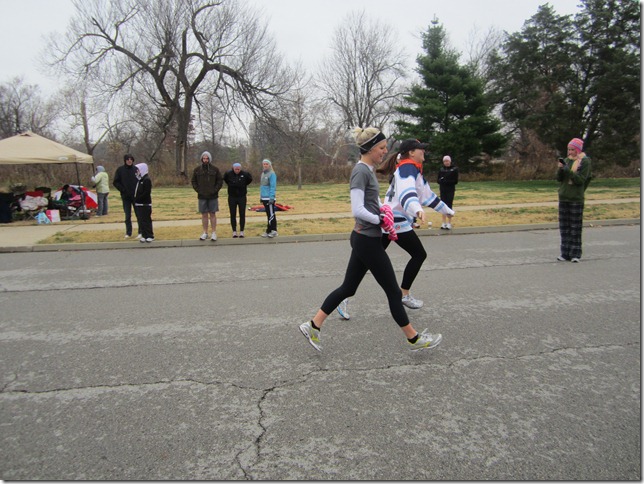 The last hand off!  Note how Natalie is completely in the air!  She rocks.
We told Vanessa we were all leaving at 4 hours so she needed to be done by then.   I think that gave her just under 35 minutes to finish.  No problem!
I'm not sure our exact finishing time (maybe it'll be posted at some point) but it was between 3:55 and 3:56.  What a fantastic team!
I'm not in love with this picture but it was better than the alternative choices.  All in all it was a fun morning, fun race, with great teammates.  I would absolutely do another relay in the future.