Today was the first day I wasn't filled with time and schedule panic. I slept in and I have already practiced several hours, along with having watched last week's two hour Downton Abbey and spending plenty of time chatting with my friends on twitter. (I lead a full, rich life.) And here I am, blogging. CRAZY.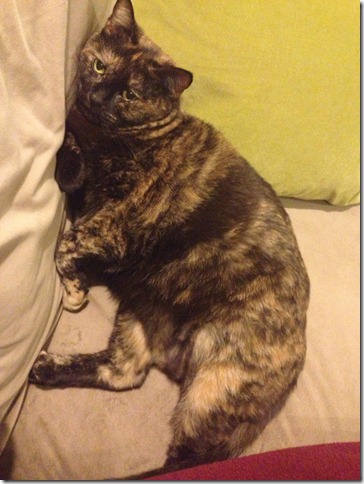 I'm starting to feel like this guy. Just a fat blob, resting on the couch. It's cool though. She's pretty freaking adorable, so if I'm half that cute, I'm still okay, I think.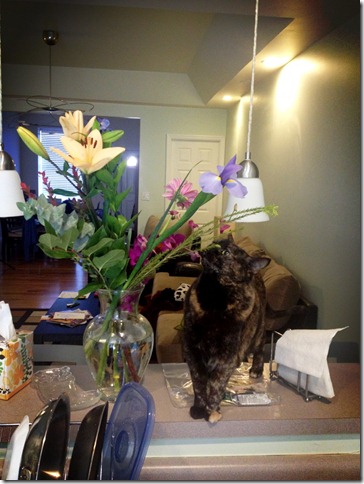 (checking out the lovely flower arrangement Chris brought home)
Oh, and Happy (belated) Valentine's Day to everybody. We wanted to go out to eat (I know, surprise, us, going out to eat, that's CRAZY) but we wanted to go somewhere new, so we went to Harvest. Valentine's Day is never the best night to go out to dinner, because it's so ROMANTIC and the service was slow and the menu was a required prix fix menu, but the food was pretty good. Chris was sad because they ran out of the dessert he wanted (goat cheesecake) but overall we enjoyed our meal. We'll probably go back and try the regular menu sometime, so that's a good recommendation.
I left my blogging hat at home and didn't take any food pictures, but I believe Chris had the short ribs and I had something called the "duck reuben" which was really tasty. Everybody told us to try the bread pudding, that it was to die for, and it was very good, though…I don't know that it was my favorite. It was weird because it was obviously made with the same bread that they had served on the table so it felt like I had already had it. Though the caramel sauce was delicious.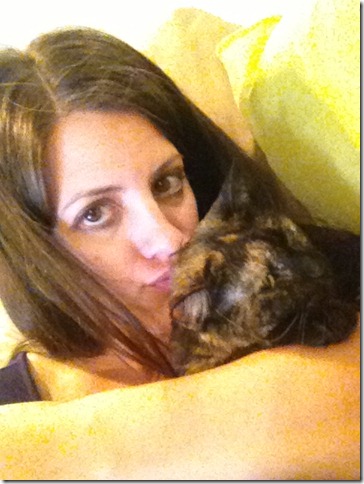 (my true valentine)
Even though generally we will sit in the same house for hours without talking, I'm always pretty proud of our ability to carry on a good conversation in public 😉 Is that weird? When we were in Paris, we ate (very early) at a restaurant with only one other couple there at the time, and they weren't talking. It was totally weird! We felt STRANGE having a conversation when they were just sitting there all disgruntled and awkward. To be fair, lots of people were talking at Harvest and there were lots of awkwardly dressed couples which made for excellent people watching.
I can see the light at the end of the tunnel. This week is going to be stress city, but I feel fantastic. No matter what happens on Tuesday in the audition, I know that I sound really good, that I can play the HECK out of my excerpts, and as long as I don't freak out, I should have a good audition. The results are irrelevant and out of my hands, but I can control how well I play and how I feel, and that's my main goal. I've done the prep (and a bit more left to do, but I KNOW everything really well) and all that's left is to perform. I'm ready to get back to real life as well, but I'm trying not to think like that.
Oh, and Friday night at 7 pm I'm performing with Chamber Project St Louis at the St Louis Art Museum. Come out and see me play!
Oh, and my sister Leslie and her husband got a new kitten. I'm totally jealous and trying to lobby Chris to let me get a new kitten (or dozen). So far he is pretty convinced that it's not the greatest idea at this time, but I bet I can wear him down.