Road Trip 2016 continued!
Previous posts:
Feeling at home in Arches National Park
The Only Good Forest is a Petrified Forest
It wasn't too far to Bryce Canyon from Escalante State Park, and as usual, it was a beautiful drive. Seriously, there's just no way to understand how gorgeous and amazing the land out there was if you haven't been. Go!
So as we got closer to Bryce Canyon, I realized since we were arriving around 10 am, we should park outside the park and take the shuttle in. This was easy enough. We made lunch, packed our backpacks, filled our water, and took the shuttle. We hadn't decided what to do yet (I tell you, it is hard to preplan for an entire 3 week trip, and I just ran out) but we quickly skimmed the newsletter (called "The Hoodoo", which, if you aren't sure what that is, I'll show you in a minute) and saw a hike described as "one ultimate hike!" and knew it was the one. It was listed under strenuous and was called "The Figure 8 Combination. You combine the Queens Garden, Peekaboo Loop and Navajo Loop for a 6.4 mile hike.
Remember, it's a canyon. Coming out is always harder! But this wasn't like the Grand Canyon, and after hiking to the Colorado River and back, everything else seems like child's play.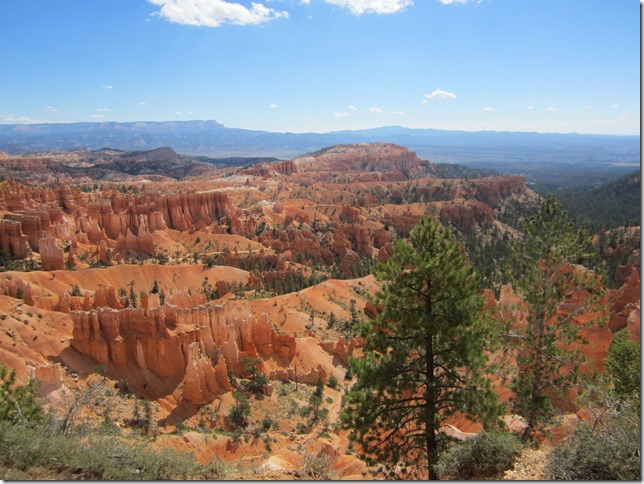 Bryce. It's really unbelievable. All those bits poking up are the hoodoos, and it's what is left as the parts around them have been eroded away. (I think.) We took the shuttle to Sunrise Point and then hiked through the Queen's Garden. This part of the trail was super crowded, but for good reason. It was absolutely beautiful and amazing, and while I know I've said that before I'm sitting here typing, nearly a year later, and I can remember exactly how I felt, looking around. Terrified, yes, because it was a pretty steep downhill with lots of drop offs, but amazed at the crazy pointy bits and the natural wonders that were simply unlike anything else we'd seen, and yet, here they were. What an amazing world we live in!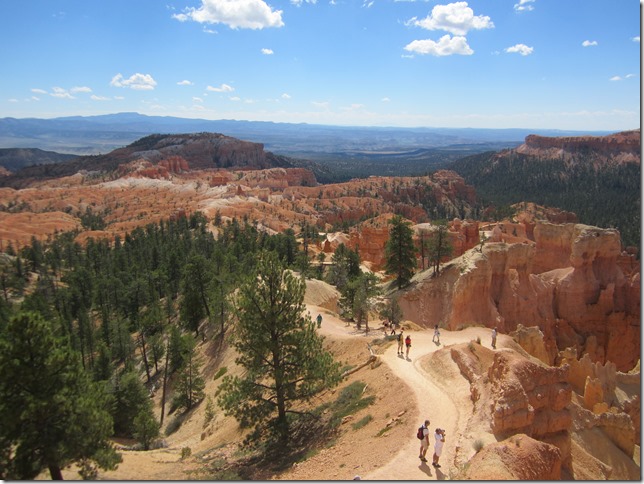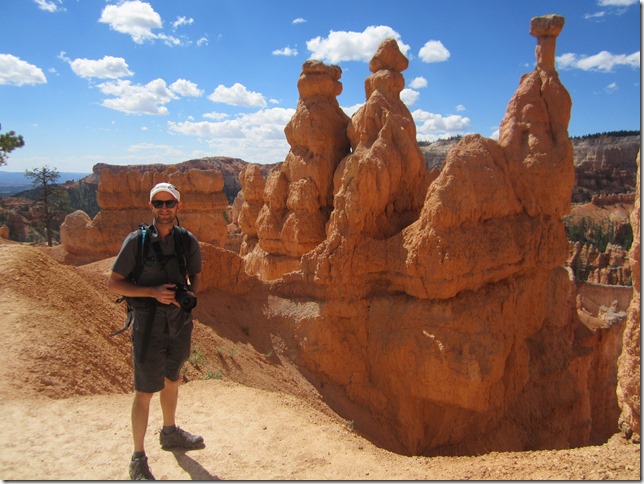 Hoodoos up close!
The trail, as usual, thinned out a bit the further we got, though it was always pretty well traveled. There were lots of ups and downs, and it was certainly no picnic of a hike, but around each corner there were more breathtaking wonders. I can't recommend this hike enough.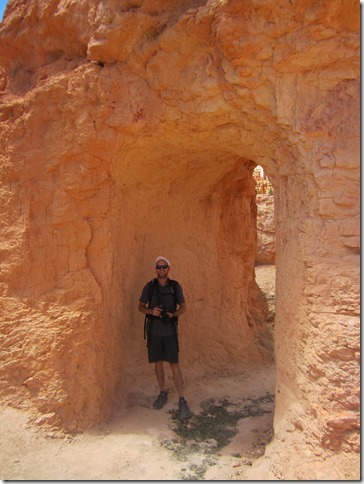 There were quite a few archways! Being a St Louisian now, I do love arches.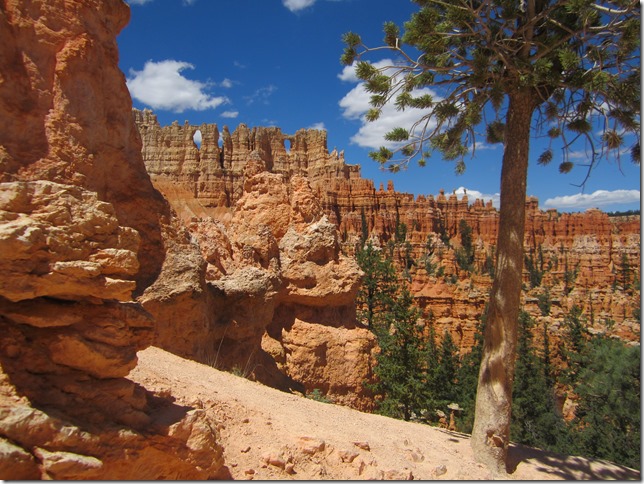 The trees just add another element. You don't see so many trees in other parts of Utah. Bryce is a higher elevation-8000 to 9000 feet, so the flora and fawna are different than other parts of Utah that we had seen. It was also cooler, which was a relief.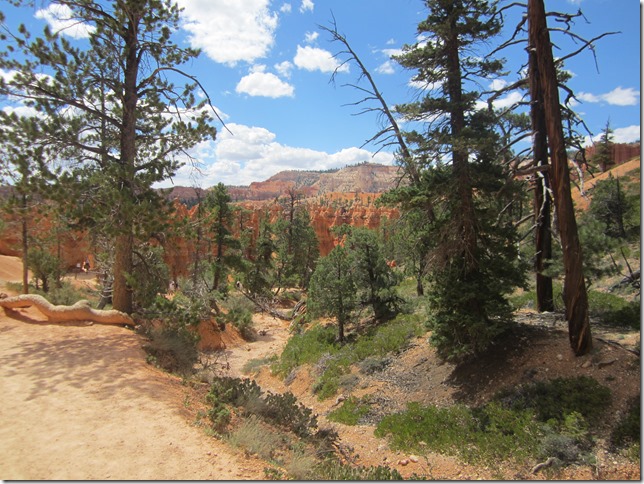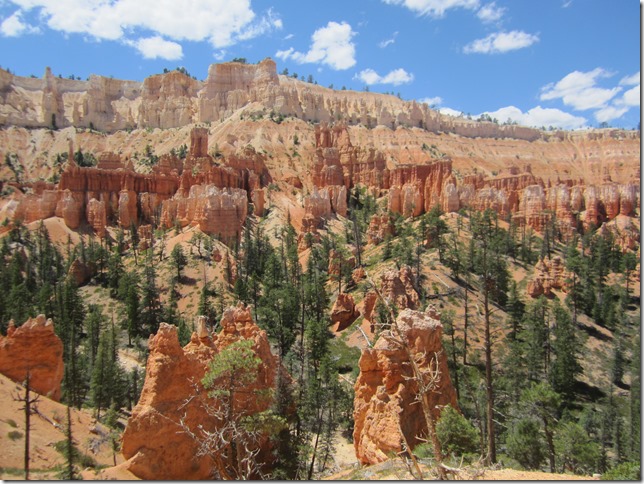 At one point we sat and had a nice lunch break. There were also a few points where there were vault toilets to use, which is always a little funny—you are miles into a hike, and then you wait in line for a potentially really stinky bathroom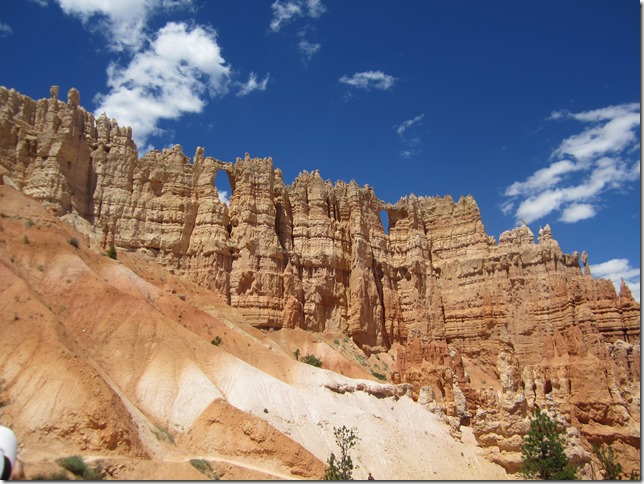 You can see there are some switchbacks in the hike.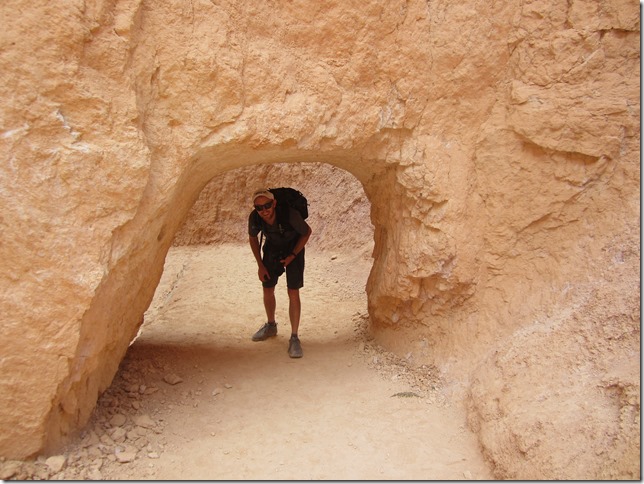 The hike took us into the early afternoon. Getting out of the canyon was a little terrifying for me, as it was a lot of not looking down and just forging ahead, and the switchbacks getting out were really crowded! But we made it without too much trouble, somehow, and then got on a shuttle bus to go back to the car.
We found an ice cream shop near the car and had a treat before we headed out to our campsite. I couldn't reserve us a site at Bryce so I got one at Kodachrome State Park, which was about 30 minutes away. As busy as Bryce was, there was hardly anyone at Kodachrome, and we found our tent-only loop easily enough. The only thing was there were a lot of gravel roads, and there was NOBODY else there, which was a little scary at first! But we settled in, we found the showers at a nearby electric loop, realized there WERE other people there, and then a few more parties joined our campground. All the time we could hear cows mooing, particularly the next morning, which was kind of funny.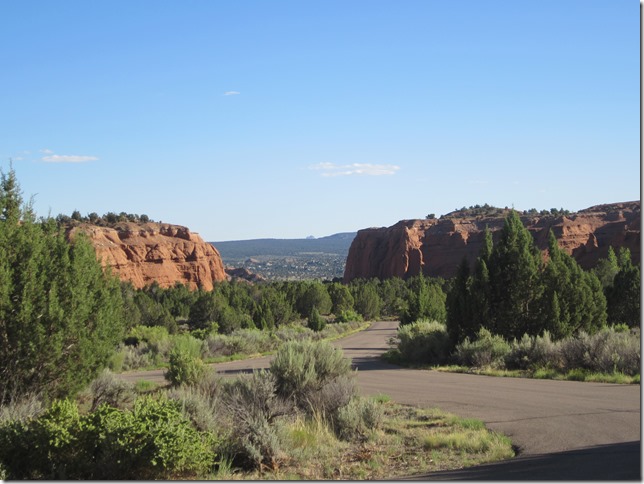 I wish we could have relaxed more but the next morning we were up and out of there, and went back to Bryce. It would have been great to explore Kodachrome further, but our crazy schedule didn't allow it. We hadn't seen all of the park, so we got there early to drive to the end of it and come back. Another way to avoid crowds is to get up early, and we did that.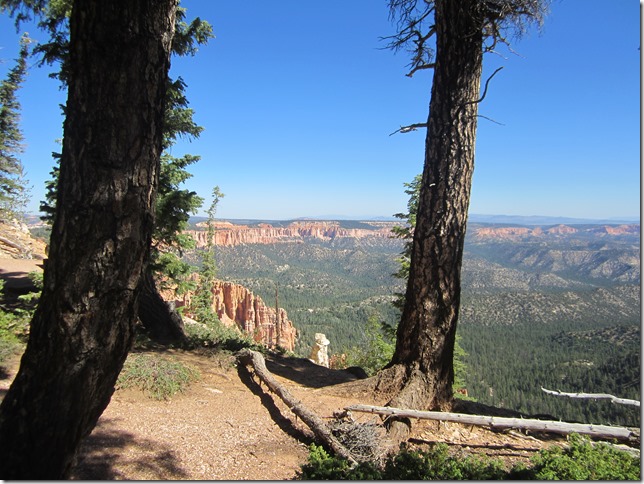 We took a nice little hike called the Bristlecone Loop and saw more of the hoodoos and the canyon, and then stopped at a few more viewpoints and the visitors center, but it was getting crowded by that point, and we were eager to get to Zion, so we headed out.
On our way to Zion, we got hungry and didn't feel like eating out of the car, so when we saw a German Bakery/Restaurant called Forscher Bakery, it seemed just the ticket. Oh, and for some reason we ordered a pizza. It was odd, but excellent. To be continued!
Nights Camping: 10
Miles Hiked (estimate): 64