I just got home from Chicago a little bit ago.  I hate all those things you have to do when you return home—pick up piles of mail, unpack, figure out the funny smell, clean the cat litter, feed the cat, pet the cat, etc.  I used to travel a lot more than I do now between work and being a long distance relationship, and those things have always annoyed me.
But, let's talk about my last day in Chicago.  Karen and I didn't have any real plans, so we headed for Michigan Avenue to do some shopping.  We didn't really want to spend much money shopping as we'd been spending ridiculous amounts of money on going on, so after a bit we decided to go bowling.  She had only been bowling once before in her life and wanted to try to improve.
I am not a good bowler either.  (Today my right arm is ridiculously sore from two games…).  By the end of the second game my thumb had gone numb, and at one point I was worried I had reinjured my right shoulder.  Bowling was fun, but perhaps not the wisest choice. 
Next we hit up the Hancock building.  There is a restaurant on the very top (95th floor), and we got a couple drinks and enjoyed the view.
It was nice for a bit then some clouds (?) came in and the view was ruined.  We decided it was time for dinner!
Off to the Purple Pig we went!
Evidently there aren't any restaurants in Chicago where you just order your own food, so once again we went to a tapas (small plates) style restaurant.  The waitress thought this was unusual but we had her ticket 😉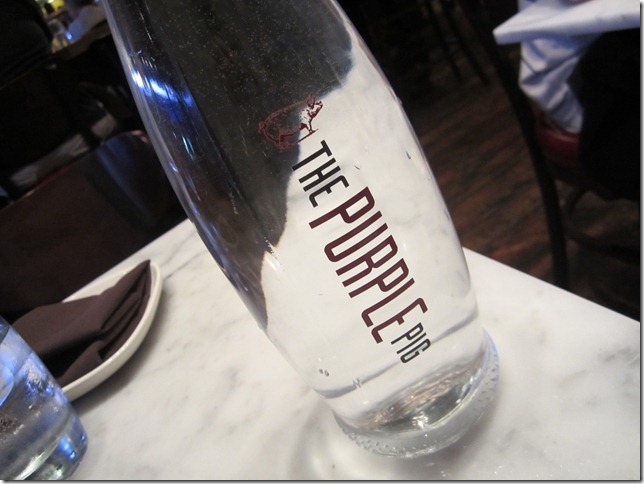 Prosciutto bread balls, calamari, fried deviled egg, and ham/egg on toast.  Not pictured was the beet and goat cheese salad and the squid with fingerling potatoes.  And the sparkling wine.  I decided it was a sparkling wine day.
Dinner was delicious, especially the calamari salad, and we decided to book it over to the Navy Pier to ride the Ferris Wheel.  We ended up riding the Ferris Wheel and a swing ride.
I think Karen was starting to get the hang of the "take pictures for the blog" thing that I do.  In any case the rides were fun, and I felt so wonderfully touristy.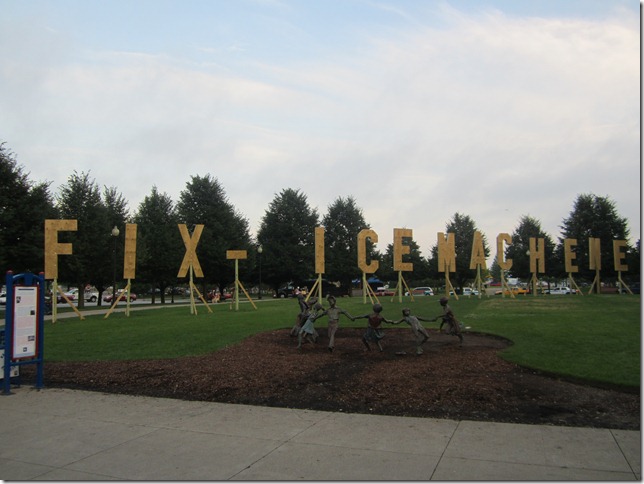 What is this?  Does anybody know?
We then decided it was dessert time.  Off we went to a place I can't recall the name (Bin 36)  Delicious desserts and more sparkling wine—I had a wine flight of sparkling whites, and Karen had a different flight.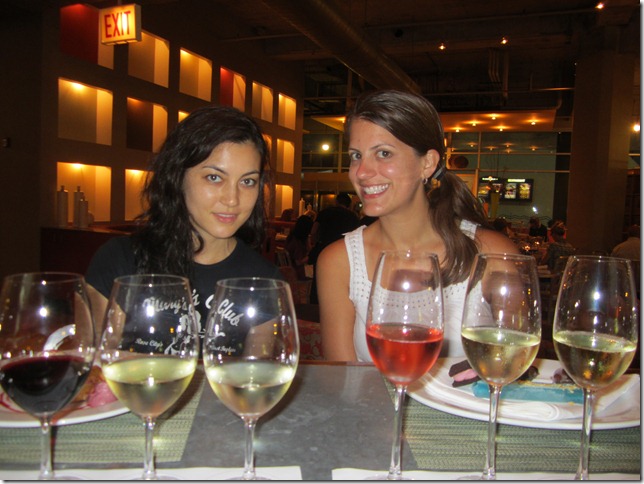 Last we decided to go a jazz club called the Green Mill.  There was a $4 cover (only!) and the singer was really quite good.  I can't recall her name.
And that's it!  I drove back this morning and have a few students shortly.  I'm EXHAUSTED.  But it was a great trip overall, exactly what I needed, and I'm super glad I was able to go.  Thanks Karen!