And so it begins.
Regular blog readers know I have a tendency to take a long time to write trip recaps…and I hope you are okay with that. My trip to Italy in May took awhile to write about, but writing all about it was important to me. This trip was longer, though I think I'll try to break up the posts by location rather than day. Nonetheless, I plan to share pictures and stories and all that good stuff over the course of the next…few weeks?…and hopefully you will enjoy it! My other goal for the fall (other than to recap this trip, ha) is to blog more often so perhaps I'll try to intersperse non-travel posts to keep people more interested.
SO.
Day 1: August 1. It's convenient that this trip started on the 1st of the month, isn't it? We woke up early and finished packing up and loading the car. We'd taken the cats to Louie's mom's house and the dog to a friend's house, and we were good to go by 10:00 am. Our first stop was in Kansas City at Arthur Bryant's BBQ. I'd had their sauce before (Louie loved it) but I hadn't been. Louie had gone before so he knew it was worth "breaking" our vegetarian diet for.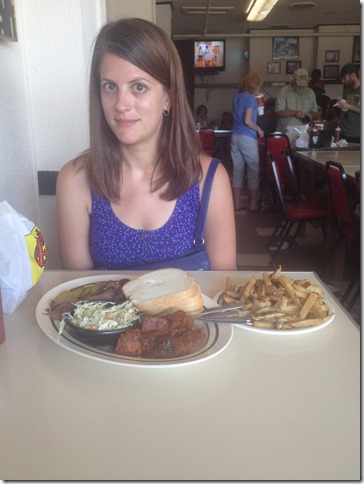 It's probably not important to tell you this, but I didn't eat that all by myself.
After a late lunch, we headed to Tallgrass Prairie National Preserve. When I started planning this trip I wanted to do something fun on our first day. I realize when people think of fun they don't normally think of Kansas, but I thought doing a little hiking in the prairie would be something we didn't ordinarily enjoy…and I was right!
As usual when hiking, finding the beginning of a planned trail can be a bit tricky. Does anybody have this problem or is it just me?
The visitor's center was closed but had a neat design—it went over a covered path. There were lovely clean bathrooms as well, and a little horse in a pen with a sign saying his name was Badger and he was friendly and loved to be petted.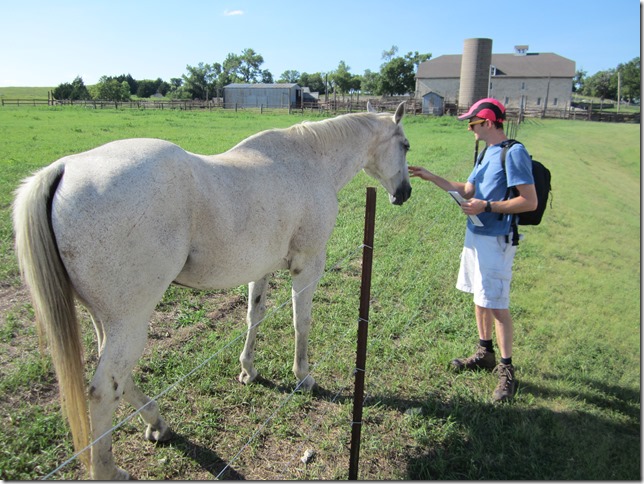 After a few false starts we found the trail I wanted us to take. One of the things that drew me to the place was knowing that they have a bison herd. Yes, I knew we'd be seeing more bison, but I really wanted to see some right away. We headed out on the Scenic Overlook Trail and noted how pretty Kansas was! And not flat…which meant that the approximately 6 mile hike I'd planned that I thought would be fairly flat and easy ended up taking quite a bit longer…
The sun was also hotter than I'd realized, and I was just hiking in jean shorts and a top, not my usual sporting wear. Oh well.
We did see a couple of bison from a GREAT distance. Not really visible to the naked eye, but Louie had a zoom lens on his DSLR camera that we could see them in…barely. And then at one point on the hike we completely lost the trail. We thought we had it, and then we thought we saw it ahead, and spent some time traipsing through the grass (which wasn't super tall yet) and finally feeling relieved when we did indeed see the trail again. No idea what happened, but at least we got back on track. We came across a cow then, one just hanging out near us. She seemed a little wary, so we tried to keep our distance, but Louie was taking pictures (I got really hot and tired and was just trying to keep up at this point!) and then she got startled and ran away. I am not used to seeing cows running so it was pretty entertaining, even though we felt bad.
Finally we found our way back to the car, passing by some old buildings and such. It was pretty much dark by then, which meant we spent a lot of more time hiking than I'd intended us to, but we were prepared with headlamps just in case, so it wasn't something we needed to worry about. I learned from our trip last year!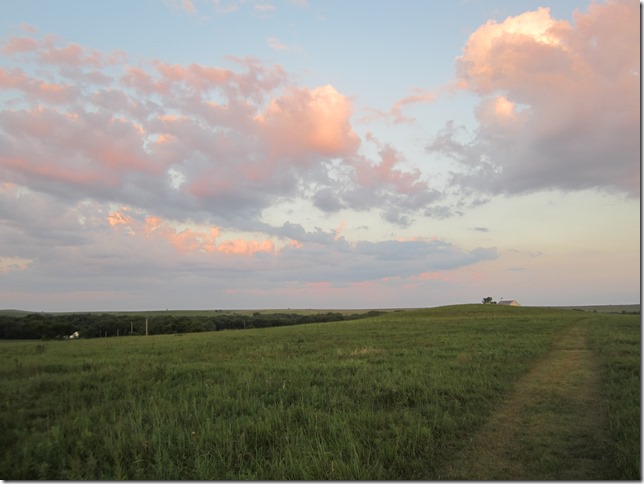 We had a reservation in Salina for a motel, which was about 1:45 away. We were both exhausted by this point, but that wasn't too far to go. It was a lot of backroad driving though, and at one point the road we were on was closed for construction. As in, we got to a intersection and the road was just closed. No warning that I recall or noticed! We turned left and hoped the GPS would find our way—it did, but not before sending us down a street than became a very bumpy gravel road. THANKS A LOT.
We stayed at the Best Inn in Salina. It was cheap and clean and plenty fine for the night.
Day 2: The next day we got up and hit the road for Denver Colorado. Louie has some friends who recently moved to Denver and we planned to visit and stay with them. By recently I do mean in the last few weeks! The drive was pretty boring but uneventful…honestly, when people talk about how boring Kansas is to drive through, I think they mean the first part of Colorado. Kansas is pretty enough for awhile, but then it just gets flat and boring, and then you hit Colorado, and you think, yay, mountains, but NO it's more of the same, and in fact might be more Kansas-y than Kansas itself.
Anyway, we got to Denver and met up with Louie's friends Derek and Sarah, who live in the Highlands neighborhood, one of those trendy types of neighborhoods. We walked to a nearby brewery (Denver Beer Company), and then dinner (The Ale House), and then walked around the river for a bit before hitting the hay. Hitting the sack?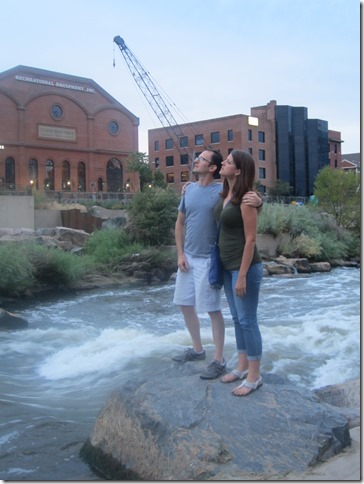 Pondering our future.
Anyway, we didn't think so much of it at the time, but that night in Denver was the last time for awhile that we had a room with a bed and an easily accessible bathroom with hot water and a shower.
Next stop: Boulder!