Here's a bunch of random thoughts and stuff I need/want to share with you all.
1.  I have been running lately.  Marathon training starts officially in just over a week so I've just been running for "fun" and fitness.  Chris started running (When he utters the words "I'm going for a run" I get VERY excited) and yesterday we ran together.  He's training for a 5k we are doing together in mid-December, and yesterday we ran (very fast for me) 2.25 miles together.  Before than I'd been pushing my speed on 1.5 to 2 mile runs.  My legs are finally feeling less dead, and my hip feels better.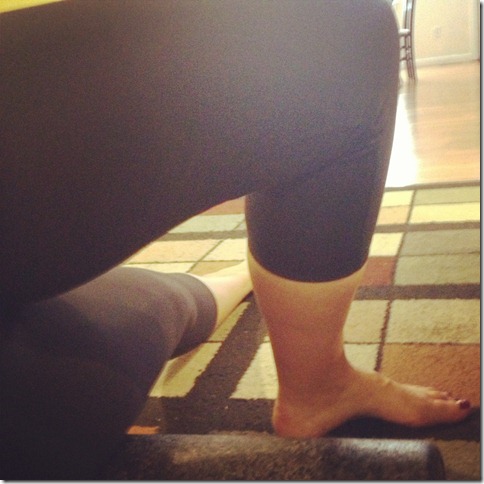 It still hurts if I've been sitting for a long time or if I haven't been foam rolling enough but generally I think I'm in decent shape to start training for the Marathon in April.  And to run the 5K AND to go to Phoenix in January for the PF Chang's Half Marathon (very excited about this!)  I figured doing some shorter but faster runs would be a nice way to push myself but not overdo it.  I'll have enough long, slow runs ahead of me in the next few months, right?
2.  Gil Shaham is awesome.  I saw him play the Beethoven Violin Concerto last night with the symphony.  VERY enjoyable concert.
We look ridiculous because we are 🙂
3.  Recently I was sent some natural shampoo and conditioner from Ava Anderson.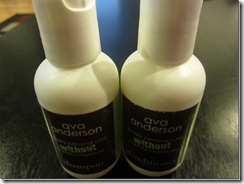 The company's motto is "Quality personal care without harmful chemicals."
I tried the shampoo and conditioner.  The only odd thing is that the shampoo doesn't foam like I'm used to.  Did you know that harmful chemicals make your shampoo foam?  Evidently that is just something companies add to make us feel like we are getting a more effective clean…and in fact is totally unnecessary.  Weird, right?  (Agree or disagree?)  Anyway, the stuff smells nice, and there's always a bit of self-righteousness involved with knowing you are using something that is more natural and less toxic, isn't there?
If you want to order anything from the website (there's all kinds of beauty supplies, not just shampoo/conditioner) contact the representative by email and tell them I sent you and she will give you a 30 percent discount through Dec. 15.
4.  Caffeinated Baked Goods.  Who doesn't like caffeine and baked goods?  Here's a company that puts them together! Get up and Go offers caffeine without the coffee.  If you "like" their facebook page you can get a discount code to save 30 percent on all orders, AND on Sunday (tomorrow, they are calling it Black Sunday) you can get 70 percent off all orders! (After you "like" the page, click on "store")  Now THAT's a deal, and you don't have to run anybody down in the parking lot to get it. I haven't tried any of their stuff, but I hear it's tasty, and the company reps are really helpful and friendly.
Sugar rush plus caffeine rush?  You're welcome!
Disclosure of Material Connection: I received one or more of the products or services mentioned above (Ava Anderson) and for free in the hope that I would mention it on my blog. Regardless, I only recommend products or services I use personally and believe will be good for my readers. I am disclosing this in accordance with the Federal Trade Commission's 16 CFR, Part 255: "Guides Concerning the Use of Endorsements and Testimonials in Advertising."
5.  Yesterday I learned that some jerk had slashed one of my tires.  Sometimes I love living in the city, other times I can't stand it. We tell ourselves that crime can happen anywhere, but the rates show that the crime is so much higher in the city.  But we really like being near non-chain restaurants and being far from strip malls…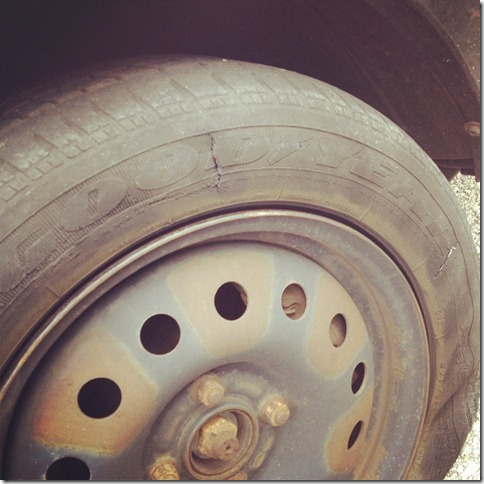 You can see two of the knife marks.  There was another obvious one and a small hole that was likely the fourth slash.  It almost felt personal!  (I'm sure it wasn't.)
I'm going to take this opportunity to just get all new tires, since that's something I think I need.  But I'm not happy about it.  At least they "only" slashed one tire so Chris was able to put the spare on for me rather than having to get towed.
Sometimes I disgust myself with my optimism 😉
6.  This is a great time for movies.  We are going to see Skyfall again tonight (I rarely see movies in the theater twice, but Chris and I both really enjoyed it and wanted to go with some friends) and we've bought tickets for the midnight showing of the Hobbit.  We haven't been to a midnight showing in awhile (I'm thinking not since Return of the King!) and we were much younger then, but we are really excited about it!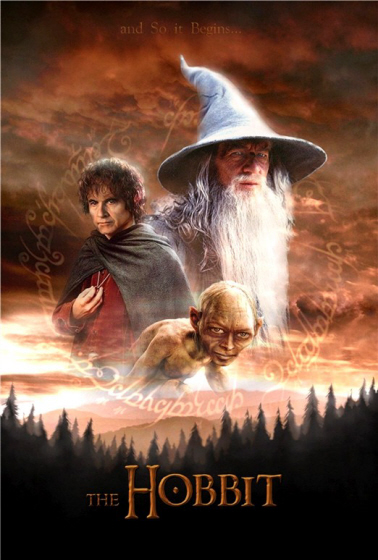 7.  I'm having that Sunday laziness/not being excited about getting back to work tomorrow.  It's always tough transitioning, isn't it?  Once you actually ARE back to work it's no big deal but it always seems like it's going to be worse than it is.