Who would have thought, back when I was five years old learning Twinkle, Twinkle, Little Star, that one day I would be a ROCKSTAR?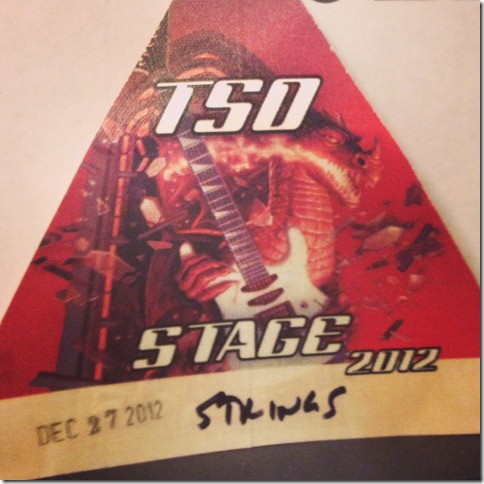 Okay, I'm exaggerating…a little. But! Yesterday I played at the Scottrade Center with the Trans-Siberian Orchestra. This is my third time playing with the group—it's a touring show and they always hire some local musicians to fill out the string section in each city. There's one violinist (her name is Asha, for the "West" Tour—I think there's another tour with another violinist) who plays electric violin, dances, and leads the orchestra. To fill out the string section there's another first violin (me!), two second violins, two violas, and two cellos, and we sit onstage the whole time and play through a thick book of music with very little rehearsal! No dancing for us, don't worry.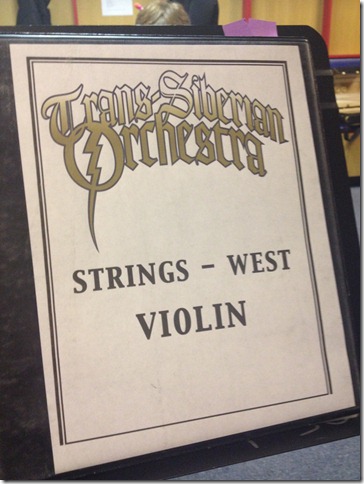 The biggest stress the first show was when to turn on the stand lights. I was in charge of the stand lights for the whole group and had a little button on the floor. I had to turn them off at the end of each song and then on again shortly before the new song started. Sure, that sounds pretty easy, except for it was dark in between so I couldn't see anything, like the set list, and since we didn't really rehearse I didn't KNOW when the new song was about to start. I only made one real mistake when I forgot there was a song we weren't on and turned them on early. I am assuming no one in the audience noticed, what with all the lights and fire and dancing and singing. The second show was easier as I knew what to expect.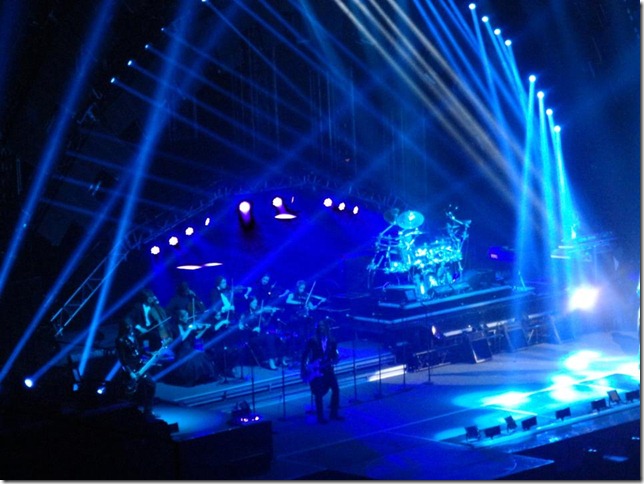 Can you find me in the picture? I'm actually in all the rest of these pictures…
It was an exhausting show BUT it was really fun. We classical musicians don't usually get quite so many people cheering for us! (I did play with Josh Groban once—that was interesting–the audience full of middle-aged women screaming and throwing underwear on stage. I kid. Sort of. No, I really did play with Josh Groban, and I think maybe two or three times at huge venues in Columbus and Pittsburgh.)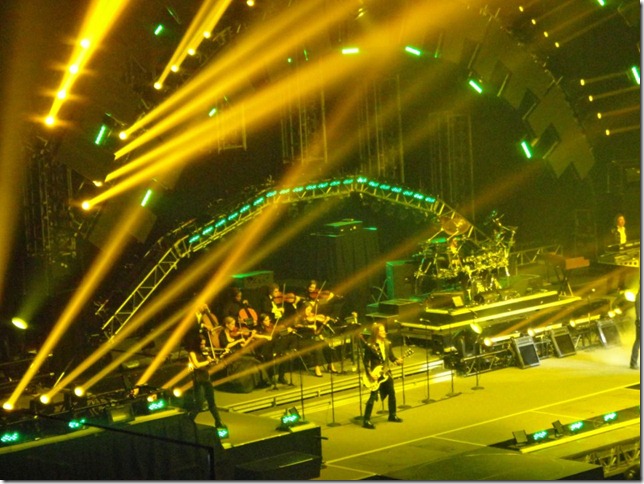 (I totally stole these pictures from a friend's facebook page. I hope he doesn't mind—his wife took the photos and I'm thrilled!)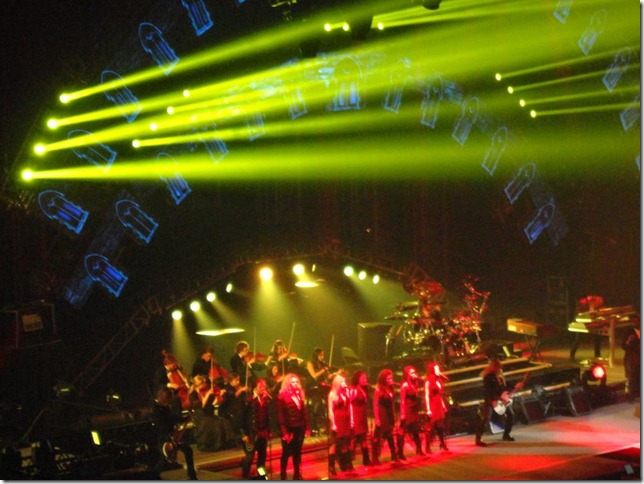 That's the fun bit of being a freelancer—every day is a different job so you never get bored and you never know what to expect. Or at least that's the fun part for me! (Let's ignore the 5 days of teaching the same people at the same times and pretend I freelance more 😉 )
Have you ever been to a Trans-Siberian Orchestra Show before? Did you find me in the pictures? Do you think I'm way cooler now than you did before or have I ruined everything by asking that question?