Always a good idea.  Trattoria Marcella is one of our favorite restaurants in St Louis.  It's just delicious Italian food.
I went the other night with my friends Vanessa and Carrie.  We split some appetizers.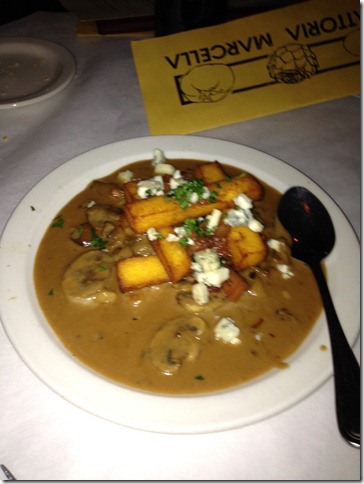 Mushrooms with Polenta Fries…so wonderful!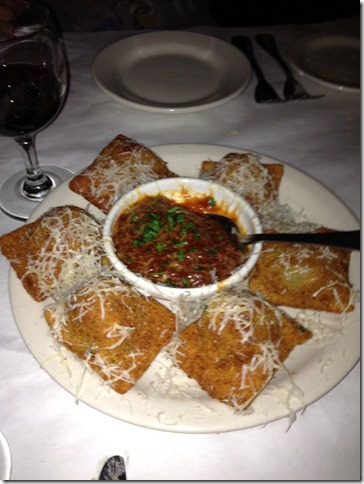 Toasted Ravioli.  This is a St Louis specialty, like Gooey Butter Cake or Budweiser. 
Then I had the Brussels Sprouts Salad and a delicious Macaroni special that had carbonara sauce.  It contains egg so it's very healthy.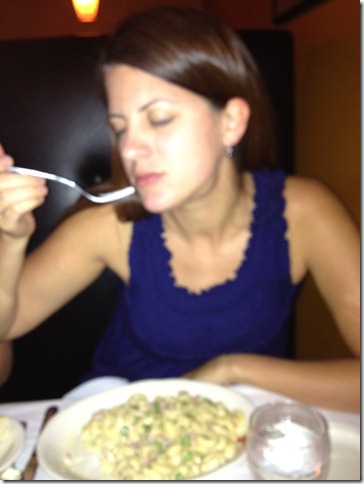 I needed some time alone with the food.  Luckily I didn't eat it all, but still…there's the real answer as to why I've gained a couple pounds this month.  Well, one of the reasons.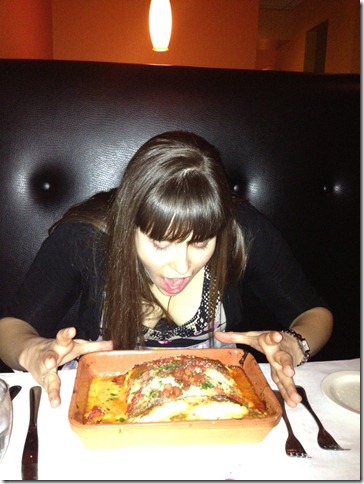 Vanessa got the lasagna.  It's a small portion…
It was a fantastic meal! 
Last night Chris and I went out for dinner.  We originally wanted to go to Frazer's, but didn't realize that it was closed.  We were planning to meet friends at 33 afterwards (which ended up being closed…I guess we've forgotten that stuff is closed on Sundays?) so we went to Square One.  Chris had been there a week or so ago and had some beer cocktail that he had become obsessed with—and then went again and the bartender had no knowledge of it and he was really disappointed.  Last night he was able to get it again.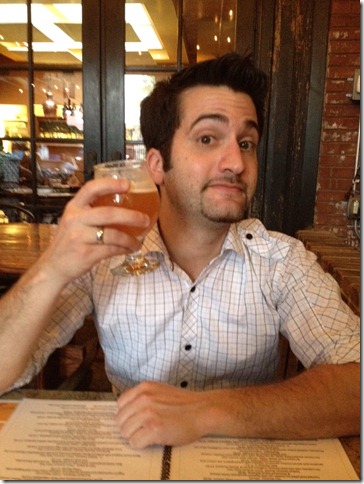 I told him to look as happy as he felt, but it took awhile to coax this much out of him.
Oh, and here's another reason I'm fat.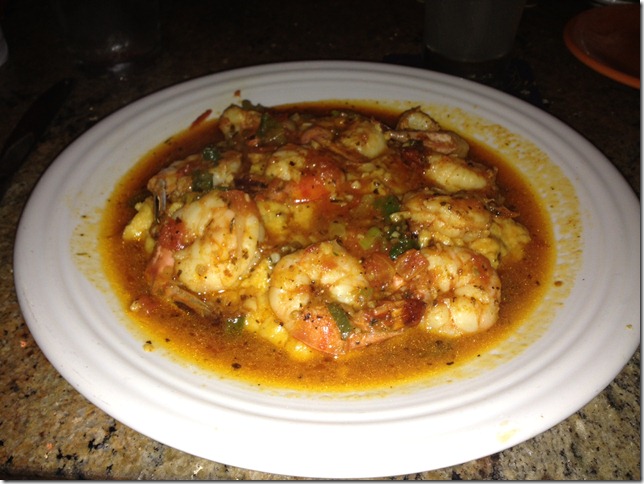 Shrimp and Grits.  SO GOOD.
I need to start writing my food down again.  But I'm having a lot of fun at least!  I just need to remember that I can have fun going out with friends and still manage to eat relatively healthily.  I can I can!
Oh, and I still feel really awful.  Worse than this morning, probably.  The headache is still present, the sore throat too, but now I'm starting to have some pretty bad congestion.  Progress, I think!  My eyes are puffy and swollen and I'm exhausted.  I've caught up on a fair amount of television though :)  And look at me, two blog posts in one day!  Page views will skyrocket!!