My big project over the weekend was making Tri-Color Cookies.  I didn't know what these were until I visited Chris's relatives at Christmastime.  He seemed to really love them, so finally last Christmas I felt I had the baking skills necessary to ask for the recipe.  His Aunt Pat sent it to me, and I hope she won't mind that I share it with you.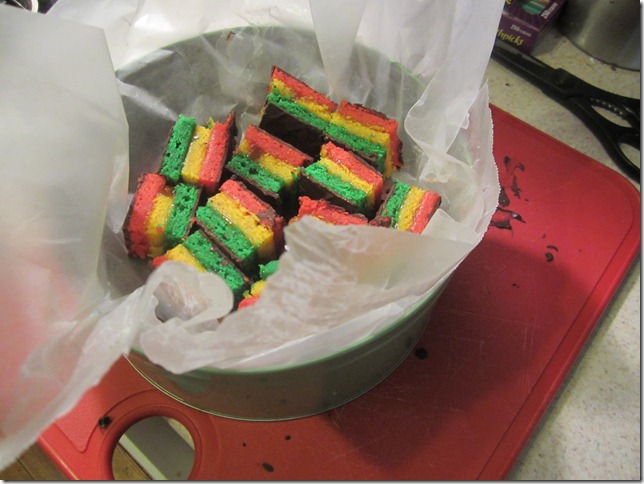 In her words:
— For Best Results cook separately
 — Red on top
— Yellow in middle
— Green on bottom
Ingredients:
2 cans 12½ oz. Solo Almond Filling
4 sticks butter (1 lb.) room temperature
2 cups sugar
9 egg yolks
9 egg whites (3 each in separate bowls)
4 cups sifted flour
Red food coloring
Green food coloring
Yellow food coloring
¼ cup raspberry jam (optional)
12 oz. apricot preserves
melted chocolate (add a teaspoon of Crisco to prevent chocolate from cracking)
Mix almond filling, butter, and yolks until light and fluffy.
Add sugar, then add flour. Mix
In 3 separate bowls beat 3 egg whites until a peak forms. Add one food coloring to each bowl. Mix 1/3 of the almond mixture to each of the colored egg white.
Place mixture in a Pam sprayed pan (15¼ x 10½ x 1) and spread it evenly. Cook individually at 350o for 12 minutes each. Cook green first and let it cool in the pan. Add jam. Loosen edges before turning the yellow onto the green. Add remaining preserves. Place the red layer on top. Cool. Cover with wax paper and place one of the empty pans on top. Add weight and refrigerate. Trim edges. Cut into 1½ inch strip widthwise (about 8 strips). [Strips may be frozen and covered with chocolate at a later date.] Use a long metal spatula to remove from pan. Cover with melted chocolate on both sides. Cut into ½ inch cookie when ready to serve. Freezes Beautifully.
I usually cut them into long strips and wrap them in saran wrap and freeze them until I use them and at that time while they are defrosting, I ice them with the chocolate.  This way you can use as needed.
Hannah's commentary:  I didn't use the raspberry jam, I need to ask her what that was for!  Turning the layers onto one another was the hardest part, in my opinion.  I cut them into strips before adding the chocolate, but next time I might just leave it as one big piece because it was hard to see where I had cut.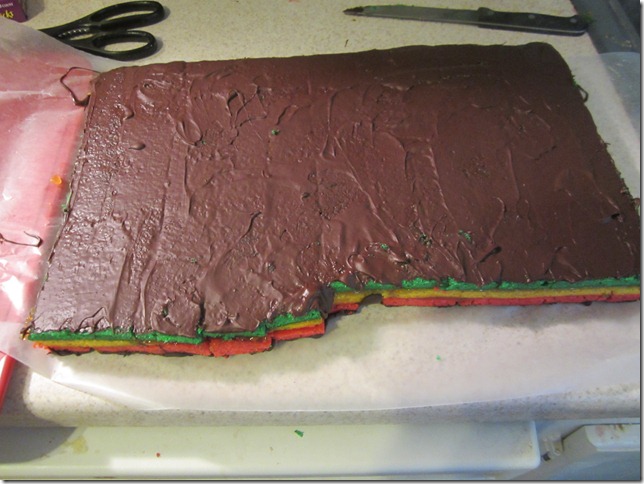 For the chocolate I used Baker's Chocolate Squares, and added some chocolate chips when I ran out.  All were semi-sweet. 
In any case, the recipe, though challenging, tasted great!  I also love the way the little cakes look—so bright and colorful!