Saturday a few of us ran a 5k in Benton Park.  The theme was "Reclaiming the 80's" and that  meant costumes.  Most of us ran the race last year too—this was the second year.
(The shirt—nice tech shirt, far nicer than last year.)
I haven't run too many races twice.  We had a fantastic time last year, planning our costumes, getting ready, running, all that stuff.  This year we were hoping for the same fantastic 80's fun, but everybody was so busy leading up to the race that the build up wasn't there.  In any case, I managed to corral five people into running:  Jen, Jon, Steve, and Mike.  Chris, Melissa, Laura, and Benjamin came along to spectate, which was nice of them!  We had plans to run the race and then go to Uncle Bill's afterwards for breakfast.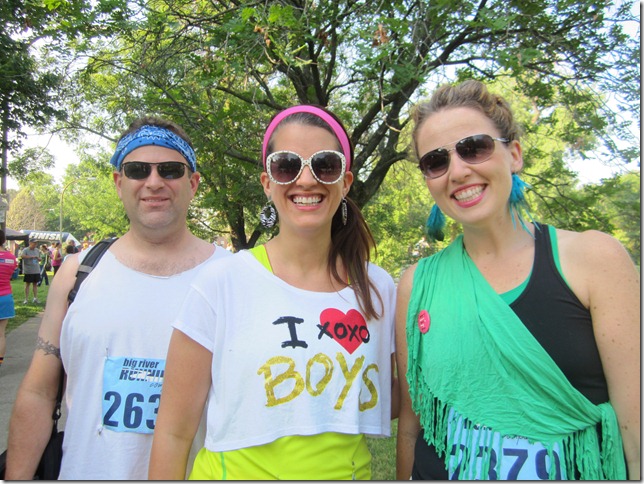 Steve, me, Jen
It was a beautiful sunny day, but it was HOT.  The high was going to be in the 90's and it was definitely getting close by 8:30.  I knew I wasn't going to have an amazing race, as I had barely run in the past 6 to 8 weeks, but I figured it would be fun, and I had an awesome costume.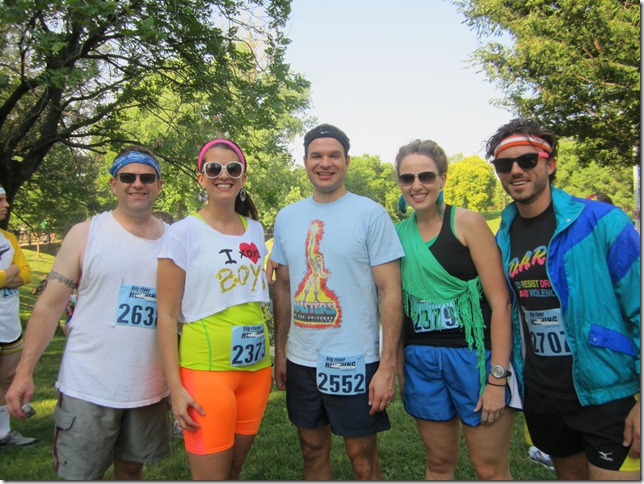 Steve, me, Jon, Jen, and Mike.  This picture doesn't show it, but all the guys were wearing those tube socks with the stripes at the top.  We weren't the most dressed up group by any means, but I guess we did okay.  (Okay, well, Jen, I was kind of disappointed in your costume, particularly your hair, because you have awesome 80's hair and you didn't use it…but oh well.  I guess we are all disappointed in our friends on occasions, right?) I borrowed the orange shorts from Vanessa who wore them last year.  They weren't the most comfortable thing I've ever wore, and I am honestly not used to wearing something so tight in public, and perhaps showing off sweat marks in areas that nobody wanted to see…but in retrospect some of the pictures were pretty awesome so I'm glad I took the risk.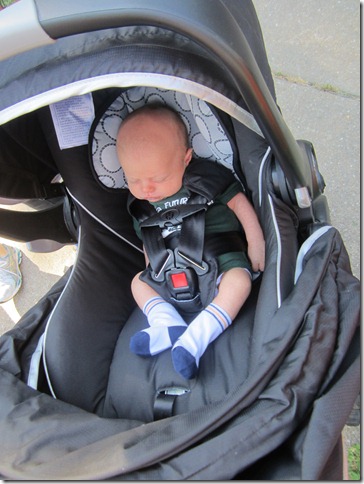 This little guy just slept through the whole thing.  I'm not sure if those are supposed to be 80's socks or not?
Anyway, after a few pictures we had to line up to race.  I wish I'd gotten a picture, but the lead car for the race was a Delorean (like from Back to the Future).
We all lined up in the middle…well, except for Mike who lined up at the front.  He'd come in 2nd last year in this race, and he'd already seen the guy who won milling about, so he was ready to go.  (I told him no pressure, but if he didn't at least come in 2nd again I'd probably have to find a better trainer.)
Then we were off!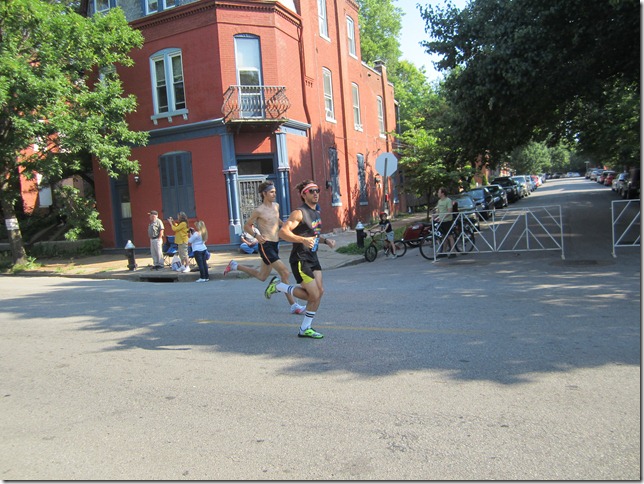 I think Mike had the lead here, but sadly he was unable to keep it.
(I left my camera with Chris for the race, so he took pictures of the beginning and the end-)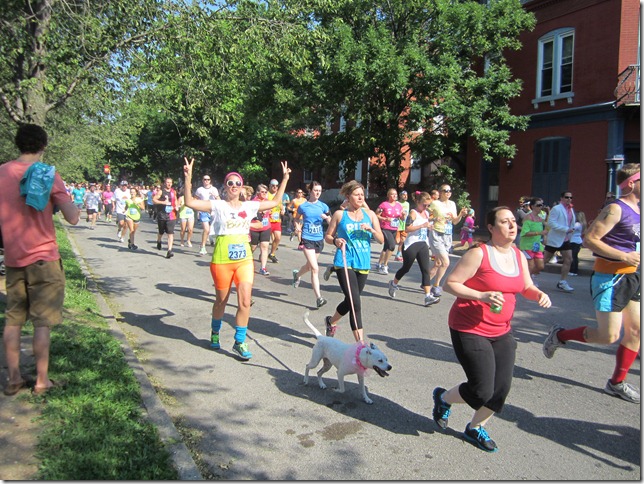 Pretty brightly colored group of people, huh?  They probably thought I was crazy here, but I was just trying to get everybody fired up.
I figured I'd just run, and see how it went.  I had no real plan.  And my race really reflected that!  I ran my first mile in close to 9:30, and then felt like I was going to die for most of mile two (the heat and sun were ridiculous) and then mile three really was about the same except that I knew I was near the end.  At one point I heard Jon in front of me yelling "I have the power" at spectators (did you notice he was wearing a He-man shirt?  Plus Jon has this really loud deep voice that carries for a long way.)
At one point the course crossed back near where we started, and Melissa and Laura were there cheering.  I felt awful then—I was exhausted and the heat was really getting to me.  I was trying to walk in the shade and run in the sun but that wasn't working great.  I had no idea how long it had been, but I knew everybody was ahead of me.  Oh well.  Injuries, right?  And most importantly I had the best costume of my group…I had the orange shorts…
I continued ahead, and at one point passed my friend Adrianne's house—she was outside cheering.  I started to run again, and she yelled "Oh, so NOW you run!" which made me laugh—and then as soon as I was out of sight I started walking again.  Ha.  Honestly I felt like throwing up from the heat.
Finally it was near the end.  When I saw the finish line I started sprinting (I had a bit left in the tank, evidently, especially once I didn't care if I threw up or not) but had trouble getting around a pair of runners and a lady with a stroller.  Note to race:  do not make the finish line a narrow, uphill sidewalk if you can at all avoid it.
Anyway, I finished in 33:38, one of my worst times (PR is 28:55).  I ran through and was about to collapse but Steve grabbed me and we went to find water (which should have been much easier to find that it was.)  We got pretzel finishing medals (a pretzel on a ribbon) which was pretty funny.  After we got water some of the others found us.
Chris took a few finishing photos: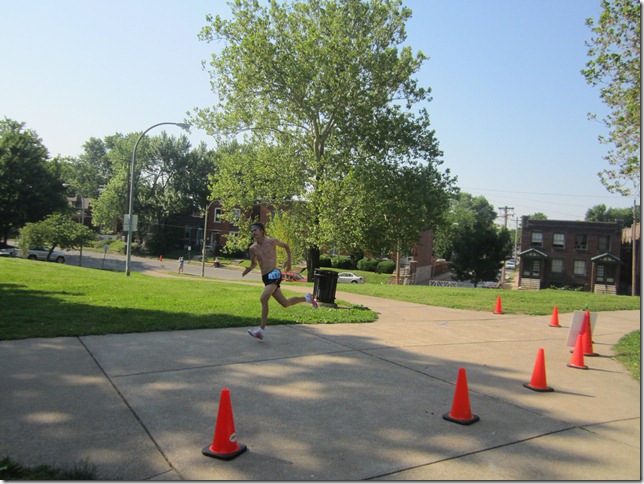 This was the guy who won.  Also he won last year.  15:51.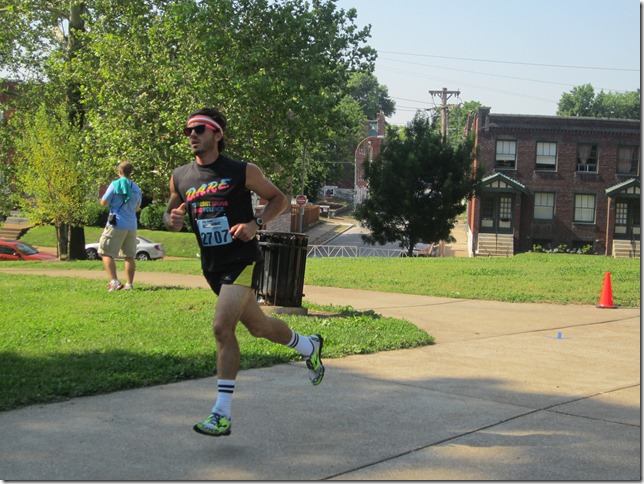 Mike came in 2nd.  Time was 17:05.  This is the sort of race picture I'd love to have—completely in the air running!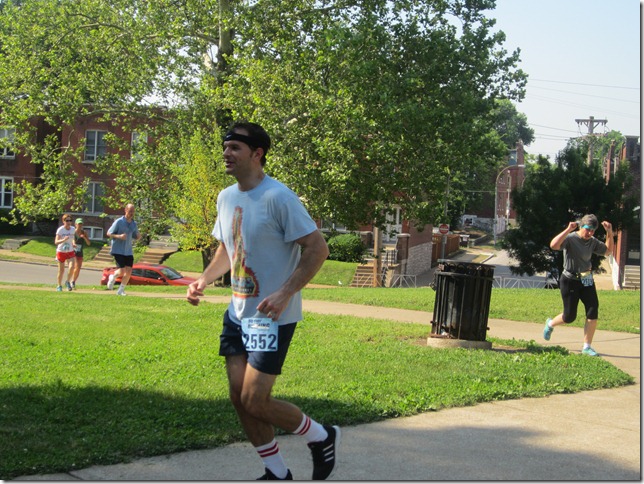 Jon, not looking good.  He had a bad race and was really affected by the heat…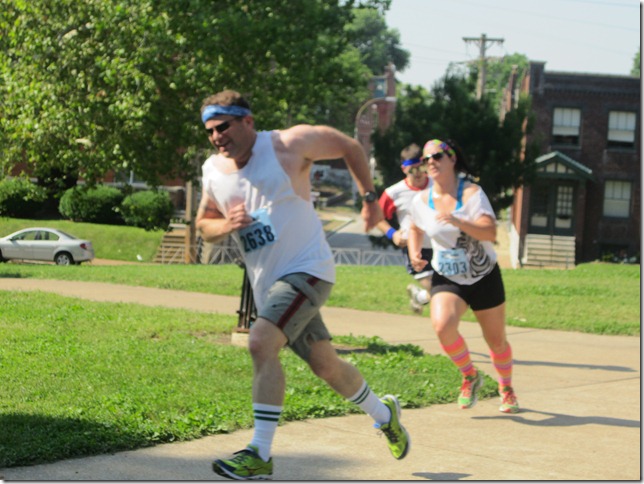 Steve, who evidently stayed right behind Jen for most of the race and then sprinted past her at the end to beat her.  She was pissed, and he was gleefully excited.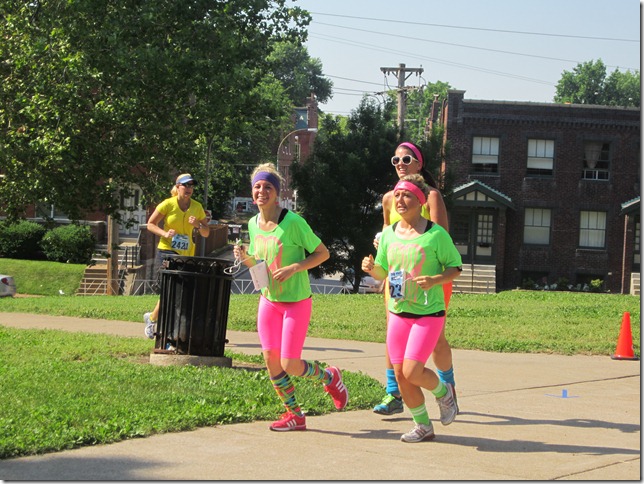 Me, pinned in by those girls—who were at least fabulously dressed!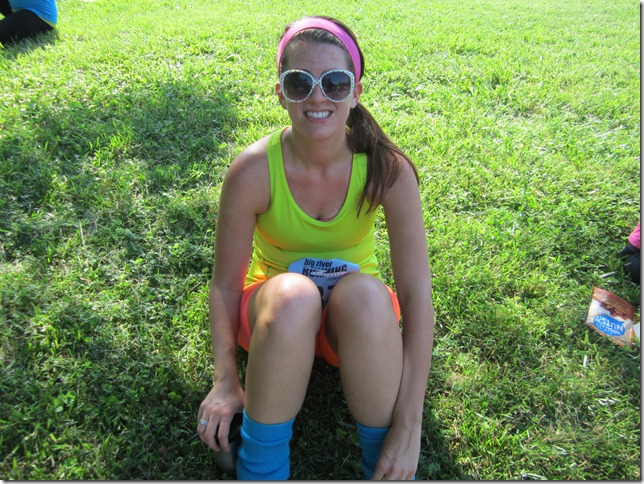 I was tired and hot.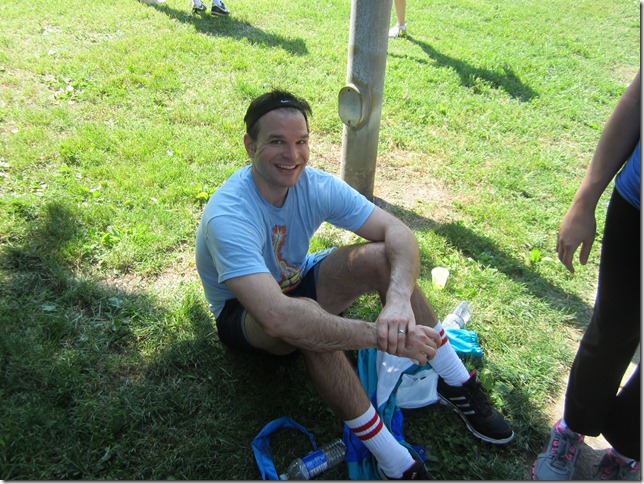 I won't go into too much detail, but suffice it to say that Jon got a bit sick.  He was okay for this picture, but he didn't feel well for a few hours.  In fact, right after the race we all found each other but then no one could find Jon.  I was unclear as to what happened but I think he was lying down somewhere.  At one point Jen went to look for a medic.  She came back with a policeman, who was about 12 years old and didn't know what Jon meant when he said he had a touch of vertigo.  He was less than helpful, though I suppose if we'd needed an ambulance he could have arranged that pretty quickly.
Anyway, we all hung out until we thought we could take him home, which took longer than anticipated, so Chris and I weren't able to go to breakfast after all, and Jon and Laura (and Benny) had to just go home as well.  It happens!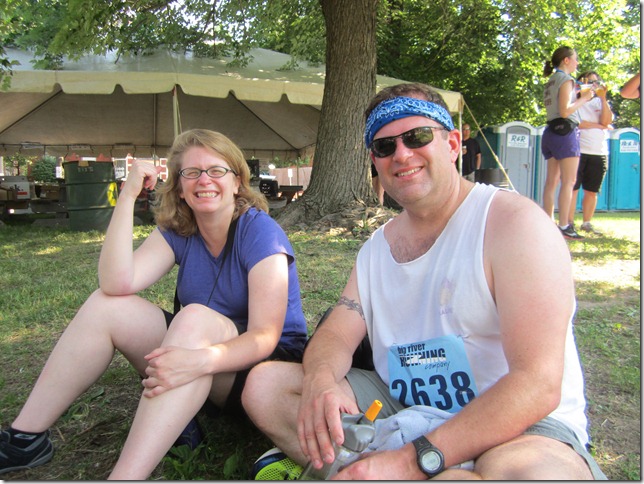 Melissa and Steve.  This race did not inspire Melissa to start running, unfortunately.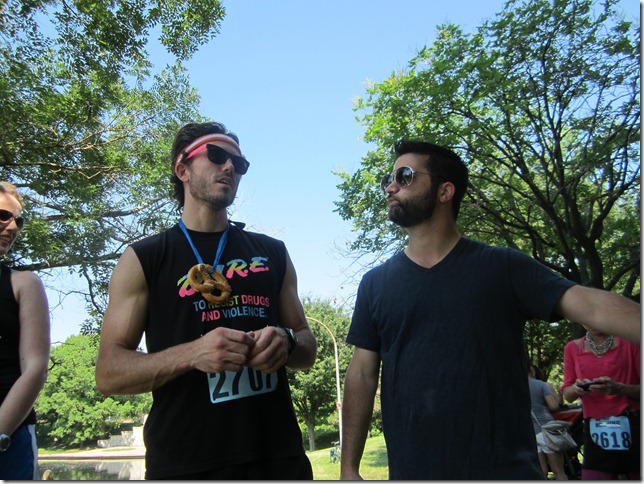 Mike and Chris, talking about something important, i'm sure.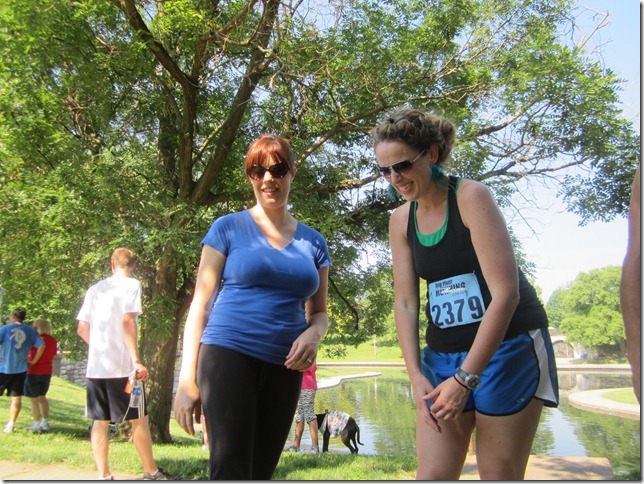 Laura and Jen.  I probably said something funny.  Behind Laura—do you see the woman wearing the zebra pants?  Awesome.
We inadvertently waited around for the awards ceremony.  It turned out that Mike won his age group (which was funny to him because the guy who beat him was in the same age group, but evidently since he won the race, he didn't win his age group.)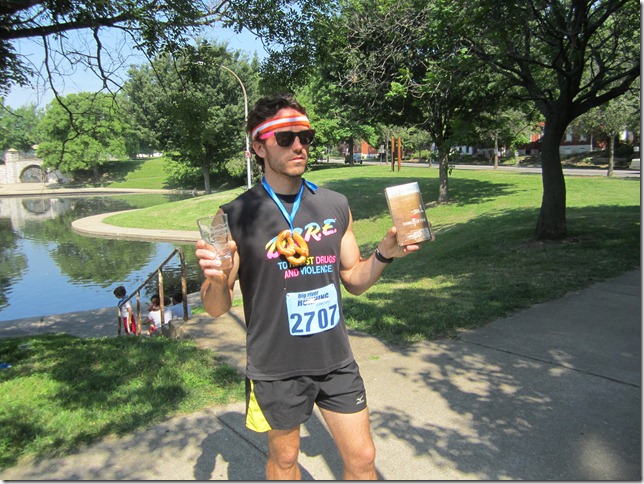 He got a pint glass and a used VHS copy of Chariots of Fire.  He was posing for me to take that picture, FYI, he just is too cool to face the camera directly.
We were still hanging out waiting to see if Jon felt better, and I figured I'd better get a few iPhone pictures for the internet, and Mike wanted one to send his Mom (that's what he said, I'm sure that wasn't why.)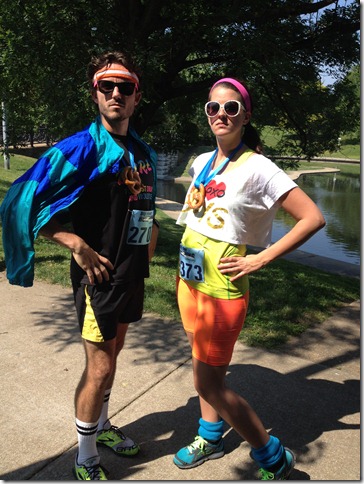 Yeah, we just posed like that.  I think we both channeled our inner Tyra Banks.
Anyway, I don't know how I can top my costume for next year, but I'm sure I'll find a way.  It was a fun day, and we'll do the race again.  I'm hoping next year I'll be in better running shape and can have a less embarrassing finish time, but like I said, at least my costume was awesome!