If you are coming here from Skinny Runner's Blog, WELCOME!
You may have read a quick recap of me there:  basically I blog about nothing, running, violin, teaching children, going out to dinner with friends, and wedding planning (fairly new).  I play and teach violin for a living.  I also have an adorably fat cat.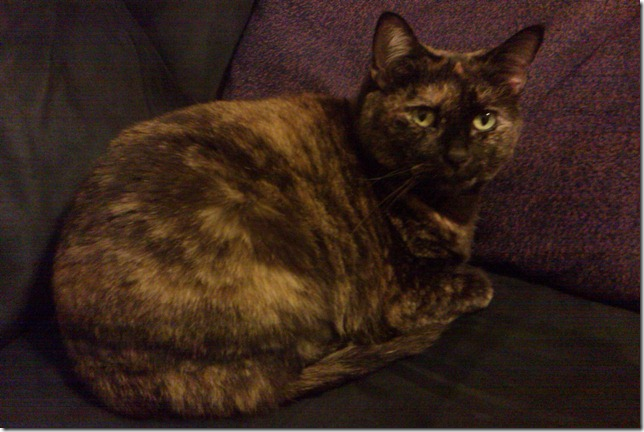 Yes, she's judging you.
I wrote a post last night to post this morning about wedding planning because I did want to keep people up to date on what was going on…but it only has one photo…boring.  I had more photos to share, but my camera battery was dead and I was recharging it.
It's a brand new camera for me, a bright pink Canon PowerShot Elph, and I love it!  It was a birthday present from my dear fiancé Chris, and so far has made one man practically vomit (funny story:  my friend Jen asked him to take a picture of a group of us, he agreed, I handed him my camera, and in a funny, nauseous sounding voice, he said, oh my god it's a pink camera.  I just smiled.)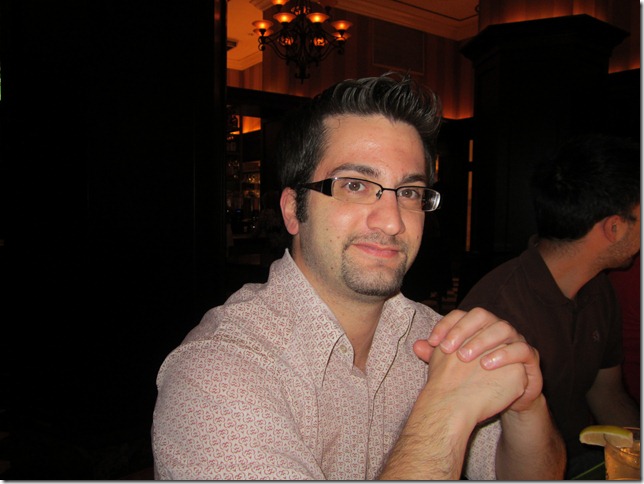 That's my fiance, Chris.  He thinks he's bad at taking pictures, so we've been practicing.  I mean, after all, I have a WEDDING coming up and he will be on camera all the time!  Our photographer says she has lots of tips and she will really work with him to help out.
We went out the other night to celebrate our friend Kyle's birthday.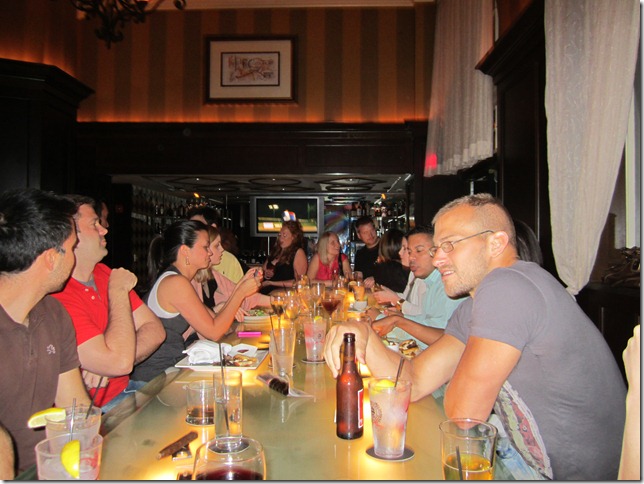 I've been working on my candid shots.  I took that picture and afterwards a few people looked up and wondered where the lightning came from.  I like the picture though, really shows the seriousness of the situation.  Birthdays are serious business.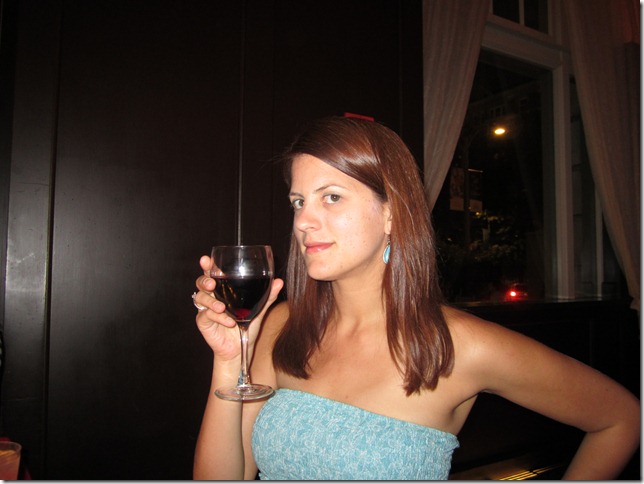 Other than the fact that I seemingly have no eyelashes, I like this picture.  I remembered to put my arm away from my body—that's another tip from the photographer.
Last night I met up with my friend Laura and her in-laws to take a walk up to the Compton Hill Water Tower.  It's a cool looking water tower that you are able to climb up, but it's only open on occasion Saturdays and evidently on the evenings of full moons in the summer.  We noticed that was last night, so decided it was an excellent activity for out of town folks.
Views of the tower at night and at day.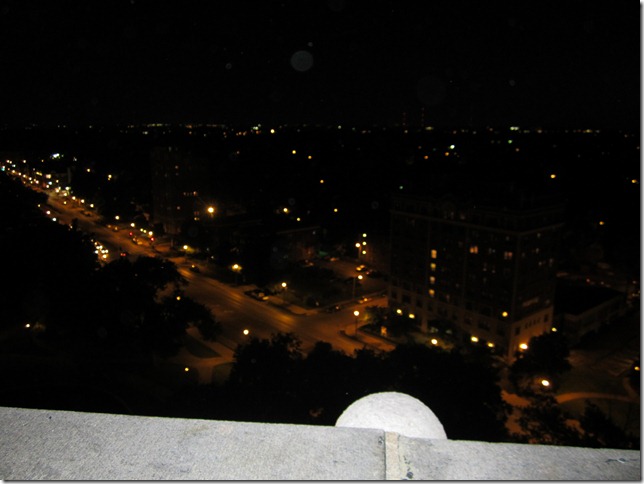 View of Grand Boulevard from the top of the tower.
There were 198 winding steps up to the top.  Since I am a super hard core exerciser (if you read previous posts you'll know this 😉 ) it was NO problem for me, but I did start to get a little freaked out by the heights.
Today my legs are really sore.  I don't know if it's from that, from my run yesterday, or from all the lunges my trainer made me in our workout yesterday.  (Yes, I have a trainer.  If you're new you should know that.  I have lost over 40 pounds in the past 1 1/2 years, and I workout with a trainer twice a week.  He's awesome, and we ran a race together last month.  He beat me.  He also beat almost everybody else.  His name is Mike and you should train with him too.  Then you can look like me.)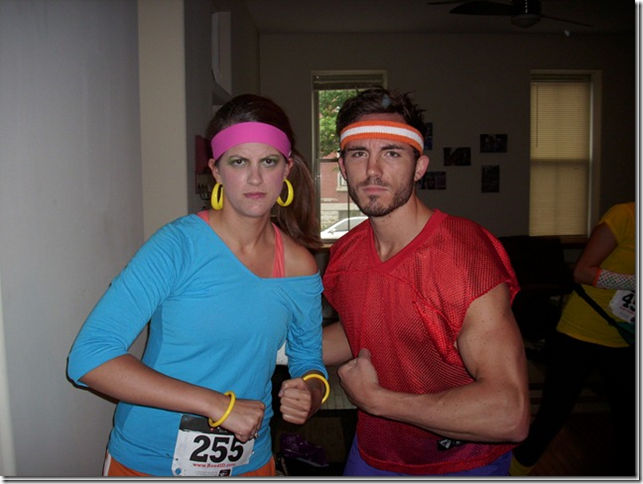 That's me and Mike (it was an 80's themed costume race, I don't always dress like that.)
Anyway, that's everything so far in a nutshell.  I'm debating if my legs are too sore for a run this morning…
Thanks for stopping by and come again soon!  Every post is different and random, but I try to keep it entertaining.  What do you think?
Also, here are some other recent posts you might like:
If it isn't posted on the internet, has it really happened?
Summer Retreat Day 5:  Body Image