I'm back. I was in Phoenix and went to the Grand Canyon and Sedona and I'll tell you all about it soon.
Before that though. Sad yet not unexpected news. When I last posted I was telling you all how our cat, Chloe, the one with Cushing's Disease, had been having a really hard time. She did get a little better, and started eating again, lots and lots, and we felt better leaving her for the week.
But right after we returned, right after we landed, we found out that she'd somehow gotten a new wound. Her skin had torn on her side (this is a very rare side effect of her disease) and Louie's brother Julian, who was watching her while we were gone, had taken her in to the vet at Webster Groves Animal Hospital, which is a 24 hour place. We headed there as soon as we could. The vet had never seen a condition like hers before, but didn't think that she could repair the wound. They had made her comfortable, given her some painkillers for her wound and cleaned her up as best as they could, and Louie made the inevitable, but very wise decision, to have her put down. We spent some time sitting in a room with her, petting her, and we took off her cone, after we realized there wasn't anything it was protecting her against anymore.
The people at the Animal Hospital were really nice. We had some paperwork to fill out, but after awhile we decided it was time. The vet gave her a few shots, and then she was gone. We spent more time there with her, and then we had to leave her.
I only knew Chloe for a few years, just as long as I've known Louie. He'd had her for many years longer, so this was all harder on him.
She was a sweet kitty, even though she liked to put her claws out a bit more than I liked when cuddling. She went through a lot after getting diabetes, and she peed on a lot of things and ruined some furniture, but she was still very sweet.
The last few months were extremely difficult for us, at times, but worthwhile to give her a little more life. I think that overall, she was still enjoying hanging out and eating, and even went outside again a few weeks ago, and seemed to enjoy that. I think we did what we could for her, even when it was hard, and expensive, and time-consuming, and I hope that it was all for the best. She was tough, she was a fighter, and she mostly seemed to keep a really good attitude.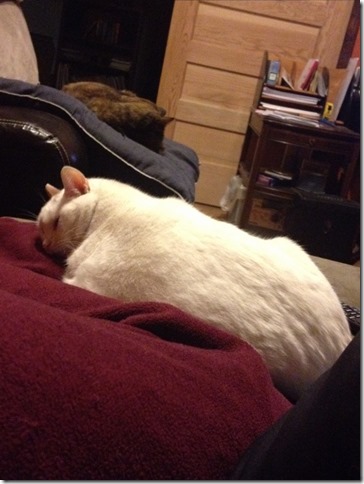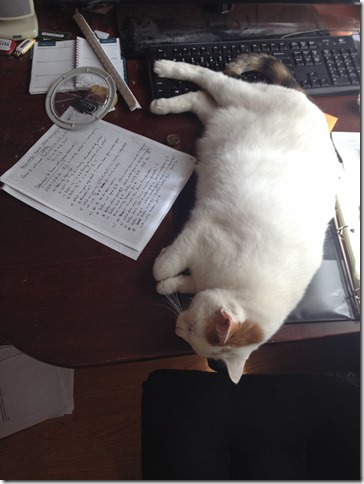 I figured you'd seen enough photos of her recently, so those are all from before she got sick.
We don't know when she was born, or even exactly how old she was (estimation 13-14 years) but we know that she died on May 24, 2016, and she was surrounded by people who loved her and who did their best to make her life as nice as possible. She will be missed.
I am no longer a cat owner. I have lived with a cat since Christmas of 2001, and I don't anymore. It will take some time.