Shortly after finishing this post I saw on twitter the horrible news of the bomb explosions at the finish line of the Boston Marathon. Words can't express the horror I feel. I think of how I felt last weekend, waiting at the finish for Leslie, and how I've waited at the finish for many races…and how I've run many races…and the horror that fellow humans inflict upon one another. I don't really have coherent words for any of this, except that my thoughts are with those affected by the tragedy, and I hope that there will be swift justice for those responsible, as little as that helps.
Ah, the long awaited race recap for that race last weekend that I just barely made it through.
Let's see. I read somewhere that people like to see the finishing time at the beginning. 2:56:47. AWESOME.
Okay, but let's put all the cards on the table. I ran a half in January as part of my training for what was supposed to be the marathon. Then I got the flu, a cold, a stomach virus, took an audition, and ended up spending a few weeks just wallowing in self-pity and generally being sad and pathetic. (aka I turned into a cat.) I wouldn't have run this race at all (not have RAN, have run) if Leslie hadn't been visiting and running the full. I figured I owed it to her to do the race, since I'd already failed her in that we were supposed to be both running the full.
And let me be clear. I wasn't undertrained. I was, for all intensive purposes, un-trained. I just looked at my calendar, and between the race (Rock and Roll Arizona) mid-January and this race, I ran a total of 4 times. Two of which were the week of the race, and were primarily walking. I did continue going to the gym to lift weights on a fairly regular basis (approximately two times a week, except for a few weeks in February) so I wasn't completely out of shape…
I'm not saying these things to make excuses. There are no excuses. I'm simply setting the stage for what was going on for me at the time. Honestly, Chris was concerned I would severely injure myself during the race and thought I was both crazy and stupid to even attempt it. But I've sloughed through quite a few half marathons in the past few years, and I knew that while I wouldn't set any land speed records, I'd be able to finish, because I had so many times already.
Okay, enough of the TL:DR bit. On to some pictures!
The expo was on Friday and Saturday. Usually I like to go to these things on Friday because I dislike crowds, but that wasn't possible, so Jen, Leslie and I went on Saturday morning.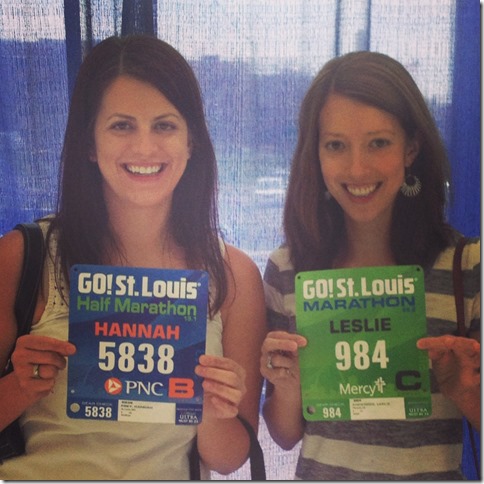 We got our bibs. I love how they have our names. It seems great in theory, but turns out to give you a lot of stress on the course, wondering, oh, hey, did I ACTUALLY know that person yelling my name or did they just read it?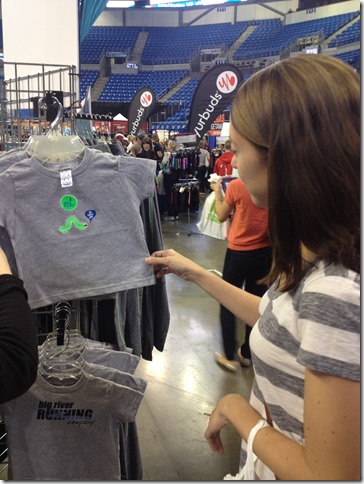 Leslie thought that shirt might be a bit small even for her.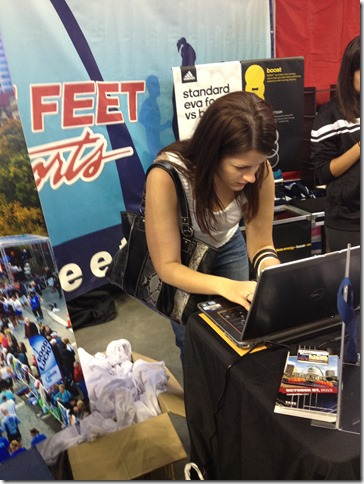 And then I decided to sign up for a half in October (Rock and Roll St Louis) since there was a discount and you got a free tech shirt for doing so. Yeah. I'll train for that one, I promise.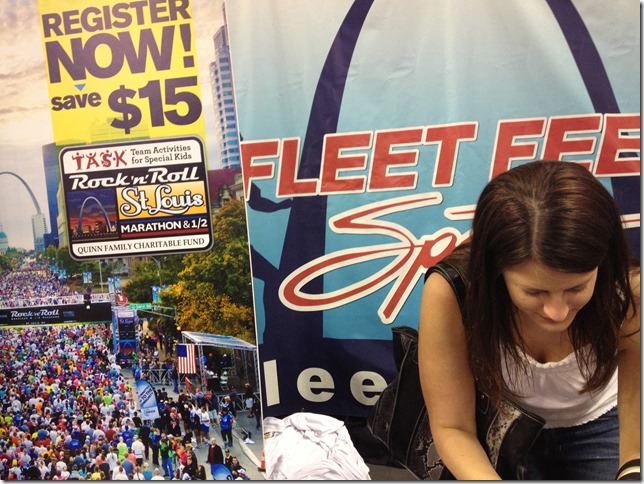 Leslie is an awesome blogger companion because she understands how to take good pictures!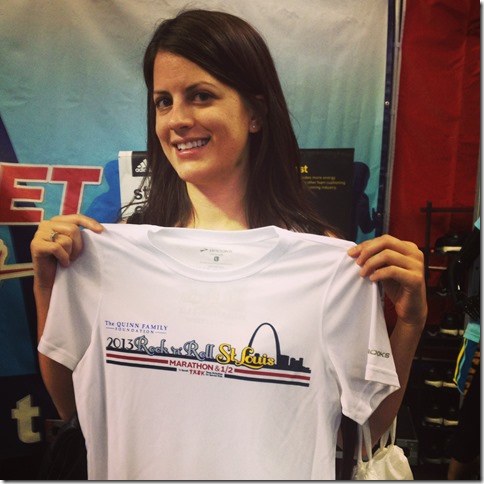 The shirt is pretty much like the shirt from the race the other year, but oh well.
The rest of the day we just relaxed and tried to keep off our feet. The night before the race we made pasta with red sauce and a lightly panko and parmesan crusted chicken. It was a great pre race meal.
We rented Lincoln on the DVR to watch. It was a great pre race movie because Leslie actually fell asleep 15 minutes in. Perhaps it's a sign of anti-intellectualism, but we switched to a different movie. There was no real suspense (I knew how it would end) and there was just a lot of talking…
Okay, race morning. I got up around 4:45 and Jen was meeting us at the house at 5:50. We caravaned down to the race area and parked in the same lot we parked at two years prior. It cost $5 but was worth it for the ease of parking.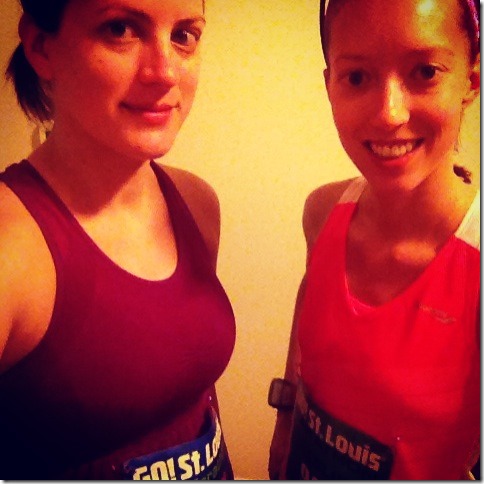 Chris was concerned I'd be mad that he didn't get up with us, but honestly, it wasn't like I was going to PR or even do remotely well on the race, so I didn't feel he needed to ruin his sleep pattern. This was a self portrait.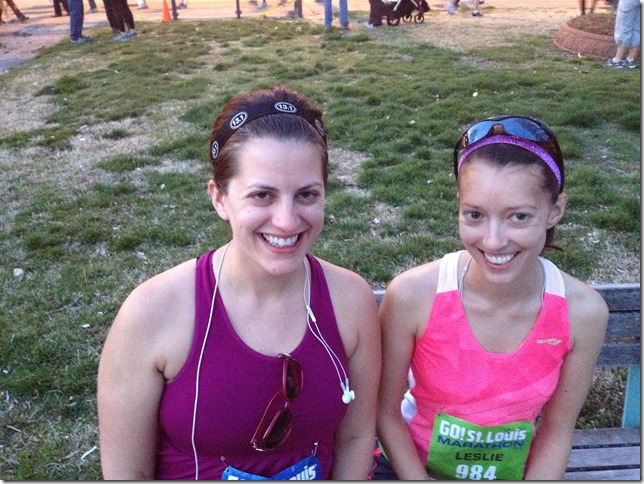 Bench photo! After we parked, we hit up the porta potties and then found a bench. We figured we'd be on our feet enough so we might as well sit for a bit. I was (oddly) placed in the highest corral of the three of us, but they decided to sneak up there with me. I was definitely seeded incorrectly, as I was planning to do a 3 1/2 minute run, 1 1/2 minute walk interval, and Leslie was planning to run at 4:00 marathon pace (you do the math, I'm too lazy right now). My goal was to not die and finish in less than 3 hours.
Anyway, the race started. It starts downtown and goes towards Soulard and through the Budweiser factory, and then back downtown, towards Forest Park, where it splits with the marathon. They continue through Forest Park to Clayton and then back and then finishes downtown again. It's (to the best of my knowledge and recollection) entirely uphill. Even if it seems parts of it are downhill, really, no, it's just all uphill. I don't know how they manage, but I'm impressed by that.
I started out just fine. My legs were shocked by the fact that I was running. And then they started hating me, around mile 4. I thought, oh my god, I'm an idiot and I'm never going to be able to finish this race, I should just give up. But they didn't feel any worse for a few miles, so I kept trying to do the intervals my watch was beeping at me. By mile 7 or so I had to make the running intervals shorter and the walking longer, and by mile 10 I switched it entirely. It was pretty awful, and I hated feeling like a loser, but that's what you get for not training, right? I won't bore with you any more details about how awful and slow I was. I managed to run to the end though—all uphill to the finish (that's NOT an exaggeration either.).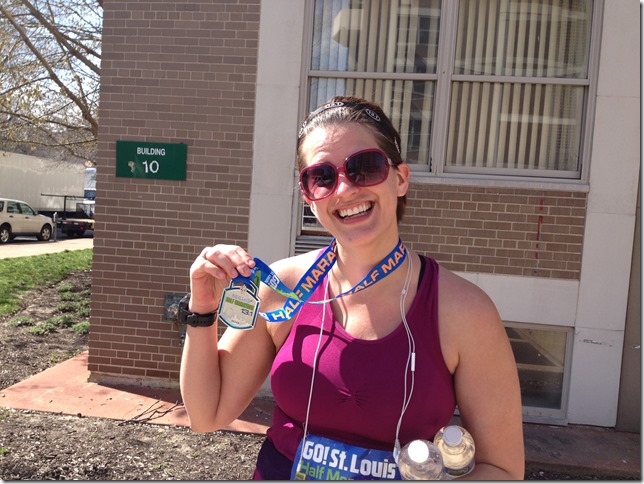 I collected as many snacks and water as I could carry and met up with Jen. We went to the car to change shoes and then went to go watch for Leslie to finish.
She was a little behind schedule, and we started to worry that either we'd missed her, or she had gotten lost, and finally Jen had to leave for work. That's when I saw Leslie coming through—we were probably 1/4 mile from the finish.
I ran into the street and started yelling for her—I took some pictures too.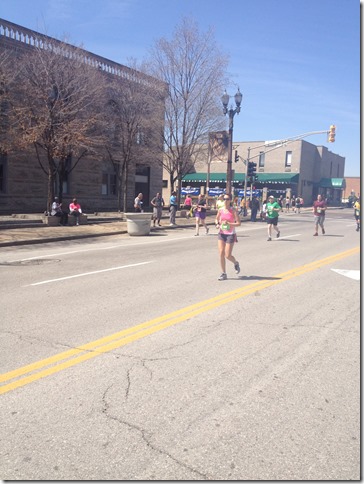 She pretty much ignored me until she was right there—she said she didn't see me and had been ignoring people yelling her name for hours. I started running with her (yes, in flip flops) for a bit and asked how she was doing—the answer was POORLY—I guess she was having quite a lot of hip pain and had been struggling for the past ten miles or so. I realized I was getting towards the finish line and asked if she wanted me to keep running with her (I hear that sort of thing can be inspirational) but she said, no go on and I'll meet you on the other end, so I left her to struggle to the finish.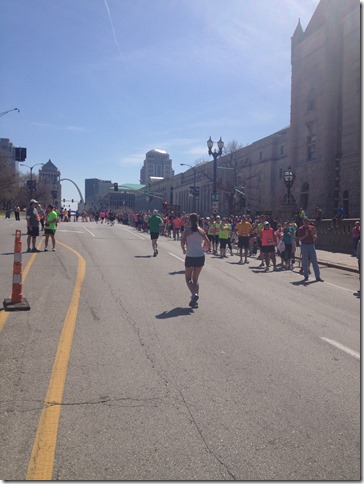 That's her in the middle, running uphill to the finish. Nice, right?
I limped around all the barricades to meet her (that took a lot of energy, honestly.)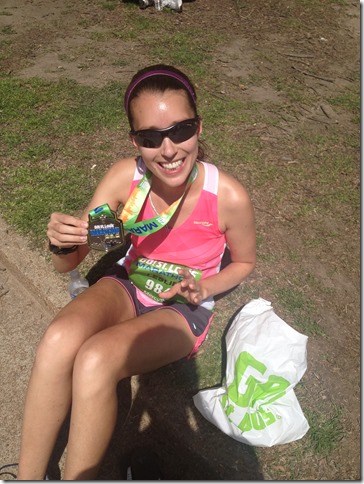 I was proud of Leslie, even though she was upset by her performance. She trained well, she did her best, and even though she had some hip troubles towards the end, she persevered. I trained poorly, and persevered too, so I guess that's something.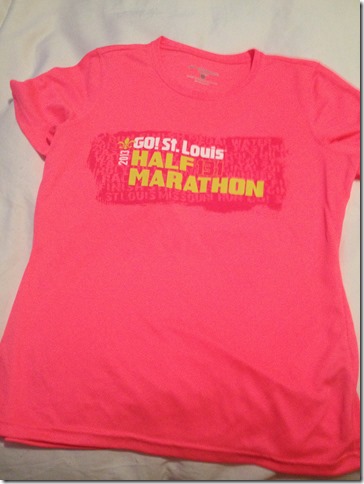 Here's the shirt: pink for girls, blue for boys…I've already expressed my thoughts on this…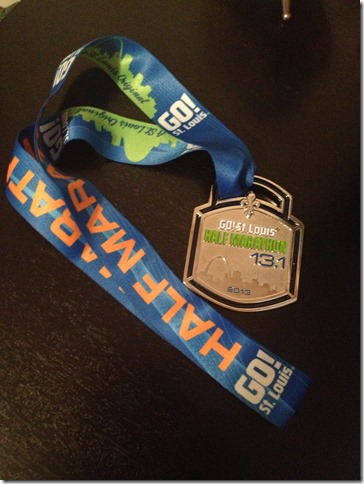 And the medal.
What's the moral of the story? I don't know. I was sore that day and the next day, but fine afterwards. I guess the moral is: I can finish a half without training, but I shouldn't.