I've realized that when I host a party, I am really bad at taking pictures of it.  I need to start hiring a photographer to take pictures of parties when I host (Thanksgiving was another blogger photo failure).  Oh well!
Here's the only picture of the party: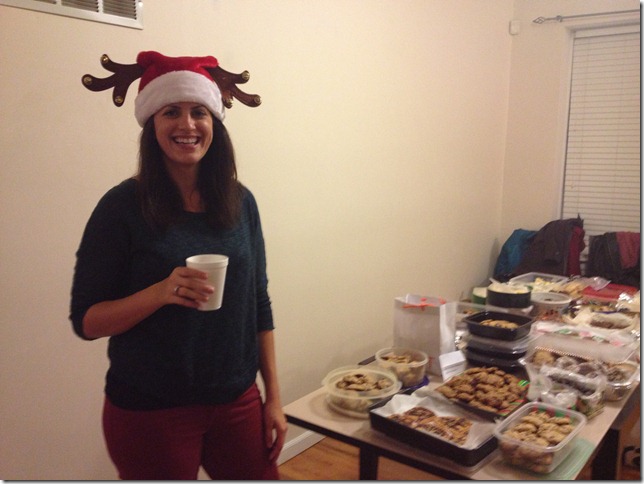 That's me standing in front of a table FULL of amazing and delicious looking cookies and bars and other goodies.  My friends are fantastic bakers and everybody brought something made with love.
And I don't love the way I look in the picture above, but I'm posting it anyway.  I am in control of my appearance and I am not hiding.  I look like I am having FUN and just because I've gained a few pounds doesn't mean I should be ashamed and hide.  Right?  *sobs into table of delicious cookies*
Okay, how does the cookie exchange party work?
Basically:
I invited about 20 women (evite), probably a dozen showed up.  I told everybody to bring 4 dozen cookies and copies of the recipe.  Some people brought a few more, some probably brought a few less, all in all there were TONS of cookies.  I provided some ziplock bags and wax paper, some people brought empty containers (I think I forgot to remind people to do this, but most did anyway.)
Since everybody knew ME but not everybody knew each other (most did, but not all) we went around the room, introduced ourselves, everybody told how they knew me, and also about their cookie recipe, or recipes.  After that, it was time to swap!  Basically everybody just took a few of each recipe until all the cookies were gone.  I had to chastise a few people to take more cookies.  It was a cookie swap, not a cookie dump!
I've read stuff online (on how to throw a cookie swap party) that suggests some people are a lot less generous—swaps that say to bring 10 dozen, all parceled out so nobody takes too many (or too few?).  Or that some people are less creative—I read something that suggested you want to make sure everybody doesn't just bring chocolate chip.  Um, as far as my friends are concerned, getting together is an excuse to show off our culinary talents!  NO worries about five chocolate chip recipes.
We had some people with allergies in their families: I made little signs and divided up the table into various items: containing nuts, containing almonds, that kind of thing. It's easy to tell when people remember to bring the recipe, but I've found that few bother with this, but you can always ask.
I also like to serve drinks and savory snacks.  I made Hot Apple Cider, Poinsettias (Cranberry juice, sparkling wine, triple sec) and had store bought Eggnog available.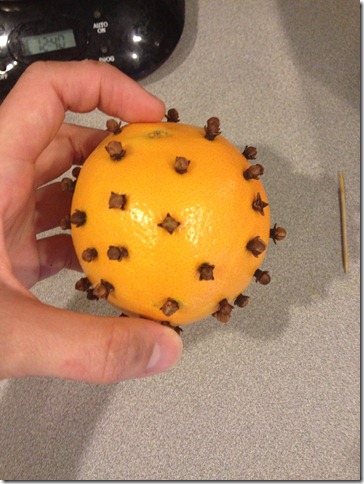 I made small holes in an orange with a toothpick and then filled those holes with whole cloves.
Then I took a jug of apple cider, poured it into my crockpot, added the orange and several cinnamon sticks and put it on low for several hours.  It was delicious, with or without caramel vodka!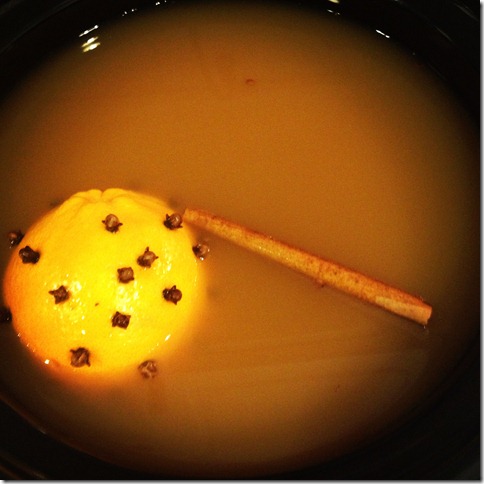 I also made my "famous" cream cheese and olive penguins and Alton Brown's Spinach Artichoke Dip. (I used canned artichokes though, and it tasted GREAT.)
I'll have to do a "how to make penguins" post one of these days, with step by step directions 😉
The party was a grand success, I would say.  It was my fourth year of throwing it and this was the biggest one yet.  I invited more people than before since I knew our new house was better suited to entertaining, but we still completely filled the table with food, even though it was probably three times as big as my old table!
(I made Coconut Lime Sugar Cookies which I already blogged about—not to brag but they are delicious.)