As much fun as we were having in Rome, we were all excited to leave the crowds and the hustle and bustle and move into the countryside.
And really, so much more than fun—so much learning about history and art and architecture…and relationships and getting along with people (not always my strong suit, but always trying to improve!)
So far, though I imagine most of you have read my other recaps, here are the links in case you haven't.
Rome wasn't built in a day and neither will I blog about it in one day
The Vatican Museum is just one long line to see the Sistine Chapel
Skulls and Femurs and Tibias, oh my?
With that: let's continue. We checked out of the delightful Hotel Suisse after our last breakfast there and started on our walk to Termini Station. We made it in plenty of time and even got to spend a euro using the toilets.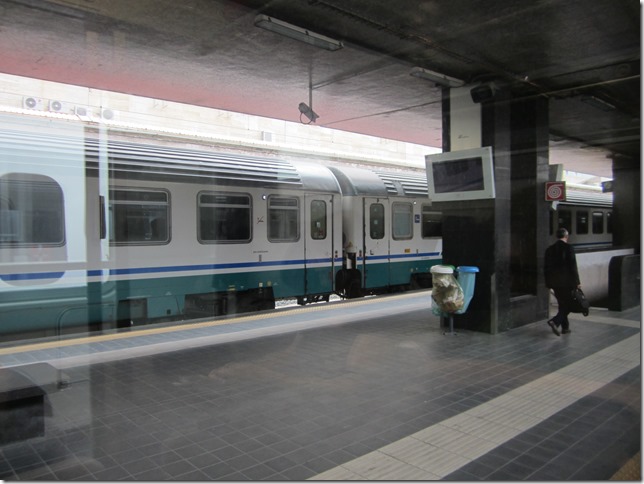 The five of us had our own compartment on the train which was nice. It was approximately an hour and 15 minutes to Orvieto so we settled in for a somewhat scenic ride.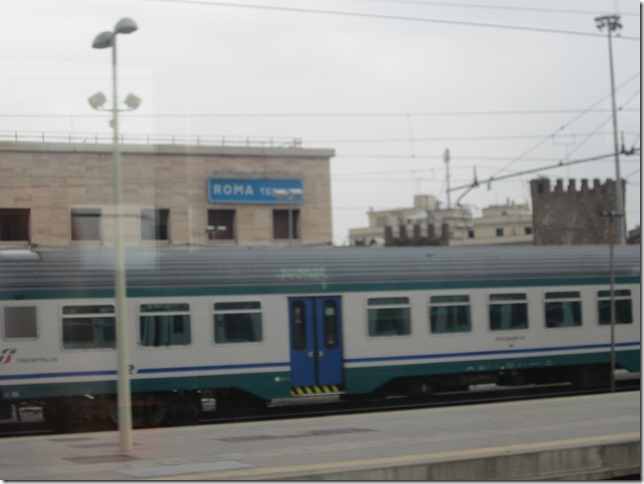 As nice as it is looking out the window of a train, I found that it made for lousy photographs, at least when I am the photographer. But we went through the countryside, and went through many tunnels (where our ears popped, sometimes painfully). We were nearly there when the train had to stop for about 15 minutes due to some issue, but we got moving again and arrived without further incident at the station in Orvieto.
Orvieto is a medieval town on the top of a hill. It wasn't covered in my guidebook on Rome (odd, right?!) so I didn't have too much information, but luckily Louie's mom had copied a bunch of stuff and shared it with us all. Once we arrived, we bought our return tickets for the next day and got our funicular tickets to go up the mountain to the old town. The town has expanded to the lower parts, but the fun, touristy stuff is up the hill.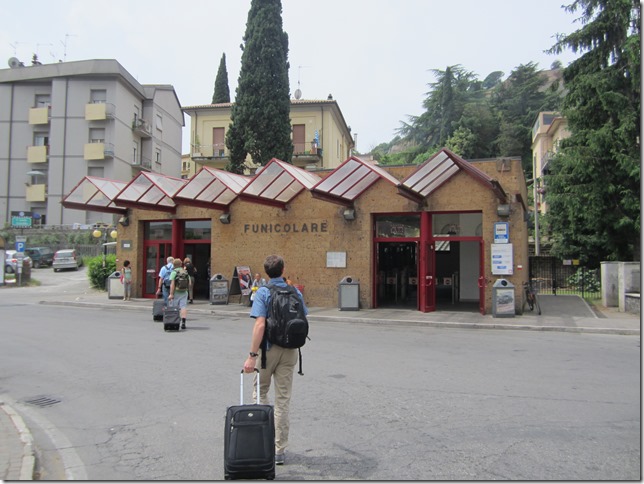 The Funicolare is conveniently right across the street from the train station.
At the top of the hill we caught a little bus to take us near our hotel. The bus was jam packed and we were in the back, and when we got to our stop it was a disaster trying to get off the bus. We were telling people, in English and Italian, that we needed to get off, along with some other people, and the people blocking us didn't understand what was going on. We finally managed to squeeze our way onto the street and got to a very cute hotel, Albergo Filippeschi.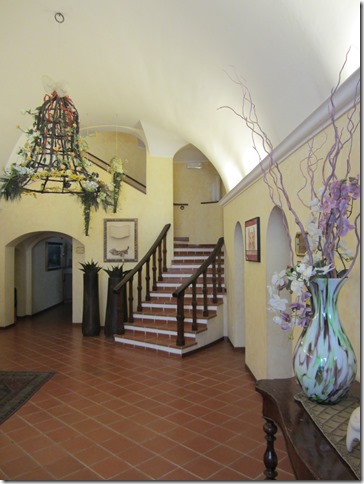 We quickly settled into our rooms and then headed out to sightsee. Orvieto was very small and walkable.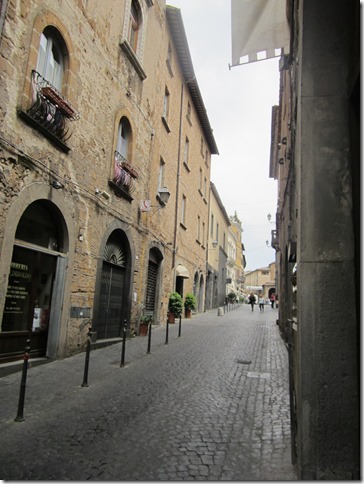 We headed for the Cathedral first since that was the most impressive place, and we had a terrific lunch on the Piazza Duomo. I ordered a sandwich with pancetta and truffle oil, (pancetta sandwiches seemed to be THE thing to get and were advertised everywhere, so when in Rome…) and honestly, it is the food item I most dream about today. I could eat that sandwich every day of my life and be so happy.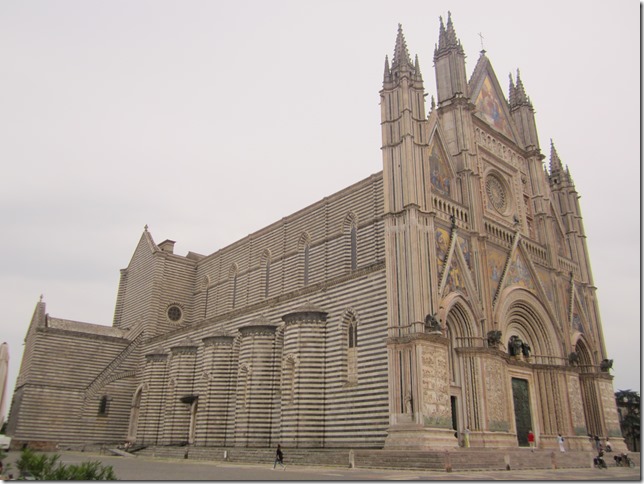 After lunch we toured the inside of the duomo. It was spectacular, and had some really intense frescoes depicting the Day of Judgment.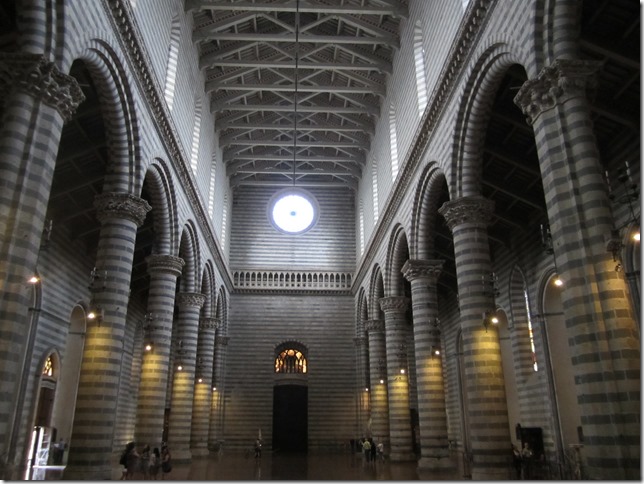 The Duomo was started in 1290 and not finished until the mid-1400's. Imagine if our construction today took that long.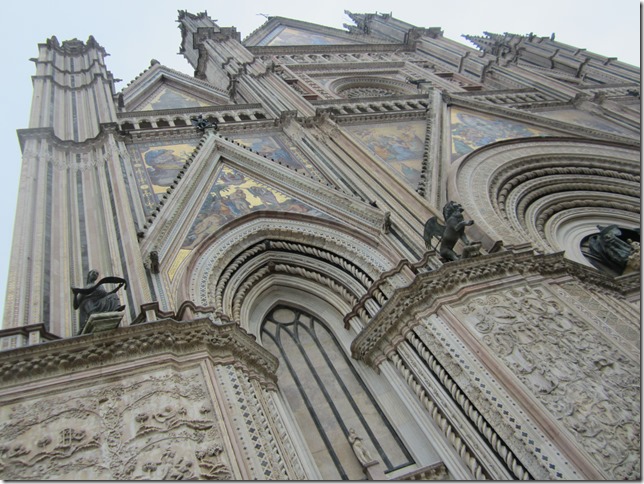 Louie and I took off on our own to simply wander around the town. We wanted to stretch our legs after the train ride and just explore. It was much cooler, temperature wise, than it had been in Rome and in fact was raining off and on.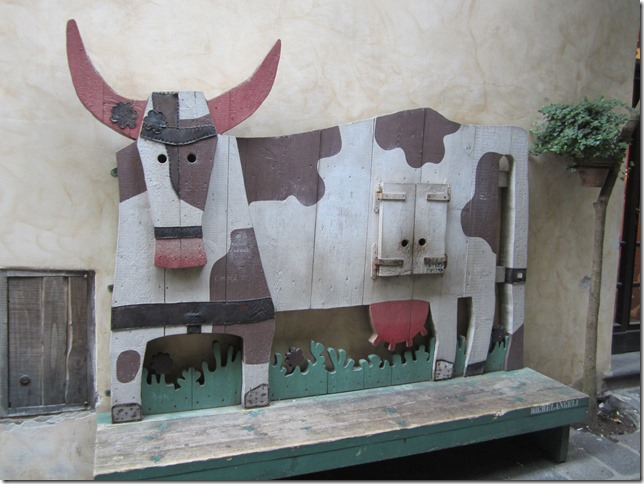 Also Louie's camera broke so he took some pictures on my camera. He is a better photographer than I am (I need to get better!). See if you can tell which ones are his!
The detail on the Duomo walls is breathtaking, isn't it?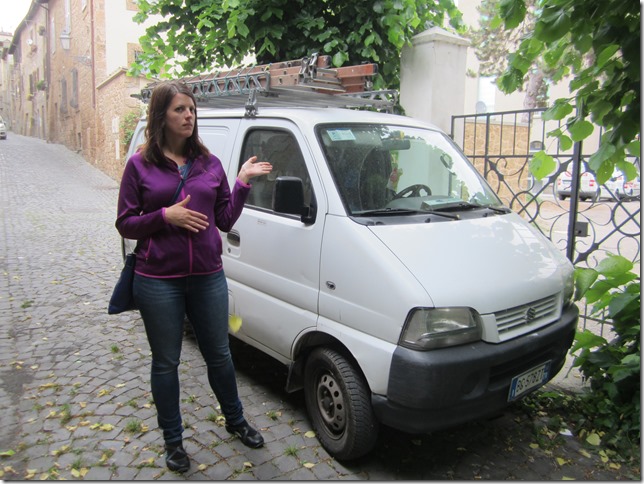 This was a very tiny van.
You'd think with all the money they put into the Duomo that there wouldn't be too many other churches, but there were! None quite so fancy though.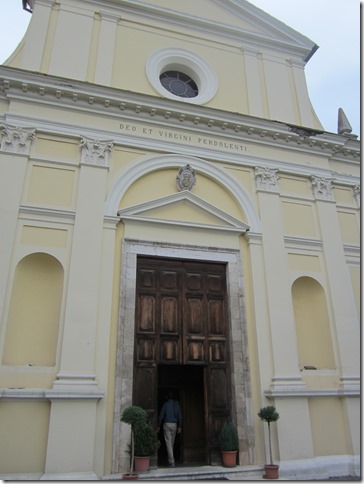 We walked down towards the funicular and found some excellent views.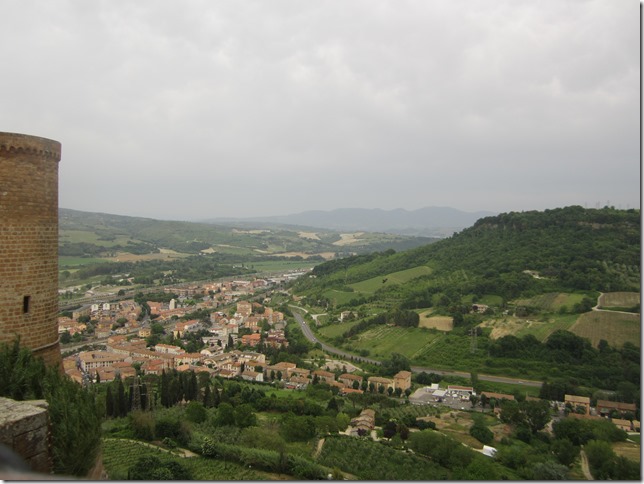 My fear of heights was in full force.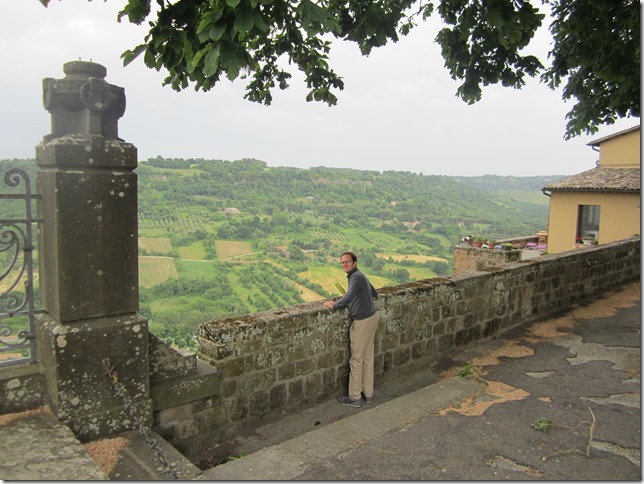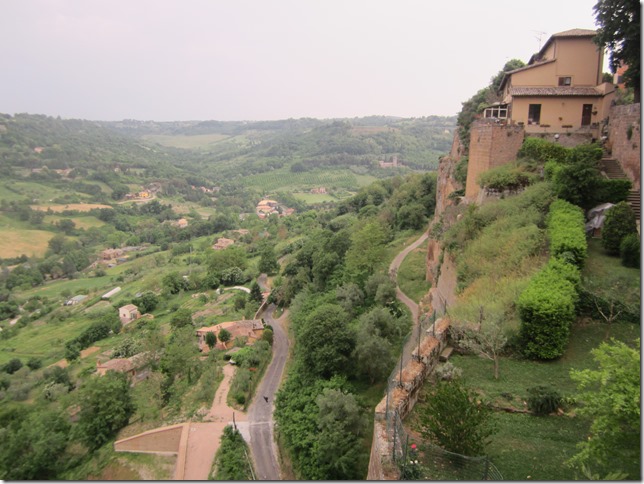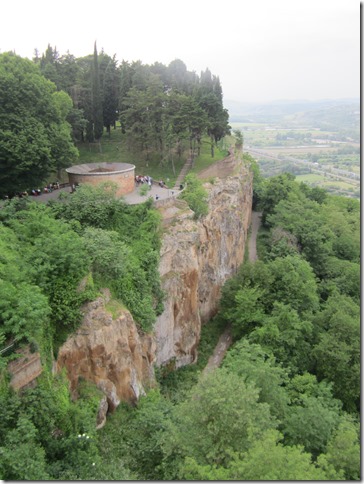 You can see St Patrick's Well there. They needed to find a water source to use while they were under siege. They dug a well 175 feet deep in order to reach the water. There are stairs down inside it and the stairs form a double helix so that the mules that carried the water could be going down and up without running into each other. And then we paid 6 euros for the privilege of walking down and then up the well.
First, looking down the well…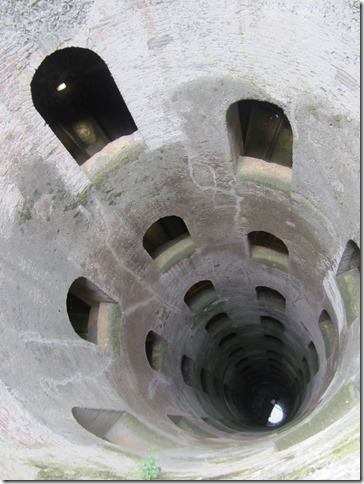 And then, looking up. I preferred looking up, personally.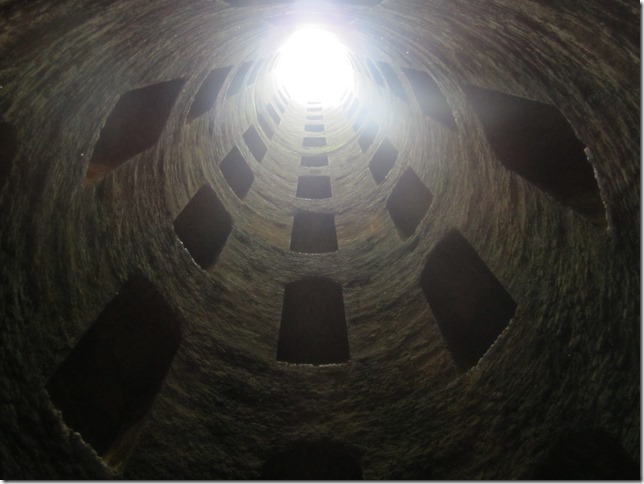 We needed to head back towards the hotel in order to meet up, so we headed back up. The town was basically one big hill on a hill.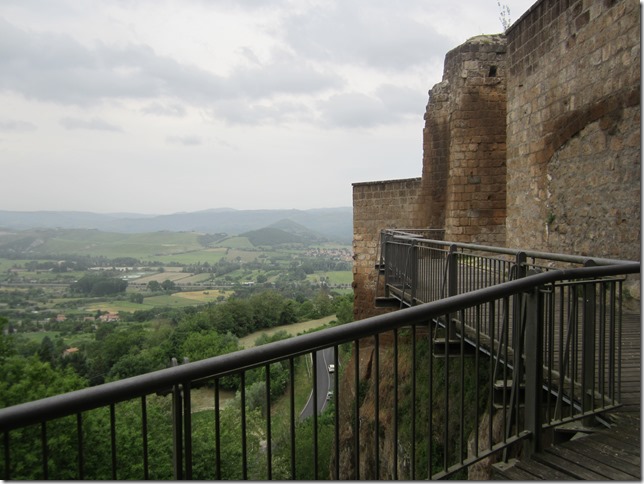 They had some walkways around the edge. I think they might have gone all the way around, but we didn't have time to explore. (Also I became slightly terrified of the edge.)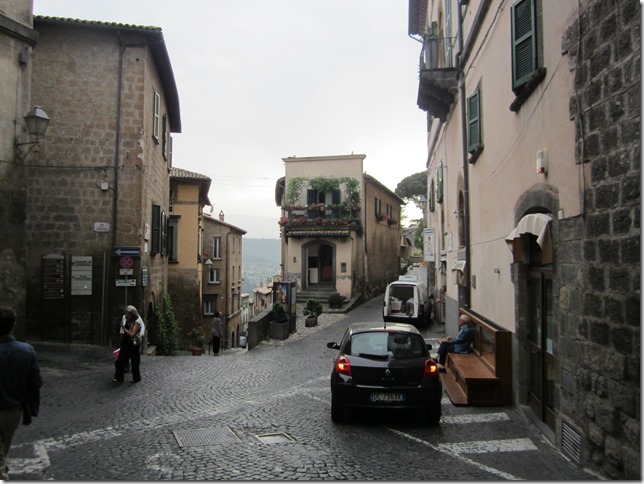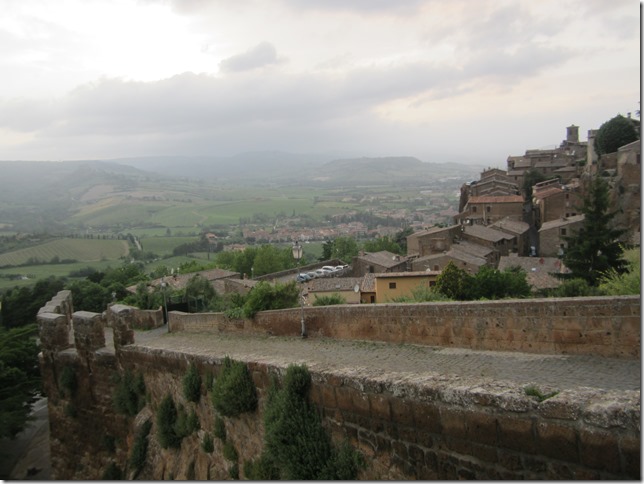 We had dinner at Le Grotto del Funaro, which was basically a restaurant in a cave. We learned more about caves the following day, so I have some hindsight information here. Most of the houses in Orvieto were built out of the rocks that were dug out from underneath them, so each house has a cave underneath of varying size and degree. Caves are used for various things such as storage, wine cellars, and those on the edges used them for housing pigeons. In this case we had a delicious dinner in one. I ordered the chef's dinner which came with 4 courses, including a selection of antipasto, a polenta dish, pasta, and dessert. I didn't like my dessert but others at the table did, so it didn't go to waste.
Rome is great, but Rome is full of noise—voices, traffic, and crazy birds. Orvieto is full of peace and quiet. I slept well.