As long time readers and friends and family might know, the past few summers Louie and I have gone on some very extensive and long camping road trips…full of adventure, of course, but sometimes very tiring. (Check out the "Travel" tab for those posts!) When brainstorming our plans for this summer we thought, well, let's keep it easier and go back to the Smoky Mountains and spent a lot of time in one place. After some research, I booked 3 nights in 4 different places, 3 of them camping, one staying in an AirBNB in Asheville.
Our first stop would be Elkmont Campground in Great Smoky Mountain National Park, not too far from Gatlinburg. And, my friend April, who had moved to Atlanta a few months before, would be joining us for two nights!
I planned the trip to leave the morning after the last performance of Carousel with Union Avenue Opera. This meant the two days before we spent getting ready: packing, dealing with all the "going away" stuff. Camping trips always require more assembly and packing than a non-camping trip. We had a few new "toys" this trip, the highlight of which was a camping shower tent and portable shower. Louie had found them on Amazon, and since each portion of our trip would be 3 days at a campground without a shower, he thought it would be amazing to be able to rinse off better. We also switched up a few things with how we packed the car, and we had recently purchased a new large cooler.
In any case, I believe we hit the road by 8:30 am on Sunday morning. We had to make a few stops, many of which were annoying and fruitless, but we were happy to be on vacation. Around lunch we stopped and got a quick lunch at a McDonald's (guilty vacation pleasure) and then kept driving. April was going to be meeting us at the campground that night and we wanted to get in before dark in order to get set up before the bears come out.
(Just kidding) (though there are lots of bears in the Smokies, but we were mentally prepared to deal with bear safety.)
We lost an hour as well (time change) but got to the campground around 6:45 pm, I believe. April was already there and waiting! We found our beautiful campsite and started setting up. The campground was very wooded and lush, and our site was right next to a creek and the sounds were lovely and made everything seem more private.
I thought they were closer when I took the picture.
We brought our extra orange tent for April to use.
A few notes about camping in National Parks: They seem to have a lot more rules and regulations than other campgrounds. Not even counting all the bear safety regulations, there are rules like, you must pitch all your tents on the tent pad. On the one hand, this is nice because you know you'll have a relatively flat place to pitch the tent and you don't have to think too much. On the other hand, your tent is very close to your friend's tent! We didn't mind much for two nights though.
Bear safety rules: never leave any food products out when you aren't actively using them. This means dishes, stoves, soap, and of course, coolers and food. They told us to put these things in the car, but we naturally put them in the trunk now (we were told that no bears in the Smokies had broken into a car by one camp host, but I'm not sure that's true). It can be annoying—you finish dinner and just want to relax a bit, but it's more important to clean up first. And they only have cold water to wash your dishes in, and you can't wash your dishes at your campsite, you must wash them at the sink near the bathrooms. You also shouldn't leave any food products or anything with a scent in your tent: for instance, no toiletries. Some places even say no water bottles in the tent and others say it doesn't matter. It seems like there isn't as much consistency as we'd like: some places have so many bear proof trash cans you are tripping over them, others make you walk a long way. Some places have bear proof boxes at the campground to store food, others only have one for people arriving without cars. Some places confiscate coolers that are left out, others seem to be fine with people leaving out greasy cookwear all day long!
So, camping isn't easy, but it can be a lot of fun. Sometimes the work required to camp and cook outside is annoying, but mostly it's just how we do it, and you just do the clean up and then finally get to relax by the fire for a bit.
I know I'm going on and on, but I want you to understand what all this is like! And to tell you why we do all this: not because the bears will hurt us, but because we will hurt the bears. If you feed bears, if you teach bears that people provide food, then they end up hanging out near people, and then they get hurt, either hit by cars, hurt by eating cans and things they shouldn't, or killed because they start to think people are the source of food. It's best if we leave them alone and don't teach them otherwise.
So, when we pulled into the campground (before 7 pm) there was a note on the ranger station saying that those of us with reservations needed to check in the next morning from 8 to 9. Which I thought was odd, because it wasn't very late yet—usually people are working later than that. The little general store was still open selling firewood, but we were too late to check in? We had a reservation in any case, so I wasn't too concerned.
After setting up our tents, we made dinner over the campstove and made a campfire too. We always cook dinner on the stove and just have a fire to relax in front of. Louie loves the challenge of building a fire with as little wood as necessary.
It was great to see April and the three of us stayed up late talking and laughing and catching up!
The next morning we got up and tried to check in at the time we were told. The ranger station was STILL closed, so we decided to try again later. We were going to do a bit of sightseeing and some hiking. I'd found a loop road called the "Roaring Fork Motor Nature Trail" (say that three times fast, or even once fast) and wanted to drive it and maybe do a short hike or two from the road. We finally were able to check in, and the ranger acted like we were delinquent for being so late to do so…okay…but then we headed towards Gatlinburg.
We stopped by the Sugarlands Vistor Center first and looked around a bit. I got a few brochures including the one for the Motor Nature Trail, which ended up being one of the best purchases ever. They also had an extensive collection of stuffed animals (taxidermy) which was pretty interesting to see, though I prefer my animals alive! I was surprised by how small the bobcat was (not too far off from a normal housecat) and it was interesting to see all the kinds of foxes and things. I didn't take any pictures though—sometimes it takes a little time to get into vacation mode and picture taking mode, and then later I regret that I didn't take more pictures! I don't really purchase many souvenirs as I figure my photos are enough.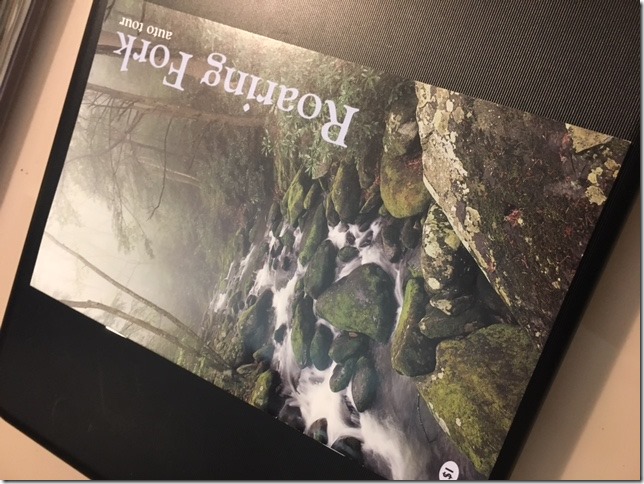 You can read upside down, right? So sometimes the road seems to be called different things—I'd seen Roaring Fork Motor Nature Trail, but the brochure says Auto Tour, and then honestly, I forget what the signs said when we tried to find the road, but it wasn't as easy as it could have been. We had to go out of the park and through Gatlinburg (whoa, that's a tourist area!) and then ended up missing the first turn since it wasn't marked the way anybody expected. (It turns out we needed to be looking for Cherokee Orchard Road…) In any case, we did find it eventually and then headed on. And I started reading from the brochure, and realized this wasn't your typical brochure…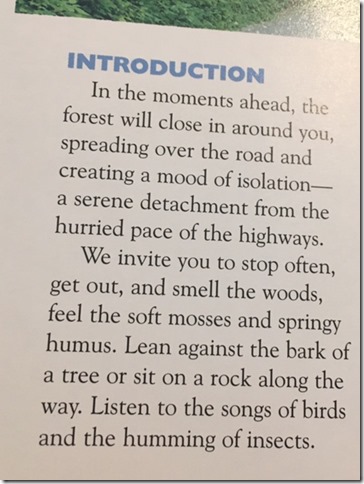 Reads: "In the moments ahead, the forest will close in around you, spreading over the road and creating a mood of isolation—a serene detachment from the hurried pace of the highways. We invite you to stop often, get out, and smell the woods, feel the soft mosses and springy humus. Lean against the bark of a tree or sit on a rock along the way. Listen to the songs of birds and the humming of insects. "
That's how you get the mood for vacation. I thought it would be an informative brochure telling me about what I was seeing and instead the whole thing covered how I should feel and the mood around our visit. It was amazing. We didn't know what "humus" meant, but we tried to guess and kept talking about it for days.
In addition to the natural beauty of the Smokies, the other main feature of the park is the old houses of those that lived there before. When the park was founded, some people were allowed to stay on their property for their lifetimes, but some left earlier, and now some of the houses are being maintained and others not. I'm not sure where the choices are being made, but I'm sure there's some reason for it.
We first pulled off and explored a little area at Ogle Place, right before the trail officially started. This was a sleeper hit—we didn't realize there was a very lovely trail near a creek, and we were happy to have found it!
Louie on a wooden bridge. These bridges would become a familiar and welcome sight! They are really a mainstay of the park.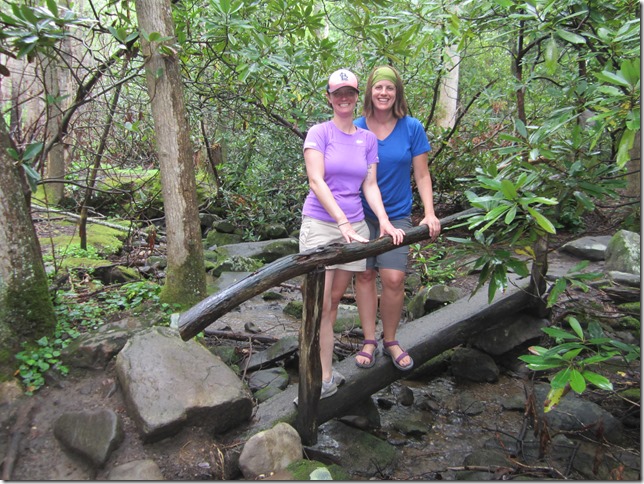 April and I on the same bridge.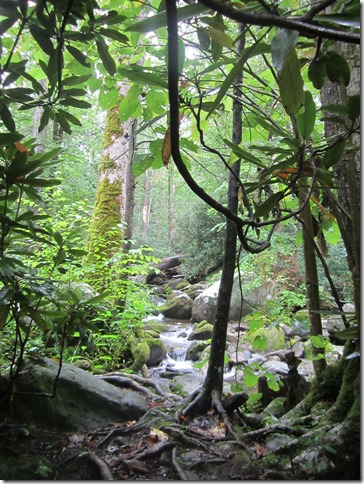 I love how lush and green everything is. Granted, it was very humid and damp all the time, but still…the beauty can't be denied.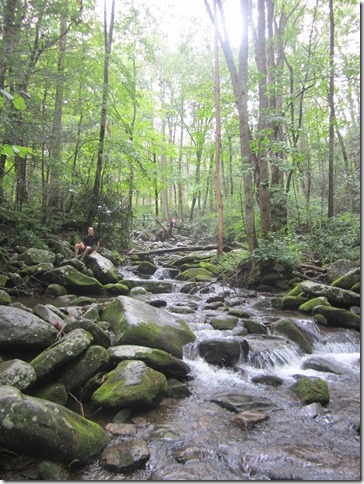 It seems I underestimate how small people will be in my photographs.
After that walk (about 1 mile) we continued on the Trail, stopping along the way at various sites.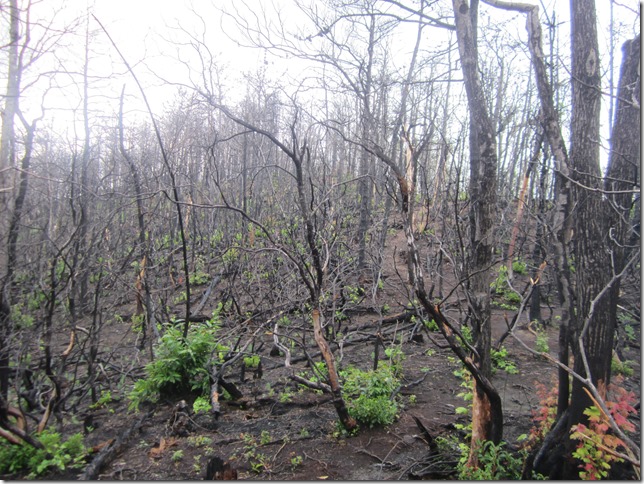 This seems to be park of the burned area from the fires last fall. We didn't explore it too far, though in retrospect (always these things are in retrospect, right?) I wish we had!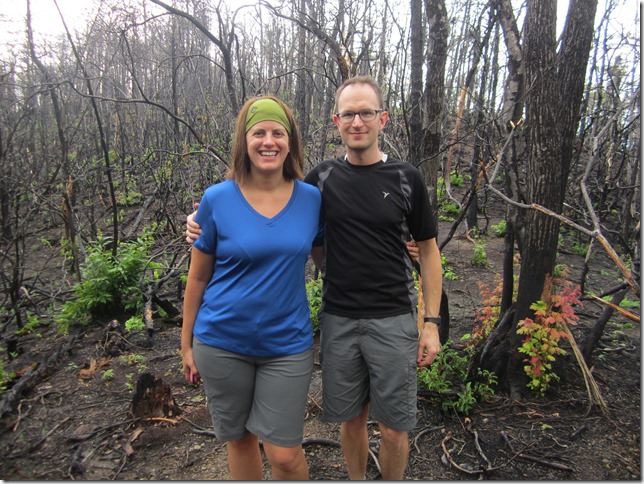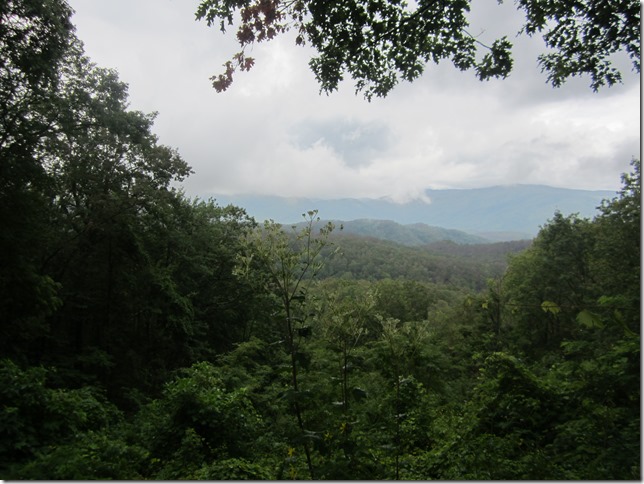 The Haze—another stop on the trail as indicated on the guide. I highly recommend purchasing the guide pictured above. It's one dollar the visitor's center or at various stops along the way.
We got to Grotto Falls and wanted to hike to it, but the parking lot was jammed with cars! We ended up parking quite a ways down the road and had to walk back up to the trailhead (Trillium Gap Trail). We had some hummus (not to be confused with humus) and pita chips first for a snack, and then headed up the hill.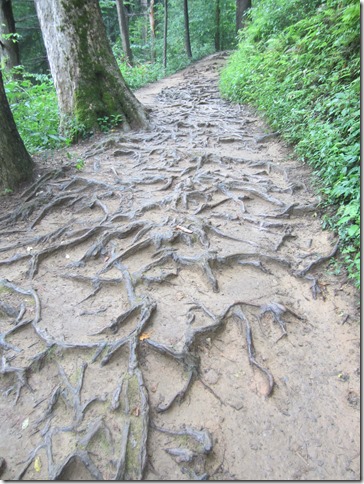 The path was fairly crowded, but not too bad—we knew there would be crowds as there are at all Nat'l Parks but we didn't find the Smokies to be overly crowded except at a few places here and there. Remember, no matter how many people are there at the Visitor's Center, far less will be hiking more than 1/4 to 1/2 mile!
We had our pictures taken by the Falls, but there aren't any falls in these pictures, so that confuses me. It was a huge line for photos, and it felt more like Disneyworld or a Cruise than a hike. We decided to hike further for a bit, and it was quite difficult to fight through. After we passed the falls it really thinned out.
I should have brought my hiking sticks on this hike. I don't know why I didn't—I think with them I could have gone further. I also (I'm just going to admit this!) wasn't as in as good of shape as in previous summers. I got so busy during the year and let things go, and then I started working out again but it was too late. I'm going to work harder this year to get back into better shape and be able to (hopefully!) enjoy hikes more! In any case, it was wonderful company and nice views even though going uphill was a real challenge. We probably went about 7 miles round trip! It did rain off and on which was annoying, but not a huge problem as we all had rain jackets.
After that, we continued along the trail, stopping to see various houses and landmarks. I was struck by how different various houses were built from one another: I suppose if I had to build a house it might not be very good, but my dad built an amazing dome house, so I'm glad I'm not in charge today. All the house we saw were better than what I would do, but some were better than others.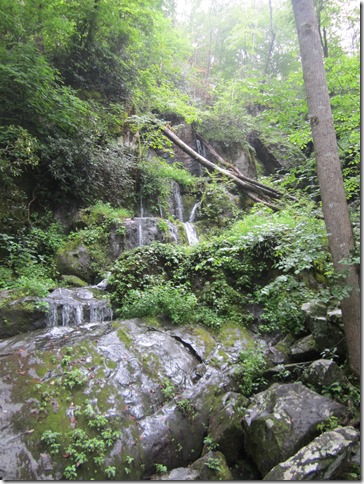 After the tour, we went back to the campground and Louie and I decided to try out the camping shower!
Here's what it looked like:
It set up quickly, like one of those sun screens you can put on your front windshield! We had a bucket to put the water in, and then added some boiling water to heat it up a bit. The showerhead itself is battery operated and takes water from the bucket up a tube and out the shower head, and it worked surprisingly well. We had to be careful not to spill the water on the ground because of camp regulations, but we stood in a plastic catch basin and did pretty well. It was great to be clean, though I had a hard time washing my hair!
We made dinner and then roasted marshmallows for s'mores!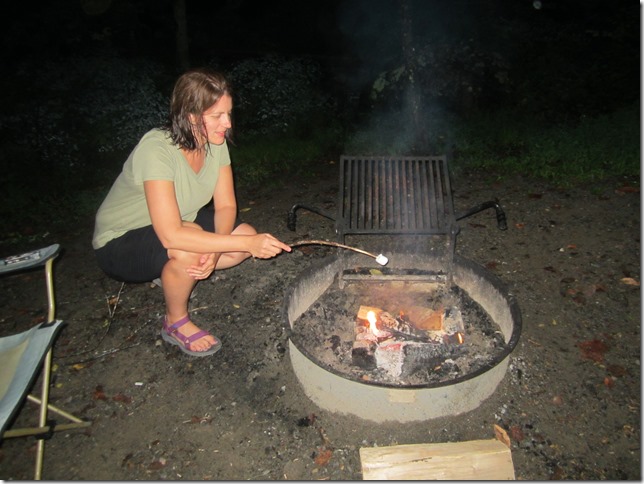 Oh, and at one point, we noticed across the creek our neighbors suddenly had a tarp on fire! It was over their firepit, and I guess there was a surge! It was scary at first, but they acted fast and it seemed they quickly got the fire out and nobody was hurt, so we settled back down with a few beers in front of our fire. (Louie is a master of getting a somewhat wet fire going).
After we were relaxing a bit, the storm hit. It started pouring rain around 9:30/10 pm and then never really let up. It had been raining off and on all day, but nothing too bad, and then suddenly it just wouldn't stop. We tried to hang on in the big tent, but then we realized the floor was wet and parts of the sleeping bag, and UGH, it was just wet. We gave up and all just went to sleep.
The rain continued through the night, with some big storms rolling through. THIS is when camping is pretty annoying and terrible, when the weather isn't as good. When it's pleasant and lovely outside, camping is amazing, but inclement weather is just that much harder. But we persevere…even though both Louie and I thought, if it keeps up raining we might give up.
We decided to take a short hike from near the campground called the Cucumber Gap Loop. We started on the Little River Trail to the Cucumber Gap Trail to Jake's Trail, which would be about 5 miles all together.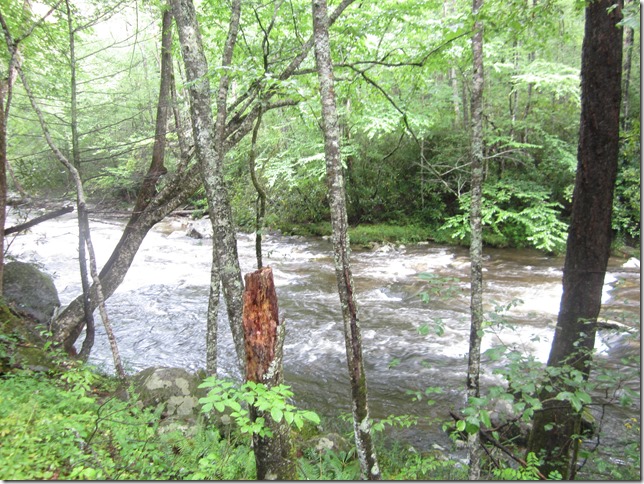 The first part of the trail was really pretty, along a river. There were ruins of old buildings—evidently this area used to be a private club where wealthy people from Knoxville would come out for the summer.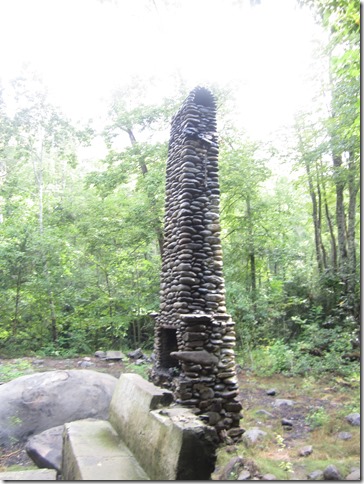 Build your hearth out of stone and it will last a long time. Wood, not as much. Well, never build your hearth out of wood, actually. Bad idea.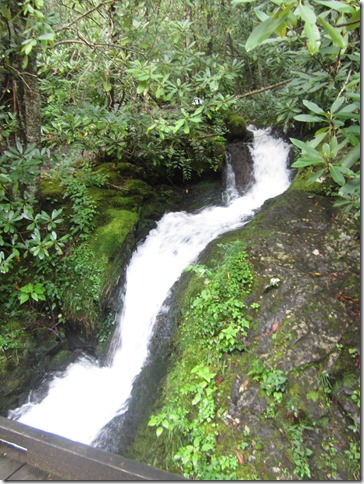 So many waterfalls in the Smokies!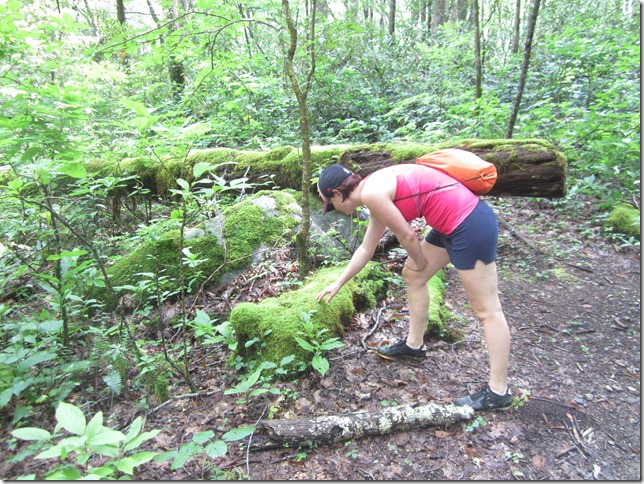 April touching what we hoped was springy humus.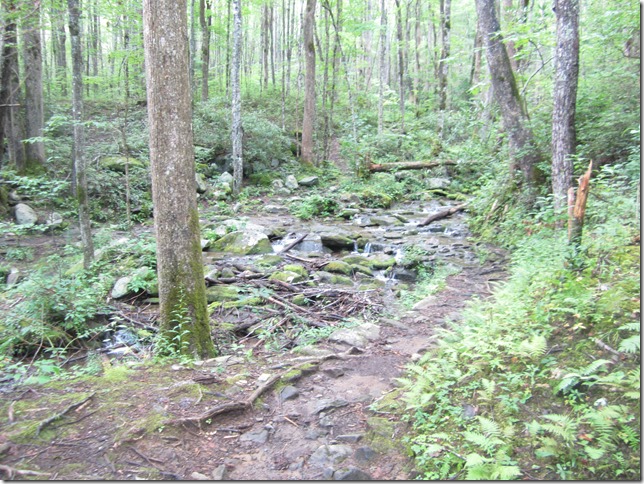 April's first creek crossing over rocks. She couldn't believe the trail made us cross on roads. Spoiler Alert: things got worse/harder further in the trip, but this was a fun crossing. I wonder if it was a little harder due to the heavy rains.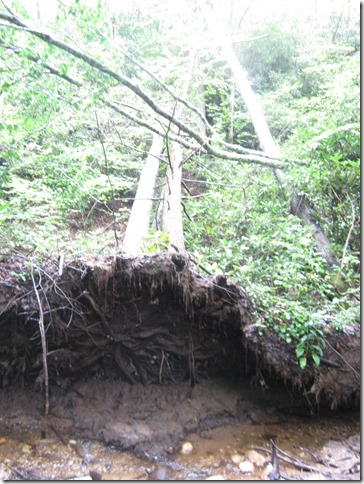 This tree had lifted up the ground! But it just kept trying.
At the end up the hike we passed by more old buildings. And then there was a little area with some buildings that the park service was restoring which used to be part of the Elkmont Club. I find the history equally fascinating to the nature.
April needed to leave that afternoon, so after the hike we went back to the campground to eat lunch. It was sunny so Louie and I hung up all our wet things—if it hadn't been a sunny afternoon I don't know that we could have stayed there again, but we managed to get everything dried out over the afternoon! April left around 3, and then Louie and I decided to be a little lazy and just relax at the campground all afternoon. We took a little walk around the campground too, and decided I'd picked one of the best sites for sure! (B-11).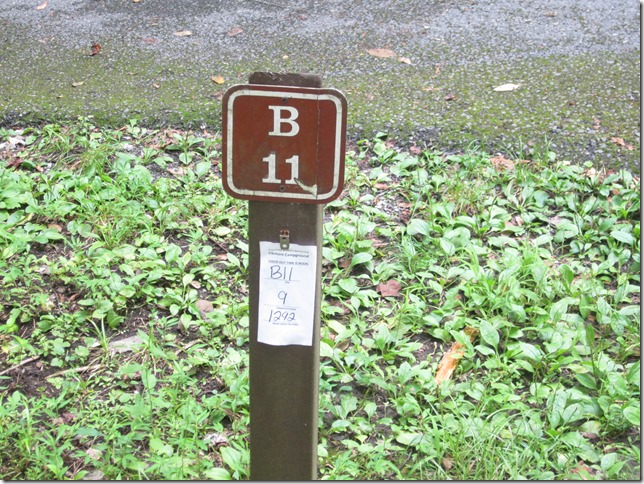 It was fairly private, close enough to the bathrooms, by the river, and just very pretty. I could have camped there a few nights longer, and I would return for sure. I read a book and Louie occupied himself, and we felt the stresses of our everyday lives slip away. Or something. At least, we were enjoying ourselves and happy to be out in nature.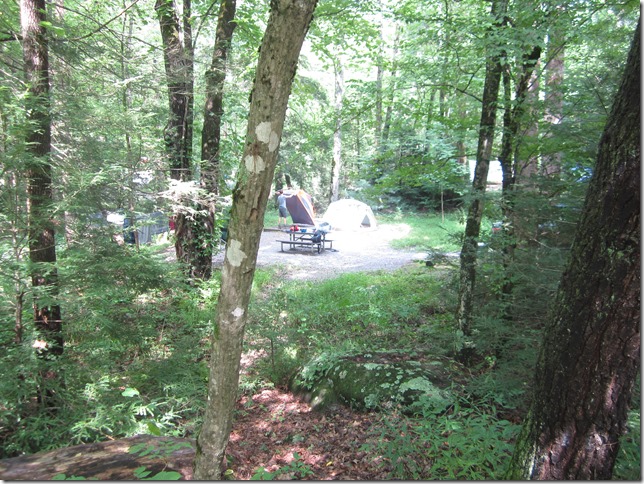 We didn't stay up too late, because we were tired AND because the next day we had plans: to the Titanic Museum in Pigeon Forge and then to our next stop, Cataloochee Campground.
We woke up and packed up, and headed out. It would be about 30-45 minutes drive to Pigeon Forge, so we waved goodbye to Elkmont Campground, and said "see you soon" to the Park.
To be continued…