We left you in Cataloochee…Part 1 and Part 2. Lots of camping and talking about hiking and the rain.
So, after spending about 6 days in the wilderness feeling rather…damp…(the humidity!), Louie and I drove to the civilized world. We had three nights booked at an AirBNB so we'd be sleeping in a bed, using a bathroom with HOT water (fun fact: the campgrounds in National Parks never seem to have hot water, only cold), and who knows what else? Wearing real clothes, eating food at restaurants, and more!
First stop: the electro bike tour. A few years ago we'd done a bike tour in the Rocky Mountains (that was all downhill, so much fun) and I wondered if there was anything like that to do. A little searching brought me to a company that provided a tour on electro bikes—bikes that gave you a little assist with the hills. We met the tour guide in a park in Asheville, and it would be just us and another couple on the tour. The guide's name was Torin, and he brought the bikes, helmets, and water for everyone.
You can see the bikes look very similar to regular bikes. In any case, we took a few minutes to ride around the parking lot and see how we felt. I thought the bikes were great! You could have the assist off, but that'd be crazy, and then there were a few levels, low, med, and high. Torin told us he'd warn us when to turn up to high and otherwise we'd probably want to keep it on the middle level. You still had to pedal and otherwise steer/ride the bike as normal, but if you are comfortable riding a regular bike, you can do this. I personally thought it was amazing, because it made bike riding more fun and more easy, and you definitely still get a little workout!
We went to a variety of places, and got off the bikes and walked around a bit as well. You do ride in the street some, though the guide does his best to make things comfortable and safe, but there will be cars on occasion. I don't mind at all, but the other party seemed to have some trouble with that.
We went to the Grove Park Inn which is an old historic hotel which overlooks Asheville.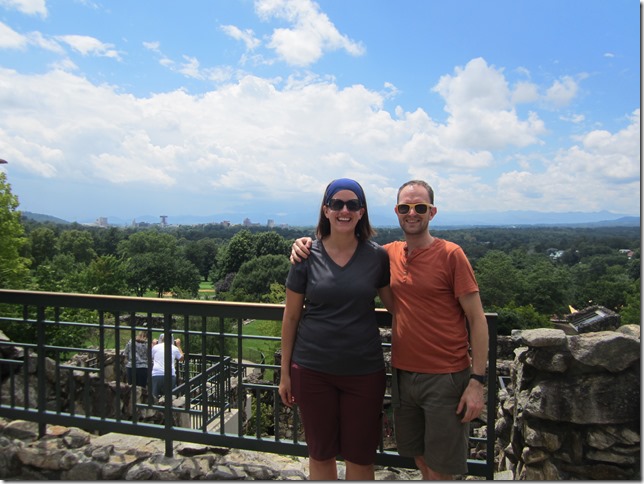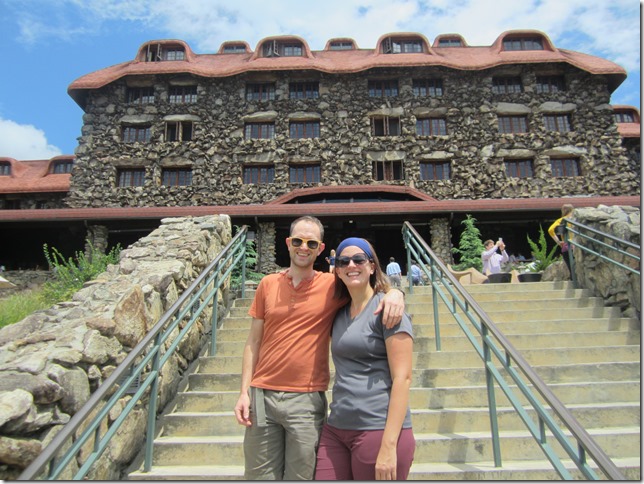 Then we biked to downtown Asheville and had a quick look around, tried to see the Basilica but it was closed to the public, and then headed to the Botanical Gardens.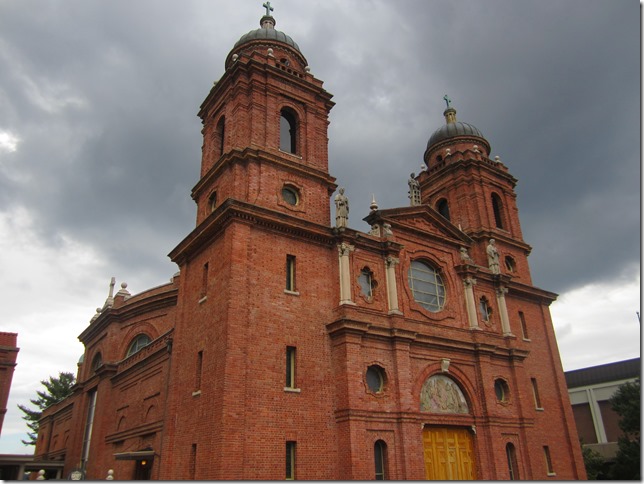 On the way, it started POURING buckets of rain. We all got completely soaked. We decided as a group to skip the last stop and just head back, which was a little disappointing, but probably for the best.
It's important to note that we now each had two pairs of completely soaked shoes, and unfortunately for Louie, the only pair of shoes he had that wasn't soaked was his tall hiking boots! I had sandals.
Anyway, our next stop was to the AirBNB to check in and do some laundry! We got a room with a private bathroom, private entrance, and shared laundry facilities. It was in the basement of the owner's house, but it was great, and we'd highly recommend for an easy stay. It was only a short drive from downtown, in a neat neighborhood, and was just a great place to stay at a good value.
After doing some laundry and getting cleaned up, we took a lyft to downtown Asheville and went to Curate (our bike tour guide had recommended it)…OMG this was one of our top ten meals. We got there around 5 pm with no reservation, and were seated at the bar. I think we got very lucky, because the restaurant was absolutely packed from that point on. Based on the current menu online: here's a sampling of what we ate:
ensalada de sandía y tomate
salad of compressed watermelon, heirloom cherry tomatoes, sheep cheese, sweet onion, and corn nuts with petite lettuces dressed in a honey-sherry vinaigrette
sardinas curadas
salt cured sardines, pickled raspberries, toasted pistachio (inspired by an elBulli flavor combination)
rossejat negro
thin noodles prepared paella style, squid in its ink, shellfish stock, garnished with all i oli and salsa verde, the essence of the ocean
We had a few more things too, but nearly every dish was a hit and was simply delicious!
I should backtrack and tell you a funny story from our lyft. We got into the car and the driver asked us if we had been camping. Here we are, finally all cleaned up and we thought, respectable looking, and yet we looked like we'd been camping? But she said, well she smelled campfire. We were baffled, but we agreed, we smelled it too. Later I realized the smell came from the umbrella! I'd been holding it over the fire the previous day to give Louie a fighting chance at starting it. Sigh.
After dinner, we decided to walk around a bit and headed to a few breweries as well. We'd been told to try the Wicked Weed so we started there and then went to the Green Man Brewing Company as well. After that we were exhausted and headed back and fell asleep.
The next morning my parents were coming up to visit for the day, so we waited a little bit for them to arrive. We had a light breakfast in the room, and luckily had a wonderful coffeemaker to use! Once my parents arrived, we managed to fit everybody in one car and headed out. Our first stop was the NC Arboretum. There was a lot to see there, but we headed for the gardens first.
The gardens were designed by Frederick Olmsted, who designed Central Park, parts of University Circle in Cleveland, the Danforth campus of the Washington University in St Louis, and the Biltmore Estate Grounds. Basically he seemed to be the only landscape architect worth using for a period of history and had a long and busy career!
The most interesting part was the bonsai garden, I thought. I didn't know all that went into making a bonsai plant, that you had to cultivate it to grow exactly how you want and how much work it took!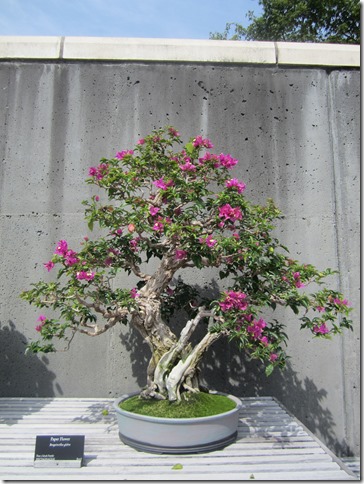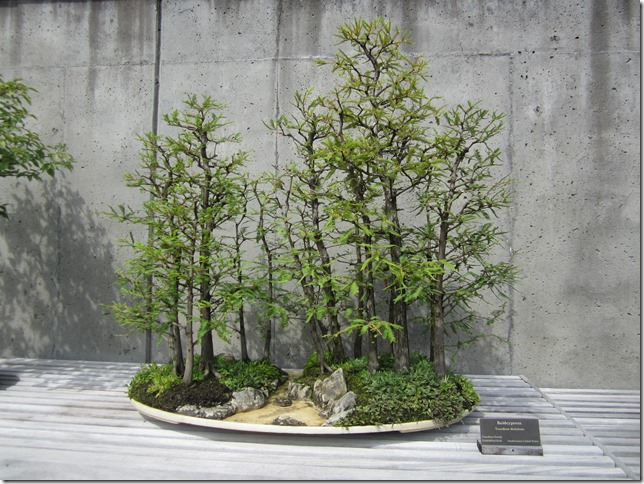 Next we decided to head on the Blue Ridge Parkway for a bit. We got some amazing views of the mountains, and ended up at the Pisgah Inn at a good time for lunch, so we ate in the restaurant there while enjoying amazing views.
I know there were pictures taken with my Mom and Dad but I guess not on my camera! Anyway, they were totally there also.
After lunch we went to downtown Asheville and walked around again. We tried to follow the "Urban Trail" but found it very difficult. We had a good time anyway, and were able to see more things than the day before. We also went back to the Grove Park Inn and wandered around there more than the day before, saw an art gallery and a car museum in the area too. We thought of going to the Botanical Gardens too, but they were closed by the time we tried.
My parents weren't staying overnight though, so after a long day of sightseeing, we all got a coffee, visited for another hour or soon, and then they headed on their way. Louie and I looked up a place for dinner and ended up at a fun place called ''Nine Mile" which featured Caribbean cuisine. It was great. We just went back home afterwards because we were exhausted.
The next day we had tickets for the Biltmore House. I'd been two previous times in my life, but not for about 8-9 years, and Louie had never been. We decided to get breakfast at a place called Biscuithead, which was kind of on our way. I had the fried green tomato biscuit.
The day took a turn after breakfast though, because that's when I found out my dad's brother, my uncle Sam, had died overnight. He'd been sick for awhile with pancreatic cancer, but still. The news is never expected. I wasn't sure what to do—it seems ridiculous to just continue your vacation after getting such news, but there's nothing to be done otherwise…send words of condolence, know how sad you are and how sad you are for your aunt and cousins and grandmother…it's just so sad.
So I wasn't in the greatest of moods at the Biltmore House, nor did I know if we'd be cutting our vacation short, or what, but we went anyway, and made the best of it. And then I kept thinking of our last family trip to the Biltmore House, which was right around the time my grandpa died…of pancreatic cancer, and it all just totally sucked.
But we had prepaid, and there was nothing more to be done. We got the audio tour with our tickets, and I'd recommend that as well. We both enjoyed the tour and learned a fair amount. I always love the library and the pool was also really fun, along with so many other amazing rooms. (The Biltmore house is a house built by the Vanderbilts, and it's like a palace. )
I didn't take too many pictures, but there's a few. The pool couldn't hold water for long because this was before the modern pool chemicals! And these days it doesn't hold water at all—there is evidently a crack or something that makes it not work. Anyway, I encourage you to look up the history of the Biltmore House if you are so inclined.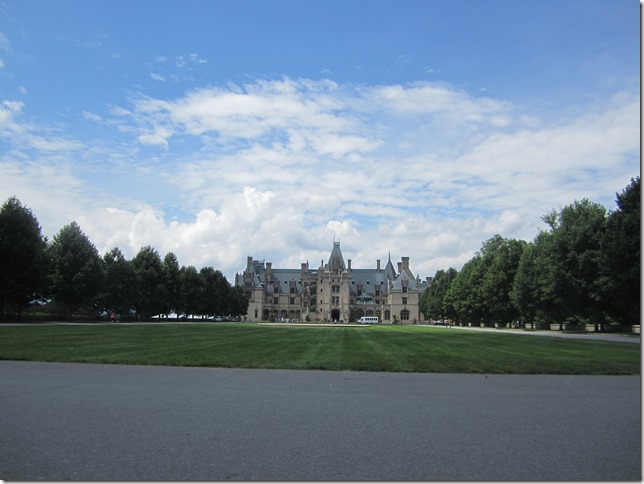 After the house tour we walked around the gardens. It was a hot day though, and we didn't enjoy them as much as we might have.
We went to the winery next and ended up getting a few bottles of wine to take home.
After that Louie wanted to check out the Moog museum, which was near downtown Asheville again. Unfortunately the museum wasn't open, but there was a showroom with a bunch of stuff, including a few theremins. So we tried our hands at playing theremin!
We had dinner reservations at Rhubarb, a local "farm to table" restaurant. We really enjoyed our meal! Afterwards we went to a few more breweries: Burial and High Wire.
The next morning we were both pretty sad to leave. I was also struggling with knowing what to do next with my uncle's passing and waiting to hear what would happen as far as a service. I was very hesitant to go to our next destination as I knew I'd be out of phone service there…and I was also hesitant to leave our creature comforts to go sleep on the floor again, ha! Maybe I shouldn't have split up the camping…I'd thought, in the planning, that it would be a nice break, but it was hard to leave.
But we did. We loaded up the car and set out for the Smoky Mountains again. Since I'm going to stop this post before going on, I will tell you that I was able to make plans for attending my uncle's service before we went into the wilderness again, and it did involve leaving one day early, so we only had two more nights camping ahead of us. I was happy to do it, because I really wanted to go to see my family and pay my respects.
Asheville: we would return. More restaurants to eat at, see the Moog Museum (for Louie), the Botanical Gardens, and we didn't do any hiking in the area—evidently there is plenty! They say fall is a beautiful time to visit. We are hardly ever able to travel in the fall, but maybe someday.
Next stop: Cades Cove.