Today is the opposite of yesterday's blog post.
Okay, well, not really.  But yesterday's post was all about me looking my best.  Today's post is about me looking my sweatiest!  The two are related though, aren't they?  Without the sweaty part, the best part just isn't as good!
I had a workout with Mike this morning.  It was upper body—did some thrusters, dead lifts (nothing serious, don't worry), kettlebell swings, rows, and chin ups.  I probably forgot something, but that is pretty much it (after the warm up of squats and lunges—I swear he must own stock in squats and lunges).  I told myself today would be the day I stayed after and ran a bit more.  I got on the treadmill and planned to do 15 minutes of hill intervals (set the incline to 6, run 6 mph for 35 seconds, hop off for 25, repeat.)  Well, after 7 minutes I was dying and felt like passing out, so I stopped after 10.  It's possible I should have been running slower—I used to do these intervals a few months ago and maybe I started too fast.  Or maybe ten minutes was a good amount.  I cooled down for a few minutes and then took this picture in the car.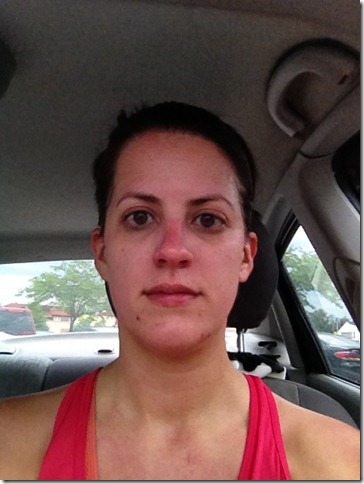 I tried to portray the way I felt with the expression on my face.  Gross.  Yet AWESOME.
Anyway, I'm starting to get antsy and excited to get my new FREE Mizuno shoes.  My friends and my trainer are all super jealous (though hopefully some of them and you can get some too!) and I'm very excited to try them out and naturally tell you all about them.  I told Jen I'd make her take pictures of me running in them in the hopes of getting a picture of me in the air.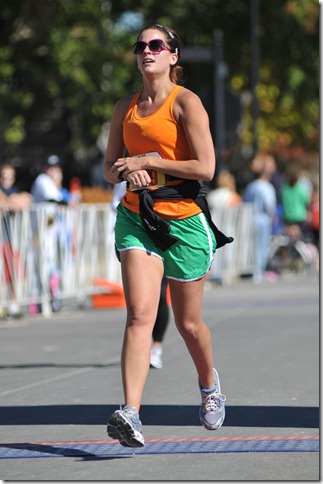 Like this one!  An actual picture of me with my feet OFF the ground!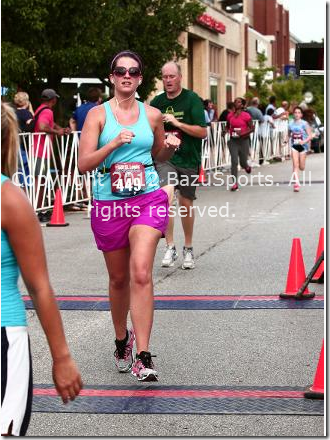 Only one foot off the ground (still better than NONE of course)—from last weekend's race.
(What do both of those pictures have in common?  I'm wearing Mizuno shoes.  Interesting.  I suppose I'm already a fan…also I really think my knees look funny, just generally.)
Anyway, if you're a runner, do you have pictures of yourself in the air?  Is this something that concerns you, or is this simply my own personal problem?  Tell me about them in the comments.
(Scary instagrammed photo!)