I forgot where I saw it, but Mizuno (running shoes) is starting a project giving away free shoes as part of their marketing campaign. (hashtag #brilliantrun)  You can apply here.  I applied last week (?) and got an email yesterday that I had been selected for FREE SHOES.  I won't actually believe it until I see it, because I am a cynical optimist, but they are supposedly sending me a pair of Inspires with a purple sole.  Very exciting!  Maybe you can get some free shoes too?!
I've already been a Mizuno runner (with the exception of my Brooks Pure Cadence shoes) but I haven't tried the Inspires.  I've been running in the Nirvanas—the guy on the phone said the Inspires were very similar but lighter.  I'll obviously blog more about them after I get them!
Edited to add:  After ordering my shoes, I got to invite one other person.  As a southerner, naturally I wanted to keep it in the family.  My sister Leslie got a free pair too—she usually runs in Inspires, and the person on the phone suggested to try the Elixirs, which are a bit lighter as well.  Unfortunately they didn't have any in her size, but instead she is getting some awesome new color of the Inspires.  I'll have her let the blog know how that turns out!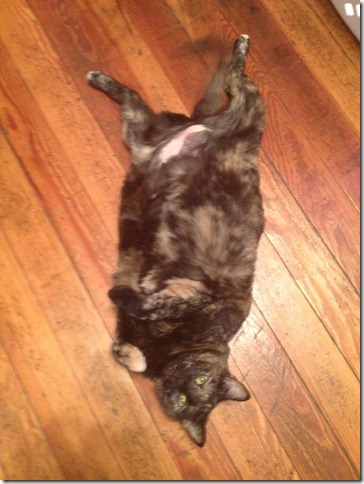 This is what I have to deal with every day.
Oh, I forgot to share this with you.  Do you watch CSI: Miami?  (If not this won't make much sense.) I was complaining to my friend that my post-race breakfast the other day at Uncle Bill's wasn't sitting well.
That's all for today, friends 🙂  You're welcome.