I am quite certain yesterday was Tuesday, right? It can't be Tuesday AGAIN??
As a violin teacher, I'm very aware of the days of the week, as each Tuesday has a similar schedule, as does each other day, other than weekends. I see the same folks every Tuesday, and honestly, this fall is just flying by! It might be that I'm busy practicing and teaching and trying to squeeze in all that fun stuff that makes life more special, but honestly the days are just whizzing by and I'm worried before long I'm going to be old and need to retire, and frankly, just won't be ready for it 🙂
I went to Trader Joe's for grocery shopping this morning. I'm mentioning this because the checkout person and bagger commented that I hadn't bought anything pumpkin flavored, when the store was full of stuff. WHAT KIND OF BLOGGER AM I? I pointed out that really it was a kind of sham, that pumpkin doesn't have much flavor at all. And I didn't admit that I considered getting a pack of pumpkin sweet rolls that you pop out of the tube and bake, but decided I could wait on those, or maybe bake my own over Thanksgiving break or something.
This Sunday is the MO Cowbell Half Marathon. I'm looking forward to it, and I've already planned out my post race meal location, I think. I'm anticipating being very slow but finishing well. I've been training well enough to maintain a 4:30 run/1:30 walk for the whole thing (I hope!) which means it should take me about 14 hours to finish (slight exaggeration) but I should be able to finish well and walk properly the next day too. That's the plan. I'm not concerned about time, but I'm hoping to feel good (well as good as one does during a long race) and like I said, finish strong. I've run the race before, (twice actually) in a different life, and had a great time.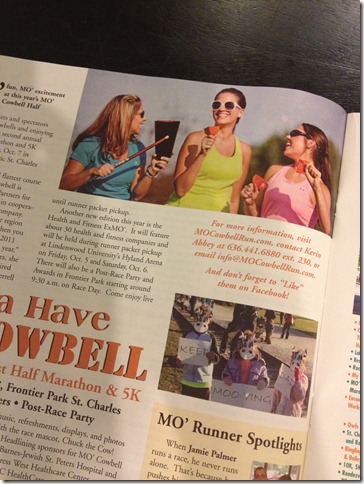 I'm working really hard practicing Bach's Sonata no. 1 in G minor for Solo Violin for my concert with my friend Jen on October 12.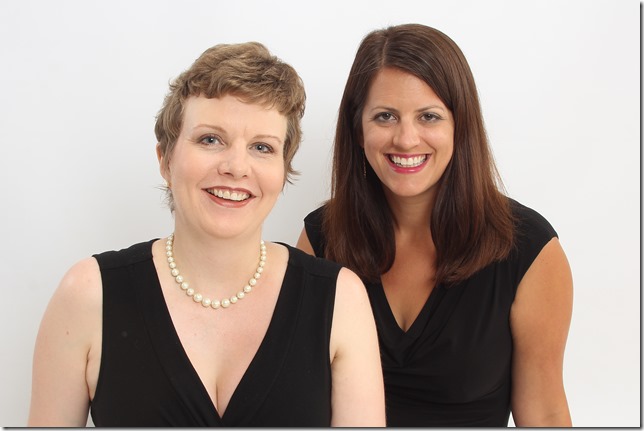 (from our concert flyer!)
I haven't performed such a substantial piece from memory since I was in school and I'm both kicking myself and patting myself on the back for undertaking the task. Memorizing is hard work, folks! I am better appreciating how my students feel and how terrifying it is. You take a piece that you know well and can play really well with the music and then there is this new dimension of well, failing at it. I find that it works best to push through. You have to try to play the piece from memory and MAKE mistakes, and find your way through. If you give up and continually check the music you will never gain that confidence and make the connections in your brain on how to make it through without the music. I'm finally at the point (well, I was yesterday) where I really do know it from memory, and I know the chords are there in my fingers and my brain, and I just have to be careful to not rush myself. I'm having a blast, honestly. I'm terrified and horribly stressed out, but I generally know how to manage those feelings and I'm also really proud of myself for pushing past my fears and doing this. In my mind I'm planning to perform all 6 of the Bach Solo Sonatas and Partitas over the next few years (probably 6 or more years) and I think it'll be a wonderful project and challenge for me. One at a time, to be clear. Not all at once. I am hoping also that I am offering my audience a nice performance as well as a personal challenge. I like to think I have something to say on the violin and I hope that people will enjoy it!
I tried to get out and enjoy a few recreational activities over the weekend. I went on a hike with Louie and his brother. I recently got the book "60 hikes within 60 miles: St Louis" with the idea that getting out of the city and into the woods would be a good idea. We did the Al Foster Trail and the Stinging Nettle Trail loop that is #1 in the book and it was a nice walk. The drawback was that there were lots of bugs still and lots of bikers that we had to yield to, but it was shaded, fairly easy, and did have some nice views of the Meramac River.
We hurried from our hike to a concert at the Tavern of Fine Arts. Two of my wedding colleagues were performing a cello duet concert and I made a goal to attend more of my colleague's concerts when I can, and this fit the bit. I was eager to hear them play something other than Pachelbel's Canon, and I was not disappointed. They put on a great show and really made the cello duets seem like a ton of fun! They were also hilarious and had great onstage banter. Louie and I sat at a table with a couple who had recently moved to St Louis from Portland and we had some nice conversations with them as well.
Our view. Sadly not our bottle of wine—that was the table in front of me.
Saturday I played a few weddings, as usual, and then we went to the Symphony Concert. The comp tickets we got put us in the fifth row which was fairly nervewracking for me, since I presumed that the entire orchestra was staring at me and judging me (my ex is a member of the string section) but luckily I had a decently obstructed view. It was a great concert. I didn't know the first two pieces at all (Sibelius's Swan of Tuonela and John Adams's My Father Knew Charles Ives) so I enjoyed hearing them and should probably learn them more, and the second half was one of my favorite pieces, Prokofiev's Symphony no. 5. Post concert we went with friends who are members of Blood and Sand and had a few cocktails there. Sunday was busy with running, rehearsing Schumann Piano Quintet, and finally relaxing after a nice dinner and catching up on some Mad Men.
Please excuse the shoe. This is the best picture I found on my phone at this time. As you can see, my cat is doing well and is not too terribly stressed out.