On Sunday Louie and I both had the day off (this is a rare thing!) and decided, after an awesome brunch at his mom's house (smoked salmon/cream cheese/bagels AND banana walnut pancakes!) to do a hike from 60 Hikes within 60 Miles of St Louis. I wanted something on the longer side to start getting ourselves into good hiking shape so I picked Columbia Bottom Conservation Area as there was a loop that was about 6 miles. Louie's brother Julian and the dog, Mackenzie, came along too. It was overcast and cool but no rain to speak of in the forecast…so basically the perfect day!
(I have learned that Louie is happier when he gets out into the woods every now and again, and I like the exercise and the scenery…so it works out well!)
The highlight of the hike was going to be seeing the Confluence of the Missouri and Mississippi rivers. We parked at Parking Lot G and hiked out on the Confluence Trail and then back on the River's Edge Trail (in case you want to repeat this hike!). It took us over 2 hours—I'm not sure exactly how long. The Visitor's Center was nice for a pre-hike bathroom visit and had tons of information about the area…that we didn't really look at. We did grab maps though.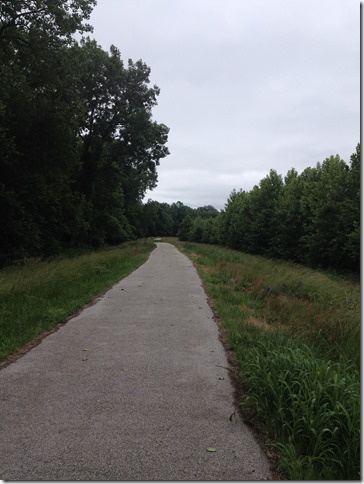 The Confluence Trail looked much like this along the way—it was mostly paved except for places where I think the pavement had been washed away by previous years' floods. We saw a nice variety of landscapes, and several toads.
Can you spot the toad?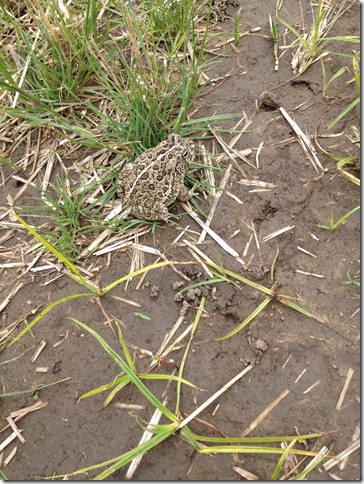 We made it to the Confluence without any problems. You can also drive to it, but we had wanted to do the hike. (Or walk. Really it was just a walk.) There was a nice display with a pole indicting various levels of flooding in the past and some pit toilets that didn't smell that great from a distance…
Anyway, there it is! The Missouri is on the left and the Mississippi along the right, and the two shall become one, or something like that. The pictures aren't super great because the sun wasn't out, but it was pretty nice. You can see the Confluence Tower on the Illinois side of the River.
We hiked back on the River's Edge Trail, which was much more challenging. It followed along the Missouri River and was practically grown over in many places. We had forgotten our machetes so we just had to use our feet.
It definitely took longer to hike back!
Anyway, it was a lovely way to spend an afternoon. By the time we got back to the car we were all hungry and in need of coffee, but agreed it was a pretty nice hike. The author of the book tends to be really excited about every hike he writes about, and they aren't all that great, BUT this was pretty good. It was varied enough to keep us interested and had some really nice views.
Here are some other hikes from 60 Hikes within 60 Miles of St Louis that I've done in the past, in case you missed them:
Howell Island Conservation Area
While going through my pictures for this post I realized I never told you about our float trip the other weekend. Louie and I met up with some old friends of his (and some new friends, as it was a large group and he only knew a few people) down in Eminence, Missouri to camp and float and camp along the Jacks Fork River. I'd never been on a float trip before but had heard all about them as a really big "thing to do" in Missouri in the summer. We rented a canoe, and basically you just go down the river with your friends and stop and pull over here and there and drink beer and eat snacks the whole way. The campground was less than stellar—we paid $20 a night for a camp site that wasn't mowed and didn't have functioning plumbing anywhere nearby—in fact, the first night evidently all the toilets at the campground didn't work, and the second night they did have a set about a ten minute walk away that worked. If I'm not going to have plumbing, I don't think it's worth $20 a tent per night, but call me crazy.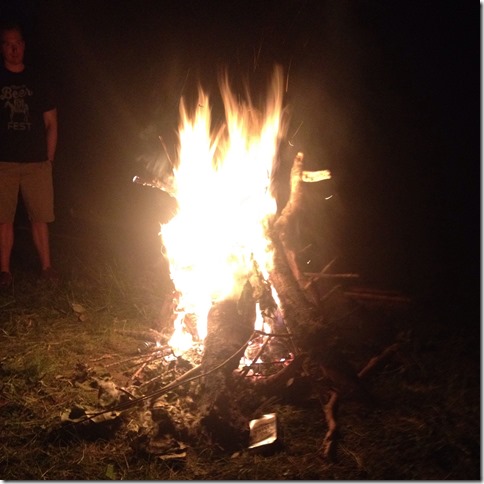 Campfire the first night!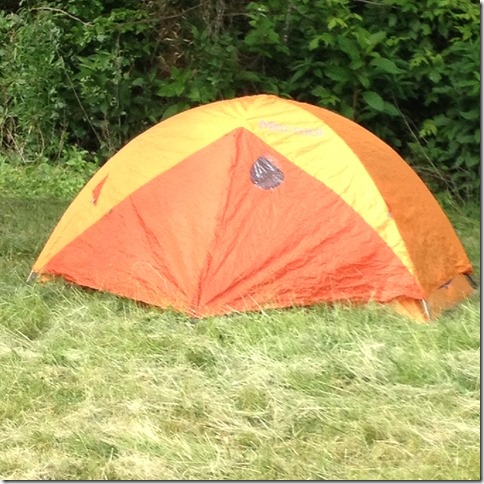 Our little tent in the weeds.
I didn't take any other pictures because we were on the river and I didn't want to get my camera or phone wet! But it was a beautiful day for canoing, though tiring, and taking a large dog on the canoe with you is TOUGH. Mackenzie (who weighs approximately 90-95 pounds) kept jumping OUT of the canoe and then wanting to get back in, which we tried to explain to her just wasn't possible. I don't think she understood the physics of the boat…she is a strong swimmer though and probably had more fun than anybody else that day! I think she slept for the next 24 hours straight.
I'm becoming so outdoorsy aren't I? I was thinking the other day about it, and how since I started dating Louie I've gotten into hiking and camping and stuff. I hope I've influenced him in some ways as well, and made his life more interesting and pushed him out of his comfort zone too. For instance, I imagine he has gone to more classical music concerts since meeting me than in the past! And I used to camp a lot as a kid, and I've realized…well…camping and hiking, once you have the equipment, are a pretty economical way to see stuff. Saving money, or being able to take a longer vacation…that's a good way to go I think! So there's my deep thoughts on my relationship and whatnot 😉