All in all it was a great weekend.  (Yes, I know it's already Monday night.  Sue me.)
Friday night: I had a school concert followed by carbo-loading at Trattoria Marcella (WOW, delicious!).  I had been invited to go out with some friends, but the concert ran late and Chris and I decided to have some couple time.  Occasionally we like to hang out just the two of us.
Saturday:  The morning was the Benton Park 5k I'd been planning for awhile.  We had a blast!  I have since decided that I look BEST dressed in 80's clothing, and I am considering making that the theme of my wedding.  What do you think?  The afternoon was for relaxing, and the evening was a farewell party for a colleague of Chris's—they weren't leaving St Louis, just the job.  I made cake batter blondies.  I will make them again.
Sunday:  First a run with Jen, then a wedding at the Jewel Box, then Meat Day.  Meat Day was my friend Kyle's brainchild—a celebration of all kinds of meat.  He loves grilling.  (That is actually the understatement of the year.)

I had a burger.  But my friend Jon set a record for the most amount of burger consumed.  1.4 lbs precooked.  Oh, and Lucian is a baby and Buck is a puppy.  And I also had a bite of that pork tenderloin.
That's the burger Jon ate, and then that's Chris just being a little silly.  Need more of him on the blog anyway 😉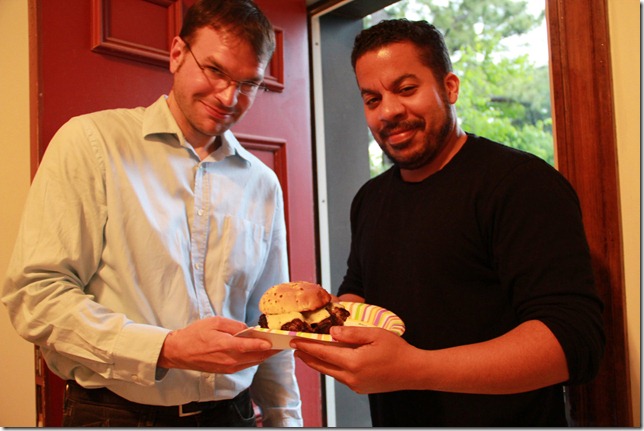 Another picture, this one by Kyle's roommate, Brad (who is a professional photographer and artist).  That's Jon and Kyle.  And the burger!
All right—last week of school…CAN'T WAIT!  (No offense to the children, but seriously, I need a break in a major, nearly suicidal way).  Here we go…