Don't forget to read Day 1, Day 2, Day 3, and Day 4 if you haven't already!
It was raining when we woke up on Tuesday.  Our plan was already to visit a few museums so we figured that was fine.  We realized we needed to buy another umbrella though (we'd only brought one) so we did that and headed to the metro to go to the Musee d'Orsay.  It was pouring rain and the line to get in was really long—I suppose everybody had the same idea to go to a museum on a rainy day, plus the Louvre was closed.  The museum pass line was long as well which was strange.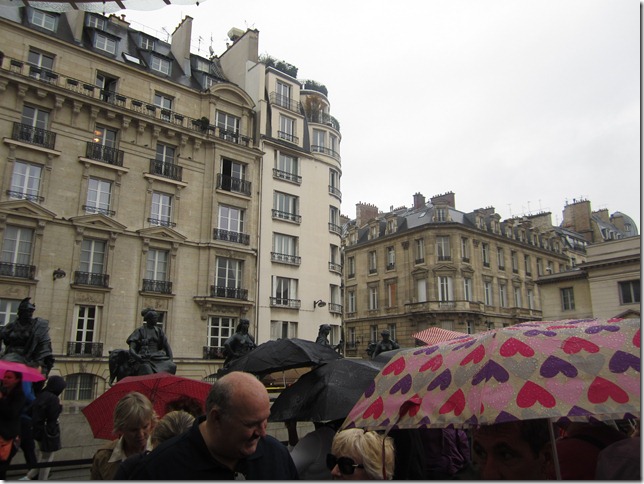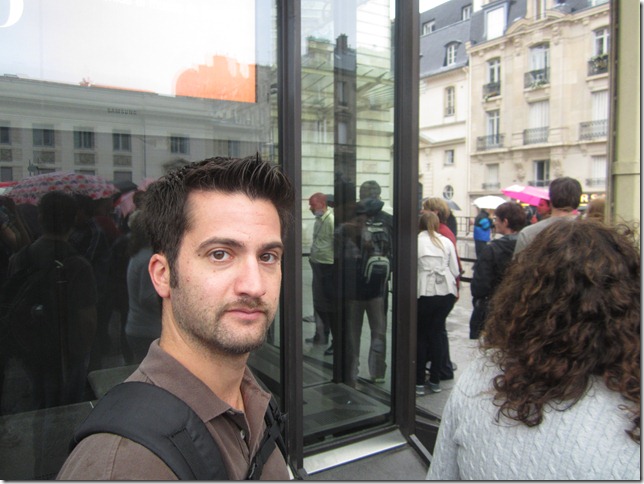 I think Chris was starting to tire of getting his picture taken.  Or he was tired of waiting in line in the rain.  Who doesn't love getting their picture taken??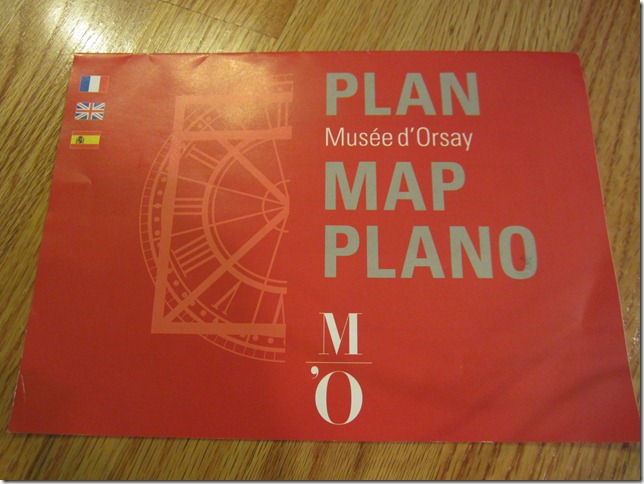 Once we entered the museum the signs said not to take pictures.  Lots of people seemed to ignore this but I am a rule follower so I didn't take any pictures.  (I also had no desire to end up in a French prison or something, I saw that movie with Claire Danes.)  The museum was GREAT except that it was so busy that we just couldn't deal with it for more than an hour.  All those people.  We thought it was the day we picked (Louvre closed, rainy) but we talked to some other folks who said in their experience d'Orsay was just always like that.  Too bad, because it probably had my favorite art!  Nonetheless we would return to give it another shot.
Next came lunch.  We found a nearby brasserie (remember, that's the one you want for a really late lunch) and I ordered a goat cheese salad.  This was amazing!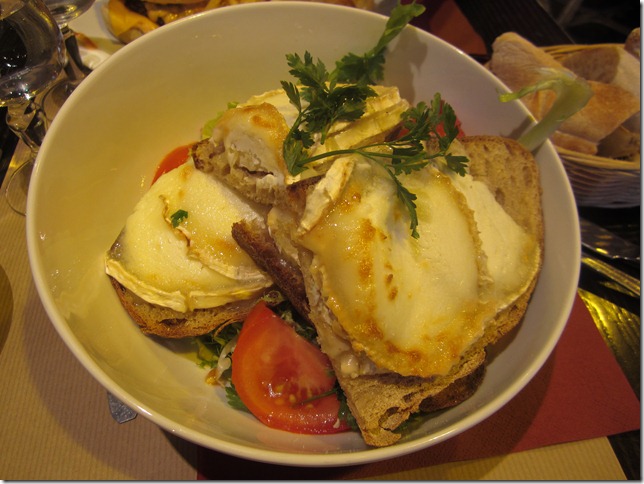 Heavy on the goat cheese and toast, light on the salad.  More delicious, less healthy.  I heart France.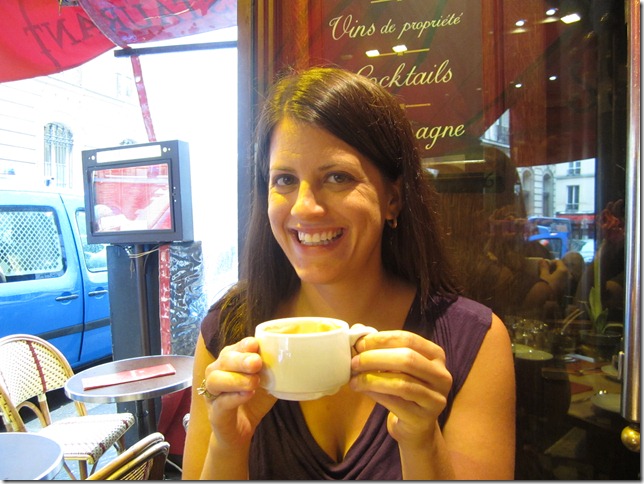 Drinking a cafe crème.
Next we decided to go to the Army Museum and Napoleon's Tomb.  I plotted a course to walk there that I thought would take about 15 minutes.  Naturally we got totally lost—in fact this was one of the times that I because nearly desperate in our inability to figure out which direction to go, looking at the map every few feet yet still feeling hopelessly confused and lost.  We traveled at least 1/2 miles out of the way and almost gave up several times.  Like an injured kitten, I lashed out at Chris, who had the gall to suggest we hail a cab…the idea of giving up is what really made me get serious and start walking HOLDING THE MAP IN FRONT OF ME.
At this point, Chris pointed out that in fact THIS was the most amazing thing about Jason Bourne, that he could open a map of Paris and within a few seconds know both where they were and where they needed to go and then he would GET there.  Forget the fighting, the driving, and the sprinting.  It's his navigational skills that most impressed us.  (Yes, I'm aware he's a fictional character.)
Finally we saw this, which made us feel like we might be near the museum.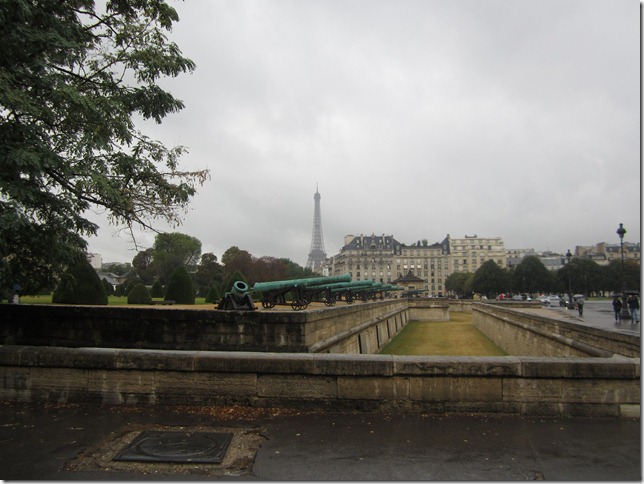 And indeed we were, though we ended up entering in the back rather than the front.  Whatever, we found it.  Chris loved this museum.  They had all different manner of armor and weaponry, from the medieval ages until the more recent.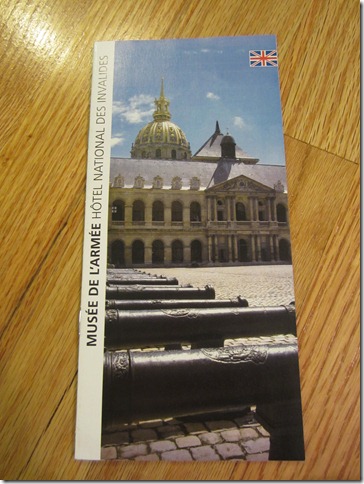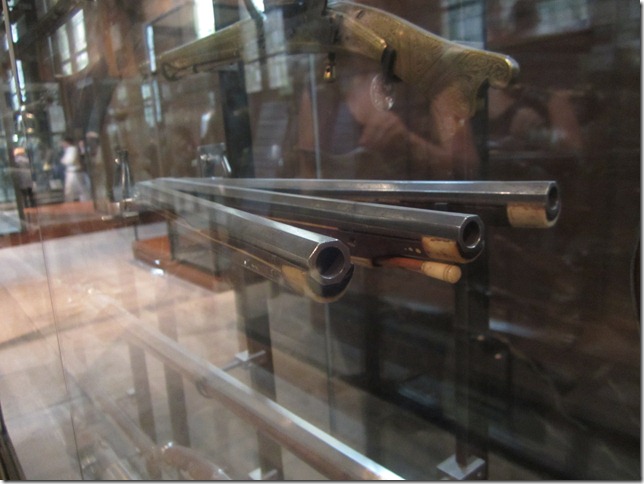 Then we went to Napoleon's Tomb.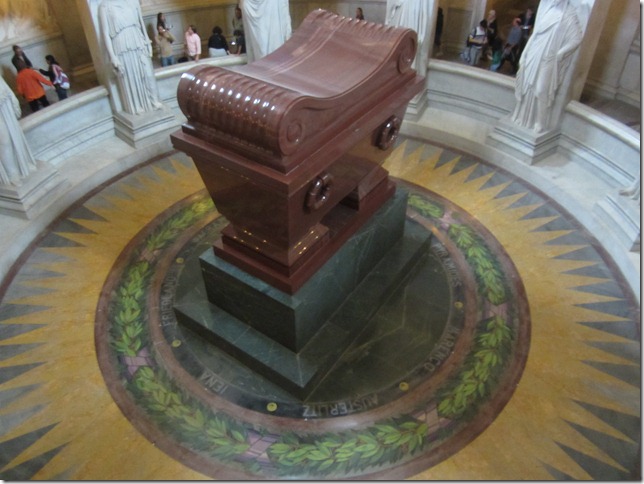 Not too small.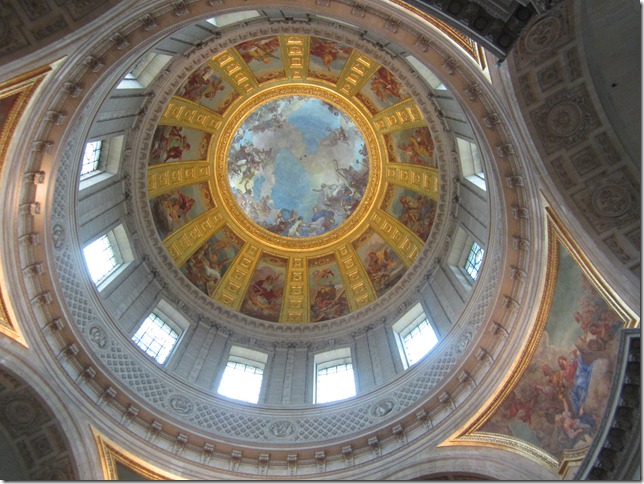 This is overlooking his tomb.  I don't really care where I'm buried, but I'm thinking something like this might be pretty nice.  And appropriate.  I am pretty fancy.
After visiting the tomb we headed back into the museum to go over the WWI and WWII exhibit.  It was interesting seeing the history of the wars from the French standpoint.  (Spoiler alert:  both wars were a complete waste—I may be biased as I think all war is a waste, but still).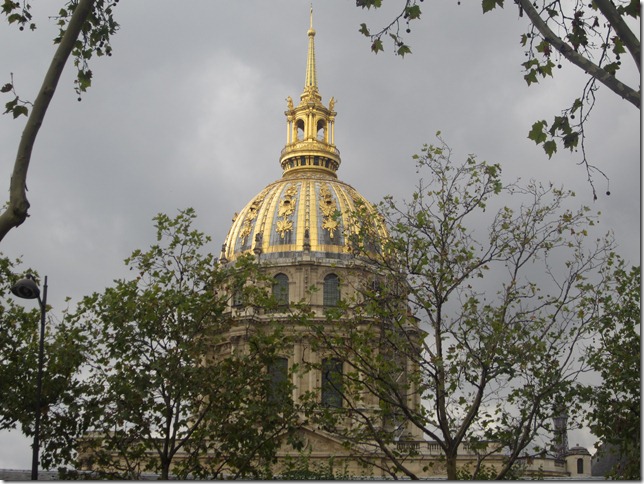 The Dome des Invalides—it's what's over the Tomb.  Had I read the guidebook more carefully I would have known this already and it would have helped us navigate.  Oh well.
We headed back to our neighborhood then, the Marais District.  We decided to grab a drink somewhere before dinner, and then have dinner at the place where we'd had wine the first day, Au Bourguignon Du Marais.  We had a drink at a Scottish Pub nearby, and then went to dinner.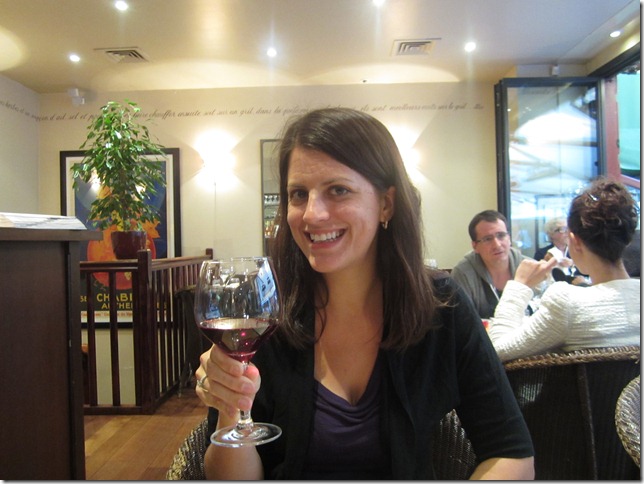 We ended up sitting next to another couple desperately clutching the guidebook (They were more hard core than us as theirs was a library copy—oh, and yes, this was a guidebook recommended restaurant).    We chatted a bit with them—they shared some suggestions with us and vice versa.  We saw a lot of people in Paris with the book but often they were older.  I guess it's the PBS crowd? Or younger people don't like to follow plans and directions, or don't have money for actual travel?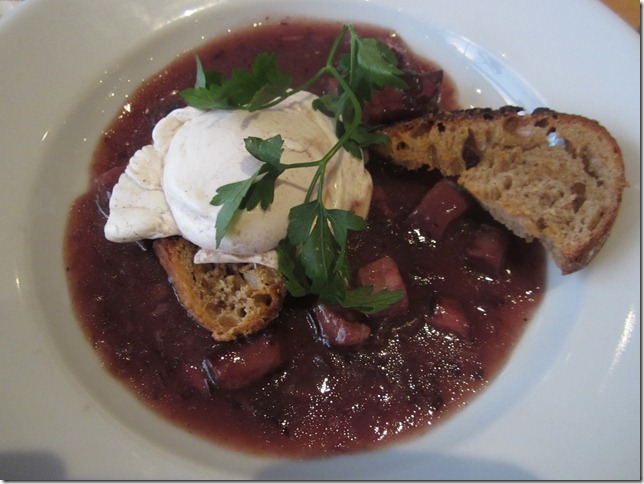 The guidebook recommended the "oeufs en meurette" and "boeuf bourguignon" so that's what I had.  Well, we split the "entree" and I ate my plat all my myself.  I forget what Chris had for his dinner but he enjoyed it as well.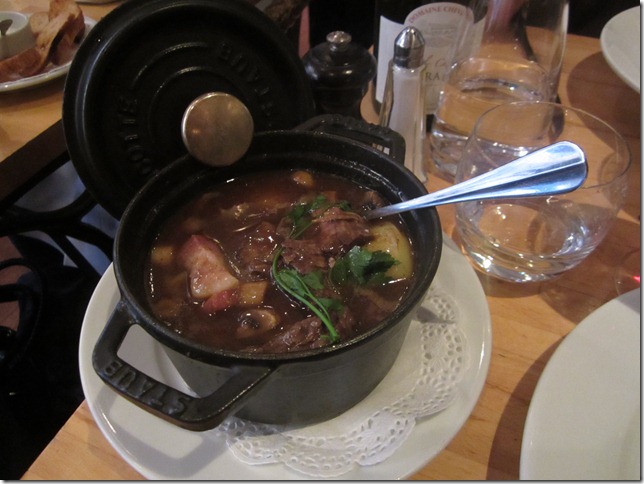 We were stuffed after dinner and didn't order dessert.  Another fantastic day!  Next:  Versailles.