If you haven't been keeping up, here are parts 1-6. Excessive? Not for a 19 day trip…
Part 4: There really is no place like Wyoming
Part 5: Yellowstone…everything here is more amazing than anywhere else
Part 6: Yellowstone again because one post was taking me entirely too long to write
And here we are at Part 7 of the Road Trip Summer 2015 Trip Recaps. Did I say trip too many times? I've been procrastinating this post, and I'll be honest: I haven't finished writing about it by hand either (I kept a notebook journal on the trip) so I have pictures, short notes for each day, and my memories to rely on here. I'd better get something written, haven't I? Eyewitness accounts are notoriously unreliable!
Why am I procrastinating so much? Well, other than the fact that life and work are happening here…it's because after Yellowstone the trip was a letdown. It had to happen. Everything we were doing was just so awesome, and then we left Yellowstone and headed east, and mentally we knew we were heading home, and honestly, no offense to the entire TripAdvisor South Dakota Forums, but Custer State Park and everything around Mount Rushmore is just not as awesome. Sorry!
But I am procrastinating EVEN MORE.
We left off with leaving Yellowstone. Louie and I decided to drive the Beartooth Highway after leaving Yellowstone. Charles Kuralt called it "the most beautiful drive in America." It took us WAY up high, and there were tons of switchbacks, and I was mostly terrified and Louie had a great time driving it.
Some gorgeous views along the way!
It was cold and windy at the top, and it was a neat drive. I'm glad we did it. After that, we ended in the town of Red Lodge, Montana, which looked cute, but the first few hotels we looked at were full, so we made an online reservation at the "Western Inn" in Lowell, WY, and off we went. We'd decided tonight was a hotel night, and couldn't wait. We also wanted to eat dinner at a restaurant.
(Along the way Louie took some pictures of sheep.)
We made it to the Western Inn. Lowell was a very small town, and the Western Inn was a little…well, there were bikers out and it looked like a pretty run-down, rent by the week type of place, and for approximately $45, we kind of expected it. The room was clean enough looking, though very out of date, and the owner also seemed to run a diner out of the lobby called the "Cauc-Asian" diner (she was of Asian descent) though, we couldn't figure out how the diner worked. We ended up eating dinner at a restaurant called the Brandin' Iron, and I had fried shrimp with fries, and we split apple cobbler for dessert. That and a few cold beers had never tasted better. And the Brandin' Iron was amazing in so many ways, especially if you are looking at it from the point of city slicker snobs like Louie and I are 😉
Now, the other thing to know is that we hadn't managed to get a shower in since our first night in the Tetons. We must have smelled amazing, and looked good too. After dinner I was able to enjoy the most desperately needed shower of my entire life. Seriously, it was amazing. And I slept really well in the bed.
Day 15: We woke up and considered trying to eat at the Cauc-Asian diner but I freaked out because it smelled odd and I just didn't really understand how it worked. We also desperately needed to do laundry, and then get to the Devil's Tower and then to Custer State Park in South Dakota, so I was having a stressed out day and was having a hard time with it. We got muffins at a gas station for breakfast and then headed east. On the way east we drove through the Bighorn Mountains which were really nice, though we were getting sad that we were nearing the end of our mountains. The whole time we'd had a Garmin hooked up for navigation and it kept track of our elevation. For days and days we'd been at over 8000 feet, and then up to nearly 11,000 feet, and suddenly we were getting lower and lower.
We found a laundromat around lunchtime and managed to do laundry while getting tex-mex and also grocery shopping in Buffalo, WY. The cashier at the grocery store was quite interested in our sparkling water, and she couldn't believe it didn't have high-fructose corn syrup.
Then it was time for the Devil's Tower. We'd had started listening to the podcast "Serial" but once we got to the middle of nowhere, truly, that's where the Devil's Tower is!
We enjoyed walking around it and not being in the car for a little while, but we still had nearly 2 more hours to go until we got to our campground reservation at Custer State Park so we didn't spend too much time there.
We did spent some time photographing these little guys though: prairie dogs.
The best part of the National Parks, with the possible exception of the amazing scenery, is all the wildlife.
It was dark by the time we got to Custer State Park. I'd made a reservation for two nights at Grace Coolidge Campground, and there wasn't a place to check in—it was just "show up at your campsite"… and somebody was in ours. It took awhile to find it in the dark, and there was a truck parked in it and people had a fire. We verified with another camper that we were looking at the right site (she had come out to see what all the lights were about) and I guess I'd said, darkly, "so those are the people who are in our site!" The man came over and apologized and said he thought it was first-come, first-served…we'd made our reservations over a month prior! And the signage was clear. He said they would clear out as quickly as they could, so we drove around for a bit to give them space, but it was raining off and on and we were getting nervous, so we headed back. Both of us felt bad kicking this man and his wife out of their site—they were in the middle of cooking dinner too—but the fact was, the signs were clear that if you didn't have a reservation you needed to call, and it was only about 9:30 pm, not midnight, and we did have the reservation. Sigh. It was hard to feel quite as nice about our campsite knowing we'd had to kick somebody out for it. We made a quick dinner ourselves and a little fire and then enjoyed the nearby creek sounds as we fell asleep.
Day 16: Today we wanted to hike up to the tallest point in South Dakota, Harney Peak. I'd read it was a difficult hike and might take us 5-6 hours. We got a slightly later start than usual, by about 3 hours and decided that was okay, and we were just worn out and tired from our vacation. (Life. Hard.)
We drove on the "Needles Highway" to get to the trailhead. It was a crazy drive, with all these rock formations and some one-lane tunnels through rocks.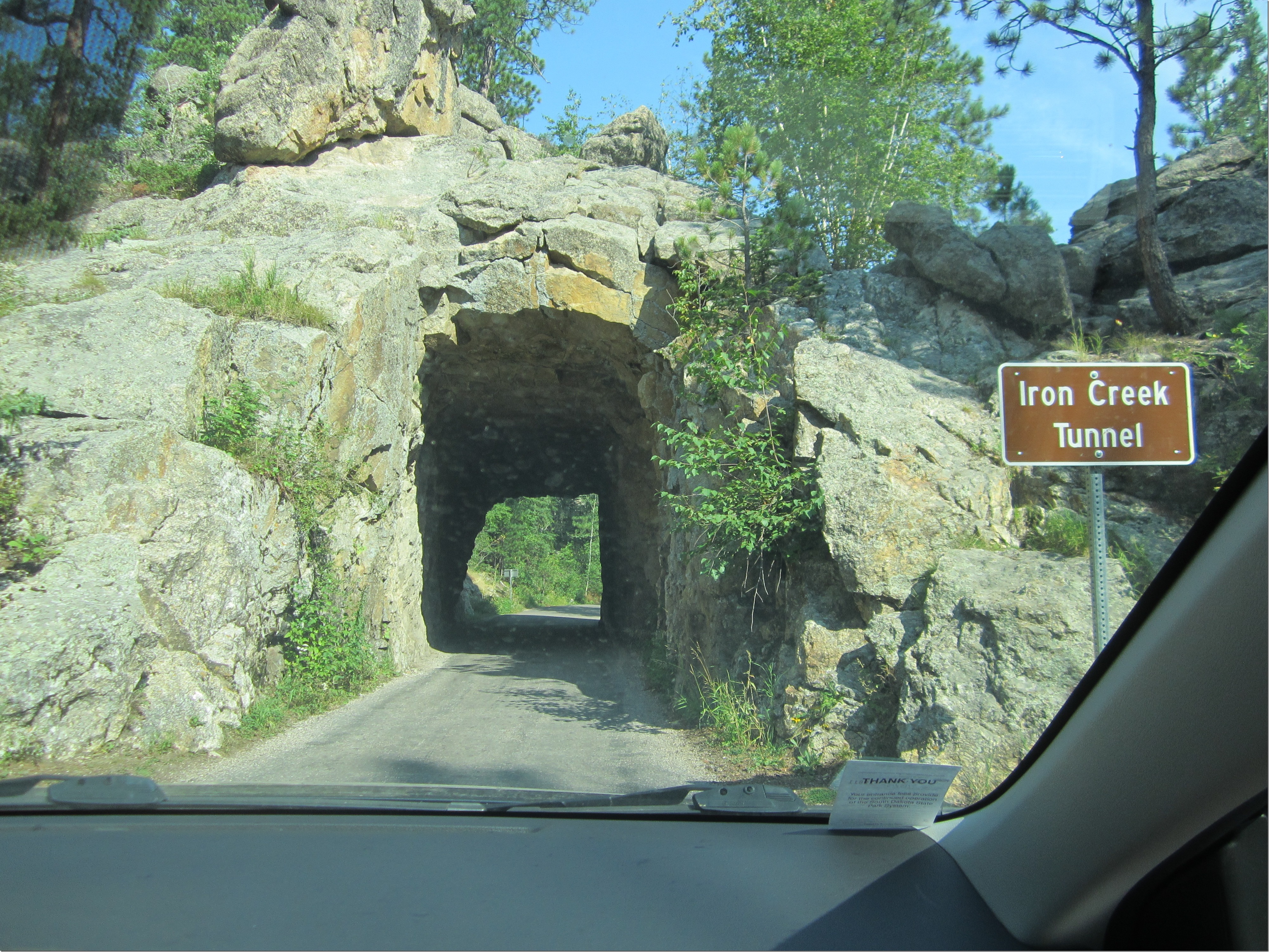 The hike was nice. It ended up being only about 3-4 hours, and wasn't nearly as strenuous as we'd thought. Granted, we still got passed by the young and the elderly as I'm a slow hiker, but we felt in pretty darned good shape!
Louie did a bit more exploring at the time while I rested on my laurels.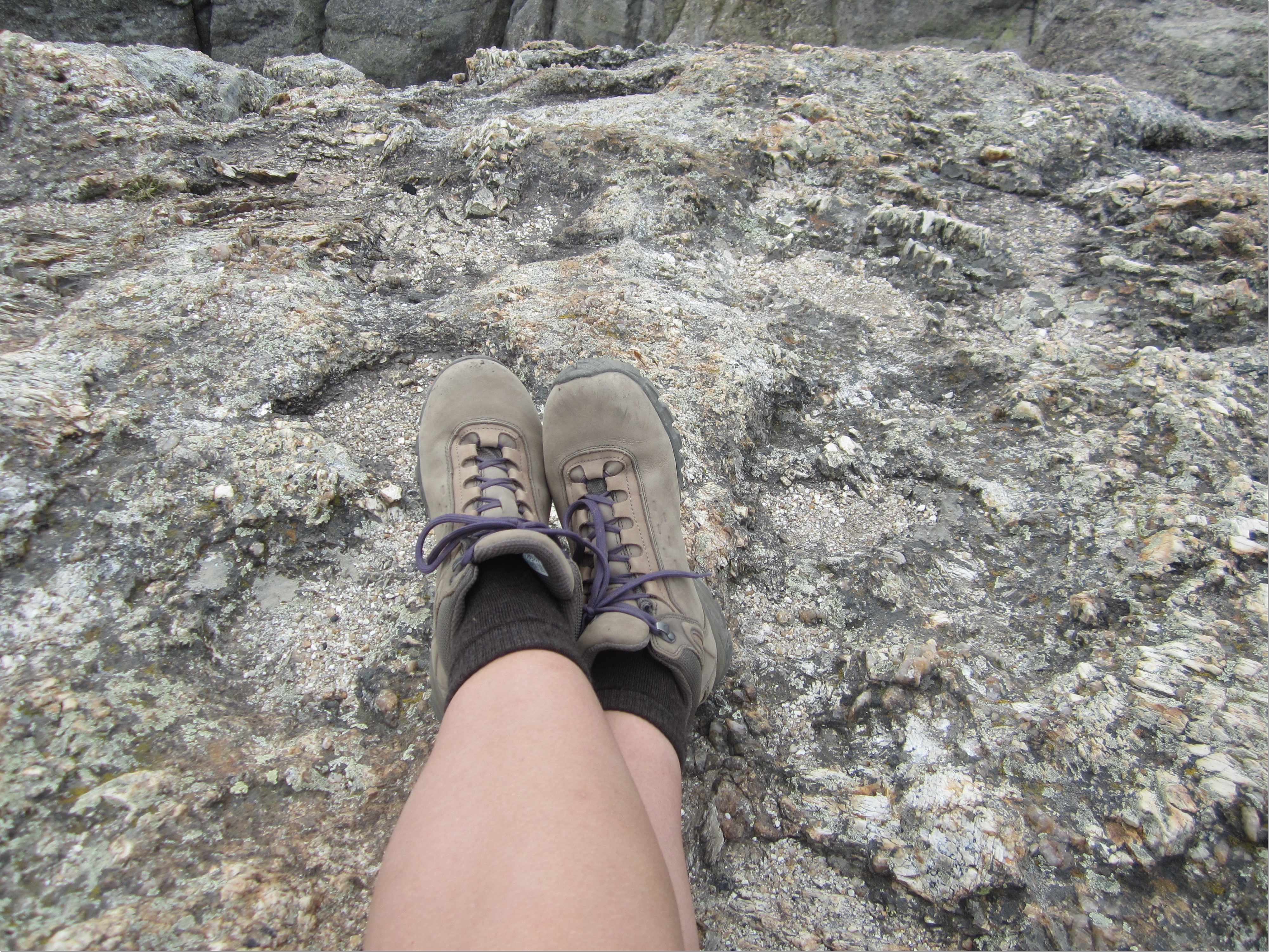 After finishing our hike, the other thing I really wanted to do was drive the Wildlife Loop in the park. Since we were done with our hike early we decided to go see the town of Custer (we'd both been to the area in the past, Louie more recently, and we just decided against Mount Rushmore and some other things in order to do different things than he remembered). Well, overall Custer was an awful town, but we stopped at Ester's Sausage House, at first for coffee, and maybe dessert, and then decided to have beer and sausage instead (obviously more logically) and also bread pudding.
Towards sunset is the best time to see wildlife, so that's when we hit the Wildlife Loop. One thing that is crazy is that there are these wild burros roaming around, but they are actually tame (they are descended from burros that used to carry people up to Harney Peak in the past but were set free at some point) and go up to the cars! People feed them (this is a case of where feeding animals is okay) and they are pretty pushy, actually. But cute.
We didn't see too much other wildlife other that the burros and more prairie dogs and were getting disappointed…we did see where a young burro had gotten stuck in a horse pen, away from its mother and were a little upset, so we stopped at the next ranger station to tell them (so they could let the baby burro out), and then the next thing we found were…
Bison!!! And a good old-fashioned bison jam (also sounds like a delicious product to spread on toast, no?). Smaller in scale than at Yellowstone but no less delightful. It was our last bison jam and we thoroughly enjoyed it. Interesting fact from my diaries of the trip in 1991 with my family: we saw bison at the exact same point then.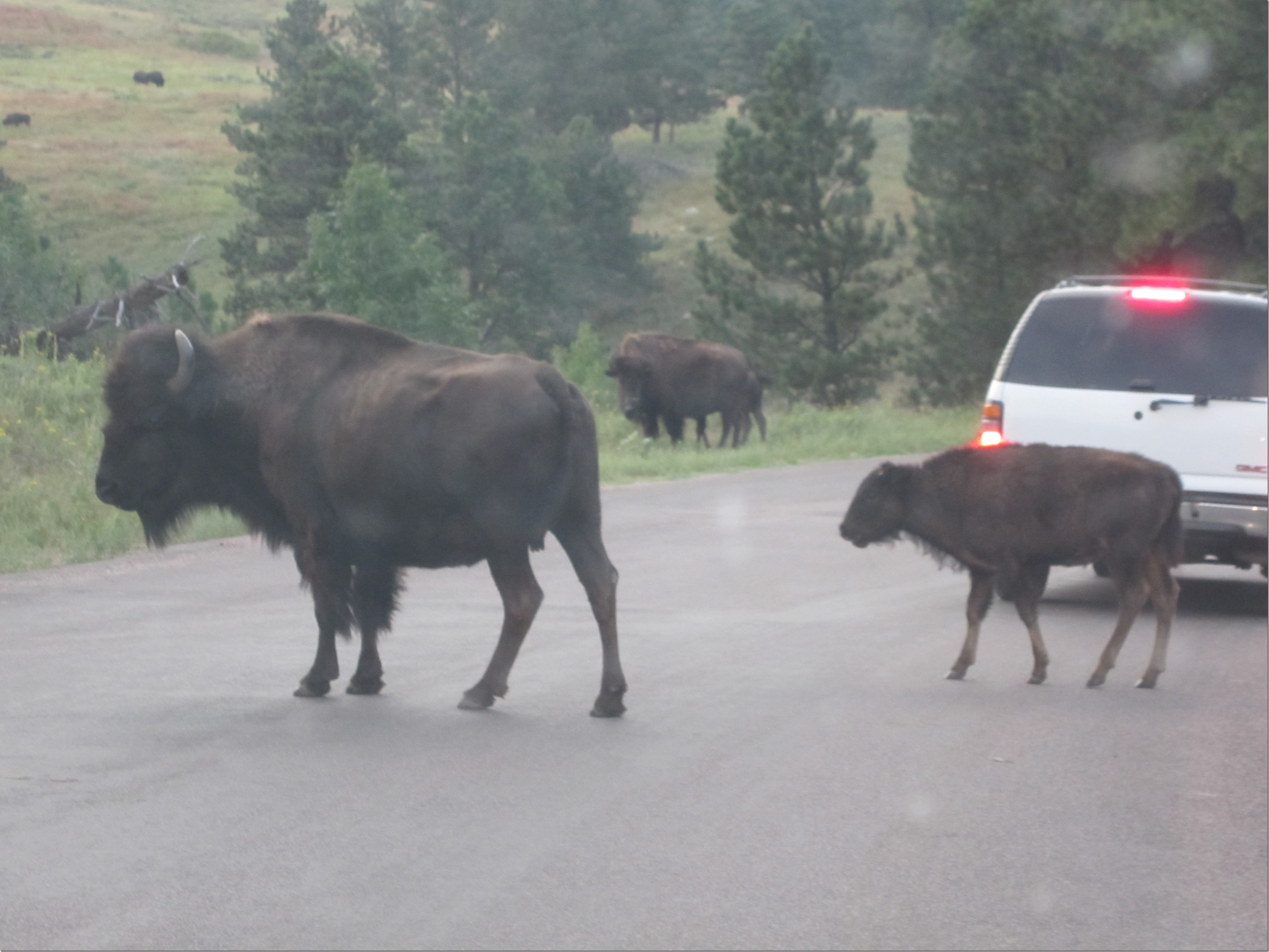 After that we returned to our campsite for more dinner and relaxing. Overnight it started to rain…
Day 17:
We awoke to pouring rain. We both stayed in the tent as long as possible, but realized that yes, we did need to leave by noon, and at some point had to pack up. Originally we'd thought maybe we would do another hike in Custer, or something else, but we checked the forecast, and the Badlands were supposed to get a lot of rain the following day, so we decided to leave and try to see them before the rain ruined everything there. It was not fun packing up in the rain!
On our way to the Badlands (about a 2 hour drive) we saw a bunch of pronghorns! They are kind of like antelope, and we were excited to see them.
I'd made a reservation at the KOA White River. As a child, the KOA campgrounds were my favorite so I thought it would be fun to stay in one for old-time's sake. I was also worried (originally) that it was going to be too hot and sunny in the Badlands National Park campground, and having a place with shade would be nicer. It turned out I shouldn't have worried about that, but having showers and nice bathroom facilities was nice! We set up our tent, had lunch, and then headed to the Badlands, about 10 minutes away. This was definitely a "free"visit on our America the Beautiful pass (Devil's Tower was another one that was covered). The clouds threatened, but we managed to see a lot of things.
We started with the Notch Trail. As a kid I had been too scared to go up this ladder on the trail, and as an adult I was pretty scared, but I figured if I could climb the stairs on Uncle Tom's Trail at Yellowstone this was no big deal. On our way BACK to the car a pair of pronghorns ran by us, over the formations and around the corner. It was so neat to see how fast they moved.
We drove around the Badlands Loop next, and stopped at a variety of overlooks. It was cold and windy, which was definitely a surprise, but the views were still really beautiful.
We saw a bunch more prairie dogs, and a small pack of goats (that blocked the road) and a lone bighorn sheep, though we didn't even realize it at the time and thought it was a male goat—it was neat to realize it was a bighorn sheep since that was one we hadn't "checked off" yet!
I wanted to drive on the Sage Rim Road, which is a gravel road where the bison and other wildlife/views are, but it was sadly, closed due to too much rain. According to the ranger too many cars had gotten stuck so they closed the rain. Disappointed, we headed back to our campsite.
Our little tent on the last night of camping. Notice how Louie likes to put the hatchet into a stump. We made a lovely fire and had a typical meal and just enjoyed being outside for the last night.
Day 18:
We had awoken several times during the night to some terrifying storms. Lightning and thunder and wind like you wouldn't believe, and I was relieved that the tent survived and that we didn't have to evacuate or something! I didn't know if there was a tornado warning system, or something like that. I was glad we'd gotten to enjoy every night with dinner and a fire outside, but man, packing up all of our wet tent parts for the second day in a row wasn't that fun. We got the car loaded up—the rain had mostly let up, and we drove through the Badlands on our way to highway 90.
The rest of the trip that day was uneventful. We finished the Serial podcast, and decided to try to get to Kansas City. We'd originally planned to eat at a restaurant Louie recalled, La Bodega, but their hours online weren't correct and they were closing as we arrived. We ate at a nearby Mexican restaurant called El Pueblito and had wonderful margaritas and shrimp tacos, before checking into a suite at a 4 star hotel, the Crown Plaza, that we found on Priceline for around $75. It was…a bit nicer than our previous hotel. We walked to The Yardhouse, a nearby pub, for a nightcap before turning in.
Day 19:
One of the reasons we got our room for so cheap was the fact that the hotel was under construction. Around 9 am we awoke to loud construction noises…but we decided to relax, order room service, and enjoy the amenities (including a wonderful shower..) until nearly noon when we had to check out. From Kansas City to St Louis is about a 4 hour drive…and then we were home. Safe and sound.
The end! I'm so proud to finally have finished my trip recaps, even though I feel like I rushed this one—sometimes you just have to sit down and WRITE. Thanks for reading, and if you have any questions or comments let me know.