It's important to note that I often refer to my cat as "the ham" or "the fat ham".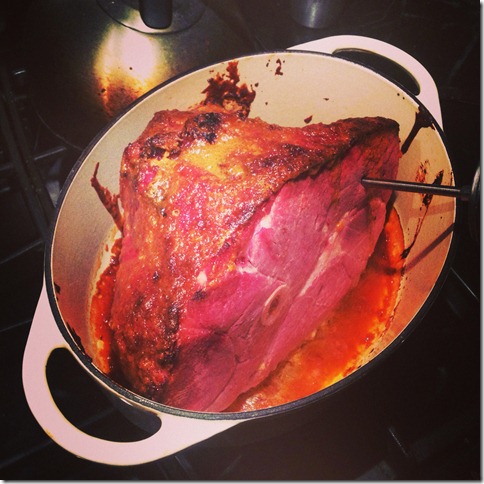 Christmas was great!  I got home late Christmas Eve because of work the night before so we wanted to sleep in a bit.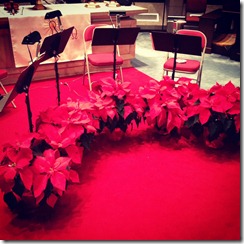 Churches like poinsettias, don't they?
Anyway, we woke up and made coffee.  The plan was to make a cooked breakfast (rare for us—hash browns, sausage, coffee cake, and mimosas), open presents, make a couple side dishes and then in the mid afternoon head over to our friend's for Christmas dinner and hanging out.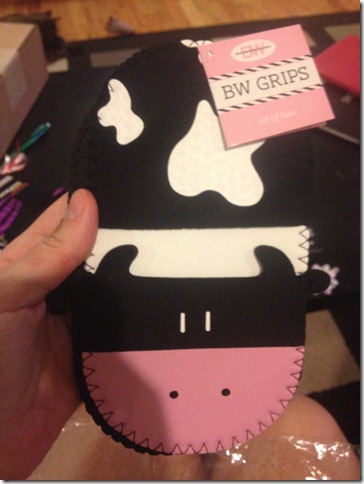 Props to Leslie for continuing my cow tradition. I opened this and exclaimed, "I don't even know what this is and I love it!"  Leslie gave me some other random things, and my favorite thing was a pair of purple corduroy Toms that I'd asked for.  I'm pretty excited about those.
My parents sent some gift cards, Vanessa gave us a new soap dispenser (there was an incident on Thanksgiving) and a lovely poster of the St Louis Skyline.  Chris got me a gorgeous pair of diamond earrings, so he wins Christmas this year 😉  What, I'm generally not shallow, but I'm a girl!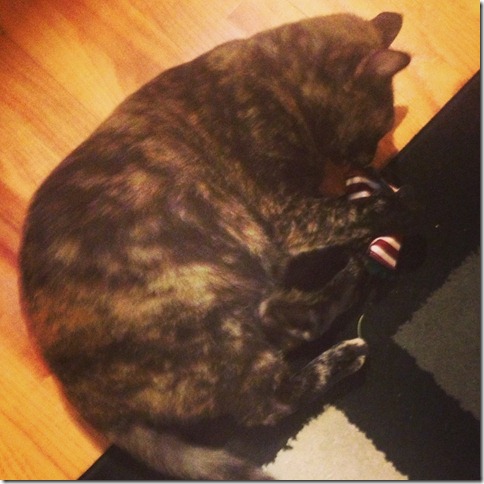 Leslie sent the cat a catnip toy.  This is the most clear picture I could get of her playing with it.  It quickly became her new best friend and then she fell asleep.  Chris made the mistake of touching the toy and it was naturally completely covered with saliva.  Gross.
We went over to our friend's Jon and Laura's for Christmas dinner.  It was awesome!  First of all, (I've probably said this before but I'll say it again), Laura is one of the best cooks I know and best hostesses.  Secondly, they have an adorable 8 month old baby who is just starting to elbow crawl and is absolutely the cutest thing (with the possible exception of the fatness) and we got to play with him as much as we wanted.  (Key word there, wanted 🙂  For as many times per week I get asked when we are having children—and yes, I get asked this a lot– I feel uncomfortable admitting in a public OR private forum that, yes, I do generally love babies.  And kids.  That are not my own because I do not have to take them with me.)
Okay, tangent over.  Baby: cute and fun.  That's all I'm saying.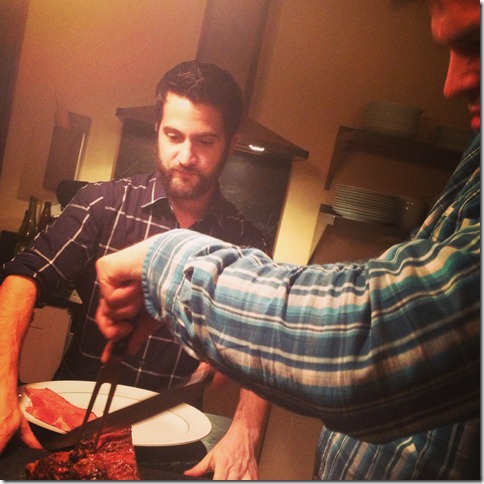 Carving the ham is a serious job.
Here are some poorly lit food photos: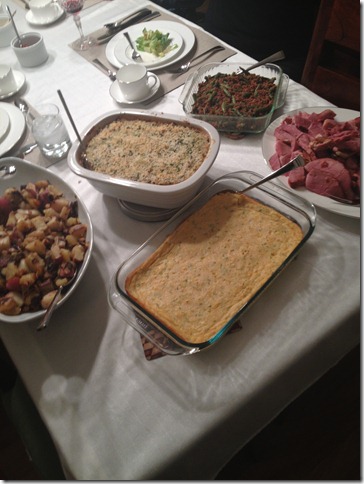 (clockwise): potatoes, truffle mac & cheese, green beans, ham, corn pudding.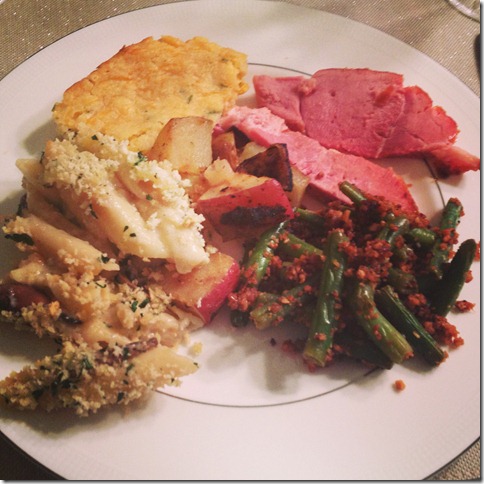 My plate of food.  If only that were all I ate.  Unfortunately there was a starter of cheese and salami and I was already pretty full by dinner.  This did not stop me from having seconds.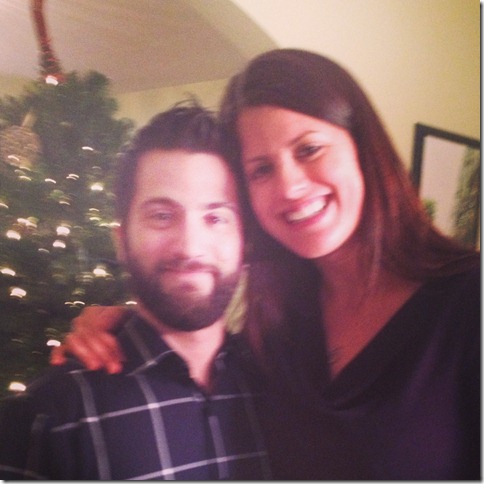 Out of about 5 photos somebody took of us, this was the best one.  I'm blaming the lighting?  Or the wine…all around.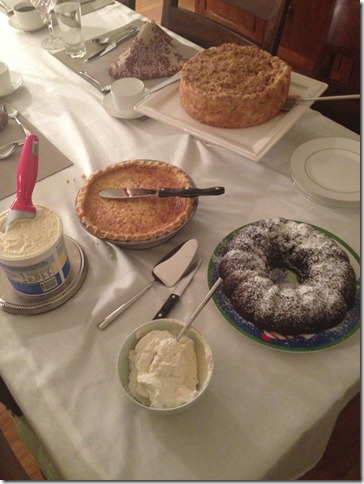 And then it was dessert time.  Yes, that is three desserts for six people.  And homemade ice cream.
It was a wonderful day.  We felt lucky to have such good friends who would invite us for Christmas when we weren't even related (and not even a pity invite, they genuinely wanted us to come—or are really good actors!)  And then we went home and passed out.  And I weighed myself and realized I'd gained 7.8 pounds over the course of the day, which truly made me realize how much I ate (gross!) and explained why I had felt so awful for the past few hours.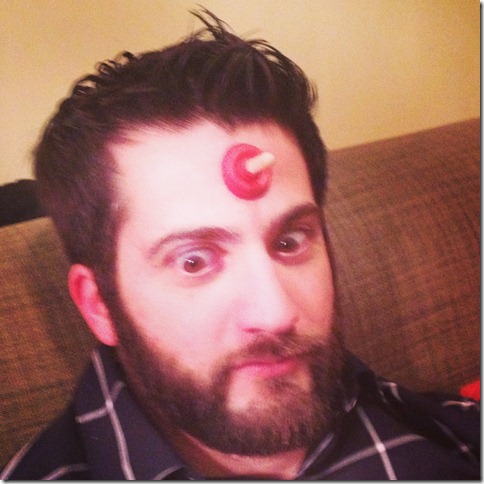 Ladies and Gentlemen…I present my husband!
At one point we were sitting around the table and I could barely sit up.  The baby was on the floor and I realized my best bet of being able to lie down without being super rude or admitting complete food failure was to get down on the floor with the excuse of playing with the baby.  This was a brilliant move, by the way! It culminated in me sitting in a comfy chair with him trying to get him to sleep reading "Are you a cow?"  Spoiler alert:  he was not a cow.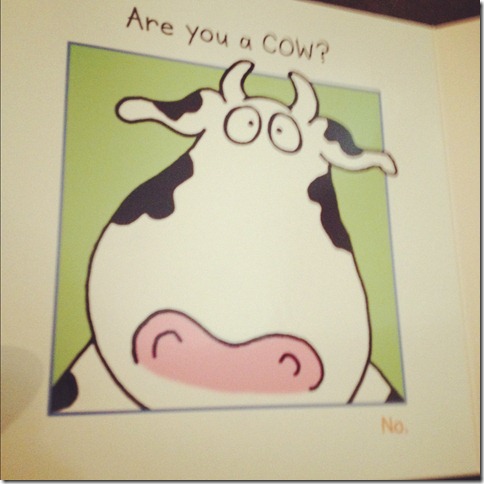 I feel better this morning.  That is, I'm still completely full, and I am so not eating breakfast, possibly never eating again, and I'm about to head to the gym to work out but that will be hard because I'm pretty sure my entire body has turned to flab.
At least all the overeating holidays are behind us, right?  Hopefully I can still fit into a shiny dress for New Year's!
Note:  my book giveaway is still running: enter now!
Tell me about your Christmas in the comments (or if you don't celebrate Christmas, you can talk about that as well.)