I know it's been a little while, but I wanted to finish my Paris trip recaps.
Day 1, Day 2, Day 3, Day 4, Day 5, Day 6:1 and Day 6:2 if you've missed the previous posts. 
I was sad for our last day in Paris.  We decided to do a few different things but not pack the day too full so we'd have time to relax at the end of the day. We decided to go to the Musee Jacquemart-Andre based on a friend's recommendation and then to do the guidebook's Montmartre Walking Tour which included the Sacre Coeur Basilica AND the Museum of Erotic Art (We thought it would be a nice contrast.)
First we had to make a few stops, including at the Pharmacie because I had a slight cold and needed some medicine.  I did online research about how to tell the pharmacist I had a cold, but luckily she spoke English.  (In France, you don't just buy the medicine, they ask about your symptoms and your allergies and give you what you need.)
The day was going to have a variety of metro rides and connections.  I had written all the directions out on a paper, and we were "prepared" for a bit of trouble navigating the streets, as I'd been having trouble all week.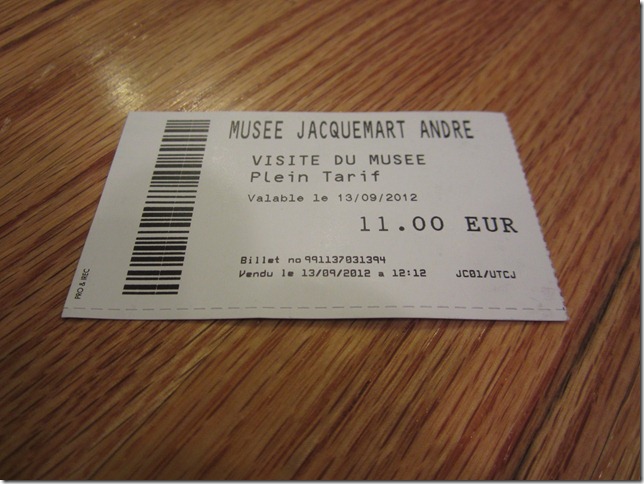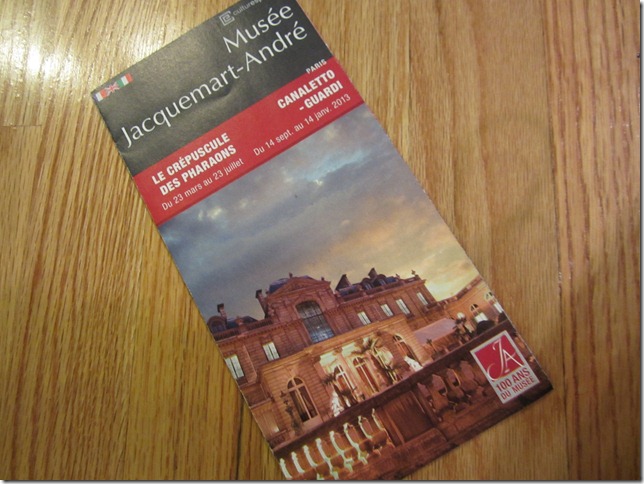 This museum is a private house that belonged to a couple who were avid art collectors in the late 1800's and early 1900's. At times their yearly budget for art exceeded that of the Louvre!  The phrase "theirs was a marriage of reason" was used at one point.  What do you think that means?
We used the audio tour as recommended and it was very interesting.  No photography was allowed inside the house, but it was an amazing mansion with great art, and possibly our favorite museum.  It isn't covered by the museum pass, which was fine because ours had run out.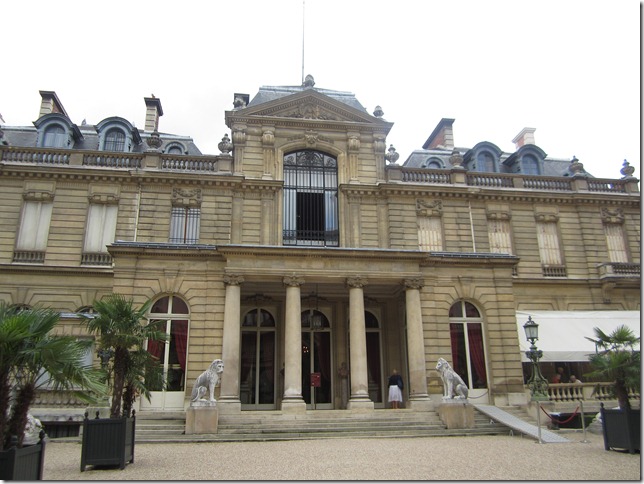 After the tour we took the metro up north of the city to Montmartre.  Well, to the north part of the city that is.  We had our first metro problem—we ran to catch the train and after we just barely made it on we realized we were on the wrong train.  No big deal though, we just got off a little later and transferred to another one.  (Generally I found the metro system amazingly eager to navigate.  Europe.  Rocks.)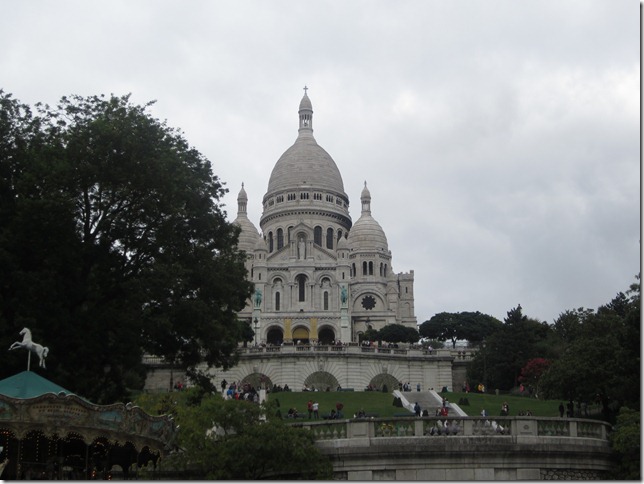 The Basilica is on top of one of Paris's only hills (which really makes me want to run the Paris Marathon—imagine how flat it must be in comparison—who wants to sponsor me for this?) and so was naturally quite crowded.  It's in a slightly more seedy area of town than we had experienced so far on our trip, but it wasn't bad, and it was jam packed with tourists.  (Weird combo:  seedy yet really touristy—it's like the Myrtle Beach of Paris?)
You can climb up a ton of stairs or take the funicular up.  I was sick and was pretty tired and out of breath so I insisted on the funicular—you know ordinarily I'd have been running up and down the stairs.  The funicular cost a metro ticket but I felt was worth it under the circumstances.
I think Chris was tired of having his picture taken.
Anyway, after we rode up the hill we were starving and needed to seek out lunch.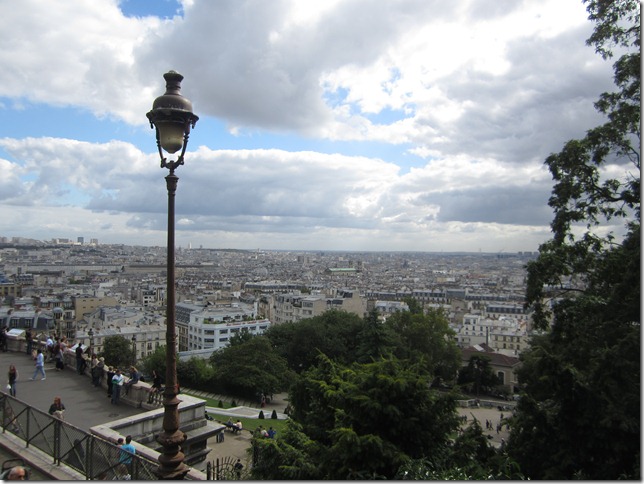 Quite the view!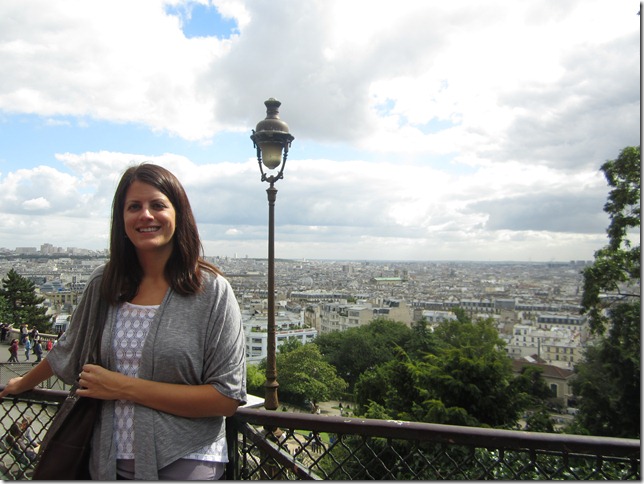 I'm a little annoyed that THIS was the only picture of me in view of this view.  I guess Chris was tired of taking pictures of me by this point too…or simply tired of me?  😉
We found a little cute Italian place nearby.  We were a bit apprehensive, but it ended up being GREAT.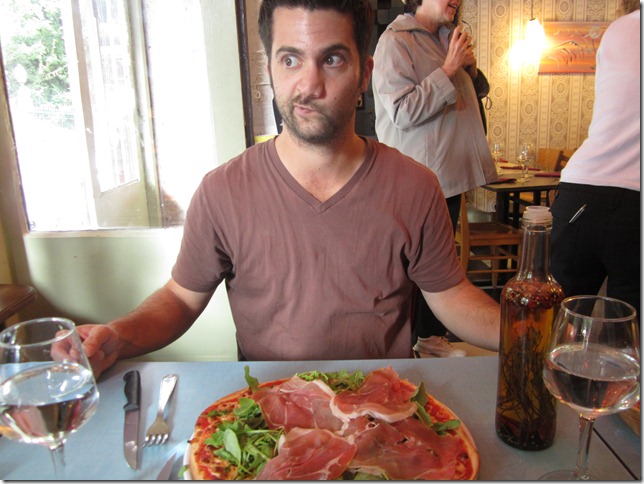 Delicious meat and cheese plate, delicious pizza.  We never got used to how much delicious cheese you get on a cheese plate in France! And for less than cheese plates in the US.
Then it was back to sightseeing.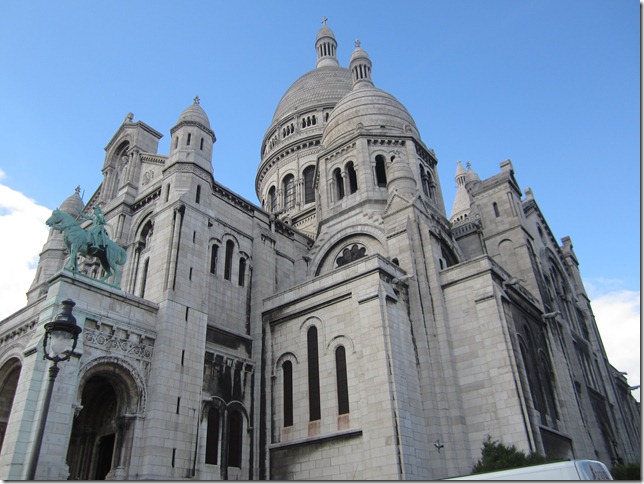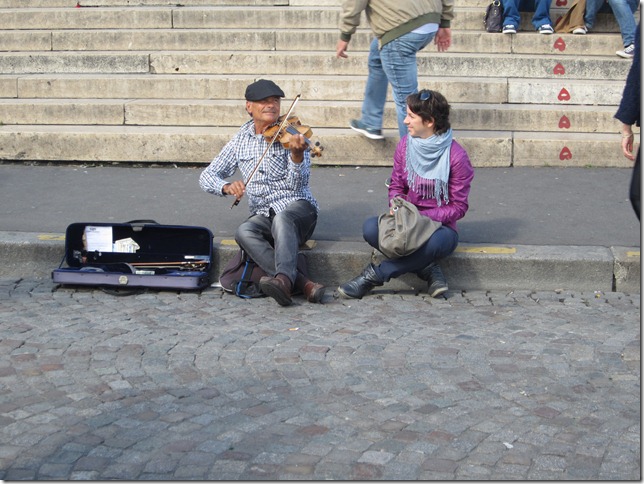 There was a violin player outside the Basilica.  He was a gypsy fiddler and sounded pretty decent.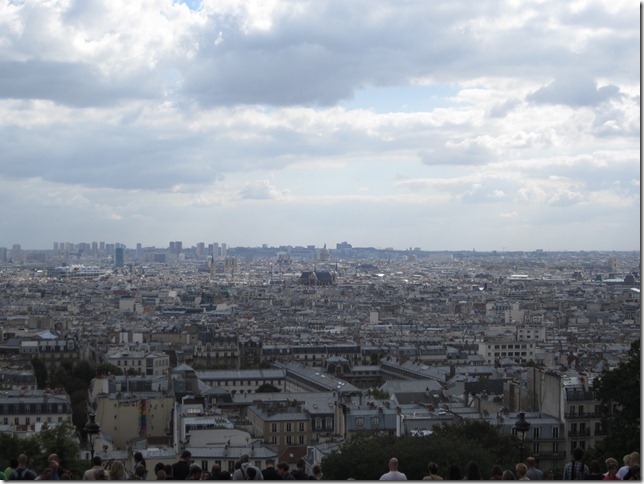 Quite the view of Paris!
We ran into a couple of friends of ours outside the Basilica after we toured it.  Paris is, seemingly, as small of a world as St Louis is!
After chatting a bit we continued on the Montmartre Walk.  Now.  I don't know if it was the fact that I was sick or what, but I couldn't follow the directions and kept getting lost.  Finally we gave up and missed several steps and then caught back up, but basically, I have no idea what happened…I'm guessing because, in addition to the regular challenge of Paris streets, we had to contend with steep hills?
My purple pants.  Chris was being silly and trying to take pictures of my butt, I think 😉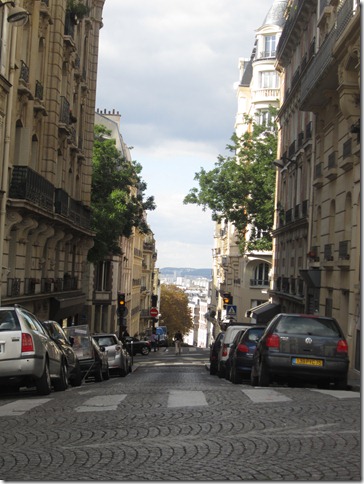 Cool Paris street view…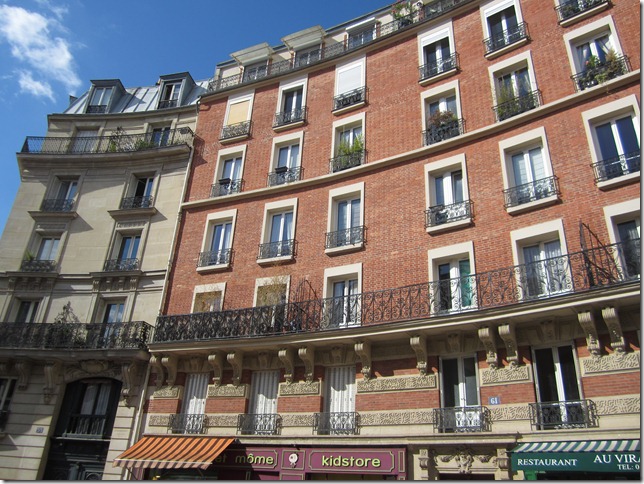 We loved the rounded buildings.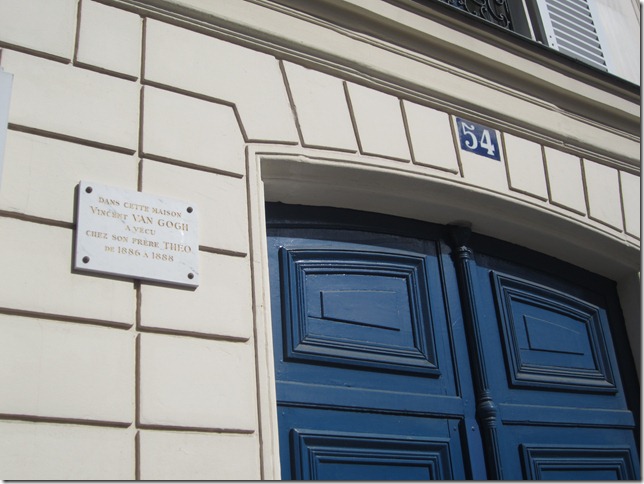 We managed to get back on track with the tour in order to see Van Gogh's old house.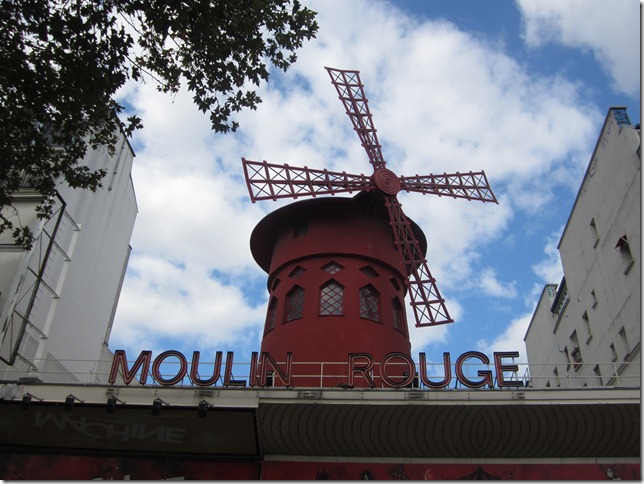 And we saw the Moulin Rouge.  Lots of tourists there—this is basically the red light district.  And by basically I mean, this is the red light district of Paris.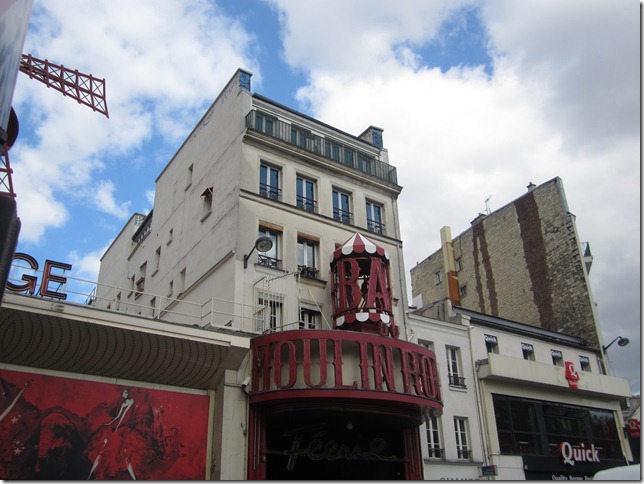 We decided to go to the Museum of Erotic Art to end our tour.  I won't share my pictures from there, but it was a very interesting (not family friendly!) place.  Oh, and I slipped down the marble steps—my feet flew out from under me and I landed on the ground about 4 to 6 steps down.  Chris was concerned but he said it was actually quite funny, because I just sighed and said "REALLY?"  I remember the pain but mainly I remember being annoyed that instead of slipping I had actually really fallen and made a fool of myself…at the "porn museum" (take that, search engines) no less.  Hence, my "really?"  I was in shock.  Luckily I wasn't seriously injured—I had been holding on to the railing so I didn't lose control too much.  It was more my pride that was injured, and my hand got a little bruised and my legs and butt were sore the next day.
Anyway, after that I was ready to get out of there (luckily we were basically done) and get back to a nicer part of town.  We hopped back on the metro and headed to our neck of the woods for our last evening.
We had a few happy hour drinks before deciding on dinner.  We ended up at a restaurant on the Place du Marche Ste. Catherine called "La Marche."
We liked the menus.  We ordered a bottle of red wine and tried to decipher the prix fixe menu.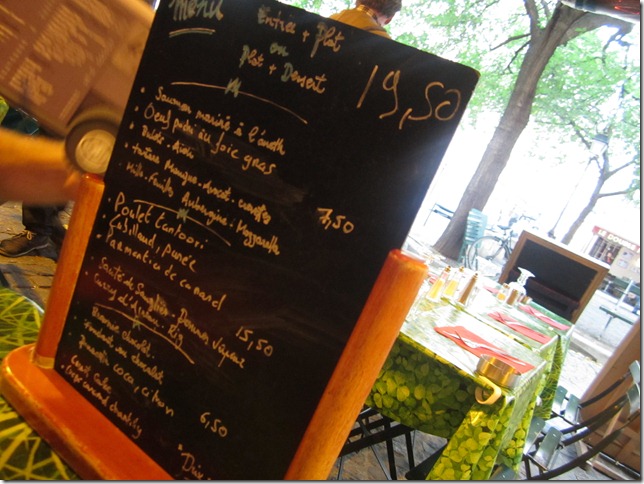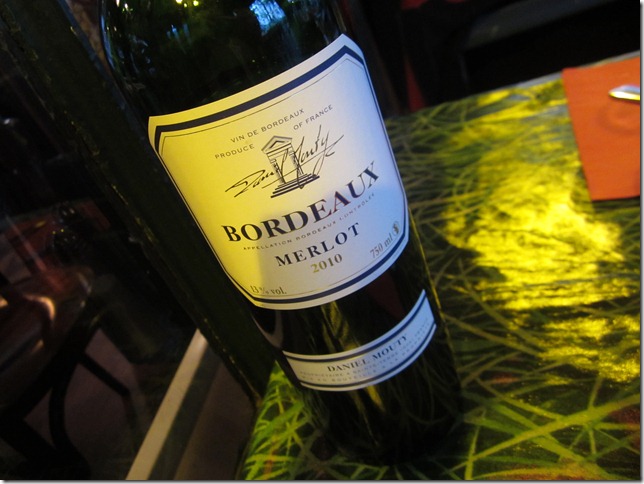 It was not easy to do, and in fact, I ordered parts of my meal not sure at all what I was going to get.  I was feeling adventurous though, and I'm really not a picky eater, so it worked out.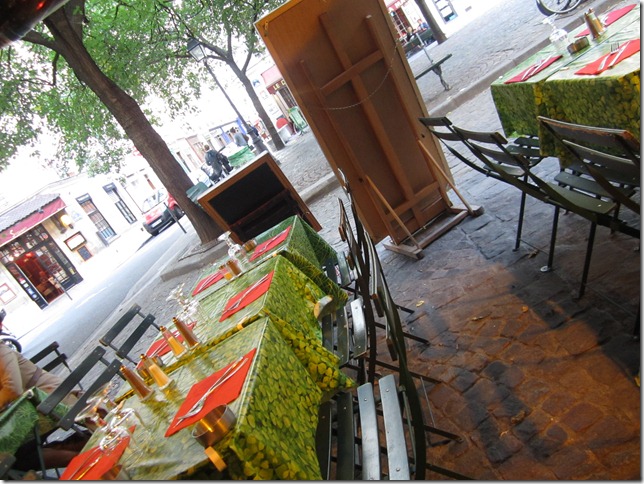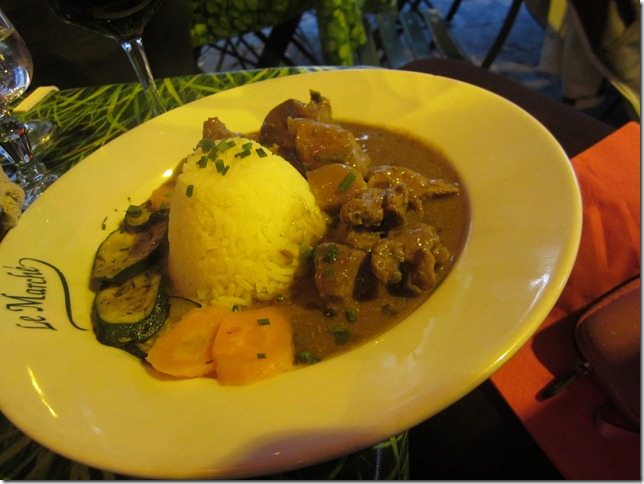 Our meal was okay.  I guess we should have gone to a more expensive place (I didn't think every night needed to be a $$$ meal but I think Chris thought I was being cheap on occasion!) but it was decent, and the wine (as always) was nice, and the ambience was really pleasant.  I thought it was a wonderful evening and a great ending to our week.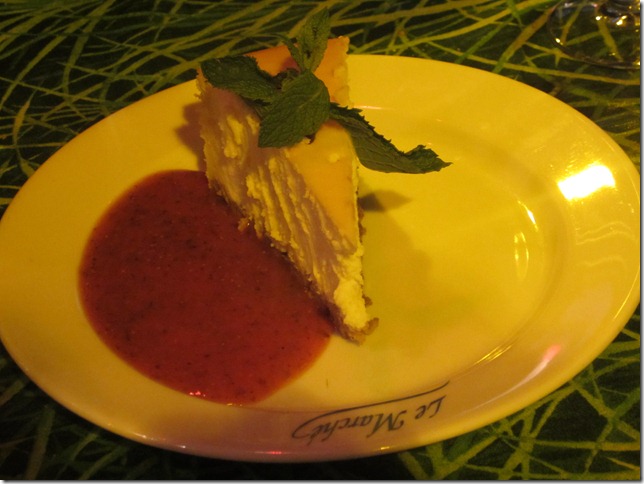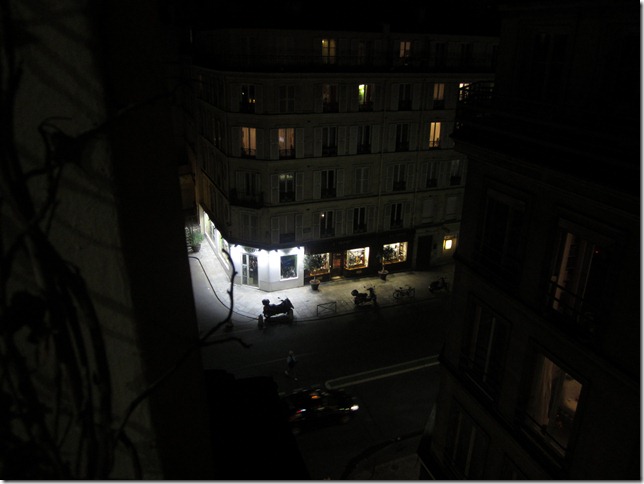 Night from our apartment window.
I'll do one more wrap up/travel post 🙂  in case you wanted more!  If you have any Paris related questions, please ask!