Have you read all my Paris recaps so far? Day 1, Day 2, Day 3, Day 4, and Day 5.
We were told by more than one person that if we visited Versailles, we would completely understand the French Revolution.
Arguably I already did.  I definitely do now.
We decided to visit Versailles on Wednesday.  It's about a 30 minute train ride outside of the city, and you have to buy a special ticket for it.  THIS was a bit of a hassle.  In retrospect, it would have been easy—we really just needed four tickets to Versailles from Paris, but by the time we figured that out, the machine went out of order.  Both machines.  Luckily the information booth lady took pity on us and sold us the tickets!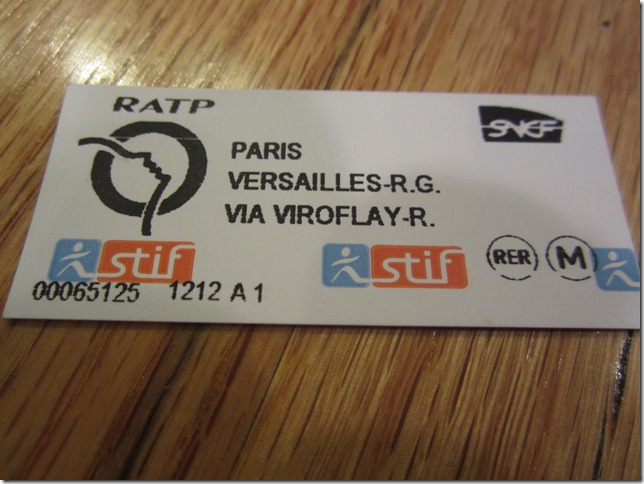 We took the metro to the RER station, and then had a little trouble because we found ourselves on the wrong platform.  Then I started panicking and thought there was NO way we could find our train (I'm a little dramatic…sometimes.)  After a slight moment of panic I took a deep breath and carefully studied a (french) timetable.  I realized we were simply on the wrong platform, and we just needed to go up another flight of stairs.  We were just in time to catch the train—a double decker train so we went up top for a better view.
The train followed along the Seine for awhile, and did you know there is a Statue of Liberty in Paris?  We passed it, but I didn't know it was coming up so I didn't get a picture.  The ride was nice and fairly uneventful.  I was a little nervous the whole time we were on the wrong train, but we ended up at the right station so that was great.  We got off the train, and turned right, then left, and then we saw the palace glittering in the distance.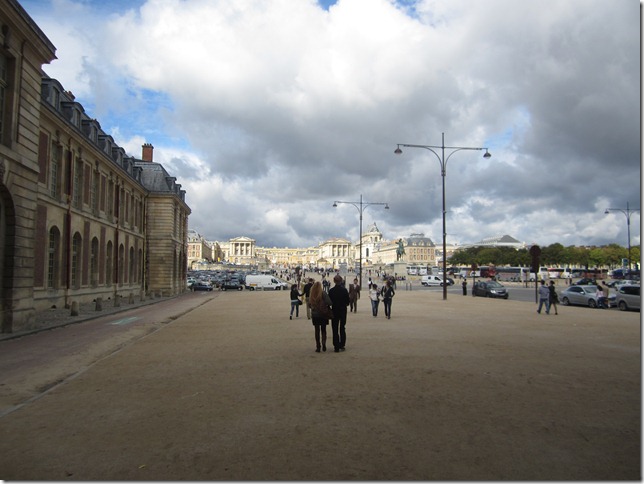 I guess we were heading the right way.  Oh, and before we left the house we checked the weather report for Paris and it was clear…we failed to check the weather report for Versailles.  See those clouds?
The guidebook recommended if we didn't get to Versailles in the early morning to see the Gardens and other Palaces first and then return to the Chateau. It was around 11:30 when we arrived so that was definitely our plan.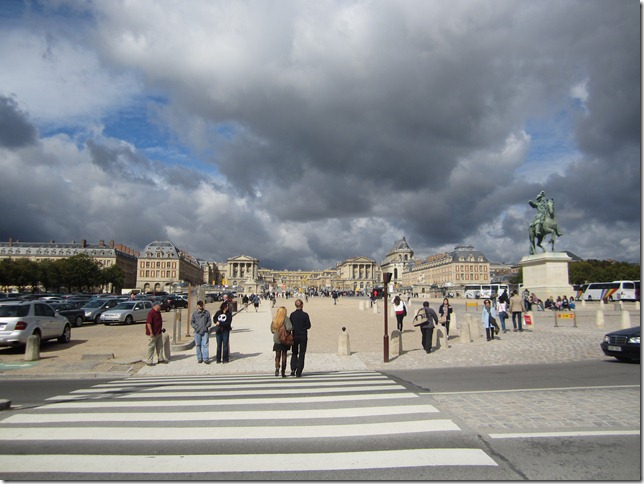 Evidently we walked behind that couple for a few blocks…
Anyway, the Gardens are amazing.  We started out on the guidebook's tour of the gardens.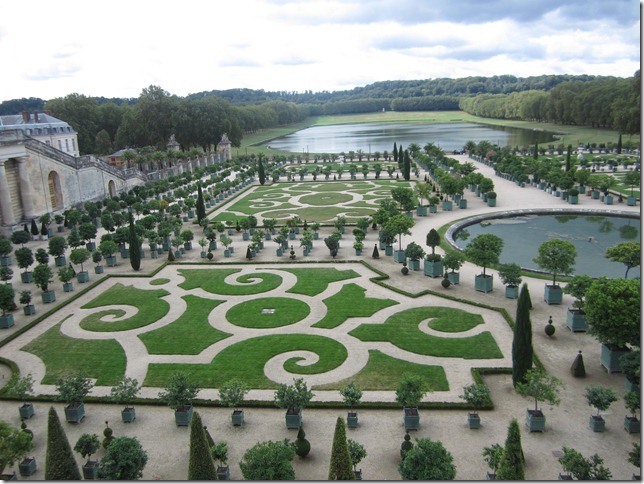 During certain times of year the fountains are on.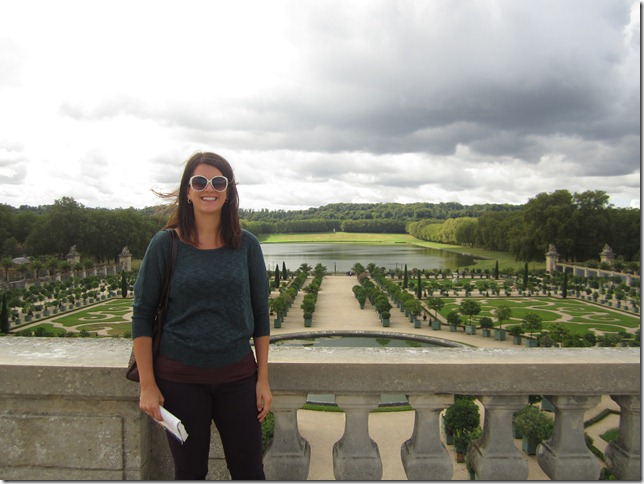 The wind was picking up yet we forged ahead.  (I'm really pleased with how my hair looks in this picture, for some reason.  Maybe I should have a wind machine follow me around?)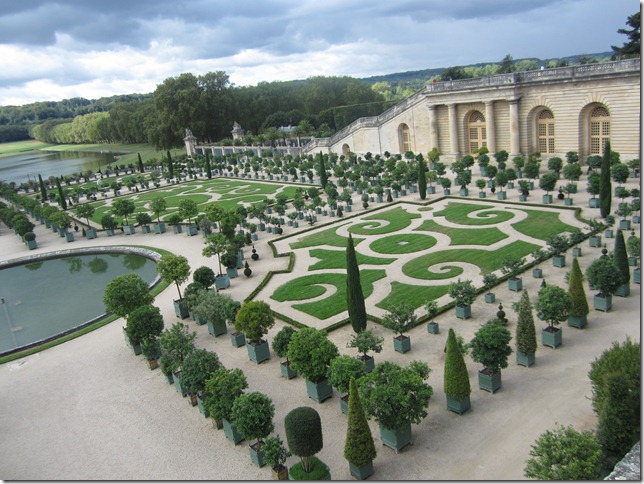 Looking towards the Grand Basin.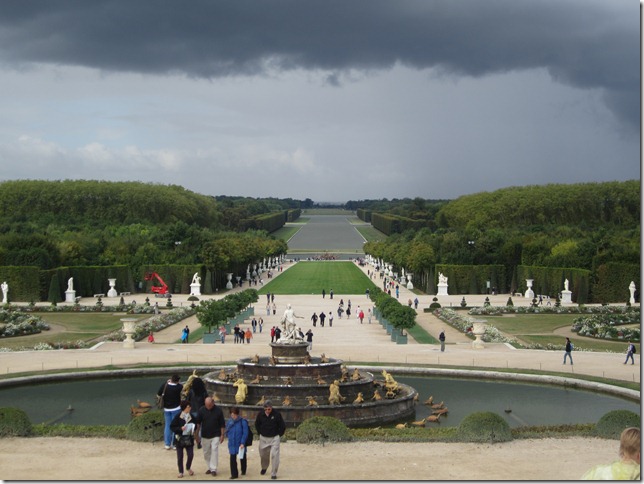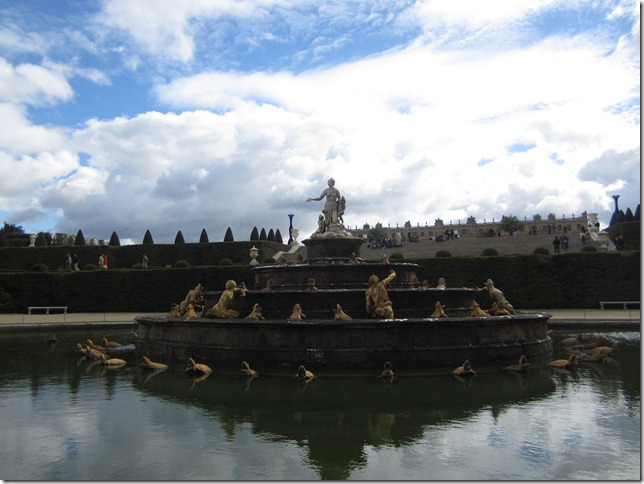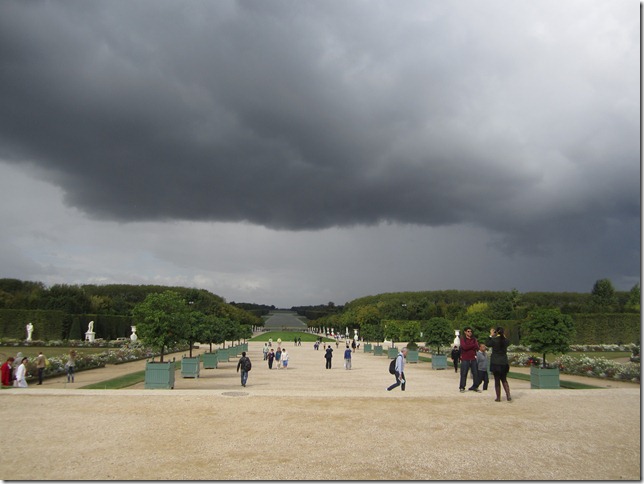 We had one small umbrella with us.  At this point we were trying to decide what to do—i.e. should we return to the Palace and do the indoor portion of the visit first.  But for some reason we decided to go ahead.  Naturally that's when it started raining.
BUT we ducked into a cafe that was fortuitously right there, and was fortuitously covered.  (The cafe of requirement?) We decided to have coffee and lunch there.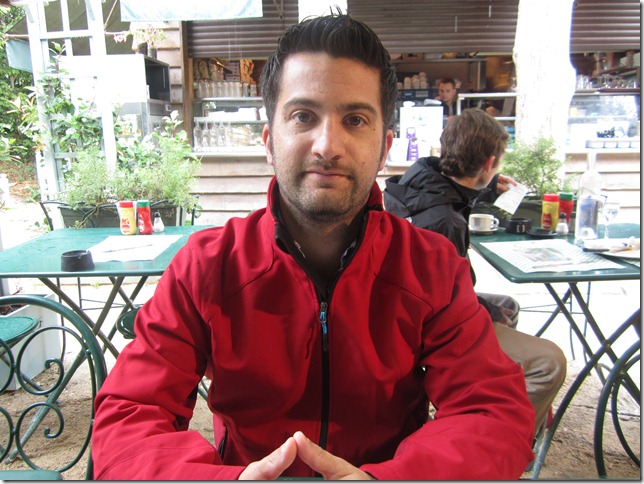 Isn't my husband handsome in his rain jacket?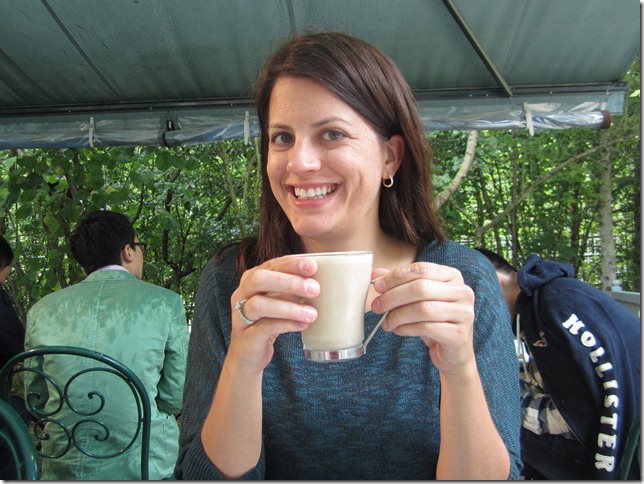 Aren't I creepy holding my cafe creme? (Don't answer…)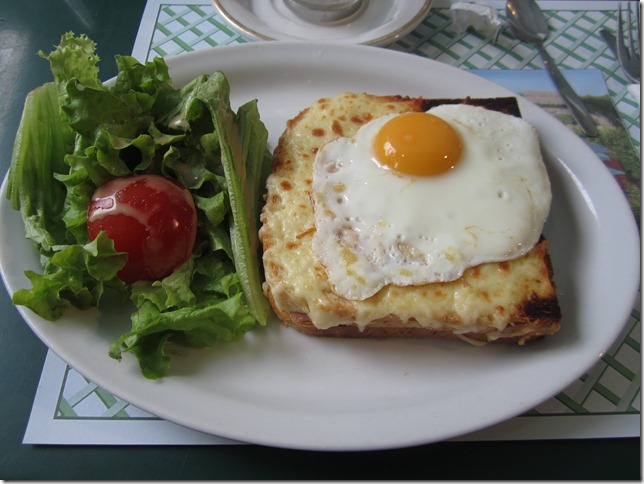 Name this sandwich? (This was the least good version I had all week.  The one good thing about the cafe, other than it being a nice respite from the storm, was that it wasn't as overpriced as a similar cafe in the US would be.)
By the time we had finished eating the rain had let up and we headed back out to the gardens.  Well, after stopping by the bathroom, which was one of those that you HAVE to squat in.  It was clean enough, but I was thankful for all the squats I've done over the past few years—I had no trouble at all.  (My motto on the trip was: use the bathroom when you see it.)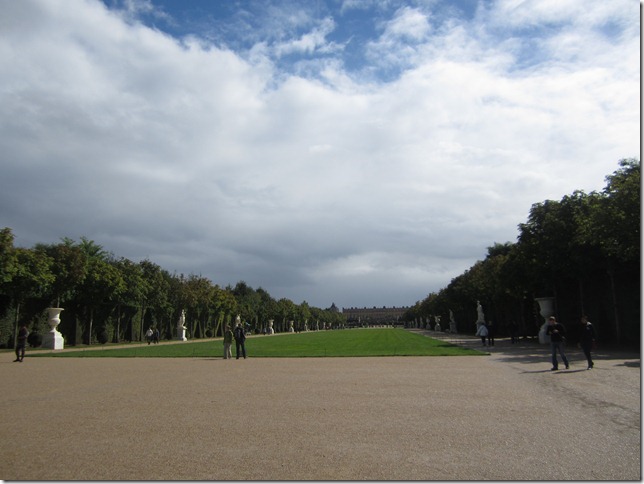 You can see the skies are a bit clearer.  We weren't convinced we were out of the woods yet, so to speak, but we wanted to continue on our tour.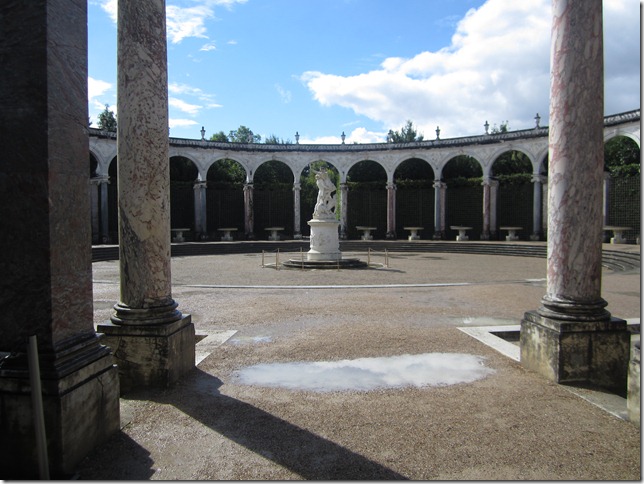 The Colonnade.  Basically fake Roman ruins.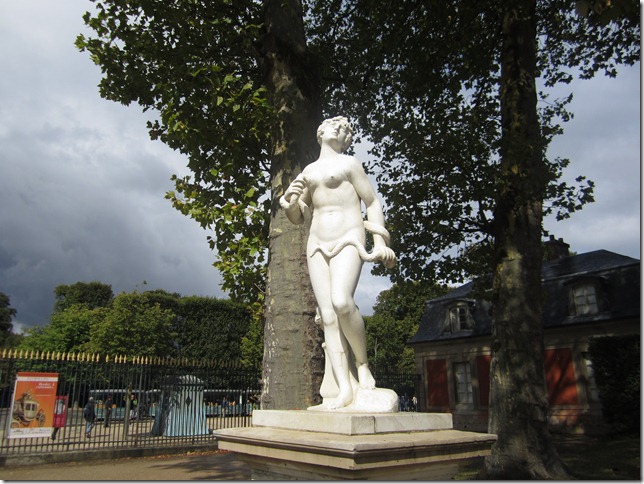 A statue of Cleopatra.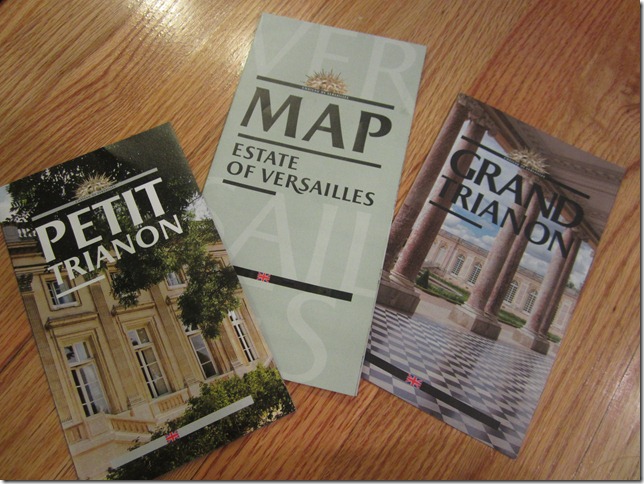 After the gardens, our next destination was the Grand Trianon.  This is where Louis XIV went to escape from the big Chateau (which was originally to escape from Paris.  Being a King is HARD.)
I loved the look of this Palace.  I think the main palace is kind of tacky, what with all the gold.  I love the pink on this one.  I would be happy to live there, thank you.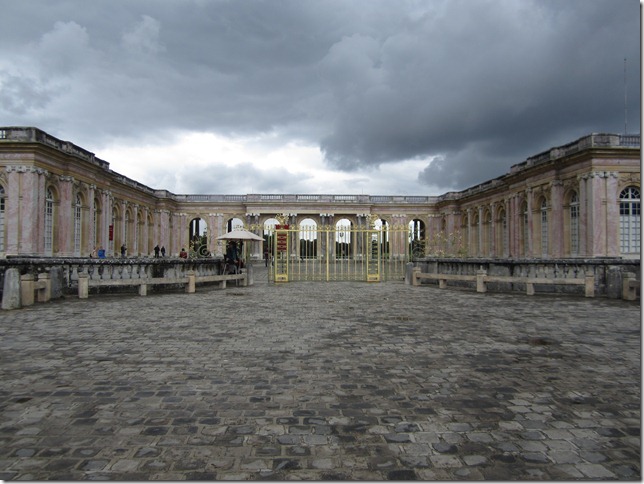 It still had gold gates, thankfully.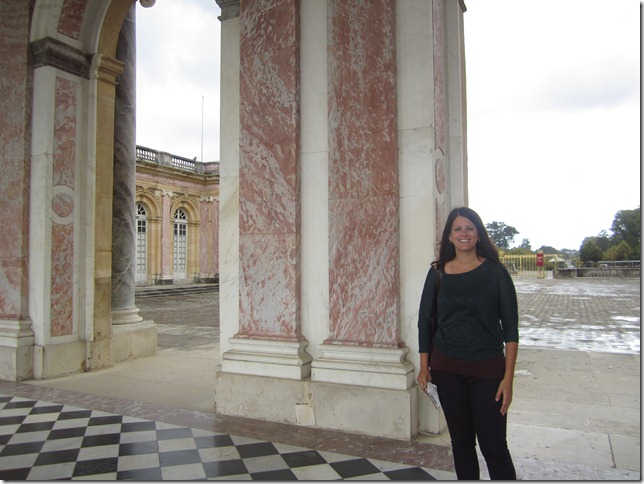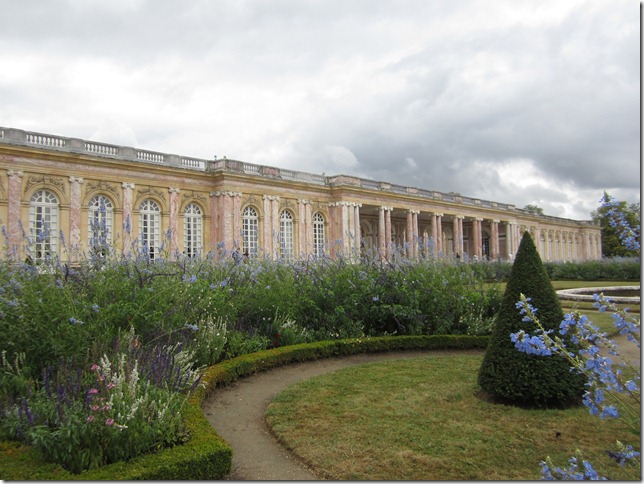 Pretty!!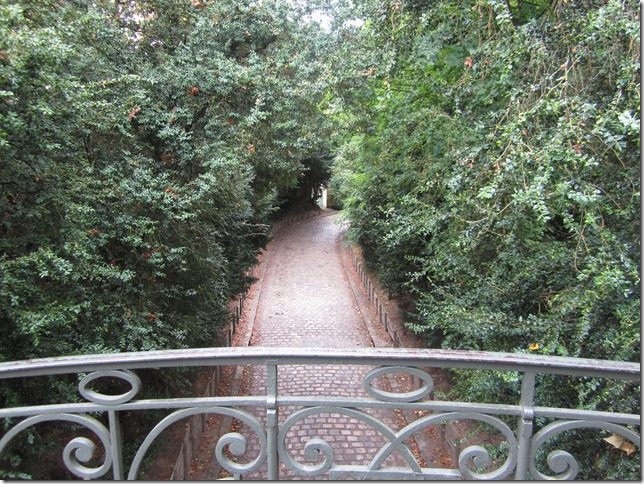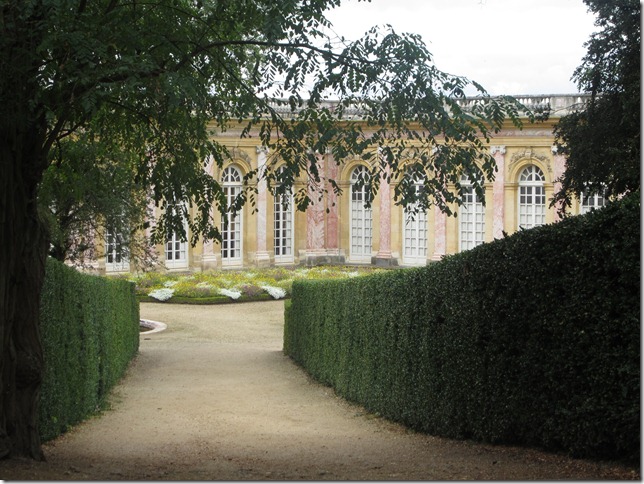 I love this picture so much.
I'm going to break this day's recap into two posts since I'm posting so many pictures.  Next:  Marie Antoinette's Hamlet, the Petit Trianon, the Chateau, and a repeat visit to the Eiffel Tower!